If you have ever been to any country around the Mediterranean and Middle East Regions, you know that plain yogurt is a staple for every household. Growing up in Turkey with a mom cooking Turkish recipes all the time, we were no different. My mother would serve every dish with either plain whole milk yogurt, her go-to Yogurt Dressing, or this easy-to-make tzatziki sauce recipe.
Well, the name was different (it is called cacik in Turkish), but the concept was the same. It's a beautiful green and white sauce for falafel, gyro, grilled meats, or grilled vegetables. It's also kind of like the dip version of my Creamy Cucumber Salad.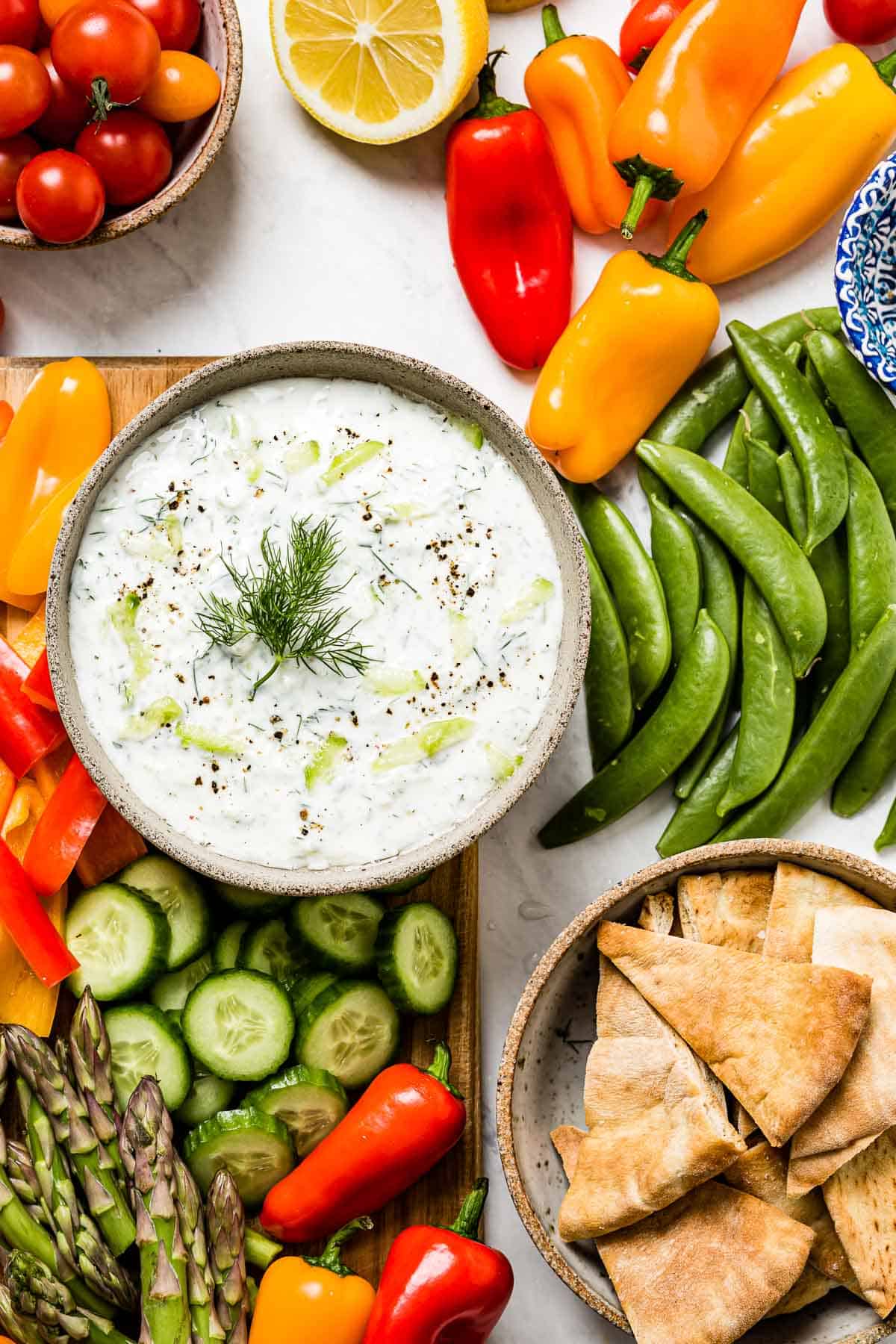 In our last cookbook club gathering, one of the ladies said that she has never tried garlicky yogurt in her life and would love to know how to make it. Realizing that not everyone grew up eating this Mediterranean white yogurt sauce, I decided that I needed to go back to my roots and share more recipes made with this magical dressing/sauce.
While I am publishing this recipe as a preparation for this Chicken Pita Wraps recipe, I still serve it regularly. Whether you serve it as a salad dressing, white sauce for your gyro, dip for a cheese platter, or sauce for a sandwich, this Greek tzatziki sauce is my go-to condiment.
What is Tzatziki Sauce?
Tzatziki is a yogurt-based dip, spread, or sauce popular in the Mediterranean and Middle East. Referred to by many names such as Greek Tzatziki sauce, Tzatziki Sauce, and Cucumber Yogurt Sauce, in my family, we put it on just about anything – from meat to gyros, to Turkish kebabs, to grilled vegetables. I like to refer to it as the Turkish version of Ketchup!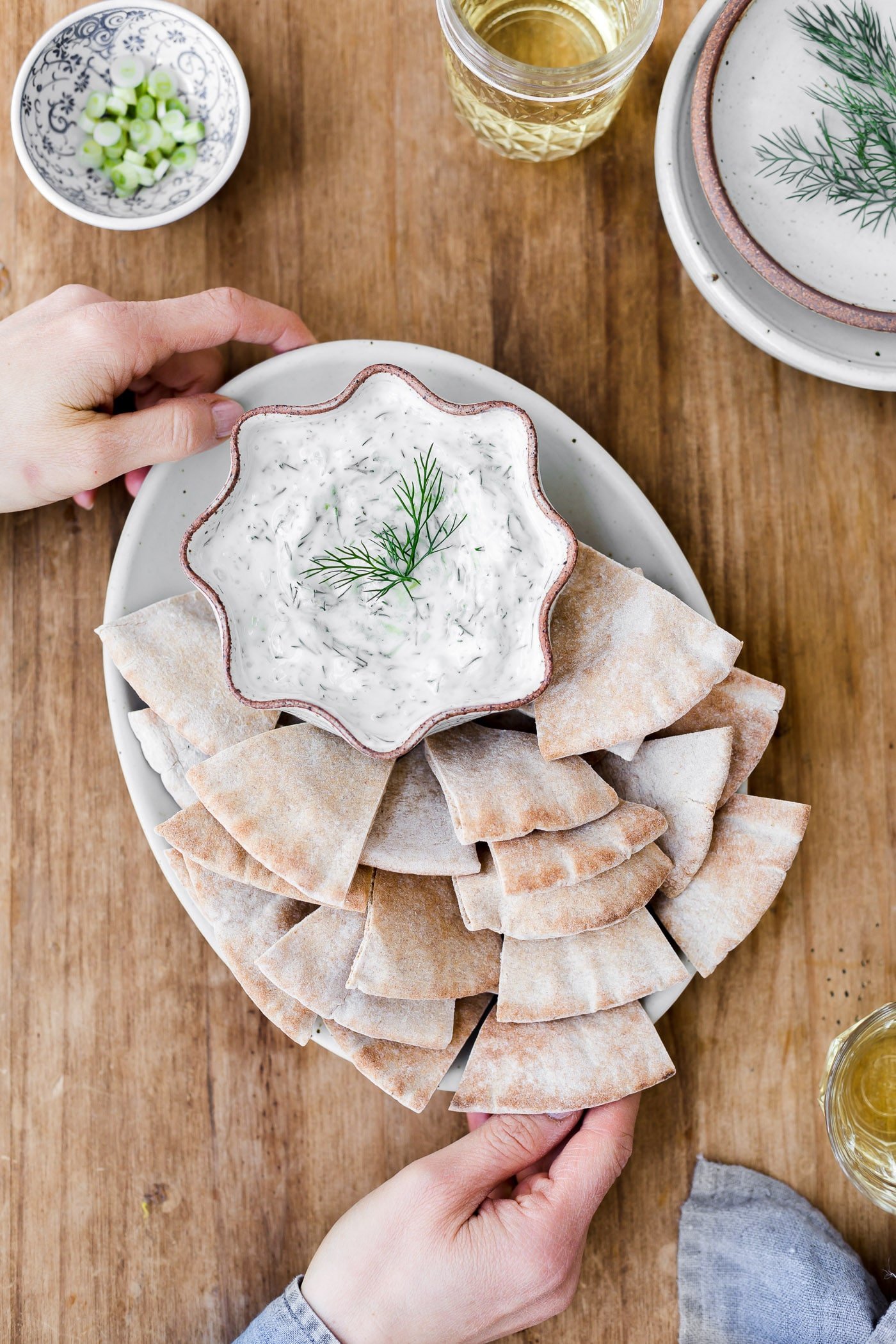 Ingredient List / What Is In It?
An authentic Tzatziki sauce recipe requires a few simple ingredients. You will need: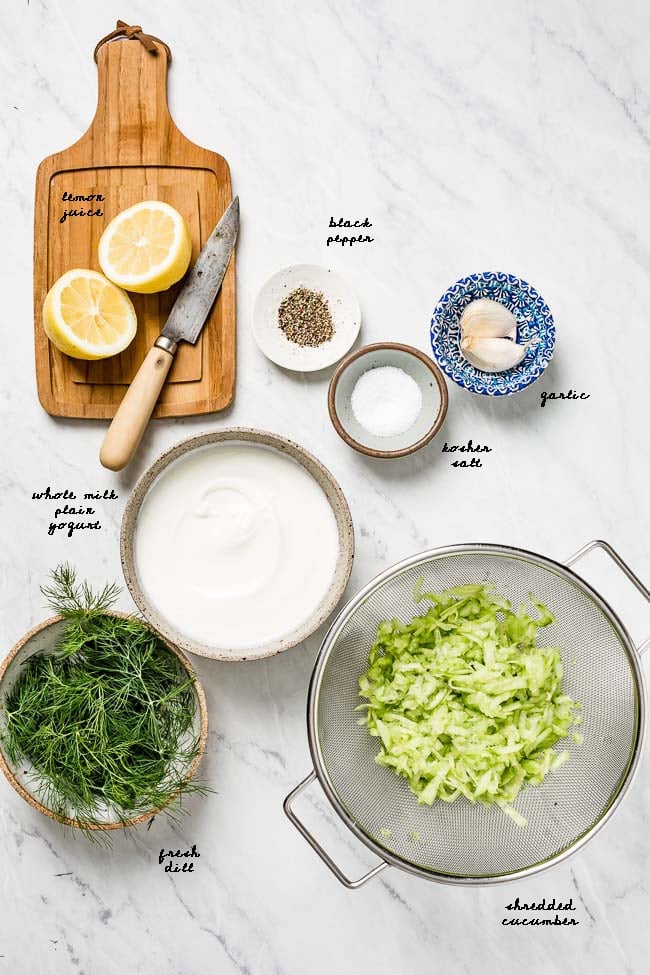 Fresh Cucumber – It is best to get a Persian or English cucumber versus a regular cucumber because of its thinner skins and smaller seeds. This way, you can peel and grate the whole cucumber without having to remove the seeds! Regular cucumbers tend to have skins that are too thick and waxy, while the seeds are just too big and bitter.
Whole Milk, Plain Greek Yogurt – A whole milk, plain Greek yogurt will give you a rich and creamy tzatziki dip that is totally worth the extra fat. You can, of course, use a low-fat or fat-free version, but note that if you use anything other than a full-fat Greek yogurt the dip will not be as creamy.
Fresh Lemon Juice – Freshly squeezed lemon juice brightens up this Greek white sauce. White wine vinegar works as a good substitute if that is all you have on hand.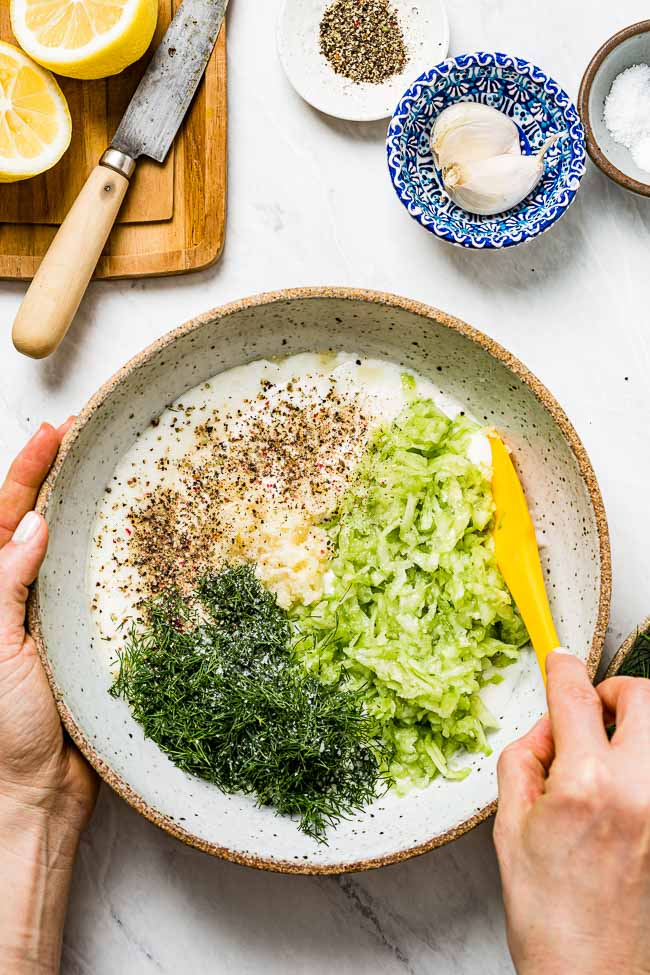 Garlic – This cucumber yogurt sauce includes raw garlic cloves, so use the freshest garlic you can. Mince to the finest texture.
Kosher Salt + Black Pepper – Season according to the recipe, then taste and adjust to your liking at the very end.
Fresh Dill – I simply adore fresh dill. It's an herb I grew up with in Turkey since we use it in just about anything. But I find it is not as popular here in America. If you can't find fresh dill or don't enjoy the flavor, you can use an equal amount of other fresh herbs such as fresh mint or parsley.
What Kind Of Yogurt Should I Use For This Greek Cucumber Sauce
It may sound basic, but the type of yogurt you use for this Mediterranean sauce actually makes all the difference. Traditional tzatziki is actually made with sheep or goat's milk yogurt that has been strained, but it's hard to find those here.
I like plain full-fat Greek yogurt, such as Stonyfield Greek Yogurt (my favorite yogurt brand.) The Greek yogurt sold here is already strained, which is why it is thicker and higher in protein than regular yogurt.
How To Make It?
This Greek sauce with yogurt and cucumbers can be mixed together in a few easy steps. Simply: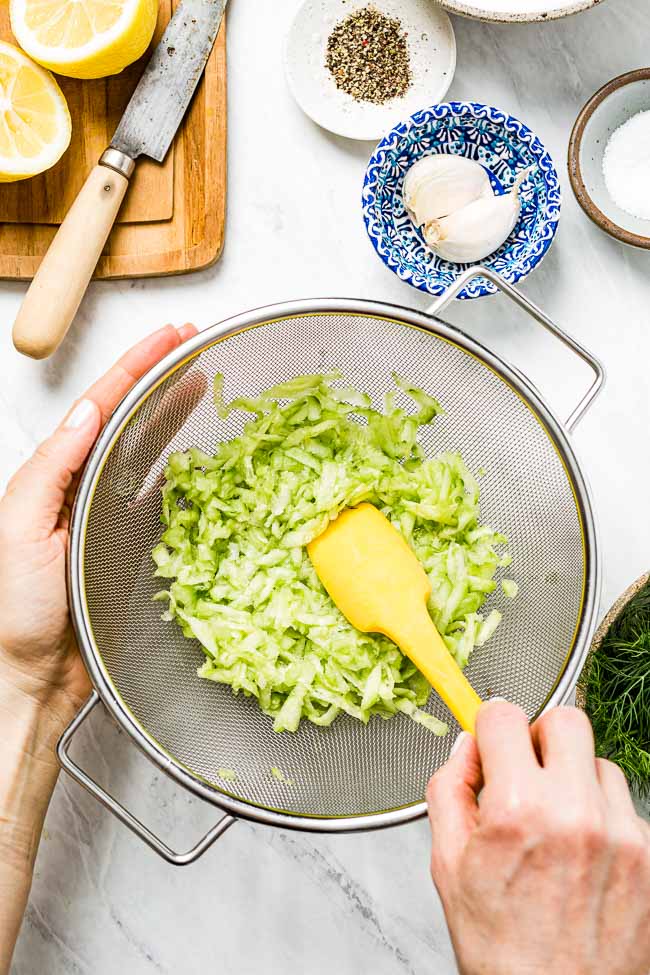 Shred the cucumber. Using the large holes on your box grater, grate the entire peeled cucumber and transfer to a strainer, pressing down with a spatula to strain out all the excess liquid.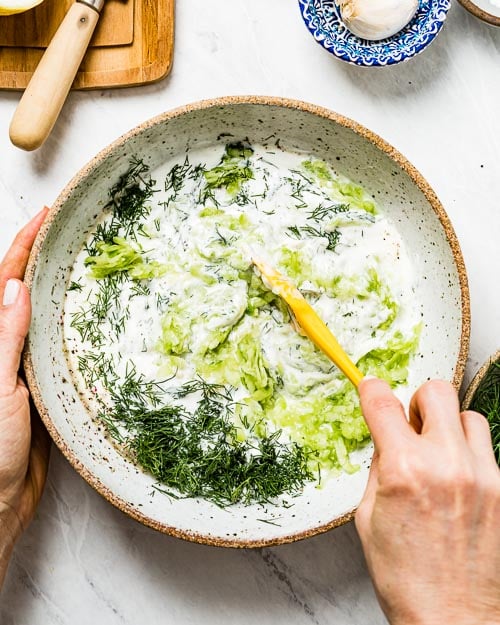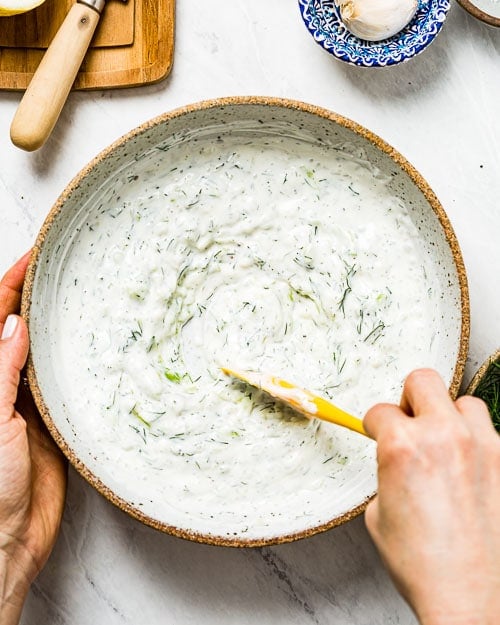 Whisk the yogurt and seasonings. In a large bowl, whisk together the yogurt, lemon juice, garlic, salt, and pepper.
Fold in the cucumber and dill. Use a spatula to fold the cucumber and dill into the thick yogurt mixture. If you have the time, cover and refrigerate for a few hours. Transfer to a serving bowl and enjoy as a dip, spread, or sauce!
How To Make It Thicker
Although Greek yogurt is thicker than regular yogurt, you can strain it for an even thicker sauce or dip. To do so, simply place a few layers of cheesecloth (or a few layers of paper towels) in a fine-mesh strainer set over a bowl, add the Greek yogurt, cover with the ends of the cheesecloth, and set in your fridge. Allow it to strain for at least 1 hour and up to overnight.
Note that the longer you allow the Greek yogurt to strain, the thicker it will become.
Straining the cucumber prior to mixing it into the yogurt sauce also produces thicker tzatziki.
What To Do With It?
The uses for this tzatziki sauce recipe are truly limitless. Most of the time, I make this for my husband and me to enjoy as a dip with fresh sliced vegetables and crudite throughout the week. But for more interesting and fun uses, you could try this tzatziki sauce recipe as:
Sauce for Gyros, Falafel, Grilled meat or Veggies – simply drizzle it right on top! If you want to try something different, try drizzling this sauce over my Karniyarik recipe (aka Turkish Stuffed Eggplant), Greek Yogurt Chicken, Shish Taouk, or Baked Chicken Kabobs, or serve it with Turkish Kofte.
Tzatziki as Salad Dressing – thin it out with a few tablespoons of water and toss in your favorite greens!
Party Dip – slice a wide array of fresh vegetables such as celery, carrots, radish, and broccoli, add some pita chips and soft pita bread to the platter, and serve it as a healthy dip at your next party.
Mediterranean Appetizer Spread (aka Meze Platter) – serve it in a bowl on a large platter along with cheese and crackers, olives, hummus, toasted pita bread, and fresh raw vegetables.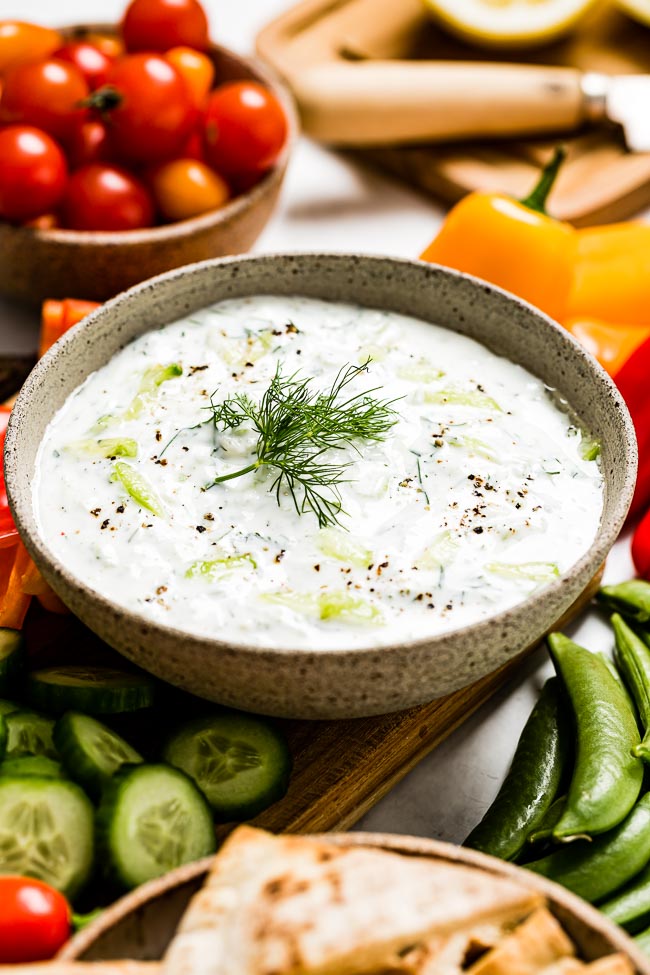 How to Make Ahead and Store?
The best part of this Greek Yogurt Sauce is that you can make easily make it a part of your weekly meal prep. Here is how I do it:
Make Ahead: Make the recipe as written up to 3 days before serving. Place it in an airtight container and store it in the fridge. Be sure to give it a good stir before serving.
Storage: This sauce will stay fresh for about 3-4 days. Simply place leftovers in an airtight container and keep them in the fridge. After a few days when you first open the lid, you might see some excess water on top. That is normal. Just drain it and give it a good stir before serving.
Nutrition Facts
Tzatziki sauce is not only delicious, but it is nutritious, too! This recipe makes 1 1/2 cup of tzatziki dip that is ideal for 4 servings. Each serving is 112 calories.
Please refer to the nutritional information in the recipe card for more information.
Variations
Want to switch things up and make it your own? Well, a homemade tzatziki sauce recipe can be made in a variety of ways. Here are a few ideas you could try:
Without Dill: If you're not a fan of dill, simply omit the herb entirely or substitute flat-leaf parsley.
Without Garlic: Raw garlic can be too strong of a flavor for some. Feel free to reduce the garlic to 1 clove or leave it out altogether.
With Mint: Mint would be a wonderful addition. You could either replace the dill or add an equal amount of fresh mint to this Greek dipping sauce.
No Cucumber: Although I feel cucumber makes a traditional tzatziki sauce, you can omit it. A great alternative would be this Greek Yogurt Salad Dressing. You can also try to up the flavor profile by making a Yogurt Tahini Sauce or Yogurt Dill Sauce to enhance those Mediterranean flavors.
Low-Fat: As mentioned earlier, you can make this cucumber yogurt sauce with low-fat or fat-free yogurt. If you do decide to make it low-fat, I would recommend straining the yogurt to get a thicker consistency.
With Sour Cream: I have never tried making this sauce with sour cream, but this is a question I get from a lot of readers. My recommendation would be to replace ½ cup of Greek yogurt with full-fat sour cream. If you try it out, let me know how it goes!
Dairy-Free/Vegan: If you are not including dairy in your diet, but still want a healthy and flavorful sauce recipe, try substituting the yogurt with Green Cashew Sauce and add a few splashes of water to thin it out, if necessary.
Make it a "Soup": Add in a ripe avocado and turn it into Cold Cucumber Soup. Topped off with roasted shrimp, this is a modern way to turn tzatziki into an elegant appetizer/starter during the summer months.
Expert Tips
Here are a few expert tips to help you make the best tzatziki recipe in your own kitchen:
Grate and drain cucumber: I know it is easier to put everything in a bowl and mix it. However, draining the grated cucumber is an important step to remove excess moisture and prevent a soggy tzatziki. So, do not skip that part.
Fresh herbs for the best flavors: While this recipe can be made with dried herbs, if you are after the most authentic tzatziki sauce, use fresh herbs and chop them right before adding them in.
Taste for seasoning: Be sure to give it a taste test right before serving to ensure that it is properly seasoned according to your taste buds.
Chill before serving: This Greek tzatziki sauce is best when served cold. Let it sit in the fridge for a few hours. Doing so will allow the flavors to meld and help you achieve the best flavor profile.
Extra Virgin Olive oil: While this recipe doesn't use olive oil as an ingredient, you can drizzle it with it at the end. I love the combination of garlic, olive oil, and yogurt and think that it is a good way of garnishing as well.
FAQs:
After I decided to share this recipe, I did a quick Google research, which revealed a few commonly asked questions that most people have about making tzatziki sauce at home. Below are those questions and my answers:
How Do You Spell Tzatziki?
The phonetic spelling is /tsaˈtsiːki/.
The word for this Greek yogurt cucumber sauce is spelled T-Z-A-T-Z-I-K-I. It is a loanword from Modern Greek, which actually comes from the Turkish word cacık, of unknown origin.
How Do You Pronounce Tzatziki?
So, how do you say Tzatziki? The correct way to pronounce Tzatziki is "tsah-see-key." Think of the tsah part as how you say "pizza," without the first two letters.
Can Tzatziki sauce be frozen?
Technically you can freeze yogurt, but after it is thawed it loses its creamy consistency. This is generally true for most savory yogurt-based dressings or sauces. Therefore, I wouldn't recommend freezing Tzatziki sauce.
How long is Tzatziki sauce good for?
It is usually good for 2 days. However, on the second day, it will be runnier. While I recommend whipping up a fresh one, you can add a little more yogurt to salvage on the second day.
Can I use non-fat yogurt?
Yes, you can use any plain yogurt you like. I recommend sticking to Greek Yogurt as it is thicker than other yogurt types. Obviously, the higher the fat content the more delicious and creamy it would be, but non-fat or low-fat plain yogurt would still do the job.
Do I have to strain the juice of the cucumber?
The correct answer is yes. Some people even go as far as straining yogurt and cucumber in a colander lined with cheesecloth overnight in the fridge. I guess it is because they prefer a thicker consistency. However, in my opinion, the thickness of Tzatziki is a personal preference. If you like yours runny then no need to strain the juices and vice versa.
Do I have to peel the cucumber?
Yes and no. Again, it is a personal preference. I personally don't like the bitter taste of the skin of the cucumber, but if you do feel free to omit that step.
Other healthy salad dressings you might like:
Here are a few more homemade sauces you might enjoy:
If you try this Easy Tzatziki Sauce recipe or any other recipe on Foolproof Living, please take a minute to rate the recipe and leave a comment below. It is a great help to others who are thinking of making the recipe. And if you took some pictures, be sure to share them on Instagram using #foolproofeats so I can share them on my stories.
Easy to Make Tzatziki Sauce Recipe
Yields:
4
servings 1 1/2 cups
Learn this easy to make Tzatziki Sauce recipe as I share my tips and techniques in an easy to follow recipe with a quick how-to video.
Print Recipe
Ingredients
1

English Cucumber

peeled

1 ½

cups

Whole Milk Plain Greek Yogurt*

2

tablespoons

lemon juice

freshly squeezed

2

cloves

of garlic

peeled and minced

1

teaspooon salt

¼

teaspoon

black pepper

⅓

cup

fresh dill
Instructions
Using a shredder, shred the cucumber. Transfer it into a strainer and strain all of its juices pressing it with a rubber spatula. Set aside.

In a mixing bowl, whisk together yogurt, lemon juice, garlic, salt and pepper.

Using a spatula, fold in the cucumber and dill. Transfer to a bowl.

If you have time, cover with plastic and let it sit in the fridge for a few hours before serving.
Video
Notes
Make Ahead: Make the recipe as written up to 3 days before serving. Place it in an airtight container and store it in the fridge. Be sure to give it a good stir before serving.
Storage: This sauce will stay fresh for about 3-4 days. Simply place leftovers in an airtight container and keep them in the fridge. If you notice any liquid separation, just give your Tzatziki a good stir before serving.
Nutrition
Calories:
61
kcal
|
Carbohydrates:
7
g
|
Protein:
8
g
|
Fat:
1
g
|
Saturated Fat:
1
g
|
Cholesterol:
4
mg
|
Sodium:
31
mg
|
Potassium:
245
mg
|
Fiber:
1
g
|
Sugar:
4
g
|
Vitamin A:
381
IU
|
Vitamin C:
9
mg
|
Calcium:
105
mg
|
Iron:
1
mg
Like this recipe? Consider sharing: