It all started when I decided to make ricotta cheese at home. It turned out delicious.
Then I decided to make Ricotta and Lemon pancakes. They were incredibly moist and fluffy. I could have drizzled them with maple syrup but I wanted to make them more special.
That is when I decided to make this homemade blueberry sauce to top it off.
Boy, was that a good  idea… It was incredible. Lemon, ricotta, and blueberries… How bad can that be?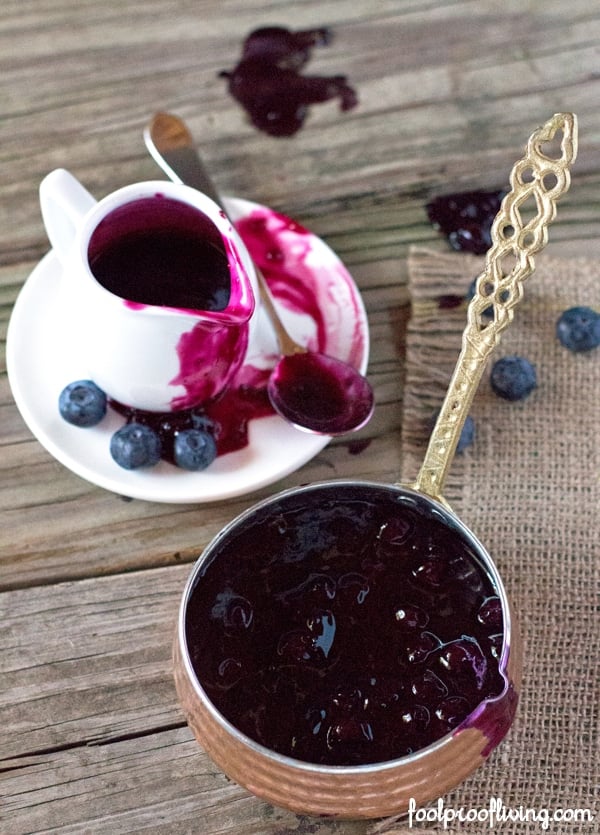 I used half of it to serve it with these pancakes and used the rest for breakfast with yogurt. You can also use it as an ice cream topping or as a spread on toast, muffins, or crackers.
Or just eat it the way I (sometimes) eat it; with a spoon, by itself. 
Either way, this one is love at first bite for me.
Print
Homemade Blueberry Sauce
Ingredients
3 cups fresh or frozen blueberries, rinsed- if using fresh blueberries
1 cup water
1 cup sugar
1 tablespoon lemon juice, freshly squeezed
1 tablespoon cornstarch
1/2 teaspoon vanilla extract
Instructions
Place blueberries, water, sugar, and lemon juice in small pan. Cook it, stirring occasionally, in medium heat. Let it come to a boil.
In the mean time, mix cornstarch with 1 tablespoon water in a small bowl.
Slowly stir in the cornstarch into the pan. Let it simmer for 5 minutes or until it is thick enough to coat the back of a wooden spoon.
Take it off the heat and stir in the vanilla.
Store it in an airtight jar in the fridge.
Slightly adapted from Ina Garten's Blueberry Sauce recipe.