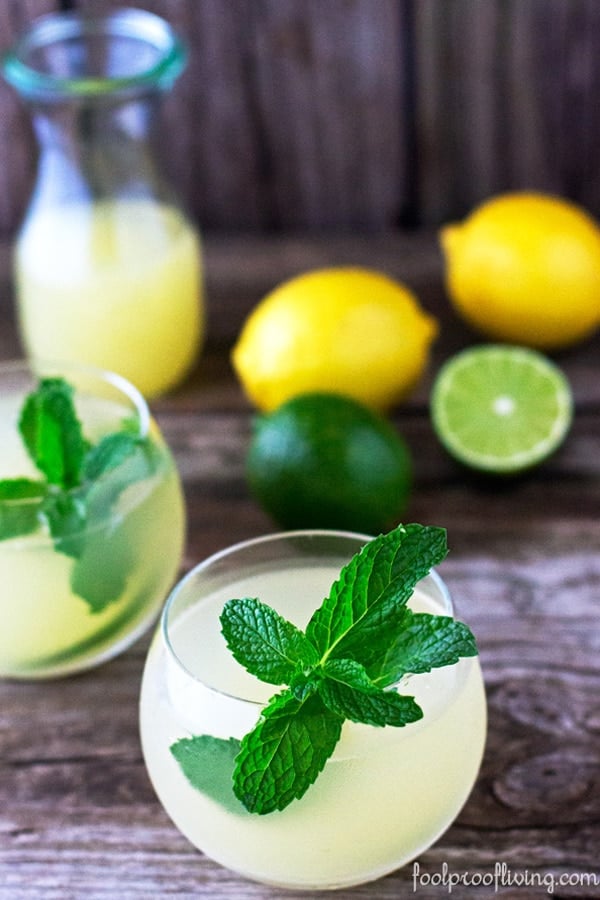 Jungle Bay, in Dominica, where we vacationed last week, has one of the best breakfast buffet I have ever seen. In addition to the usual breakfast items like pancakes, eggs, bread, and cereals, they offer freshly squeezed juices from the local fruits that they get delivered daily. Fruits like tangerine, orange, passion fruit, lemon, and coconut.
The best part of it is that they serve them as sweetened and unsweetened. I prefer unsweetened whereas my husband, Dwight, loves sweetened drinks.
Speaking of my husband, Dwight, he is a big fan of having a non-alcoholic drink as a pick me up or with his meals during the day. Cold teas like Tazo peach and green tea that they sell in Starbucks are his favorite. However, finding those here on the island is almost impossible. Since he cannot find Tazo Teas, he usually goes for Coca-Cola, which I am not too happy about because it is not healthy.
So I am always on the look out for drink ideas that I can make at home and have it readily available in the fridge for Dwight.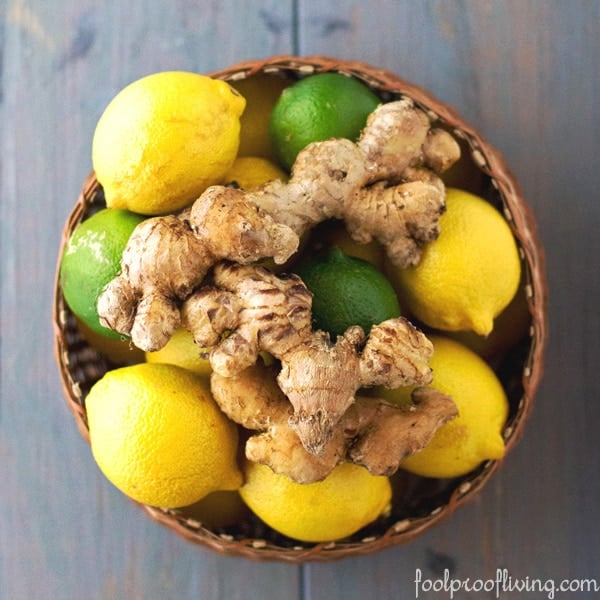 We were served this Ginger Ice Tea in Jungle Bay for lunch on our first day. We both loved it and ordered it several times. On our last day, Joanne, the Food and Beverage Manager, came to say goodbye to us with a bag full of fresh ginger in her hand. She explained to me how they make, our favorite, Ginger Ice Tea.
I was so happy as I was looking forward to trying the Pumpkin Ginger Soup that she showed us how to make, during the Caribbean Cooking class, as well as this ice tea.
When we came home first thing Dwight asked was to make some Ginger Ice Tea. So I did.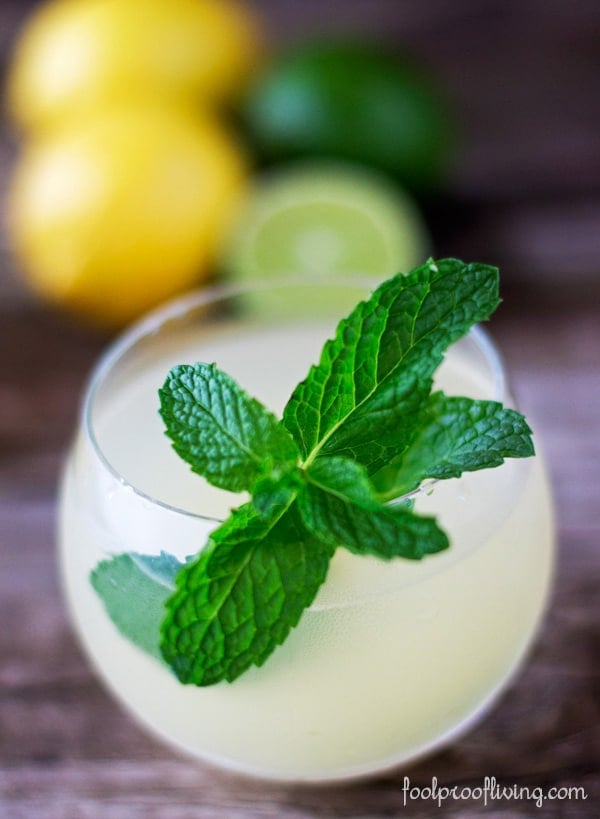 Instead of using granulated sugar I used honey thinking that it is somewhat healthier. You can use splenda, stevia, agave or natural sugars like coconut or maple sugar.
The refreshing taste of fresh lime and lemon juices mixed with the tangy flavor of shredded fresh ginger is heavenly.
As we both love fresh mint I put fresh mint leaves in it but it is totally optional.
In order to ensure that it will keep its freshness (and flavors) for a couple of days I put slices of lemons and limes in the pitcher. I serve it with lots of ice and more fresh mint leaves.
In the never-ending hot days of the Caribbean, this Ginger Ice Tea is, for sure, a star in our fridge.
Print
Dominican Style Ginger Ice Tea
Dominican Style Ginger Ice Tea: A recipe where fresh ginger shines. Made with freshly squeezed lemons, limes and fresh mint leaves and sweetened with honey, this drink is a refreshing non-alcoholic beverage that you can serve every member of your family.
Author:
Prep Time:

15 min

Total Time:

15 min

Yield:

9 cups

Category:

Drink

Method:

Mixing

Cuisine:

American
Ingredients
2 3-inch pieces of fresh ginger, peeled and shredded
8 cups of boiling filtered water,
6 juicy lemons, freshly squeezed
3 juicy limes, freshly squeezed
7 (more or less) tablespoons of honey or any sweetener of your choice
Mint leaves (optional)
10-12 ice cubes
Instructions
Pour the boiling water in to a heatproof glass pitcher. Add the ginger and let it sit for 15 minutes.
In the mean time squeeze the juices of lemons and limes.
Strain the ginger and water mixture through a fine mash strainer. Add honey (or sugar) when it is still hot and mix thoroughly. Taste it. At this point you want it to be sweeter than you would normally like.
Place some ice cubes in the pitcher and add the juice of the lemons and limes.
Mix thoroughly and add more honey to sweeten it, if necessary. If it is too sweet you can add more water.
Serve it with freshly sliced limes and leaves of fresh mint.