Last week was a tough one. Tuesday morning started like any other morning. I woke up early, read the news, and started working at 8am. Half an hour later, as I was typing an e-mail, I realized a tingling feeling on my left hand. I shrugged it off and thought that it would go away. It didn't. Instead, it spread to the whole left side of my body. I went out to get some fresh air, but it did not work. Not only I wasn't feeling better, but also I was feeling like my tongue was going numb as well. I tried to swallow but I couldn't.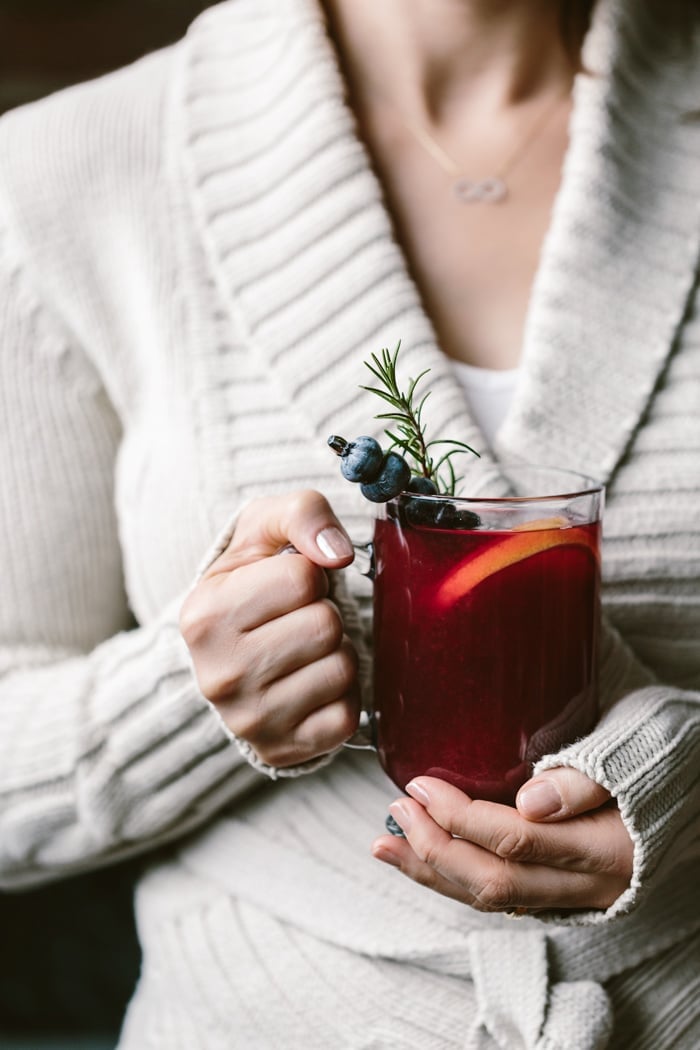 To make matters worse, Dwight had just left home to go for a run without his phone. In panic, I called my husband's best friend. Luckily, he answered the phone. He quickly came by, picked me up, and took me to the ER. After 6 hours of blood tests, cat scans, and x-rays later, my doctor said that I had a pinched nerve in my neck and that was the cause of the numbness.
Prior to that day, I was photographing almost every day. My back was hurting a lot, but instead of resting, I was ignoring it. As a result, my body pushed the breaks on my behalf and thought me a very important lesson. Since then I have also gotten a little bit of a cold and feeling like my lungs are congested. I feel like my body is begging me for some rest. Thankfully, instead of putting me on any medication my doctor suggested that I stay in bed and rest as much as I can. So I am taking it easy, resting a lot more, and nourishing my body with heartwarming soups and drinks. This honey-sweetened blueberry hot toddy is one of them.
After we came back from the hospital, my husband decided to take the matters into his own hand and went to the supermarket to get me some healthy food. A few hours later, he came back with bags full of fresh produce. In addition to winter vegetables, he also bought 5 pints of blueberries, as he knows how much I love them. They are my absolute favorite food to snack on and since they are available year-round I always keep some in my fridge. In the next few days, I snacked on some and on Friday night, after it got very cold, I decided to use the rest to make this homemade blueberry hot toddy.
About this Honey-Sweetened Blueberry Hot Toddy
Hot toddy is one of the easiest drinks you can make. Basically, you pour some boiled water in a mug, add some freshly squeezed lemon juice, a shot of bourbon (or brandy) and sweeten with sugar. However, for my recipe, I wanted to take it up a notch.
First, I used the rest of the blueberries to make a honey-sweetened simple syrup as the base of my hot toddy. I used blueberries intentionally as they are full of antioxidants and vitamins and they help reverse damage done by toxins. Exactly what I needed…
Second, I strained the simple syrup and divided it in between 2 mugs. To finish it up, I added some boiling water, a shot of bourbon and a generous squeeze of lemon juice in each cup. It ended up being a healer. I swear I could literally feel that I was getting better with every sip.
So next time you are feeling under the weather or simply want to warm the hearts of your guests, reach out for this blueberry hot toddy recipe. With its gorgeous and festive maroon color, I think it is the perfect drink to serve during the holidays.
OTHER BLUEBERRY RECIPES YOU MIGHT LIKE
Honey Sweetened Blueberry Hot Toddy
With its festive color, this honey-sweetened blueberry hot toddy recipe is the perfect drink to serve during the holidays (or any other time of the year). As the name suggests, it is sweetened with honey and healthy blueberries. It takes less than 15 minutes to make and I think it is the best remedy for those who are feeling under the weather or need a pick-me-up.
Print Recipe
Ingredients
To make the Blueberry Honey Cinnamon Syrup:
1

cup

honey

1

cup

fresh blueberries

rinsed - plus as garnish

1 1/2

tablespoons

lemon juice

freshly squeezed - plus slices as garnish

1/8

teaspoon

ground cinnamon
To make the Hot Toddy:
8

oz.

whiskey or brandy

8

oz.

Blueberry-Honey syrup

8

oz.

boiling hot water
Instructions
Place honey, blueberries, lemon juice and ground cinnamon in a small saucepan over medium heat. Bring it to a boil, reduce the heat and let it simmer for 10 minutes.

Using the back of a fork, mash the blueberries. Turn the heat off and let it cool for 10-12 minutes. Strain the mixture through a fine mesh strainer.

Divide the Blueberry-Honey syrup amongst 4 glass tea cups (or large coffee mugs).

Top each cup off with 2 oz of whiskey and 2 oz. of boiling water.

Garnish each cup with a slice of lemon and blueberries.

Serve immediately.
Nutrition
Calories:
411
kcal
|
Carbohydrates:
76
g
|
Protein:
1
g
|
Fat:
1
g
|
Saturated Fat:
1
g
|
Sodium:
7
mg
|
Potassium:
73
mg
|
Fiber:
1
g
|
Sugar:
73
g
|
Vitamin A:
20
IU
|
Vitamin C:
6
mg
|
Calcium:
5
mg
|
Iron:
1
mg
Like this recipe? Consider sharing: