Barefoot Contessa's delicious Easy Sticky Buns recipe is the perfect weekend breakfast. Ready in 30 minutes, it is one of the easiest desserts to make when you are short on time.
When people find out that I have a food blog the first question they ask me is "who gets to eat all that food?", continuing with the comment that "whoever he is, he is very lucky."
Most of the time that lucky person is my husband, Dwight. However, that is not always the case. Especially when it comes to desserts…
There is nothing that makes me happier when I see the smile on the faces of friends when I surprise them with a piece of cake, brownie or some freshly baked cookies.
When my friend Chrissann and her brother, Kyle, who is visiting us from California, asked me to join them for lunch, the first thing that came to my mind is to make these easy sticky buns. Not only because I did not want to go empty handed but also I did not want to risk the fact that I may eat way too many of them if I was by myself.
What makes these stick buns so easy is the fact that you use puff pastry instead homemade dough. Puff pastry is made up of flour, water, butter, and salt. When heated, it turns into a delicious, flaky, and crispy pastry. It is readily available in the freezer section of most supermarkets.
You can make these easy sticky buns in less than 15 minutes. I usually make them at night, keep them in the fridge, and bake them first thing in the morning for a fresh pastry to accompany my coffee.
Here are the steps:
Step 1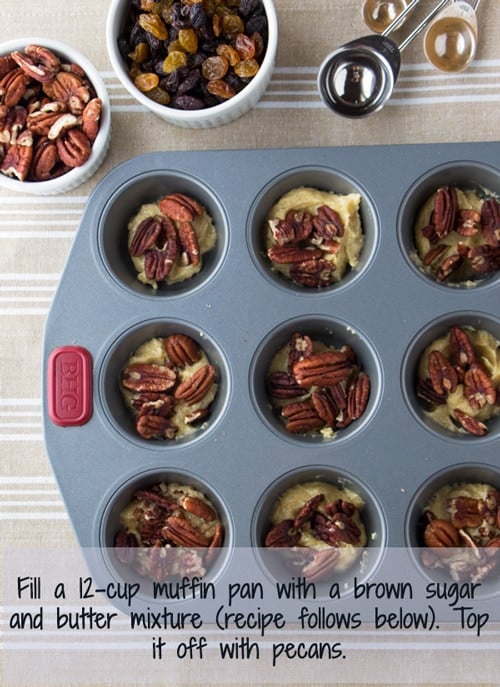 Step 2
Step 3
Simple as that!
By the time I made it to Chrissann's beach house, Kyle, who is also very much into cooking, made his famous "Napoletan Style" pizza. We quickly set up the table as Chrissann made the most delicious Mango Mimosas.
As it was raining early in the day, I did not think that we would be able to enjoy the outdoors. But, luckily, it stopped raining and was cool enough for us to enjoy a day out on the beach.
Days like this remind me why I like living here so much. As most friends and family are dealing with the harsh winter, we could enjoy each other's company in a beautiful beach setting.
Kyle and Chrissann loved the easy sticky buns. I, on the other hand, enjoyed the laughter, conversation, and simply spending time with good friends…
For me, that is what the holidays are all about.
Easy Sticky Buns
Barefoot Contessa's delicious easy sticky buns recipe is the perfect weekend breakfast. Ready in 30 minutes, it is one of the easiest desserts to make when you are short on time.
Print Recipe
Ingredients
12

tablespoon

1- 1/2 stick- 6 ounces Butter, at room temperature

1/3

cup

(2.30 ounces) light brown sugar (or coconut sugar)

1/2

cups

pecans

lightly chopped

1

package

2 sheets frozen puff pastry, defrosted overnight
For the Filling
2

tablespoons

(1 ounce) butter, melted and cooled

2/3

cup

4.6 ounces light brown sugar (or coconut sugar)

3

teaspoons

ground cinnamon

1

cup

raisins
Instructions
Preheat the oven to 400 F degrees.

Using a spatula (or a spoon) mix the 12 tablespoons of butter and 1/3-cup light brown sugar in a bowl until thoroughly combined. (You can use a mixer fitted with a paddle attachment but since the butter is at room temperature, it is easy to mix with a spoon or a spatula.)

Place 1 tablespoon of the butter and sugar mixture on each muffin cup. Distribute pecans evenly on top of the mixture. Set aside.

Mix 2/3-cup light brown sugar and cinnamon in a small bowl.

Unfold a pastry sheet onto a lightly floured surface. Brush it with half of the melted butter. Leaving 1-inch border on the puff pastry, sprinkle it with brown sugar and cinnamon mixture, and 1/2 cup of the raisins.

Repeat the same process for the second puff pastry sheet.

Place each piece, spiral side up, in muffin cups on top of the brown sugar & butter mixture, and pecans.

Bake them for 30 minutes or until they are golden brown. Allow them to cool for 5 minutes and invert them onto a parchment paper.

Serve immediately.
Nutrition
Calories:
223
kcal
|
Carbohydrates:
20
g
|
Protein:
1
g
|
Fat:
17
g
|
Saturated Fat:
8
g
|
Cholesterol:
30
mg
|
Sodium:
135
mg
|
Potassium:
133
mg
|
Fiber:
2
g
|
Sugar:
7
g
|
Vitamin A:
433
IU
|
Vitamin C:
1
mg
|
Calcium:
23
mg
|
Iron:
1
mg
Adapted from Ina Gartens Barefoot Contessa Back to Basics Cookbook – Easy Sticky Buns Recipe on Page 240.
Like this recipe? Consider sharing: