It is hard to believe that it has been over 5 years since the last time I visited Turkey. The plan was to go last summer, but life happened and I couldn't make the trip. I plan on going this summer, but between my work and personal commitments, I still don't know if I can commit to a few weeks of being away.
As you can imagine, I miss my family, friends, the house that I grew up in, and of course, the food. In the meantime, I am keeping in touch with my loved ones through Skype and the food via a few of my favorite YouTubers from Turkey.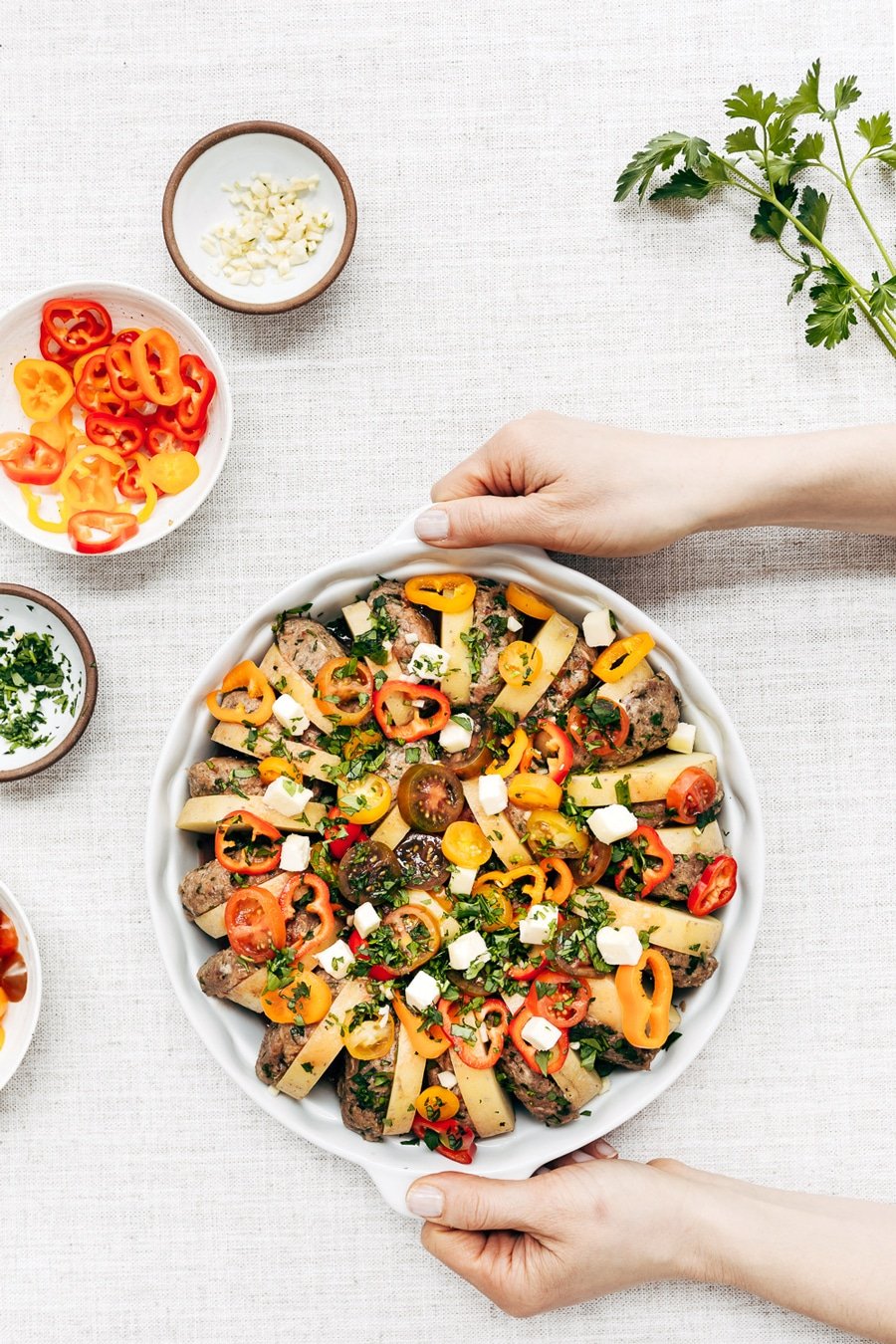 Speaking of YouTubers, I am currently obsessed with Refika'nin Mutfagi. She is a Turkish chef with a cooking show on one of the national channels in Turkey. She also has a YouTube channel with the same name, where she teaches her viewers how to cook all the while (mostly) making some of the classic Turkish recipes that stood the test of time.
Last year, she shared the recipe for this Oven Baked Meatballs and Potatoes with the ingredients found in the US supermarkets, but now I am ready to show you how to make it.
About This Meatball Potato Bake Recipe:
Before I talk about the details of the recipe, I want to be honest and upfront about the fact that this recipe requires some advance preparation. It is by no means difficult to make, but you would have to plan ahead and set aside ample time to make it.
The process of making this recipe has two folds:
First – Prep Your Turkish Meatballs Mixture:
I have already published a whole blog post and a quick video on how to make Turkish Meatballs. Feel free to visit that post to get the recipe and read through my tips and tricks. I recommend prepping the meatball mixture (without rolling the balls) a day in advance and keeping it in the fridge until you are ready to assemble this dish. Doing so will not only help you save on time, but also allow the ingredients to mingle and bring out the flavors in them.
Second – Prep the potatoes (also The Best Potatoes to Use for Baked Meatballs):
After several tries, I found that Yukon Gold potatoes deliver the best results for this recipe. On my first try, I used Russet potatoes. Sadly, even after an hour and half into baking in the oven, they were not cooked. On the other hand, Yukon Gold potatoes delivered a smooth, almost buttery texture that matched beautifully with the meatballs.
Additionally, as you are getting your potatoes, I recommend hand picking them to make sure that they are similar in size. This way, once they are arranged in the baking dish, they will cook evenly and have a uniformed look.
As you are slicing the potatoes, be sure to cut them as equally as possible. I sliced mine in ½-inch thick slices. For the 10-inch baking dish I used, I used 17 slices in the outer section and 4 slices in the middle section. Since I wanted it to look aesthetically pleasing and food photography-worthy, I didn't use the smaller pieces. Rather, I cut them into small cubes and placed them in a plastic bag to use them for later.
The Toppings and the Tomato Sauce:
Once you assemble the meatball and potatoes, you top them off with sliced fresh tomatoes, minced garlic, and peppers. Next, you drizzle it with ¾ cup of tomato sauce and water mixture. On my first few tries, I used more of this liquid mixture and ended up with the juices at the bottom of my oven. I know that it is tempting to put more liquid in there, but it is important to know that the meatballs will also release their juices as they bake.
The last touch is a few tablespoons of cubed butter. My biggest advice to you is to not skip this step as I think butter is the killer touch that takes this dish to the next level.
How Long Do You Bake Meatballs in the Oven?
Once you have your meatballs and potatoes assembled and topped off with all the goodies, cover it first with parchment paper and then with aluminum foil. Doing so will help bake everything evenly without burning the meatballs and potatoes. After 55 minutes in a preheat 450 F degree oven, remove them to brown the top of the dish in the last 20 minutes.
Now, I know that it takes a long time. And to be honest, one of the reasons why I made this several tries was to find a quicker way to bake this dish. I tried thinner slices of potatoes and meatballs as well as other types of potatoes. However, none of my trials gave me quicker results. In the end, I had to accept the fact that good things take time.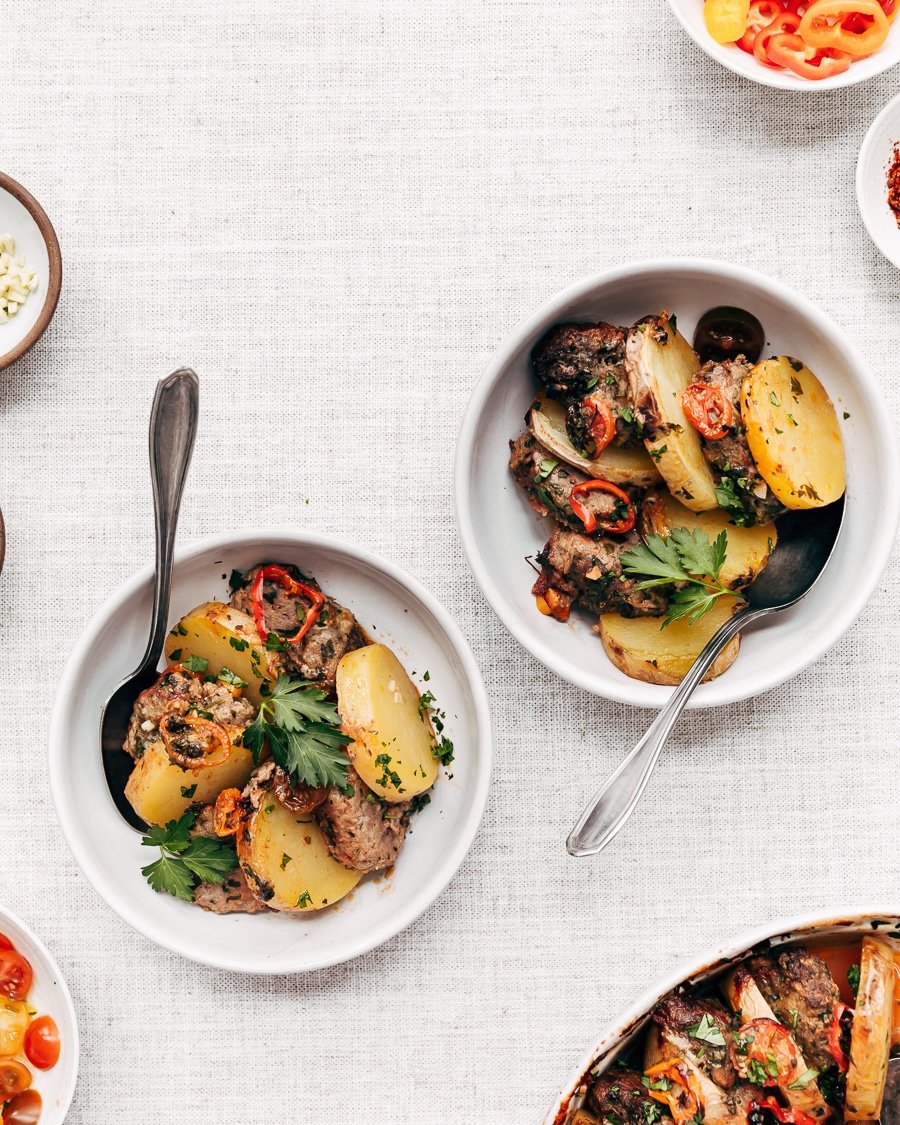 Tips On Making It Ahead and Freezing:
I hope you agree that this is an impressive dish to serve when you are entertaining. If you are planning to serve it to your guests, you can assemble the meatballs and potatoes in advance, cover it tightly with plastic wrap, and keep it in the fridge a day in advance or freeze a week or two before you are ready to serve.
If you choose to freeze, let it thaw overnight in the fridge a day before. On the day of, simply top it with the toppings, drizzle it with the tomato sauce-water mixture, and bake as directed.
Other Dinner Recipes You Might Like:
Oven Baked Meatballs and Potatoes
Recipe for Oven Baked Meatballs and Potatoes Sliced Yukon Gold potatoes lined with Turkish meatballs, topped off with peppers, tomatoes, garlic, parsley, drizzled with tomato sauce, and baked in the oven for perfection. A crowd pleaser that is also esthetically pleasing to the eye. This recipe is adapted (with changes) from Refika'nin Mutfagi's Patates Kofte Dizme recipe.
Print Recipe
Ingredients
1

serving of Turkish Meatballs

5-6

medium size Yukon Gold potatoes*

washed under called water (no need to peel)

2

teaspoon

kosher salt

divided

½

cup

cherry tomatoes

sliced thinly

½

cup

peppers

sliced thinly

3

cloves

of garlic

minced

½

cup

of Italian parsley

chopped plus more as garnish at the end

2

tablespoons

butter

cut into small cubes

½

cup

tomato sauce

¼

cup

water
Instructions
Pre-heat the oven to 450 F degrees.

Prep your

Turkish meatballs

as directed in the recipe. Roll them into balls. For a 10-inch plate that is 2-inches wide, you will need 21 meatballs.

Slice each potato into 1/2 -inch thick slices. Season each slice with 1 1/2 teaspoons of kosher salt.

Place a slice of potato in the palm of your hand and put a meatball on top. Shape the meatball in a way that will be similar to the size of the potato. Place it on a large plate and continue with the rest of the potato slices and meatballs.

Arrange the potato slices and meatballs like I did in the video above, starting from the outer corners and ending in the middle. For a 10-inch plate, you should have 17 meatballs+potatoes and 3-4 in the middle.

Garnish with cherry tomatoes, peppers, garlic, and parsley. Spread cubed butter on top.

Mix tomato sauce, water, and rest of the salt in a cup. Pour the mixture over the meatballs and potatoes.

Cover it first with parchment paper and then with aluminum foil. Bake in the preheated oven for 55 minutes. Then remove the parchment paper and aluminum foil and bake for another 20 minutes.

Sprinkle it with more parsley and serve.
Video
Notes
The dish that I used is an oven-proof 10-inch pie dish that is 2 inches deep.
Be sure to pick potatoes that are similar in size.
For freezing instructions please read the blog post.
The timing listed above doesn't reflect the time it requires to prep the meatballs.
Nutrition
Calories:
269
kcal
|
Carbohydrates:
33
g
|
Protein:
12
g
|
Fat:
10
g
|
Saturated Fat:
4
g
|
Cholesterol:
34
mg
|
Sodium:
345
mg
|
Potassium:
979
mg
|
Fiber:
4
g
|
Sugar:
3
g
|
Vitamin A:
195
IU
|
Vitamin C:
49
mg
|
Calcium:
38
mg
|
Iron:
2
mg
Like this recipe? Consider sharing: