What A Year This Was!
Back in January, I decided that my word for 2020 would be "Surrender." I wanted to be better at letting it go and letting it be.
I wanted to be intentional about this decision, so as a reminder, I changed my phone's wall picture to what you see in the image below.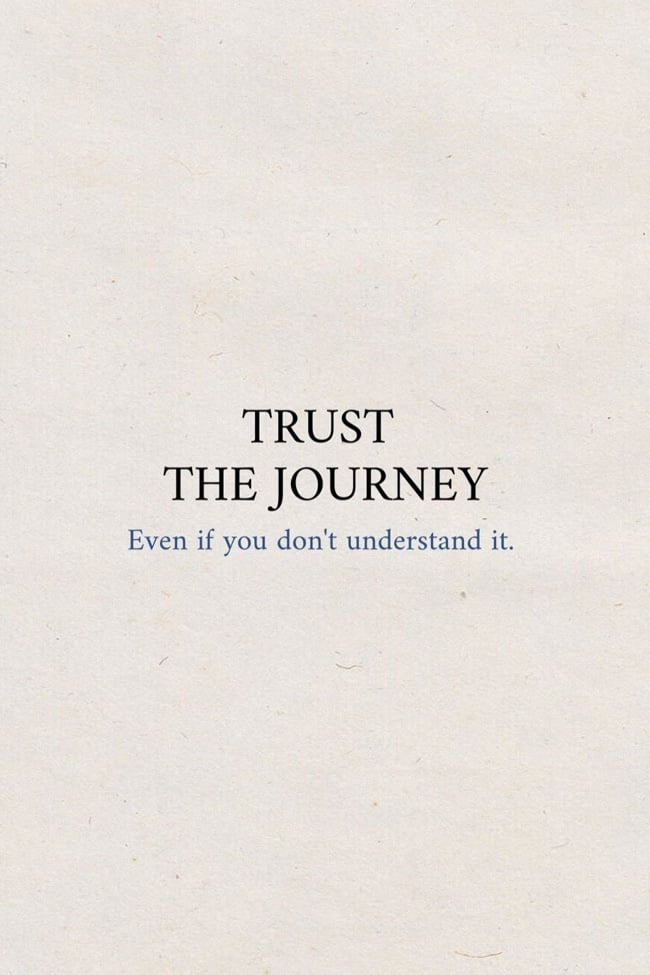 It said, "Trust the journey, even if you don't understand it."
Of course, at the time, I had no idea what was in store for the world for 2020. Nine months into this pandemic now, we learned many lessons, were scared for our lives and had to make some hard choices.
I think, in a way, we all had to surrender to life in one way or another during this challenging year. On the last day of 2020, as I write this, we are still not out of the woods yet.
Who knows what will happen in 2021, but as I am thinking about my word for the new year, I know for sure that anything can happen anytime.
It is possible that I can get sick and die tomorrow, as many people did in 2020.
My "Word" for 2021
And when I think about the possibility of death being so close, it makes me realize that when all is said and done, all we are left with are the experiences we've had. That is why I want this year to be about fostering relationships and being intentional about creating memories.
This is a big step for me because I find comfort in being behind the camera (and the keyboard) and just doing my thing in the comfort of a room in my house that I call my "studio."
But that is not the way to build relationships, so I am making an intentional decision and choosing the word "Engage" as my word for 2021.
The first step for getting out of my comfort zone
The other day I was thinking, there are thousands of people who visit Foolproof Living every day, and I am privileged to reach thousands of people on social media with the click of a button.
But, how many of those people do I know? I am embarrassed to admit that the number is very (very) low.
So, as a part of my new word (and mission), I am taking a step towards getting to know the people in my community.
Join Me For My Very First Cooking Class on Zoom
To get to know you and have a good time doing our favorite activity, cooking, I want us to get together and cook delicious food via Zoom.
My goal is simple; bring us all together, lift our spirits with a hands-on cooking experience, and help you put dinner on the table after an hour of a fun cooking class.
And in this class, drinking alcohol is encouraged.
We will start the class making one of my all-time favorite cocktails, French 75. Then we will make my Salmon Nicoise all the while we are sipping on our cocktail.
At a time when the pandemic is trying to suck the fun out of life, if you want to have a good time with good food, join me for a live cooking class via Zoom on January 13th at 5:30 PM EST (for 1 hour 15 min).
What to Expect?
Live via Zoom: The classes will be held via Zoom so you can join in from anywhere in the world. During the class, you will be able to ask me all your questions as we cook together.
Class Booklet: As soon as you sign up for the class you will get an email with the link to the class and a beautifully designed class booklet with the recipes and a prep list.
Cook with me or just watch: You can follow the prep instructions in the class booklet to cook with me and have a meal to serve your family as soon as the class is over. Or, watch me as I cook to make it later at your own pace.
Can't make it? No problem: If you can't make it or if you want to watch it again, the class will be recorded. You will receive an e-mail with a link to the class as soon as it is over.
Don't care for this recipe? No worries, we have more classes coming with different kinds of foods.
You can learn more about it and sign up for it here. Have you got questions? Feel free to send me an email.
An Honest Annual Review
In his latest newsletter, Ali Abdaal (one of my favorite YouTubers) talked about the importance of having an honest annual review and answering some questions.
He defines it as it being "just a sit-down-self-exploration exercise where we reflect on how our year has gone in the hope that we gain insights to improve the next."
In the same newsletter, he included some questions to answer.
Do you ever do monthly/yearly reviews?
This year, I want to start doing them myself, so here I am sharing a few of my answers below:
When have you felt proud of yourself in 2020? What were you doing?
I felt proud of myself on the day we got the keys to our new house. I have been living in the US for almost 20 years now, and it has been a rollercoaster ride. Since the day I came to this country, I have moved over 15 times.
We have been dreaming of owning a house and working on our finances for over five years now. It finally happened, and I am just so proud of having a place where I can call my "forever home."
If you had to teach one thing you learned this year (that would improve one's quality of life), what would that be?
The biggest thing I learned this year is the importance of delegating and getting help to go far. Even though we are a small team, I hired a few people this year to help me manage things to make time for myself.
As a control freak, it has been hard for me to have anyone else play with my baby (yup, Foolproof Living is my baby), but it opened up some room for me to do other things, and it has been so helpful for me.
If you are a small business owner like myself, my biggest advice to you is to hire people to help as soon as you can.
What things did you stop caring about in 2020?
I stopped caring about owning material things in 2020. I have been following people who are practicing minimalism for a few years now. Honestly, I wasn't sure if I could let my buying addiction go.
However, during the move, it became clear that I have collected way too much stuff over the years, and most of it is no longer needed for me to continue with my life. It was time to make the switch.
We donated so much stuff to Goodwill and decided that we would be more intentional with identifying what we want versus what we need.
This is not to say I won't be buying something for myself but rather mostly spend my money on experiences than things.
Things that I enjoyed during December:
As I do it in every one of these life update posts, I thought I could end this month's Foolproof Life Lately with a few things that I enjoyed during the month:
7 Great "This American Life" Episodes
If you are a podcast listener, you probably know Ira Glass and his podcast, This American Life. This year they celebrated their 25th anniversary. They shared some of the most popular episodes in an article in the New York Times.
Sadly, my favorite episode, Abdi and the Golden Ticket did not make it to the list. Still, if you are new to listening to podcasts or missed these episodes, check out the NYT article.
This show has been instrumental in understanding American culture for me, so I especially recommend listening to it if you are a foreigner living in the US like I am.
Masterclass with Ottolenghi
A good friend recently gifted me with a subscription to the popular teaching platform, Masterclass. I have been taking various classes for the last few weeks. So far, my favorite one has been Yotam Ottolenghi's class.
His marinated feta recipe is now a staple in our house, and I can't get enough of it. I even shared how I make it in my Instagram stories.
I cannot recommend this class enough, especially if you are like me, always looking for ways to up your cooking skills.
Chasing Life by Sanjay Gupta
We have been watching the documentary, Chasing Life by Sanjay Gupta for a few weeks now, and it has been a delight to watch. In his miniseries, Dr. Gupta travels to different countries in search of a healthier life and lifestyle.
Along the way, he shows us how people from other countries live a healthier lifestyle and heal themselves. He volunteers for some drastic and impressive treatments throughout the series, making it quite fun to watch.
A Heartfelt Thank You
Wherever you are in the world, thank you so much for being here. I am grateful for your support and interest in what I love doing.
I wish you and your loved ones a Happy New Year. I hope that 2021 will be a much better year. Sending much love your way. Until next month.
Cheer,
Aysegul
Love these life updates? Here are a few more:
Like this recipe? Consider sharing: