Finally, We moved.
Hello from our new home in Atlanta. It is hard to believe that we have finally fully moved, and it has already been a month.
This month has been a whirlwind of opening boxes, trying to figure out a place for everything, and finding out that our life in the New England area is not quite over yet.
Yup, you read it right.
Yes, we did buy a house in Atlanta, and I am currently living in it. However, around mid-October, we found out that life had some other plans for us.
Home Away From Home – Boothbay Harbor, Maine
You might already know this, but my husband, Dwight, works in the hospitality industry. Like many people in that field, he lost his job during the pandemic.
One of the reasons we decided to leave Vermont was because there was no reason for us to be there anymore. Our plan was to buy a house here in Georgia, where we both lived and continue to look, but in GA instead of VT.
But then, around October, Dwight got a call from a headhunter for an opportunity to manage a resort in a coastal town in Maine. After a few interviews and a couple visits to the resort, he was offered the job.
Not knowing what will happen with the pandemic and the elections, we did not want to pass on such a good opportunity and said yes. Plus, he loved the team and the energy of the resort.
Long story short, he now lives in Maine, and I live here in Georgia. We visited Boothbay Harbor right before we left Vermont. It is such a beautiful place, and I cannot wait to go back.
And you know me, I've already eaten my weight in lobster on my first visit to my home-away-from-home.
This pandemic has been so hard on the elderly
If you have elderly parents, you know that this year has been extra difficult for them. My dad has been in Turkey all by himself throughout the pandemic. I have been worried about him not having anyone to look after him since the beginning of March.
One of the reasons why we decided to buy a house was to have enough room so that he can come and live with us. So, he is coming this weekend.
I am excited but also scared and worried. He is an active and healthy 72-year-old man 😉 , but this virus is ruthless.
The good thing is that with him coming I will not be alone in this big house. Plus, Dwight will be able to go back and forth until we find our rhythm between our lives in Georgia and Maine.
So, yeah… That is what's happening in my life in a nutshell.
What is working?
What's not working?
Books & Shows I loved in November:
Greenlights by Matthew McConaughey (affiliate link):
I'll be honest, I have never been a big fan of Matthew McConaughey. I've seen some of his movies and know about his famous, "Alright, alright, alright" but that's about it.
I decided to read his memoir after watching him in one of the late-night shows. I had an Audible credit to use and bought his book on a whim to listen to while I was opening boxes.
WOW! First of all, he is a great writer. Second, listening to him read his own words in such an authentic way was a treat. The book is full of wisdom from a life well-lived, starting from his childhood to his years in Hollywood to today.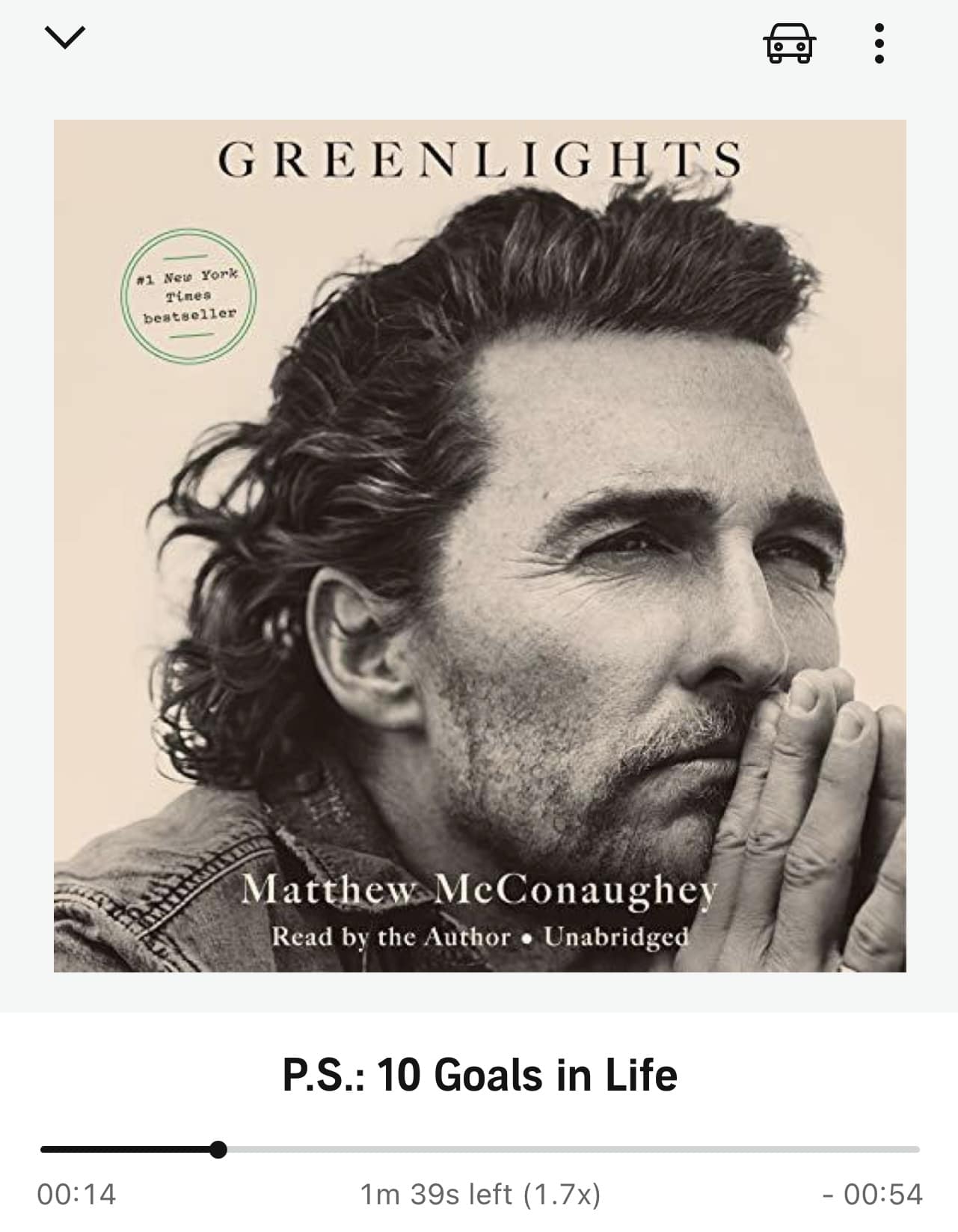 I plan to buy the printed book so that I can highlight bits and pieces to go back and read again. I highly recommend listening to the book, as I thought it was a delightful experience.
It Ends With Us by Colleen Hoover (affiliate link):
I picked up this book to read after I hurt my back. I had to lay down to give it a break and needed something light and fun. I thought it was a steamy love story.
It was, but it was also more than that. The main character is a woman who grew up in a household with domestic violence and blamed her mom for not standing up against her dad.
Then one day, the man that she thinks of as "the man of her life" hits her, and she finds herself in her mother's shoes.
This book offers a unique perspective on domestic violence and proves that things are not as black and white as they seem. Overall, it wasn't exactly what I thought but a good read nevertheless.
This is a 7-episode show about a girl who is a chess genius. She grows up in an orphanage, where she learns to play chess from the janitor. He helps her shape her talent, and then she gets adopted.
It is a heartwarming story, and the cinematography is outstanding. It is a great show to watch if you need a new one to get your mind off things.
I Leave You With This:
I won't lie. I am tired of it ALL.
The virus, the news, the fight for power, the feeling of losing hope in humanity, and the lack of empathy…
But, I am also grateful and hopeful. I know things will be okay, and we will come out of this stronger.
Only if we can survive…
So, I leave you with Nathaniel Drew's latest video. The concept of "information fatigue" resonates with me SO much. Like many, I am exhausted from all that is going on.
I hope you have a month where you take steps to manage your information fatigue. I know I will be working on it every day.
Until next month, with gratitude,
Aysegul
Love these life updates? Here are a few more:
Like this recipe? Consider sharing: