This post has been sponsored by American Greetings. All thoughts and opinions are my own.
This will be the 6th year being without my mother on Mother's Day. I still miss her terribly, but the pain of loss is not as bad. I guess time did its thing and helped me get used to the idea of her passing. I do not know how, but I know that she is in a better place, no longer sick and hurting. The idea of her being pain-free is what helps me get through the sad moments.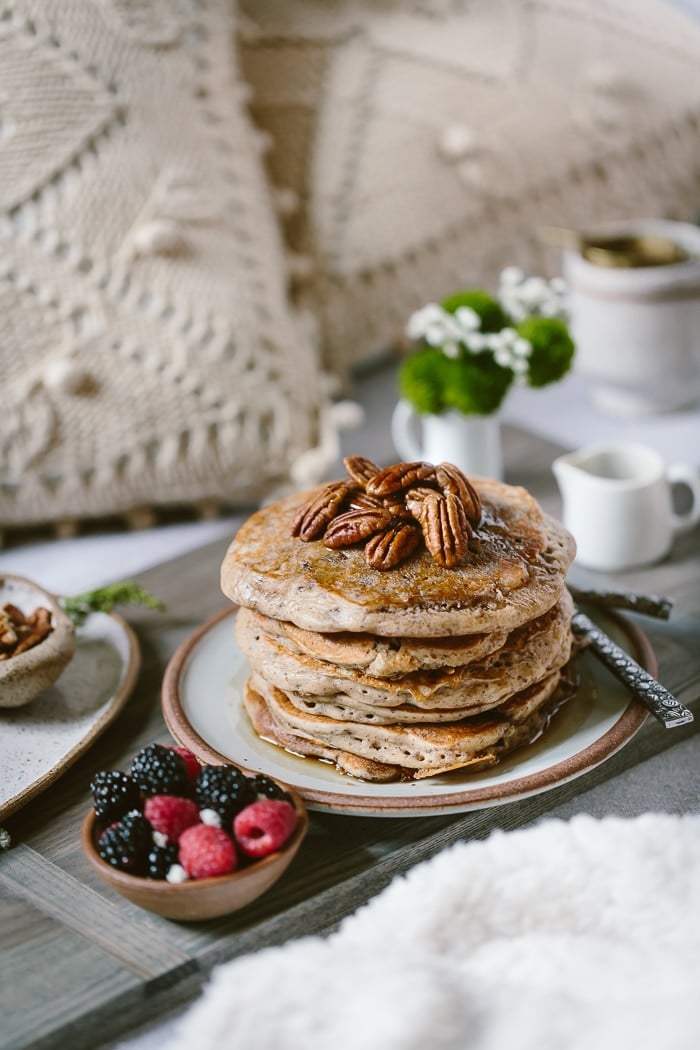 I continue to talk to her every day and hope with all my heart that she is listening to me. Who knows if she is, but the idea of her watching over me somehow makes me feel better. Plus, this year for Mother's Day I will not be alone. My father and his sister, Nazan, will be here. They both live in Turkey and I have not seen them (in person) for over 4 years. Needless to say, I cannot wait for their arrival.
My mother and aunt's friendship go way back. They grew up together in the same apartment complex and went to school together back when they were in middle school. Nazan was the one who introduced my mom to my dad. After my parents got married, their friendship continued and strengthened throughout the years.
Since my mother's sudden passing, I feel as though she has taken the role of being my mother. As a breast cancer survivor herself, she has been through so much in life and we have been through it together. She is the person I call when I am in need and her love and support mean the world to me.
Therefore, her being here on Mother's Day is a big deal and I want to make her feel happy and appreciated. To celebrate this special day, I am planning to spoil her with this breakfast in bed set up alongside the most delicious maple-sweetened healthy buckwheat pancakes.
How to Make Buckwheat Pancakes Recipe:
What is buckwheat flour?
If you are like me, somewhat new to cooking and baking with buckwheat flour, I think the following paragraph from my friend Alana's cookbook, Alternative Baker, would be really helpful to understand what it is.
"Buckwheat's pretty, pyramidal, greenish gray brown grains are the seed of an herb plant related to rhubarb and sorrel that is native to northern Europe and Asia, where it has been used since the eight millennium BCE; in fact it is not even a true grain. When roasted, it is referred as kasha. Buckwheat flour is made from these toasted grains, thus the rich, roasty flavor and deep color flecked with charcoal hue specks…"
Is Buckwheat Gluten Free
You might ask, "Is buckwheat flour gluten-free?" – Yes, it is. Despite its name, buckwheat is a seed rather than a grain. Therefore, it is a great flour to use in your baking or cooking if you have celiac disease or following a gluten-free diet.
Now back to my buckwheat pancake recipe…
As the name suggests, buckwheat flour is the star of these healthy gluten-free pancakes. It is also what makes them so earthy and delicious. I did mix in a little bit of almond flour to continue the earthiness and complement its flavors.
The other flavor agent in the recipe is pecans. I am a big fan of them, but use them interchangeably with walnuts. Feel free to use whichever one you like or have on hand.
Maple Syrup and Cranberries as Sweetener:
To sweeten the pancake batter, I used some maple syrup and apple juice sweetened cranberries. I love the combination of pecans and cranberries, but I have also made this pancake recipe using walnuts and raisins in the past and those were just as good.
Use Buttermilk for The Best Pancakes:
As many people do, I love buttermilk pancakes. It is such a classic ingredient that not only lends a tangy flavor but also helps with the rise of the pancakes after it interacts with baking soda. But let's be honest, who has buttermilk in the fridge all the time? Not me. So here is my formula for buttermilk substitute to make Buckwheat Buttermilk Pancakes – for 1 cup of buttermilk, use 1 cup of whole milk mixed with 1 tablespoon lemon juice (or white vinegar). I know there are many other ways of doing it, but this happens to be my favorite.
Breakfast In Bed: Setting Up The Scene
Now that we have the pancakes ready, let's talk about the set up.
To serve my gluten free buckwheat pancakes, I used a large cutting board. I love that it creates a flat surface making it easy to put on your lap and eat. But if you do not have one, a tray would work just as well.
I served my pancakes along with a pot of freshly brewed hot tea, berries, pecans, and of course, Vermont maple syrup.
To create a happy scene, I bought some fresh flowers and a beautiful Mother's Day card from Target. I love their card section and every time I go there I stop by to pick up a few cards. To me, it is such a sweet and thoughtful way of delivering a message. I usually go for the most colorful ones, but their extensive collection offers beautifully designed and worded cards for everyone and every occasion.
This year's Mother's Day cards were no different. I picked up a bunch of them, but I think the one you see in the photos is the one I will use for my breakfast in bed set up. The message in the card says exactly what I would have said so all I need to do is to sign my name at the bottom. I plan on mailing the rest of the cards to my friends, who are mothers.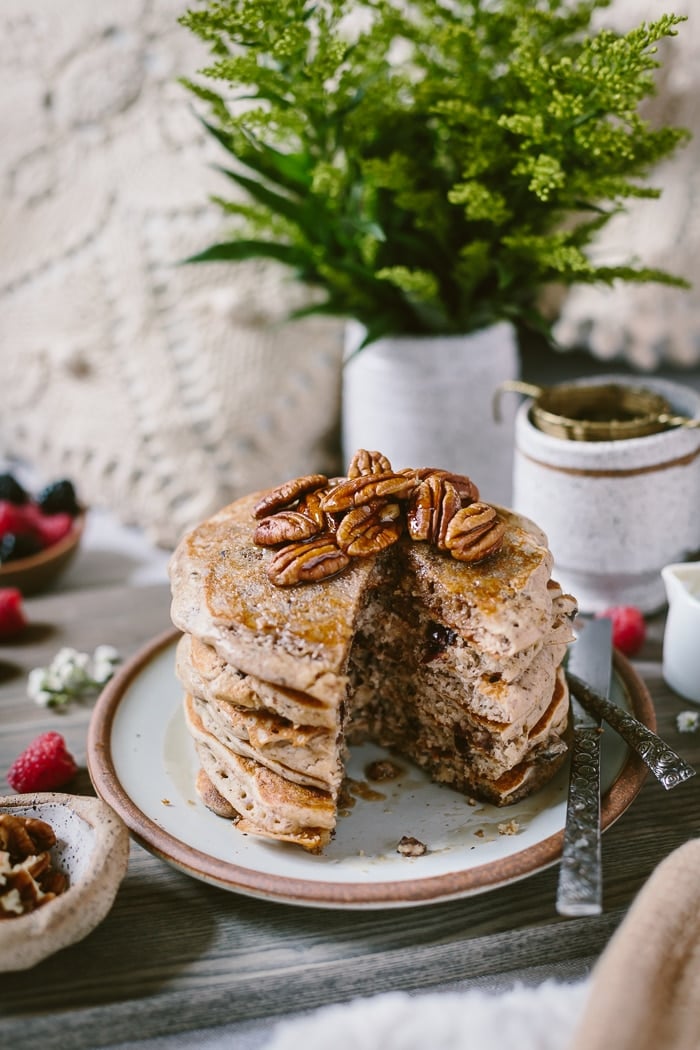 I know we are still a few weeks away, but starting with own my mother and aunt, I am wishing all the mothers out there a happy Mother's Day. I am sending you big virtual hugs. We can never thank you enough for all you do for us.
Other Pancake Recipes You Might Like:
Other Buckwheat Recipes You Might Like:
Gluten Free and Maple Sweetened Buckwheat Pancakes
These gluten free buckwheat pancakes are sweetened with maple syrup and made with buckwheat and almond flours. Ready in less than an hour, they are a healthier alternative to pancakes made with granulated sugar and all-purpose flour.
Print Recipe
Ingredients
1

cup

(120 gr) un-toasted buckwheat flour*

½

cup

(60 gr) almond flour

1

teaspoon

baking powder

½

teaspoon

baking soda

¼

teaspoon

ground cinnamon

¼

teaspoon

table salt

2

large eggs

at room temperature

1

tablespoon

maple syrup

more to serve the pancakes with

1 ½

cups

buttermilk

well shaken

2

tablespoons

grape seed or canola oil

1

teaspoon

vanilla extract

½

cup

(60 g) pecans, coarsely chopped – more as garnish

½

cup

dried cranberries

coarsely chopped

oil or butter for cooking the pancakes
Instructions
Pre-heat the oven to 200 F degrees. Lightly spray a baking sheet with oil. Set it aside.

Sift together the buckwheat flour, almond flour, baking powder, baking soda, cinnamon and salt in a mixing bowl. Set aside.

Whisk together the eggs, maple syrup, buttermilk, and oil in a bowl in a large mixing bowl.

Add in the flour mixture into the wet ingredients and mix until just incorporated. Do not overwork the batter. Fold in the pecans and cranberries.

Heat a griddle or a 12-inch non-stick skillet over medium-high heat. Brush with oil. Using a ladle (or a ¼ cup measure), portion 2 or 3 pancakes leaving a couple of inches around each pancake. Let it cook for 2-3 minutes (or until the bubbles break through the pancakes, flip, and cook each pancake for another minute or until the edges are set. Repeat the same steps with the rest of the batter.Keep cooked pancakes warm in the oven.

When ready to serve, garnish with pecans and drizzle with maple syrup.
Notes
I used unroasted (white colored) buckwheat flour, which has a much milder flavor than toasted buckwheat flour. I prefer the mild flavored unroasted version, but either one would work for this recipe.
Nutrition
Calories:
139
kcal
|
Carbohydrates:
16
g
|
Protein:
5
g
|
Fat:
7
g
|
Saturated Fat:
1
g
|
Cholesterol:
31
mg
|
Sodium:
173
mg
|
Potassium:
129
mg
|
Fiber:
2
g
|
Sugar:
6
g
|
Vitamin A:
89
IU
|
Calcium:
77
mg
|
Iron:
1
mg
Like this recipe? Consider sharing: