One of the most popular recipes on this blog is my Almond Flour Chocolate Cake. I receive many emails, mostly from young mothers, thanking me for sharing such a great low sugar and low carb chocolate cake recipe that they can serve their children.
One of those moms recently asked me how to turn that almond flour chocolate cake recipe into a paleo birthday cake. And because no cake is birthday-cake worthy without frosting, I had to develop a healthier chocolate frosting recipe that I could spread all over the cake.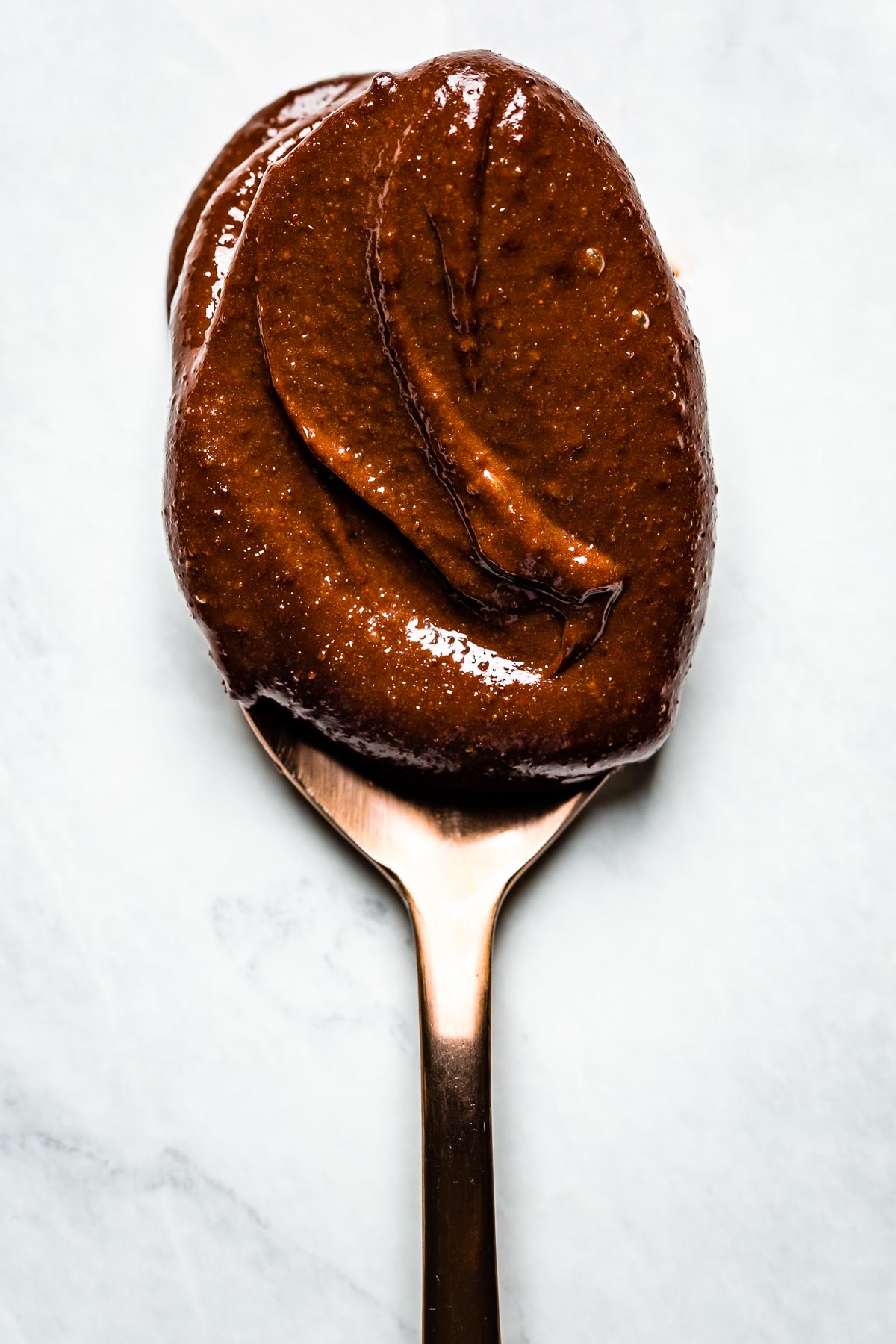 Why should you make this recipe?
In addition to being the best substitute for butter and powdered sugar-packed frosting recipes, this paleo chocolate frosting is terrific because it:
Is made with five simple ingredients and comes together in the food processor in less than 5 minutes.
Can be adjusted to make it work for your taste buds and dietary needs. Not a fan of nut butters (i.e., almond butter or peanut butter)? Swap it with sunflower butter. Want it sweeter? Add in more maple syrup.
Has a deep chocolate flavor, and it is easily spreadable. Perfect for any of your cupcake, cake, or brownie recipes (like my Almond Flour Brownies) to use in place of regular frosting.
Ingredients & Substitutions:
To make this easy vegan chocolate frosting recipe, you will need: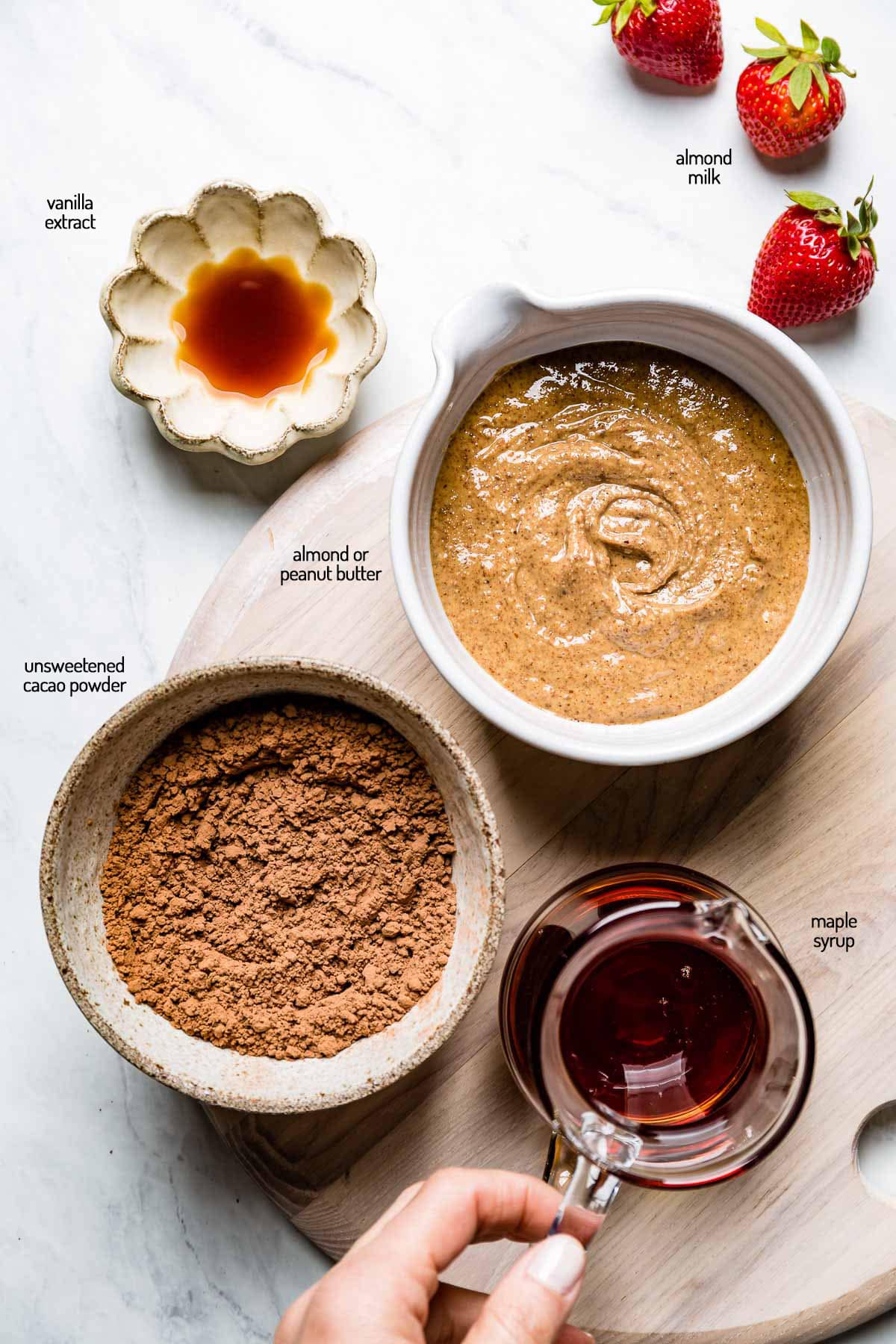 Your choice of unsweetened nut butter (or seed butter): I used creamy almond butter, but you can use any of your favorite nut butters. Peanut butter, cashew butter, and walnut butter would all work. If you are allergic to nuts, you can use seed butters like tahini (sesame butter), sunflower seed butter, or even pumpkin seed butter.
Unsweetened Cacao Powder: Make sure it is unsweetened. My favorite brand is Valhrona (affiliate link)
Plant-based milk: I wanted this recipe to be dairy-free, so I used homemade almond milk, but any plant-based, dairy-free milk would work.
Maple Syrup: If you do not have maple syrup on hand, you can use an equal amount of agave nectar or honey instead. If you use honey, it won't be vegan, but it will be a good substitute. You can also use coconut sugar, but you might have to add a few more tablespoons of almond milk to compensate for the liquid sweetener if you use that.
Vanilla Extract
ProTip: For best results, make sure that all your ingredients are at room temperature.
How to make chocolate frosting without sugar?
Making this healthy frosting recipe is so easy and has only three folds: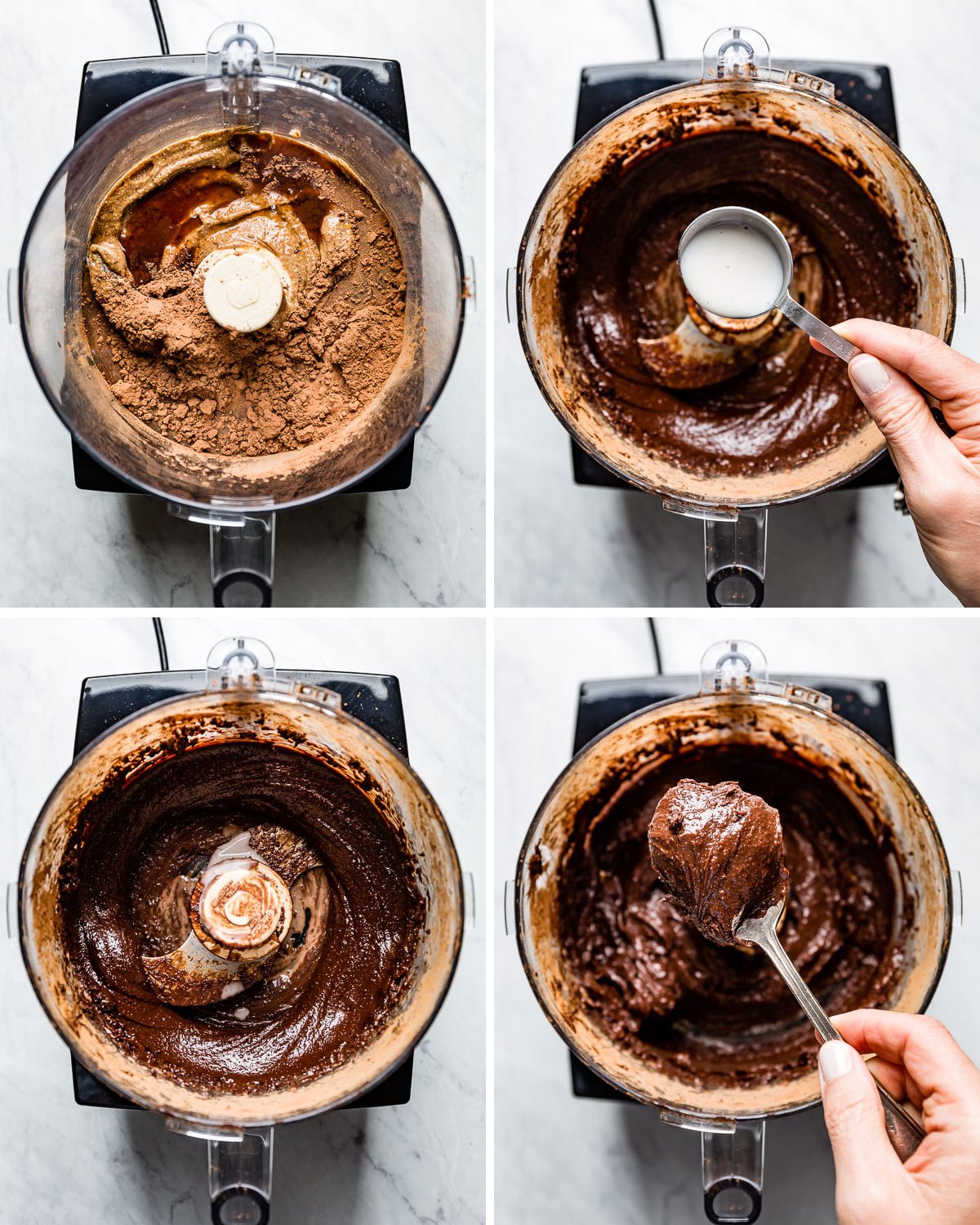 Gather everything in the food processor: Place all ingredients in your food processor attached with the blade attachment.
Pulse: Pulse 8-10 times in 1-second increments or until it is thoroughly combined and has a creamy texture. Stop the machine, scrape down the sides with a rubber spatula, and repeat until it reaches a soft and creamy consistency.
Taste & Spread: Give it a taste and add in more sweetener if you prefer it to be sweeter. Once it is to your liking, spread over cakes, brownies, and cupcakes as you please.
What Makes This Recipe Healthy?
I call this easy frosting recipe healthy because it is made without butter and confectioners sugar (aka powdered sugar). Instead, it uses wholesome ingredients like unsweetened nut butters packed with good-for-you healthy fats and a natural sweetener like maple syrup.
This doesn't mean that you should eat all of it in one sitting, but when consumed in small amounts, this paleo-friendly and vegan cake frosting is a healthier alternative than traditional frosting.
Variations:
Add in a pinch of salt: I usually add in a pinch of flaky sea salt when I am using it in my almond flour brownies or cake flour brownies recipes.
Use dried fruits as a sweetener: If you prefer not to use maple syrup or honey, you can also use dried fruits such as dates or unsulphured apricots. If you decide to do so, be sure to soak them in hot water for at least an hour before and drain them before using. For this recipe, I would start with 5-6 dates (or apricots) and increase it if it is not sweet enough to your liking. You will have to process longer, but it will still be delicious.
Make-Ahead & Storage Instructions:
Make-ahead instructions: You can make this healthy cake frosting a day in advance and keep it in the fridge in an airtight container. When you first take it out of the refrigerator, it will be hard. Let it sit on the counter for 30 minutes until it comes to room temperature, and stir it before using it in your recipe.
Best way to store: Place in an airtight container such as a mason jar and keep it in the fridge. It will stay fresh for up to 3 days.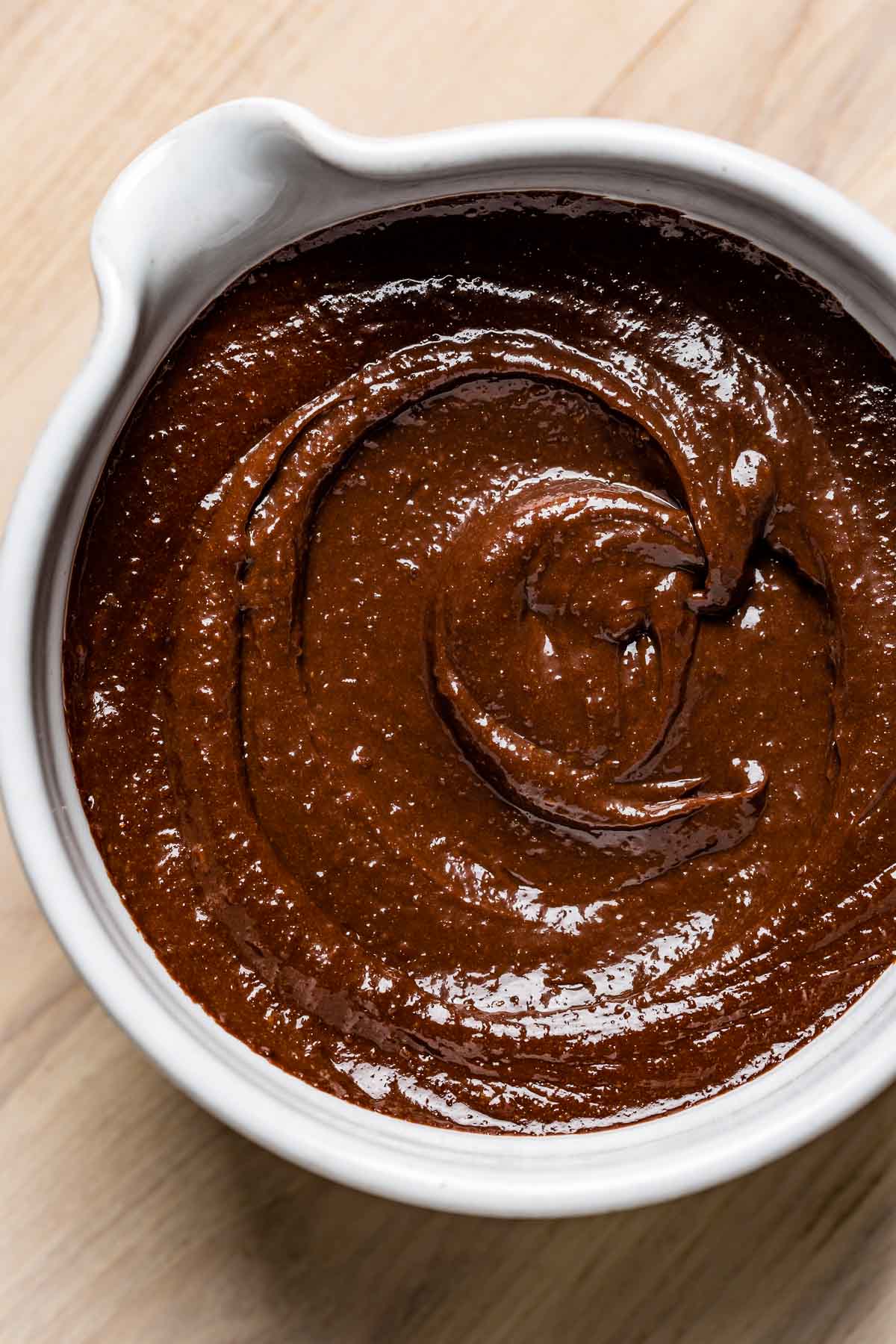 Recipe Ideas To Put It To Use:
You can spread this refined sugar-free frosting over any of your favorite cupcakes, brownies, cakes, and even cookies. Here are a few recipes I use it in:
FAQs:
What if I don't have a food processor?
If you do not have a food processor, you can use a blender as well. If you do not have either, you can place everything in a medium bowl and whisk until it reaches your desired creaminess. However, I recommend using ingredients that are at room temperature.
Can I place it in a piping bag to decorate my cake?
Yes, you can, with a minor adjustment. The frosting recipe below uses seven tablespoons of almond milk. I recommend using one or two tablespoons less if you plan to use it to decorate your cakes.
Can I use this recipe as chocolate icing?
This healthy chocolate cake frosting would not work as icing as it has a much thicker consistency.
Can I use it as a chocolate glaze?
Again, the consistency is too thick to pour it as a glaze. You can adjust it to your desired consistency by adding in more almond milk, but it will still not be as thin as a chocolate glaze.
Other Basic Recipes:
I am a big fan of having a few back-pocket recipes that I can use in more than one recipe. If you agree and enjoyed this healthy vegan frosting recipe, you might also like the recipes below:
Healthy Chocolate Frosting
This Healthy Chocolate Frosting recipe is made without butter or powdered sugar. Instead, I used almond butter (or any other nut/seed butter like peanut butter can be used), cacao powder, maple syrup, almond milk, and vanilla extract. It comes together in a food processor in just about 5 minutes.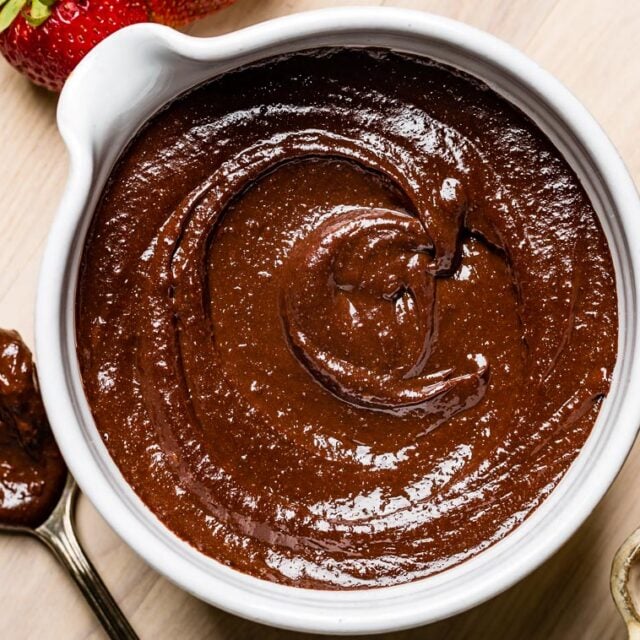 Print Recipe
Ingredients
1

cup

almond butter

unsweetened & creamy – At room temperature

½

cup

cocoa powder

unsweetened

⅓

cup

maple syrup

at room temperature

1

tablespoon

vanilla extract

7

tablespoons

almond milk

unsweetened
Instructions
Place ingredients in the bowl of a food processor fitted with the blade attachment.

Pulse 8-10 times, in 1-second increments, or until it is creamy and spreadable. You may have to stop the machine and scrape down the sides a once or twice to make sure that everything is throughly mixed.
Notes
The calorie information below is for the whole frosting. I usually use it in an 8-inch cake which yields 8 slices, which in turn would be for 8 servings.
Nut Butter: If you have nut allergies, you can use sunflower or tahini instead of nut butters (i.e, almond, cashew, or peanut butter)
Sweetener: You can use agave nectar or honey (a non vegan option), instead of maple syrup.
Storage & Make ahead: You can make this healthy chocolate frosting recipe a day in advance, place it in an airtight jar, and keep it in the fridge. It should keep fresh up to 3 days. Be sure to let it sit on the counter 30 minutes before you are ready to use and give it a stir before using.
No food processor? If you do not have a food processor, you can use a blender. It is a little bit messier with a blender but it would work. If you do not have both of those equipments, you can use a bowl and a whisk. It would take a bit longer but it would still work
Nutrition
Calories:
1975
kcal
|
Carbohydrates:
146
g
|
Protein:
61
g
|
Fat:
146
g
|
Saturated Fat:
14
g
|
Sodium:
174
mg
|
Potassium:
2786
mg
|
Fiber:
40
g
|
Sugar:
78
g
|
Vitamin A:
3
IU
|
Calcium:
1167
mg
|
Iron:
15
mg
Like this recipe? Consider sharing: