These past few weeks have brought some of Vermont's finest autumn weather. The leaves are a kaleidoscope of eye-catching shades of fiery crimsons, bronzes and golds. I am savoring the rich mosaic of warming colors and the cool, crisp mornings while I can, so I mindfully take a few moments on even the busiest of days to step outside, knowing in just a few short weeks we'll be in the throes of those shortened, bleak, colorless winter days.
These types of autumn days find me craving something sweet and substantial with my morning coffee. The smell of freshly baked goods seems to complement the bitter tones of the coffee and gives me a sense of comfort as the weather cools.
So, I wanted something that would accompany my morning coffee without competing, something that wasn't too sweet, but with a richness of body and texture that would leave me pleasantly filled, yet not overwhelmed with flavor explosion. That's when I came up with Flourless Chocolate Cupcakes.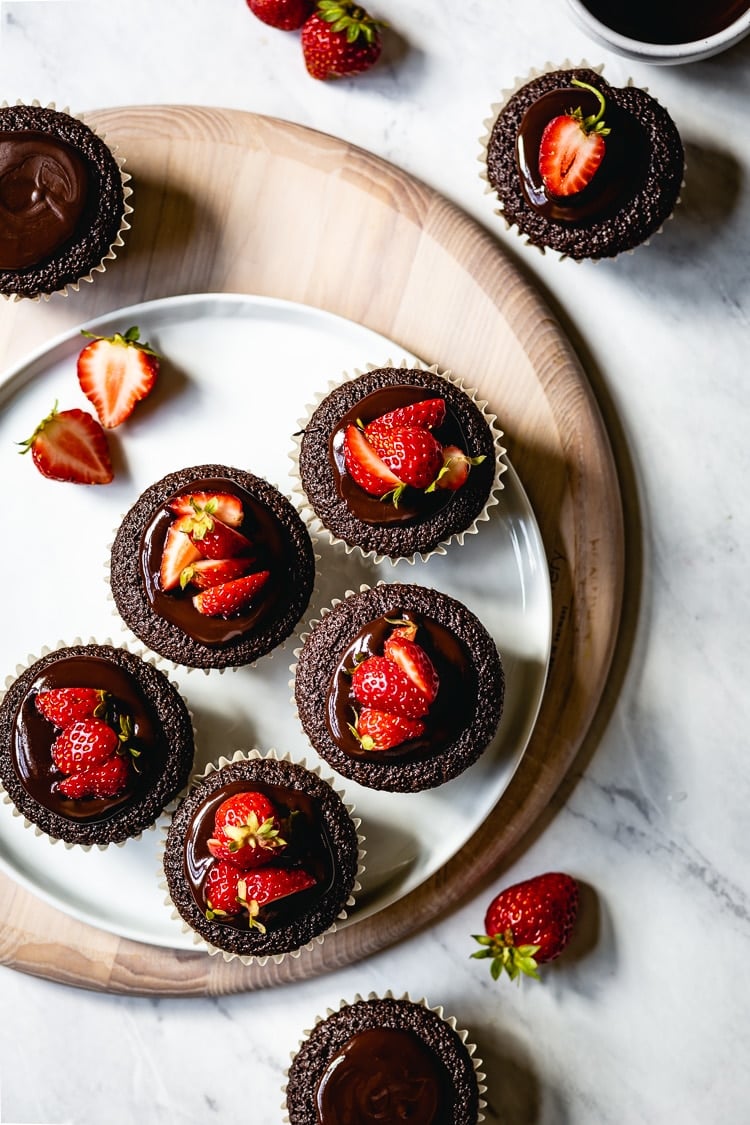 Indulgences are a part of life, especially for anyone who loves to bake. My gluten-free chocolate cupcake recipe is rich and chocolate-y, but without being overly-sweet. These exceptionally moist cupcakes use almond flour in place of all purpose flour, making them a gluten free, heart-healthy option to regular cupcakes. I also use maple syrup instead of refined granulated sugar.
How To Make Chocolate Cupcakes
If I am being honest, I didn't want to reinvent the wheel here so I chose to adapt this recipe from my Almond Flour Chocolate Cake. You can take a look at the comments from that recipe to get an idea of all the love that one got. Hopefully you will find plenty of love in this one as well!
As in all cupcake recipes, in this no flour cupcakes recipe, you first make the muffins and then the frosting.
Flourless chocolate muffins
To make the muffin part, I used the exact same recipe of my Almond Flour Chocolate Cake. The only difference is that instead of baking it in a 9-inch cake pan, I used a 12-cup muffin tin. Baking time was the same as well.
In my opinion, the best part of this recipe is that it doesn't use any additional oils. Since it is made with almond flour, the high fat content of it is enough to create muffins that are moist and rich at the same time.
Additionally, it is naturally sweetened with less than a cup of maple syrup so it is not overly sweet.
The process of making these flourless chocolate muffins has 3 folds:
First, you mix the dry ingredients; almond flour, unsweetened cocoa powder (not Dutch processed), baking soda, and kosher salt.
Then you mix the wet ingredients; eggs, maple syrup, and vanilla extract.
Last but not least, you stir in the wet ingredients into the dry ones and divide the batter evenly in a 12-cup muffin tin. Then you bake them in a 325 F degree preheated oven for 35-40 minutes or until a toothpick inserted in one of the muffins comes out clean.
Frosting for flourless cupcakes
While you can certainly use a cream cheese and butter based frosting (and it would taste amazing), I went for a simple chocolate frosting. When I say simple, I mean that quite literally.
To frost my flourless chocolate muffins, I melted some unsweetened baking chocolate in a glass bowl placed over boiling water and added a few tablespoons of maple syrup to sweeten it.
I used unsweetened chocolate so that I can adjust the amount of sweetness and use a natural sweetener (maple syrup) to make sure that the (maple) flavor is consistent throughout my gluten free chocolate cupcake recipe.
I topped it off with some fresh strawberries for a pop of color and additional sweetness. However, you can use any other fruit you have on hand or just serve it without the fruit.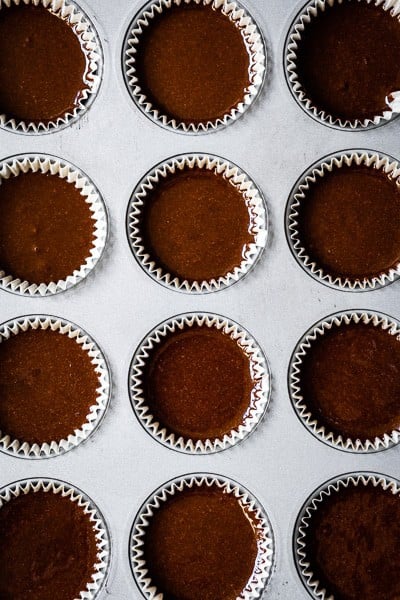 Alternatively, if you prefer a more traditional cupcake with frosting here are a few suggestions:
Maple Whipped Cream and Fruit: Similar to what I did with my Almond Flour Chocolate Cake, you can top if off with maple whipped cream and fruit (pomegranate seeds, strawberries, and raspberries are my favorite fruits for this flourless cupcake)
I know that this is not a traditional frosting per say, but I promise it works.
Cream Cheese Frosting: If you prefer more of a traditional frosting, then you can try my friend Alana's Cream Cheese Frosting recipe. While it is not naturally sweetened (she uses powdered sugar), it is creamy and tangy without being overly sweet.
Plus in her post, she shares various flavorings using the same cream cheese frosting recipe as the base.
A Few Tips for the Best Ever Chocolate Cupcakes
Best Way To Store: Since these muffins are super moist, I recommend storing the leftovers in the fridge in an airtight container up to 2 (max 3) days. You can store them on the kitchen counter too, but I prefer keeping them in the fridge and warming them up in the microwave for 10-15 seconds before I am ready to serve. You can top it off with the frosting right before serving.
Can I freeze these flourless chocolate muffins: Yes, you can. Just be sure to bring them to room temperature and store them in an airtight container. They should be fine for 2-3 weeks in the freezer. You don't need to thaw them before serving. Simply take them out from the freezer an hour before you plan to serve and top it off with the frosting. Alternatively, you can warm them up in the oven (low-temperature 250 F degree) for 5-10 minutes and frost them afterward.
Can I substitute maple syrup with honey: Yes, you can. Though I recommend using ½ cup of honey as ¾ cup was way too sweet. Though feel free to adjust it to your liking.
Can I use homemade DIY almond flour (or almond meal) for this recipe: Absolutely! As a matter of fact, I made the almond flour I used in this recipe in my food processor using almonds I blanched myself. If you want to learn more about making your own, check out my comprehensive guide on How To Make Almond Flour.
I think this covers it all. I hope you will add these easy gluten-free chocolate cupcakes in your desserts without flour collection and give them a try soon.
If You Liked This No Flour Cupcakes Recipe, You Might Also Like
Easy Chocolate Desserts - A Reader Favorite: Flourless Chocolate Cupcakes
I can't imagine a better recipe than this Flourless Chocolate Cupcakes when it comes to quick and easy chocolate desserts. Made in one bowl with almond flour and sweetened with maple syrup, they are gluten free.
Print Recipe
Ingredients
For The Cake:
1

tablespoon

coconut oil

to grease the pan

1 ¼

cups

(4.22 oz.) almond flour

½

cup

(1.5 oz.)unsweetened cocoa powder

½

teaspoon

baking soda

½

teaspoon

kosher salt

4

large eggs

at room temperature

¾

cup

+ 2 tablespoons maple syrup

1

tablespoon

vanilla extract
For The Chocolate Frosting:
4

oz.

unsweetened baking chocolate

cut into small pieces

2

tablespoons

of maple syrup

or more to taste

1

cup

fresh strawberries

sliced
Instructions
Pre-heat the oven to 325 F degrees. Spray/brush a 12-cup muffin pan generously with coconut oil and line it with muffin liners. Set aside.

To make the batter: Mix together the almond flour, cocoa powder, baking soda, and salt in a bowl. In a separate mixing bowl, beat the eggs. Add in the maple syrup and vanilla extract and whisk until fully combined.

Pour the wet ingredients into the dry ingredients and whisk until thoroughly combined.

Pour the batter into the greased muffin tin. Bake for 35-40 minutes or until a toothpick inserted in the middle comes out clean. Set aside to cool for 20-30 minutes before frosting.

Meanwhile, to make the chocolate frosting, bring a cup of water in a small pot. Place a heat-proof glass bowl over the pot. Place the chocolate and maple syrup in it. Using a wood spatula, mix until chocolate melts completely.* Taste for sweetness and add in if necessary.

Spoon the frosting over the flourless chocolate muffins and garnish them with strawberries.

Serve immediately.
Notes
Alternatively, you can melt the chocolate in the microwave. To do so, place the chopped chocolate in a glass bowl and melt the chocolate in the microwave in two to three 20-second intervals. Be sure to stir in between. Stir the maple syrup at the very end.
Nutrition
Calories:
218
kcal
|
Carbohydrates:
23
g
|
Protein:
6
g
|
Fat:
14
g
|
Saturated Fat:
5
g
|
Cholesterol:
55
mg
|
Sodium:
173
mg
|
Potassium:
217
mg
|
Fiber:
4
g
|
Sugar:
14
g
|
Vitamin A:
79
IU
|
Vitamin C:
7
mg
|
Calcium:
71
mg
|
Iron:
3
mg
Shop The Tools I Used In This Flourless Chocolate Cupcake Recipe

Like this recipe? Consider sharing: