I am a big fan of Mexican food, but feel as though I know very little about it. After our visit to San Miguel, I was reminded of this fact once again and decided that it is time for me to learn more about it. Here, what I mean by learning is to start from the basics and build on it as I gain more knowledge in time.
The first morning of our San Miguel de Allende trip, we went to our hotel's restaurant for breakfast. As lovers of Mexican food, both Dwight and I had one thing in mind; experience the local food and flavors as much as possible. Luckily, we were at the right place. The hotel's restaurant 1826, offered a buffet full of food made with traditional Mexican ingredients.
In addition, there was a corner where a lady was making fresh corn tortillas using a traditional tortilla press. Me being the foodie I am, I immediately made friends with her and sat on the table next to her tortilla station so that I could watch her while she was making delicious corn tortillas.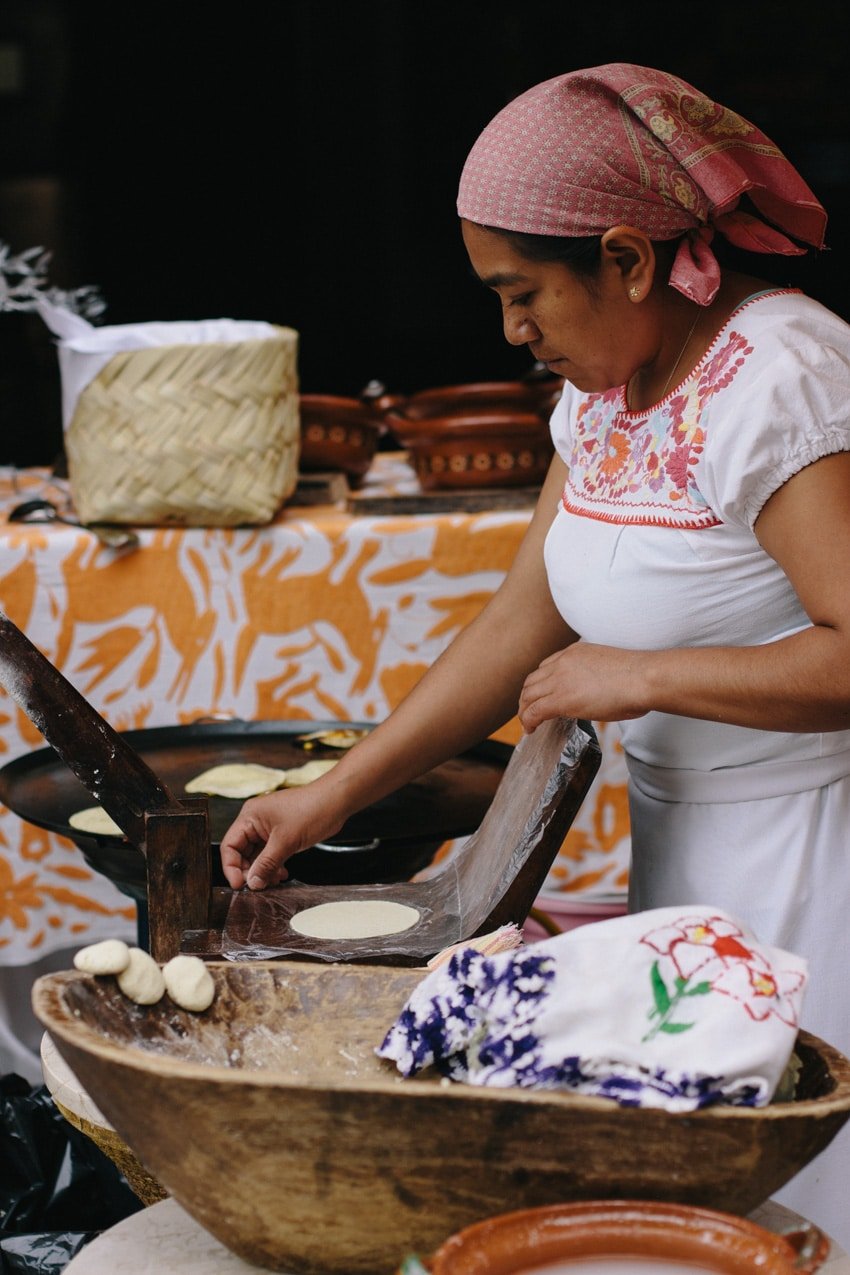 After several mornings of watching her, I was encouraged to try it in my own kitchen. I do not even know why I thought making corn tortillas is difficult.

While still in San Miguel, we went to the Mercado de Artisanias – the artisan market and bought a wood tortilla press (like this one – affiliate link) similar to the one that they use in the hotel.
After we came back home, I started reading about making corn tortillas from other fellow bloggers' websites and books that I could get my hands on. The more I read, the more I realized it was so much easier than I thought, as long as you know a couple tricks. I thought it might be helpful to share my new knowledge of how to make con tortillas here on the blog.
The best part of this experience was the fact that my father, who was visiting from Turkey, helped me demonstrate it through photographs. As you'll see in the pictures, it ended up being a memorable experience for both of us.
Below you will find a detailed explanation for everything you need to know to make the best corn tortilla recipe at home. So here are 8 things you need to know to make delicious corn tortillas in your very own kitchen:
The Ingredients to Make Corn Tortillas
To make homemade corn tortillas, you can use either fresh masa or masa harina and water. Some people prefer to use a little bit of salt as well. However, the ladies at the hotel told me that they only use fresh masa and water. So I stuck to their original recipe.
Most literature on corn tortillas says that using fresh masa is the best. However, as I live on an island with limited resources, I only have access to masa harina – Maseca brand (this White Maseca Corn Flour, in particular). So for the sake of my version of foolproof corn tortillas, I used masa harina and water.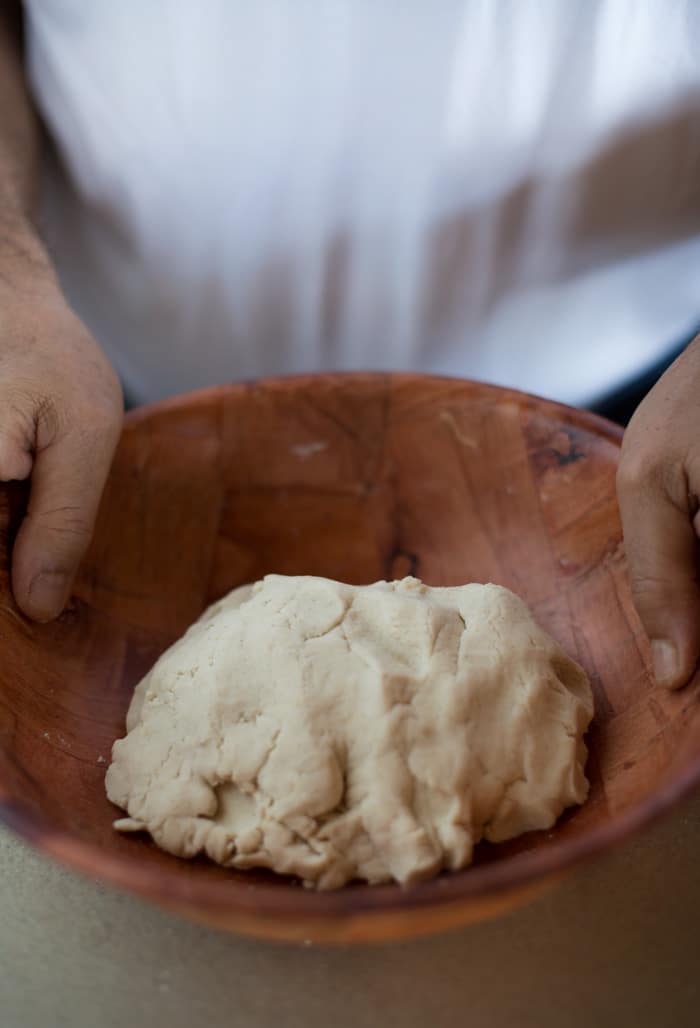 What is Masa Harina and Where Can I Find It
In his book named "Rick Bayless's Mexican Kitchen" , Rick Bayless, the famous Mexican food chef, writes the following:
"… To understand what masa is, I think it is best to talk first about what it is not. It is not "cornmeal dough", as so many American's call it, since using the word "cornmeal" easily conjures up visions of a dry powdery something that is mixed with liquid.
Rather, it is dough made from dried, starchy, decidedly unsweet field corn, the same that is used for cornmeal, hominy, and grits."
Nowadays, most supermarkets sell Maseca brand masa harina. You can also find it online. This White Maseca Corn Flour is what I used in this recipe.
How To Make Corn Tortillas
To make corn tortillas, all you have to do is to mix masa harina with warm tap water. Allow it to wait for 20-30 minutes, and then work in some cool water, one tablespoon at a time, until it has a soft texture without being sticky, similar to Play-doh.
Here, keep in mind that the dough for corn tortilla is a very forgiving one. If it gets too dry, you can add a little more water. And if it gets too wet, you can add a little more masa.
That being said, as you are pressing and cooking the tortillas, make sure to cover the dough with a dry kitchen towel to prevent them from drying.
Do I Need A Tortilla Press To Make Corn Tortillas
The answer is yes and no.
While I was reading through different sources, I saw that some people press out the dough in between two flat surfaces like dinner plates or large and heavy books. Some even feel comfortable patting out tortillas in between their two hands. Though from what I understand, getting a thin corn tortilla by using your hands require quite a bit of experience.
I personally think that it is much easier to use a tortilla press. If you do not have access to a wood and heavy one like the one we have (or a similar one like this one – affiliate link), most kitchen equipment stores and various online sources sell aluminum or cast-iron corn tortilla press (like this Tortilla Press) for less than $20. Therefore, if you are serious about making corn tortillas at home, I think it is a good investment.
How Do You Shape Corn Tortillas Using a Tortilla Press
First, you will need medium-heavy plastic to fit over the both plates of the press. I used a large (gallon-size) Ziploc bag. I cut each sides of it to make it a large rectangular piece.
Second, you lay it on the tortilla press, making sure that it covers both the upper and bottom parts of the press.
Third, you roll each piece (this recipe yields 15 corn tortillas) out by placing it on the bottom part of the press. Then you cover it with the top of the Ziploc bag, close the press and push it down. Then, you gently peel back the tortilla from the plastic and transfer it to your hand.
How Do You Cook Corn Tortillas
To cook corn tortillas, you can either use a griddle or a cast iron skillet. I used my cast iron skillet, because I don't own a griddle.
Before starting to cook the tortillas, I recommend warming it up in medium heat for 5-8 minutes. Then place the first tortilla on the pan. First, it will stick, but then in 15 seconds or so it will release itself, which is when you need to flip it. Once you flip it, it should take around 30 to 45 seconds for it to cook. At this point, you may have to adjust the temperature to prevent it from drying.
According to Rick Bayless, a perfect tortilla is one that balloons up like a pita bread after the second flip.
Here, one thing most resources suggest is to use your fingers to flip instead of a spatula, because the edges will curl up as the heat cooks the tortillas. At first, I didn't feel comfortable flipping it with my hands, but towards the end, with a little practice, I was more comfortable with it. Still, a spatula works just fine.
How Do You Get Soft Corn Tortillas
One thing that is so important to note here is that the cast iron skillet (or griddle) only cooks the outside of the tortilla. In order for it to cook thoroughly, you need to cover them with a kitchen towel and place it on a plate, preferably with a lid. The heat from the growing sack will continue the cooking process resulting in softer and completely cooked corn tortillas.
So, as you can imagine, the softest one is the one at the very bottom. Therefore, when you are ready to serve, it is best to start from the very bottom of the stack.
What is The Best Way To Store Corn Tortillas
To find out the best way to store tortillas, we made two batches of this recipe. We kept the first batch outside (on the kitchen counter) wrapped with a clean kitchen towel. It was still tasty on the second day, but we saw some mold on it on the third day.
For the second batch, after it came down to the room temperature, we placed it in the fridge wrapped with a towel. It kept its freshness for 4 days. However, it had gotten much harder requiring a quick warm up on the skillet before serving.
Once you get a hang of the process, you can make the most delicious corn tortillas in your very own kitchen in less than 20 minutes. And after that, I can almost guarantee you that you will never want to go back to buying them from the supermarket.
Other Mexican Inspired Recipes You Might Like:
Homemade Corn Tortillas Recipe
Yields:
15
corn tortillas
Making Corn Tortillas at home is much easier than you think! Here is a comprehensive guide to help you learn how to make Homemade Corn Tortillas with step-by-step photos along with all the information you need including technique, ingredients, and equipment.
Print Recipe
Ingredients
1 3/4

cups

(9.5 ounces) masa harina for tortillas, (I used the Maseca brand)

1

cup

plus 2 tablespoons hot tap water

2

tablespoons

water

at room temperature
Instructions
Using a wooden spoon, mix masa harina and 1 cup plus 2 tablespoons hot tap water in a large mixing bowl. Cover it with stretch film and let it sit for 30 minutes.

Begin working the masa harina and water mixture with your hands. Add 2 more tablespoons of cool water (one at a time) for the dough to reach an ideal texture, where it is still soft without being sticky (similar to Play-Doh). If, for some reason, it is dry (looks like it is cracked), add a little more water. Or if it is too wet (or sticky), let it sit on the kitchen counter uncovered for it to dry out for a little bit or add more masa.

Divide the dough into 15 equal pieces (for this recipe, it was 1.4 ounces each) for 6-inch corn tortillas. Cover the dough with a clean kitchen towel.

Cut each sides of a Ziploc bag to make it a large rectangular piece. Lay it on the tortilla press, making sure it covers both the upper and bottom parts of the press. (See the pictures in the blog post)

Roll each piece by placing on the bottom part of the press lined with the Ziploc bag. Cover it with the top of the Ziploc bag, close the press and push it down. Gently peel back the top layer of the bag, and transfer it to your hand. Place it on a baking sheet and cover it with a kitchen towel. Continue with pressing the rest.

In the mean time, heat a cast iron skillet in medium heat for 10 minutes. You want to make sure it gets really hot.

When you are ready to bake, place a tortilla on the skillet and let it cook for 15 seconds. At first it will stick, but then, if your temperature is right (read the blog post for more information on the temperature), it will come off easily for you to flip it. Let it cook for another 30-45 seconds or until it is lightly browned.

As tortillas are cooked, transfer them in a basket cloth lined with a kitchen towel. Allow them to continue cooking with the steam (from their own heat) inside the basket for at least 10 more minutes before serving.
Notes
It is optional, but if you want you can swap some of the water with chicken/vegetable stock and add salt into your dough.
Nutrition
Calories:
49
kcal
|
Carbohydrates:
10
g
|
Protein:
1
g
|
Fat:
1
g
|
Saturated Fat:
1
g
|
Sodium:
2
mg
|
Potassium:
35
mg
|
Fiber:
1
g
|
Vitamin A:
28
IU
|
Calcium:
18
mg
|
Iron:
1
mg
Like this recipe? Consider sharing: