Like most people, I too find comfort in healthy and nutritious soup recipes to nourish my body when I am feeling under the weather. This super easy chicken chili recipe is one that I have been making for the last few weeks and it has been so helpful in my healing so here I am sharing the recipe with you today.
Made with rotisserie chicken and canned beans, this Simple Chicken Chili Recipe comes together in less than 10 minutes and it is ready to serve in 30 minutes. It is a great recipe to serve a crowd or freeze to enjoy later.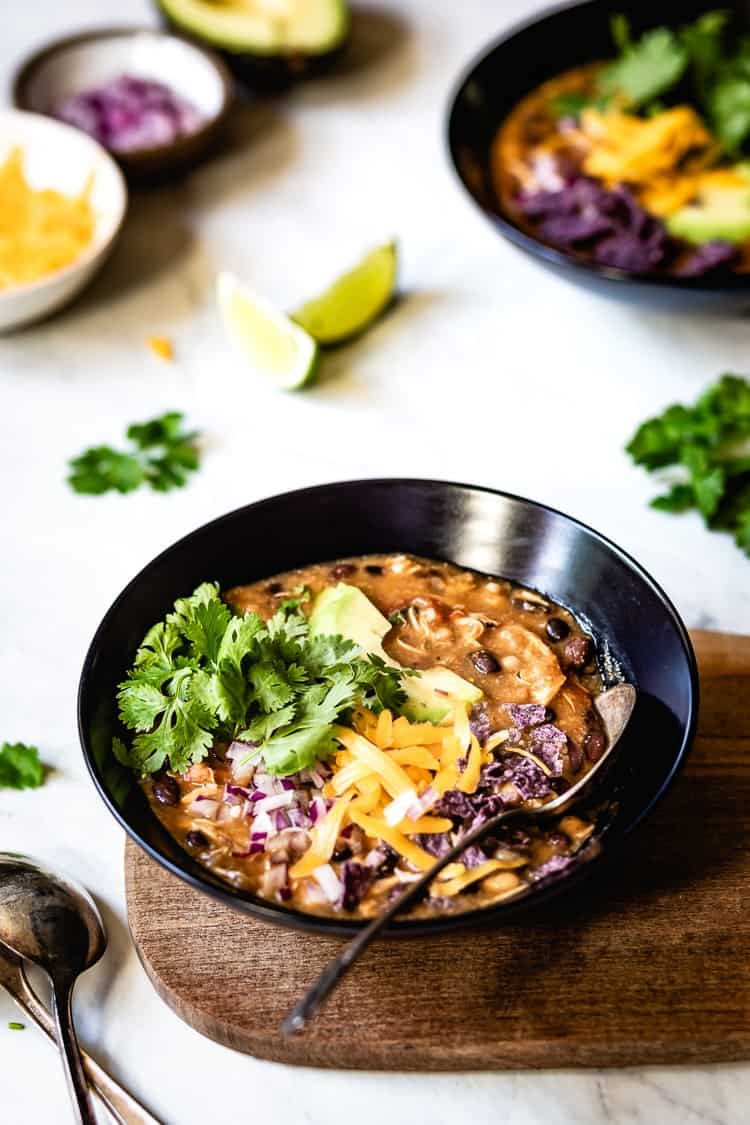 What You'll Need to Make This Recipe:
If you look at the easy chicken chili recipe below, you might think that the list is long, but they are mostly pantry staples that most well stocked pantries would have.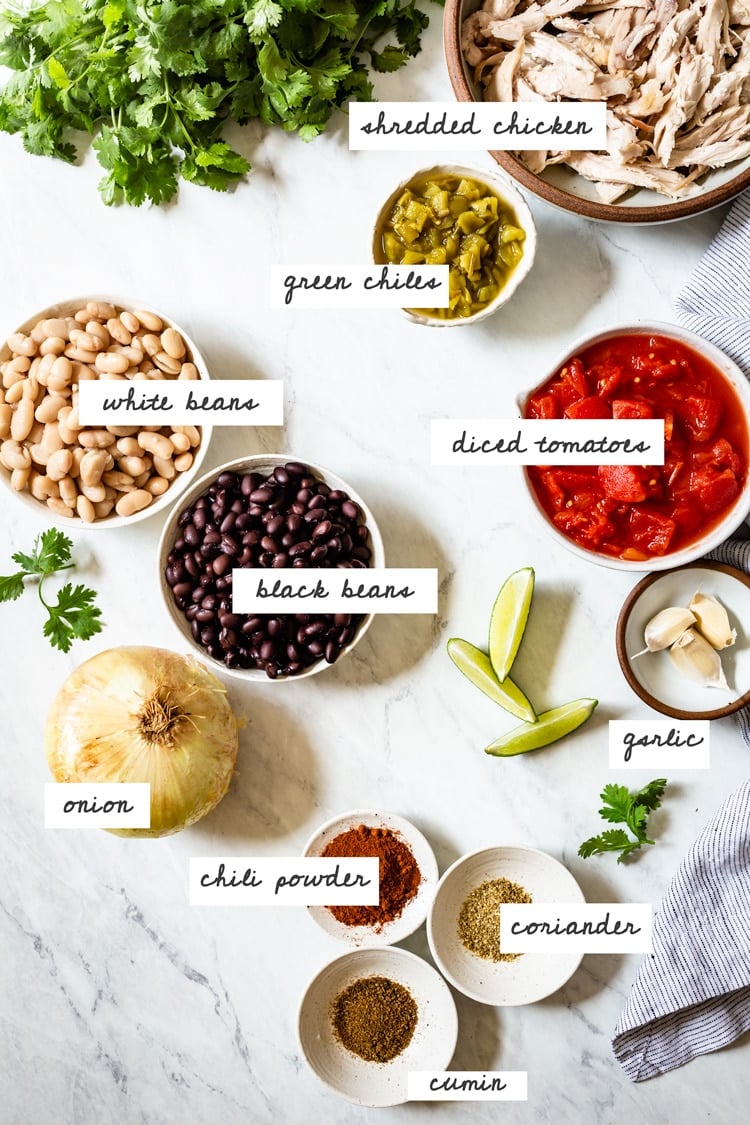 Spices:
Like it is with any chili recipe, this simple chicken chili is packed with spices so grab some chili powder, ground coriander, and ground cumin.
Chicken:
Since I wanted this to be a quick chicken chili recipe, I used leftover shredded rotisserie chicken but you can cook chicken from scratch. If you need a good roasted chicken recipe that you can use over and over again, check out my Baked Bone in Chicken Breast recipe.
Vegetables & Cooking Liquid:
In terms of vegetables you will need onion, black beans, white beans (I used Cannelini beans), diced tomatoes, garlic, and green chili.
For liquid, I used a combination of chicken stock and water.
How to Make Chicken Chili Recipe
The recipe has 2 folds.
First, prepare the chili-base using spices and veggies. In terms of spices, I used ground cumin, ground coriander, and chili powder.
PRO TIP: Since cumin and coriander are oil soluble spices (meaning they release their flavors after they interact with oil), I cooked them for 30-45 seconds to allow them to release their flavors. This is a quick yet crucial step in that if you skip it your chicken chili will not have as much "chili" flavor.
In terms of veggies, I sautéed a chopped onion and mixed it in with the rest of the ingredients: diced tomatoes, shredded chicken, a combination of white (Cannelini or Navy Beans) and black beans and chicken stock (with some water). After everything is mixed, I brought the mixture to a boil and let it simmer for 8-10 minutes.
Like I mentioned earlier, I used rotisserie chicken that I shredded myself to save time. I don't know about you, but I find rotisserie chicken to be a lifesaver when I am trying to put dinner on the table fast.
However, if you have leftover chicken in your fridge you can use that as well.
In terms beans, I used a combination of white and black beans as I love the flavors, but this is such a forgiving recipe in that you can use whatever beans you have on hand.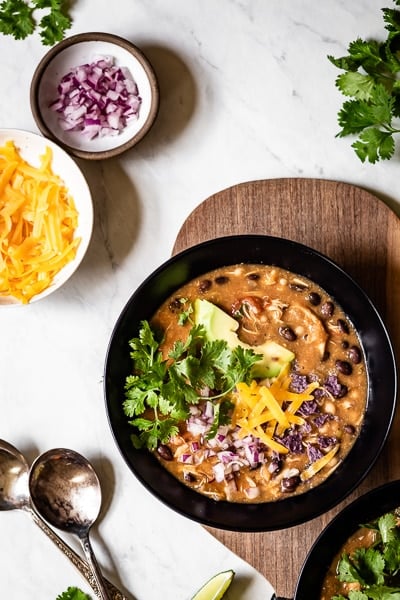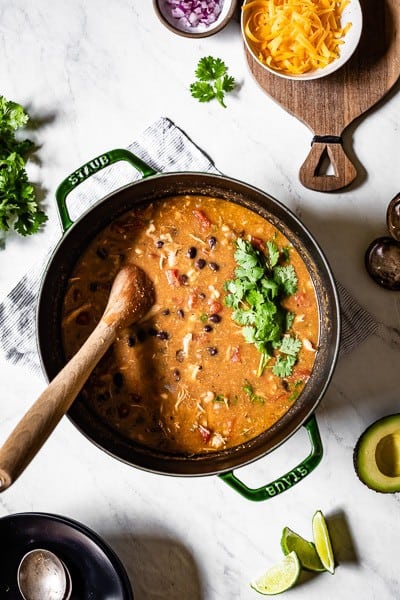 How To Thicken Chili
The second step is the thickening of the chili. You will realize that as it simmers on the stovetop it will start getting hearthier and more like a chili than a soup in terms of consistency, but I personally like my chili thicker.
To thicken the chili, I mixed some cornmeal with a few ladles of the simmering liquid and then poured the mixture back into the pot. After 5 more minutes of simmering my Healthy Easy Chicken Chili Recipe was ready to be served.
Alternatively, you can also use all-purpose flour (using the same method I used with cornmeal) or ladle the soup over a handful of tortilla chips to thicken your chilly. Tortilla chips will not deliver a very thick soup (unless you put a lot of them), but it will still taste really good.
Topping Ideas
I don't know about you, but I think the toppings I put on my chili are just as important as the soup itself. I topped my shredded chicken chili with red onion, avocado, cilantro, cheddar cheese, and crushed tortilla chips.
However, when it comes to chili toppings feel free to use your imagination. I bet that scallions, guacamole, fresh salsa, sour cream and/or crumbled cornbread would also work very well.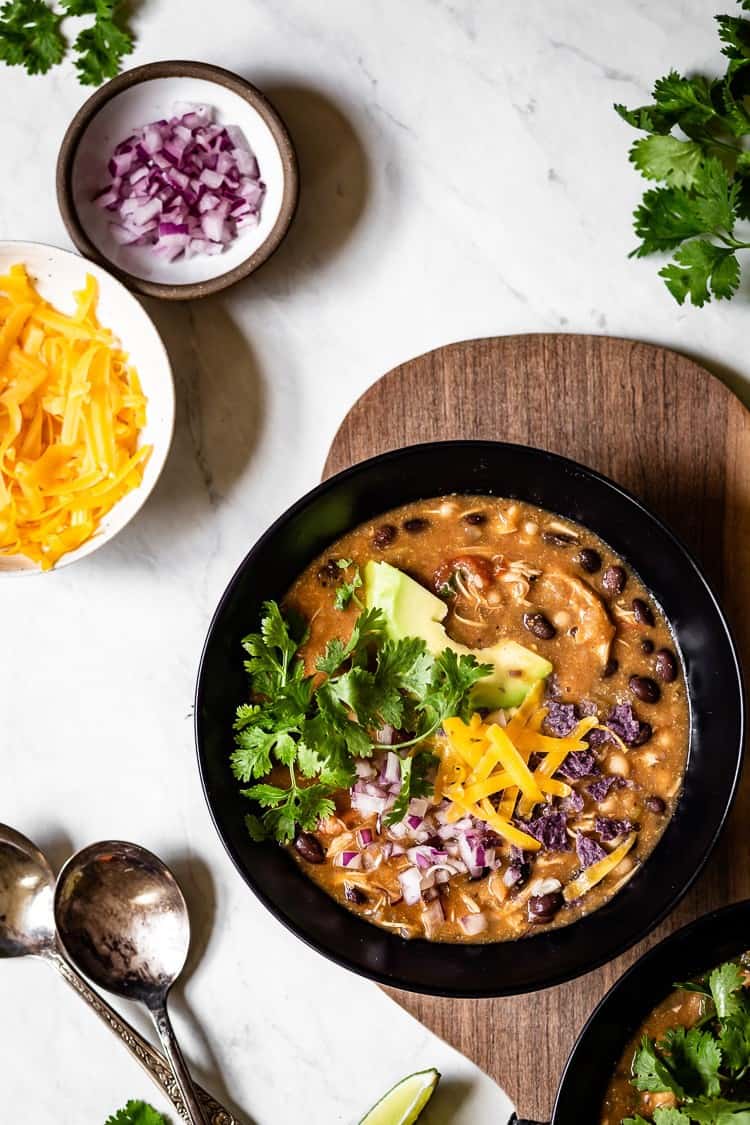 A Few Last Minutes Tips:
Here are a few tips for the best chicken chili recipe that delivers good results on your first try.
Chicken Stock to Water Ratio – If you look at the recipe below, you'll see that I used a combination of homemade chicken stock (or you can use low-sodium store bought stock) and water (three cups to 2 cups ratio). I personally find soups made with all chicken stock to be too heavy, but if you want you can use all chicken stock and omit water. Or you can also use less stock and more water. Overall, you will need 5 cups of liquid for this recipe.
What can I serve with this Easy Chicken Chili – I usually serve my chili recipes with cornbread and my two favorite cornbread recipes are this Cornbread Muffins and this Jalapeno and Scallion Cornbread.
What do I do with the leftovers This is one of those dishes that gets better as it sits making it a great lunch or dinner on the next day. I keep leftovers in an airtight container in the fridge up to 3 days.
Freezing tips – This dish freezes well. If you decide to freeze it, bring your it to room temperature, place it in an airtight container, and keep it in the freezer upto 2 months. Thaw in the fridge a day before you plan to serve.
Whether you are looking for a chili recipe you can make on a Tuesday night or you are like me, feeling under the weather, I hope this healthy and easy chicken chili recipe will come handy in the cooler months that are ahead of us.
If You Liked This Simple Chicken Chili Recipe You Might Also Like
Easy Chicken Chili Recipe
Easy Chicken Chili Recipe - Rotisserie chicken, tomatoes, beans and chili spices cooked to perfection for an easy weeknight dinner ready in 30 minutes.
Print Recipe
Ingredients
For The Chili
1

tablespoon

olive oil

1

teaspoon

ground cumin

1

teaspoon

ground coriander

1

tablespoon

chili powder

1

onion

chopped

2

cloves

of garlic

minced

1

can green chili, drained

7 oz.

1

can diced tomatoes

15 oz.

2

cups

cooked chicken

shredded

2

cans white (such as Cannelini) beans, drained and rinsed

15 oz

1

can black beans, drained and rinsed

15 oz

1

teaspoon

kosher salt

½

teaspoon

black pepper

3

cups

low-sodium

or homemade chicken stock

2

cups

water

2

tablespoons

cornmeal
Toppings (mix and match as you like)
1

ripe avocado

cut into cubes

¼

cup

cilantro

chopped (optional)

¼

cup

red onion

chopped

1

cup

tortilla chips

optional

Wedges of lime

optional
Instructions
Heat olive oil in a heavy bottom pot over medium heat. Add in cumin, coriander, and chili powder and cook, stirring constantly, for 1 minute.

Stir in the onion and cook until translucent, 3-4 minutes.

Add in the garlic and cook, stirring constantly, for 30 seconds.

Add in the green chili, tomatoes, chicken, white and black beans, and salt and pepper.

Pour in the chicken stock and water. Give it a gentle stir. Turn the heat up to medium-high, put the lid on and bring it to a boil. This should take 8-10 minutes.

Turn down the heat down to low and let it simmer for 10-15 minutes.

5 minutes before you are ready to serve, place the cornmeal in a small bowl and ladle in 1 cup of the liquid from the soup and mix. Return the mixture into the pot and let it simmer for 5 more minutes or until it thickens to your liking.

Serve with the toppings of your choice.
Video
Notes
The nutritional value information below do not include the calories coming from the toppings.
Nutrition
Calories:
288
kcal
|
Carbohydrates:
22
g
|
Protein:
17
g
|
Fat:
16
g
|
Saturated Fat:
3
g
|
Cholesterol:
35
mg
|
Sodium:
754
mg
|
Potassium:
630
mg
|
Fiber:
5
g
|
Sugar:
2
g
|
Vitamin A:
508
IU
|
Vitamin C:
6
mg
|
Calcium:
61
mg
|
Iron:
2
mg
Like this recipe? Consider sharing: