I first came across vegan 'taco meat' while reading through a few recipes on the internet one afternoon and thought – what a fun recipe to make at home. Since my husband and I absolutely adore Mexican food recipes, it was a task I was so excited to accomplish.
Plus, I always have some sort of Mexican topping prepped and ready in my fridge – Avocado Dressing, Mexican Pickled Red Onions, Crumbled Cotija, the list goes on.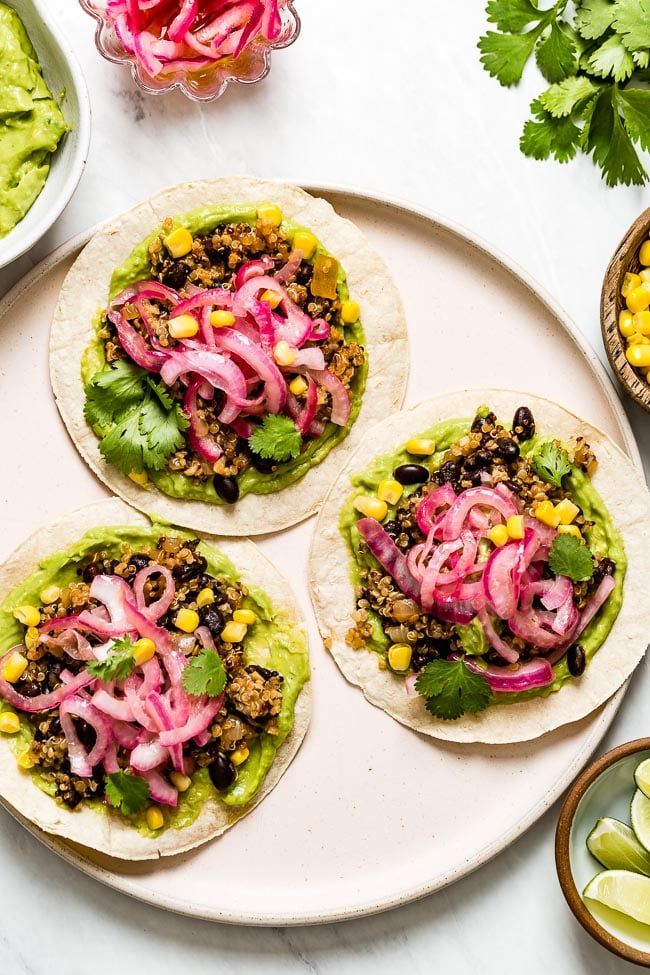 These homemade toppings are what make these quinoa tacos incredibly quick and easy. All I have to do on the day I am going to serve is prepare the plant-powered taco filling, which takes less than 30 minutes!
And if you are a lover of black beans (or have a few extra cans in your pantry), be sure to try my Black Bean and Corn Salad and Quinoa Black Bean Salad recipes.
Ingredients:
These vegan black bean tacos include a mix of pantry and fresh ingredients easily available in the supermarket.
For the taco filling, you will need vegetable oil, onions, ground cumin and coriander, tomato paste, garlic, uncooked quinoa, canned black beans, water or vegetable broth, fresh lime juice, and cilantro.
As for the assembly and toppings, gather together corn tortillas (preferably homemade), avocado dressing, pickled red onions, and lime wedges.
A Few helpful notes on the ingredients:
Quinoa. Use your favorite quinoa variety – white, red, black, or tri-color (rainbow). I choose tri color for the beautiful variation in colors and flavors. The key is to make sure to rinse and drain the quinoa prior to cooking. This is a quick trick that rids of that notorious bitter flavor. If quinoa is a new ingredient in your pantry, I highly recommend checking out my post on How To Rinse Quinoa before getting started.
Black Beans. One 15-oz can of black beans is enough to generously fill 8-10 corn tortillas. Just make sure to rinse and drain to get rid of excess salt and starch. If black beans are unavailable at the store that day, pinto beans are a great substitute.
Liquid. If you're thinking the amount of liquid called for in the recipe is not enough, keep in mind that the onions and black beans naturally release a small amount of water all on their own. I know it may seem counterintuitive to use water, but I actually find it produces vegan quinoa meat filling that is delicate in flavor while allowing the Mexican spices to shine. If you happen to have a box of low-sodium vegetable broth in your pantry or fridge, by all means, use it to amp up the flavor. Keep in mind that if you use chicken stock, the filling will no longer be vegan.
How To Make:
The best and most efficient way to make these plant-based tacos is to break the recipe down into their respective steps. Follow each category and you will have a Mexican taco fiesta in no time!
The Quinoa 'Taco Meat'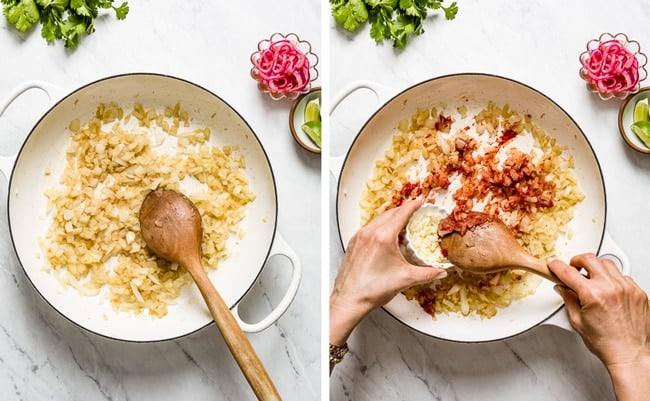 Saute aromatics and spices. In a large skillet over medium heat, add the olive oil. Add the onions, ground cumin and ground coriander and saute for 5-7 minutes, or until the onions have softened. Stir in the tomato paste and garlic and saute for one minute.
Add quinoa, black beans and liquid. Pour in the rinsed and drained quinoa and black beans, along with the salt, pepper and cooking liquid of choice.
Bring to boil, reduce to simmer. Bring the quinoa and bean mixture to a boil, then reduce to low, cover and simmer for 15 minutes or until most of the liquid is absorbed.
Steam and fluff. Let it rest for 5-10 minutes with the lid on (this allows the quinoa to cook through), then fluff gently with a fork.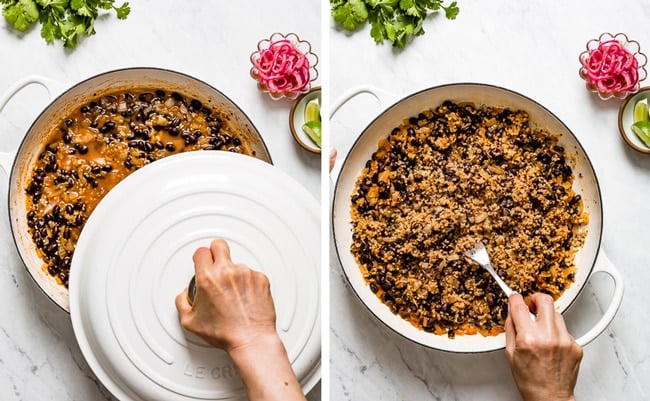 Garnish. Drizzle it with the lime juice and sprinkle with cilantro.
The Toppings
As far as the toppings go, I like to keep my quinoa black bean and corn tacos simple with whatever I have prepped and ready for the week. All of these toppings will keep fresh for up to one week in an airtight container in the fridge. My favorites include: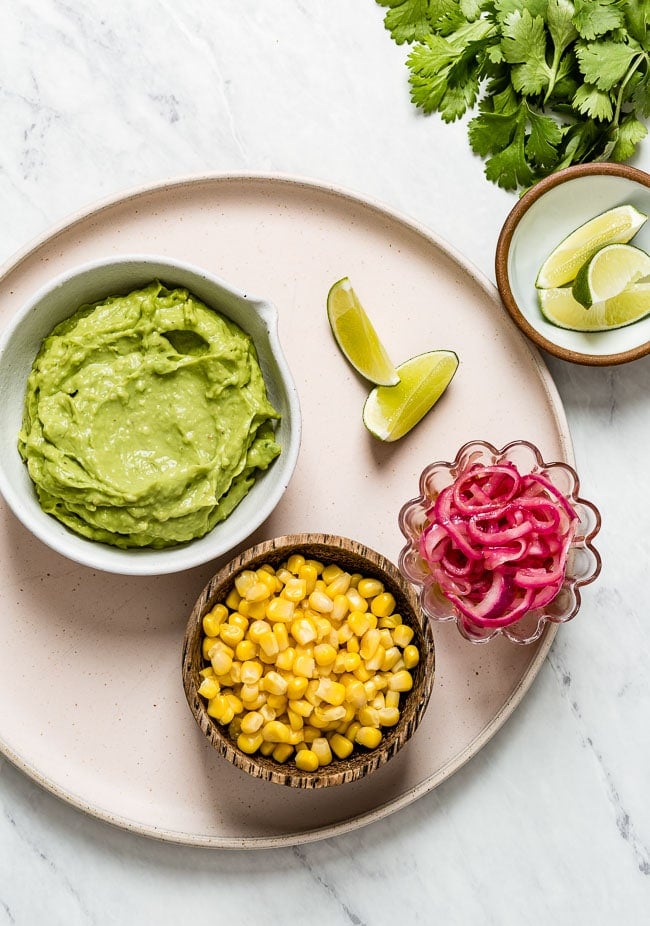 Assemble
Warm the corn tortillas. Lightly warm the homemade corn tortillas in a skillet, oven or directly over the gas burners on your stove (this adds an extra bit of char).
Spread and spoon. Spread each tortilla with a spoonful of the avocado dressing, then spoon on some vegan taco filling.

Dollop and serve. Finish each vegan taco off with a dollop of avocado dressing, a few pickled red onions, and fresh cilantro. Squeeze fresh lime juice over top and enjoy!
A Complete Plant-Based Meal
Another reason I love these black bean tacos with avocado dressing so much is because quinoa is, in and of itself, a complete protein, meaning it provides all the nine essential amino acids our bodies cannot produce. It's also high in B vitamins, calcium, potassium, magnesium, and naturally gluten-free.
The addition of black beans increases the protein content even more, while also providing a healthy dose of fiber and iron.
With that being said, if you are not a fan of black beans, you can also top these quinoa tacos with fried tofu from my friend Tania's blog Cooktoria.
Variations:
The beauty of these vegan bean tacos (besides the wonderful pop of colors from the avocado and red onions) is the customizations you can make with the filling and the toppings, such as:
Corn: Add 1 cup fresh or frozen corn kernels when you add the black beans.
Chipotle: Add 1 finely diced chipotle pepper in adobo sauce along with the spices for a hint of smoky, spicy heat
Chili Powder: Add in a teaspoon of chili powder for additional heat.
Sweet Potato: During the wintertime, I usually cut a large sweet potato into cubes and roast it in the oven. Then I add the roasted potatoes as topping for additional veggies.
Ground Meat: If you'd like to add meat to the recipe, brown 1 lb of your favorite taco meat (beef, turkey, chorizo) in 1 Tablespoon oil before sweating the onions. Remove the browned meat with a slotted spoon and continue with the quinoa filling recipe. Once the quinoa and black beans are cooked through, simply stir in the browned meat at the very end before finishing with the lime juice and cilantro.
Serving Suggestions
These tacos make a wonderful addition to any weeknight table and are just the dinner I crave after a long day.
I love to enjoy them with a fresh and flavorful Pineapple Margarita (or Blueberry Margarita) and Mexican corn on the cob or Mexican Corn Salad. This certainly adds a fun, fiesta addition to Taco Tuesday.
If you're not craving tacos, the vegetarian filling makes a great plant-protein addition to burritos, nachos, and taco salads, too.
How To Store Leftovers
The black bean taco filling is best stored separately in an airtight container for up to 4 days in the fridge.
I also keep the toppings and dressings in separate glass containers to enjoy throughout the week.
Whenever the craving strikes, I whip together a batch of homemade corn tortillas on the stove, rewarm the taco filling for 5-10 minutes on the stove top and gather together the rest of the toppings for a taco night I can call my own.
Other Vegan Quinoa Recipes You Might Also Like
Quinoa Black Bean Tacos Recipe
Recipe for Quinoa Black Bean Tacos with Avocado dressing. A quick, easy, and healthy vegan and gluten-free plant-based tacos made with quinoa filling. Ready in 20 minutes, this simple taco recipe is guaranteed to be your favorite taco-Tuesday dinner.
Print Recipe
Ingredients
For The Quinoa "Taco Meat"
1

tablespoon

vegetable oil

1

medium-size onion

chopped

1

teaspoon

ground cumin

½

teaspoon

ground coriander

2

tablespoons

of tomato paste

2

small cloves of garlic

minced

3/4

cup

uncooked quinoa

rinsed and drained

1

can black beans

rinsed and drained

½

teaspoons

kosher salt

¼

teaspoon

black pepper

1 ½

cups

water or vegetable broth

3

tablespoons

fresh lime juice

freshly squeezed

½

cup

fresh cilantro

rinsed and roughly chopped, more as a garnish (optional)
For The Tacos
8-10

corn tortillas

preferably homemade

1

cup

avocado dressing – optional

½

cup

pickled red onions – optional

Wedges of lime

to serve – optional

½

cup

corn

as garnish – optional
Instructions
To make the taco meat: Heat oil in a large skillet over medium heat. Add in onion, ground cumin, and ground coriander. Sautee, stirring frequently until onions are softened, 5-7 minutes.

Stir in the tomato paste and garlic. Sautee for a minute.

Add in quinoa, black beans, salt, and pepper. Pour in the cooking liquid of your choice.

Bring it to a boil, turn down the heat to low, and let it cook for 15 minutes or until most of the liquid is absorbed.

Let it rest for 5-10 minutes with the lid on. Fluff it with a fork and drizzle it with the lime juice. Sprinkle with chopped cilantro, if using.

To Assemble: Lightly warm corn tortillas in a skillet or in the oven. Spread each tortilla lightly with the avocado dressing, top it off with a few spoons of the quinoa black bean mixture.

Top it off with a dollop of the avocado dressing and a tablespoon of pickled onions. Garnish with cilantro and serve with wedges of limes on the side.
Notes
Notes:
Be sure to try my Avocado dressing to top them off.
The nutrition information below does not include the optional toppings. In terms of toppings, I only included one avocado.
Best way to store leftovers: The black bean taco filling is best stored separately in an airtight container for up to 4 days in the fridge. When ready to serve, heat on the stovetop for 5-10 minutes and assemble as it is written in the recipe.
Nutrition
Calories:
287
kcal
|
Carbohydrates:
50
g
|
Protein:
8
g
|
Fat:
7
g
|
Saturated Fat:
3
g
|
Sodium:
383
mg
|
Potassium:
430
mg
|
Fiber:
6
g
|
Sugar:
3
g
|
Vitamin A:
257
IU
|
Vitamin C:
8
mg
|
Calcium:
74
mg
|
Iron:
3
mg
This Quinoa Black Bean Tacos recipe post was originally published in July 2014. It has been updated with new pictures, information, and recipe in June 2020.
Like this recipe? Consider sharing: