The hotel that my husband works at, Rosewood Little Dix Bay has an upscale restaurant called Sugar Mill. It is one of the handful of restaurants that is considered to be fine dining on our small island. Right out on the beach, Sugar Mill is our place of choice for a special occasion that I personally cannot recommend enough if you ever visit Virgin Gorda.

Speaking of special occasions, last year Dwight and I went there for our anniversary. As usual, the food was very good. I ordered what I usually order the beef short ribs, and Dwight went for the duck breast. When it was time for dessert, I thought that we were going to share our usual sticky toffee pudding that we have always ordered in the past. But Dwight suggested that since this was our anniversary, we should each order a dessert that we had never tried before.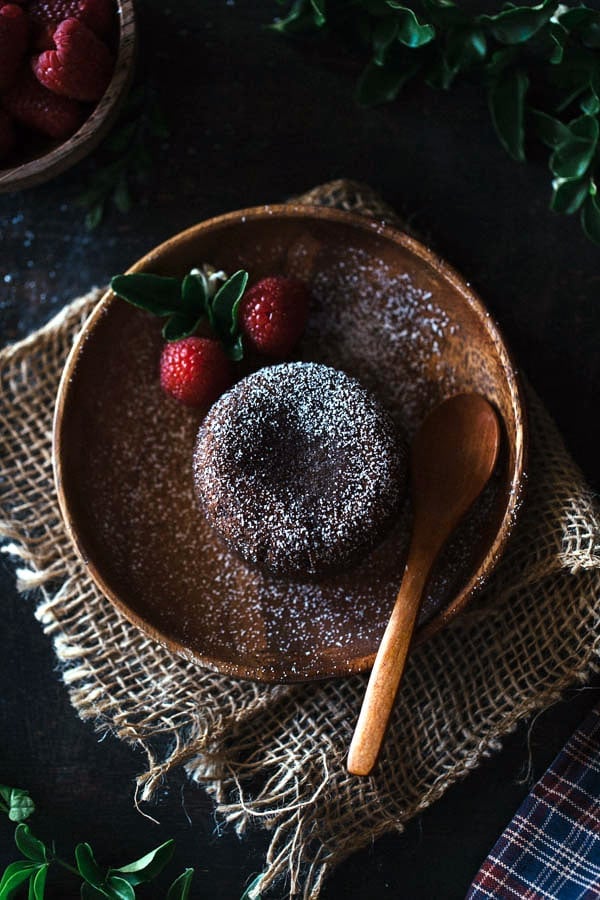 I immediately agreed, especially because I knew that it was my first time in the restaurant since Miguel Somoza, the new pastry chef from Spain had started working there. I went for the crème brûlée and Dwight went for the chocolate fondant. By the time our desserts came, we were finished with a bottle of wine and had our coffees ordered.
I don't know if it was because of the ocean breeze or the wine, after the first bite of that chocolate fondant I had a moment of disbelief. It was the most amazing thing I had ever eaten in my life. Topped with cinnamon ice cream, it was an exceptional dessert, one that is perfect for a chocolate lover. By the end of the night, I knew one thing for sure: I had to learn to make it.
Later, I met Miguel in person and asked him if we could make this together and share it on Foolproof Living. He graciously agreed, and last week we baked this decadence together in my kitchen. As you can imagine, being able to bake with a professional baker in my very own kitchen was an amazing experience. In addition to learning how to make this amazing dessert, I got a chance to watch him as he baked. As a bonus, along the way I even learned some small tips and tricks. Needless to say, this was an experience that I enjoyed immensely and one that I will never forget.
I can almost hear you say, "what is the big deal?!" Internet is full of chocolate fondant recipes. I do agree with you. However, in my opinion what takes this recipe to another level and makes it the best is the chocolate used and the fact that Miguel uses a vanilla bean instead of vanilla extract. If you can afford it, I highly recommend using 64% Valhrona chocolate (or any other bakers chocolate you like to eat) for this recipe as the quality and taste of the chocolate used is critical for the final product. In addition, even though you can substitute it with a teaspoon of vanilla extract, using the seeds of a vanilla bean really makes a huge difference in the end.
As we were baking together, one of the tricks that I learned from Miguel was how to properly take all the seeds out of a vanilla bean. Though it was such a simple trick, I had never seen it done like that before and thought that it would be a great idea to share it with you. As you'll see in the photos, first he straightened out the bean on a cutting board using the back of a pairing knife. Then he cut the bean horizontally into two pieces and scraped out all the seeds with the knife. Here, straightening it out at the beginning gave him enough surface to (1) cut it horizontally and (2) get all the seeds out of the bean without wasting any of them.
I thought that he would leave after baking the fondant, but come to find out he was just as excited as I was about the photographing it.We spend the rest of our time taking photos of this beauty, which allowed me to show him some of my tricks. At the end of the day, we both had a fantastic time and agreed to do this again very soon.
On a final note, to bake the fondants we used aluminum dairy molds that you can find here. We served them with fresh raspberries, but your favorite ice cream and/or homemade caramel would go great as well. Last but not least, Miguel says that you could also make this fondant recipe with 58% or 70% chocolate.
Miguel's Chocolate Fondant
The Best Chocolate Fondant recipe, made in collaboration with my friend Miguel, a Spanish pastry chef. Learn how to make chocolate fondant with all his tips for a scrumptious chocolate dessert that you can make any time of the year. It is easier than you think.
Print Recipe
Ingredients
4

ounces

Dark chocolate such as 64% Valrhona

chopped roughly

1

stick

4 ounces unsalted butter, plus extra for buttering the moulds

3/4

cup

(5,25 ounces) granulated sugar

3

large eggs

at room temperature

2

large egg yolks

at room temperature

1/3

cup

+ 1 1/2 tablespoon

2 ounces all-purpose flour

Seeds of a half vanilla bean or 1 teaspoon vanilla extract

1

tablespoon

powdered sugar

1/4

cup

fresh raspberries
Instructions
Pre-heat the oven to 350 F degrees.

Place butter and chocolate in a heat proof bowl, and while stirring frequently heat until completely melted (using the bain-marie* method). Set aside to cool, for at least 10 minutes.

Whisk together sugar, eggs, egg yolk, and flour in a mixing bowl. Stir in the chocolate butter mixture and whisk until combined.

Generously butter 6 aluminum dairy moulds.

Divide the batter equally in between the buttered moulds, filling each one 2/3 full.

Place them on a baking sheet.

Bake for 12-13 minutes or until the top of the cakes formed a crust and they are starting to come away from the sides of their moulds.

Let them rest for two minutes. Invert a fondant onto a serving plate. Sift some powdered sugar over each fondant and serve them with a couple of fresh raspberries.
Notes
Bain-Marie method: Fill a saucepan with water about one third of the way to the top. Bring it to a boil. Place a glass bowl that is slightly bigger than the saucepan. It is important that the bottom of the bowl is not touching the boiling water.
Nutrition
Serving:
6
cups
|
Calories:
312
kcal
|
Carbohydrates:
46
g
|
Protein:
6
g
|
Fat:
12
g
|
Saturated Fat:
6
g
|
Cholesterol:
148
mg
|
Sodium:
38
mg
|
Potassium:
187
mg
|
Fiber:
3
g
|
Sugar:
36
g
|
Vitamin A:
205
IU
|
Vitamin C:
1
mg
|
Calcium:
34
mg
|
Iron:
3
mg
Like this recipe? Consider sharing: