I don't know about you, but chocolate has a special place in my heart, especially around this time of the year. Nothing makes me happier than a big slice of chocolate cake or a nutty chocolate cookie as I curl up with a cup of coffee on one hand and a good book on the other.

Plus, with Valentine's Day just around the corner, today I am here with my favorite Easy Chocolate Desserts that are made without refined sugars.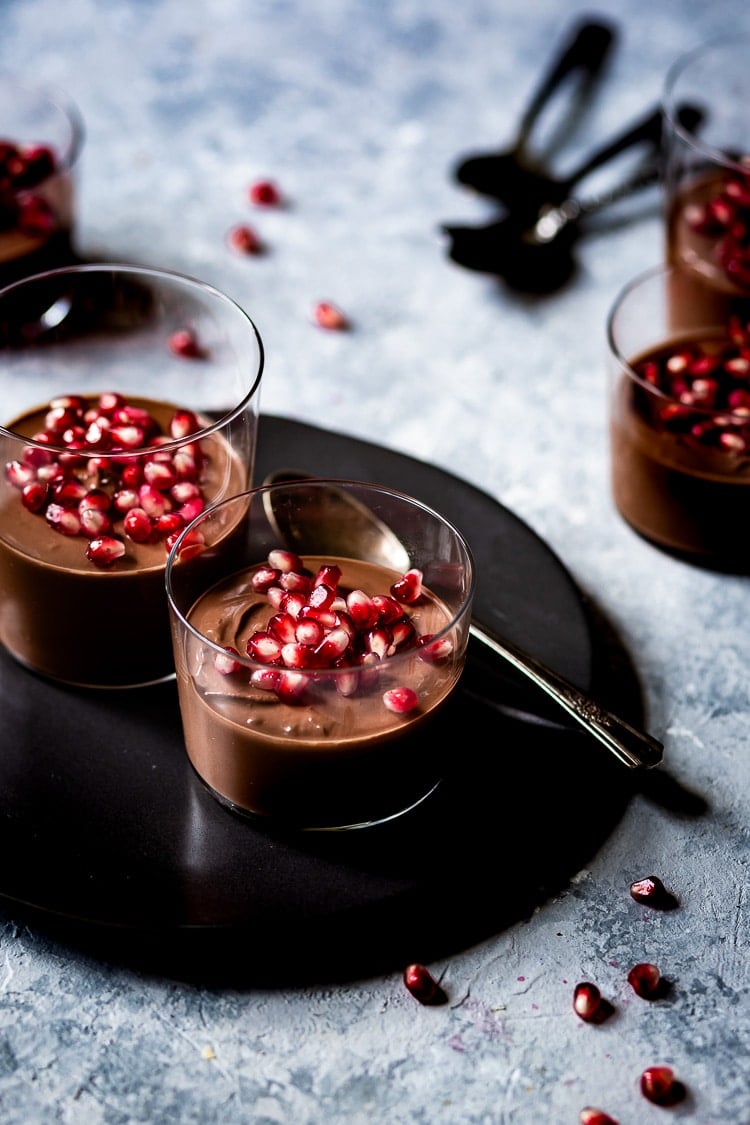 Yup, you heard it right. These are all clean, easy yet delicious simple chocolate dessert recipes you can splurge on without the guilt. If you are a lover of chocolate, start scrolling to see 18 of my favorite easy chocolate dessert recipes:
Easy and Quick Chocolate Desserts
We've all been there. The moment you are struck by the sudden urge to have some chocolate goodness in the middle of the night.
No need to run to the store in the dark. Here are 4 clean and quick to make easy chocolate recipes that you can with a few ingredients that are most likely already in your pantry:
Vegan Cocoa Truffles

: If you have a food processor and just a few minutes, this superfood-packed cocoa truffles come together in just a few minutes and are perfect to snack on later. I usually make a big batch and keep in a container in the fridge.
Get the recipe
Almond Flour Chocolate Brownies: If you need a rather easy and fast chocolate dessert, then give this brownie recipe a try. It comes together in a bowl with only 7 ingredients.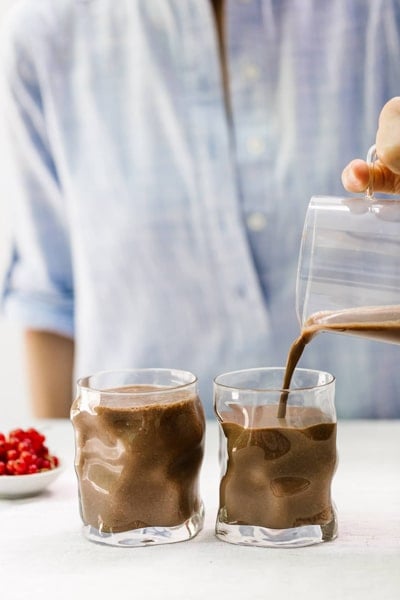 Healthy Chocolate Smoothie: Do you have just a few minutes to whip up a good-for-you chocolate smoothie that tastes like Nutella? Himmm… I thought so.
This chocolate smoothie is made with cocoa powder, Medjool dates, pears, and hazelnuts and it tastes like a chocolate ice cream in a glass. Perfect for breakfast, afternoon pick-me-up or late night chocolate cravings.
Get the recipe
Bourbon Date Nut Truffles from Vanilla and Bean: Love some booze-y chocolate? You are not alone.
These bourbon-infused nut truffles are quick to whip up and super satisfying. Simply put everything in the food processor and then roll them into delicious truffles.
Don't care for bourbon? No worries, Traci offers an option made with coffee.
Get the recipe
Easy Chocolate Snacks
Who says that you have to deny your sweet cravings to live a healthy lifestyle? I'd say with a few small changes to the way you "do" sweet, you can still enjoy chocolate as a snack.
The trick is to make it at home with ingredients you know (and can read), stay away from refined sugars (and switch it with unrefined/natural ones), and consume in moderation.
Here are a few of my favorite go-to chocolate snacks:
Healthyish Salted Caramel Turtles: from My New Roots: Love turtle candies? The combination of sweet salted caramel and nutty pecan pieces covered in chocolate has been a childhood favorite for most of us. Thanks to Sarah, now we can enjoy these as a chocolate snack. Sweetened with brown rice syrup, these decadent snacks are guaranteed to please.
Get the recipe
Chocolate Almond Bark: I don't think that it would be right to put together a simple chocolate recipes round up and not include this recipe. Let me tell you, it does not get easier than this.
This chocolate almond bark is my go-to chocolate snack. I usually make a batch of it and keep it in the freezer. Made with wholesome ingredients like coconut oil, cocoa powder, maple syrup, and almonds, it is perfect for those who are following a vegan and gluten-free diet as well.
Get the recipe
Grain Free Chocolate Granola from Feasting on Fruit : I'd say this chocolate granola serves both as a snack and as a granola to top of your smoothie bowls for breakfast. Sweetened with molasses and made without any grain, it is a great snack to satiate your chocolate cravings.
Get the recipe
Raw Chocolate Fudge Brownie Bars from Well and Full : I don't know about you, but when I hear the words, fudge and brownie in the same sentence my heart starts to beat faster. In her recipe, Sarah created a decadent chocolate-y heaven that is packed with superfoods like cocoa powder and walnuts.
Get the recipe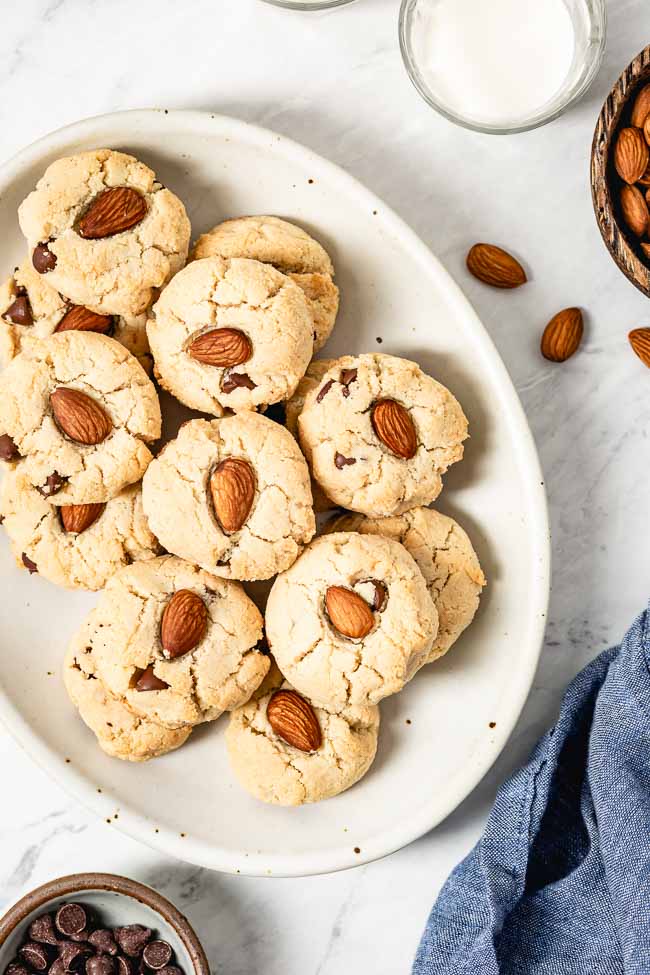 Almond flour chocolate chip cookies: Chocolate and nuts, what is better than that? If you are a lover of almond flour baked goods, you have to try this simple chocolate chip cookie recipe. It is vegan and sweetened with a little bit of maple syrup.
Dark Chocolate Desserts:
Look, I know not everyone is a fan of dark chocolate, but as someone whose heart belongs to rich and luscious dark chocolate (the darker the better) I had to create a special section for it. If you are with me, you will LOVE these clean dark chocolate desserts I picked for you.
Greek Yogurt Chocolate Mousse: Love chocolate mousse? If so, your life just got easier, because this Greek Yogurt Chocolate Mousse is just as creamy and delicious as the classic recipe, but made without all the multiple steps and ingredients. The best part of this recipe is that you can easily switch up its flavors to create your own version.
Get the recipe
Naturally Sweet Dark Chocolate Coconut Bites from Pinch of Yum: Serious dark chocolate lovers, who also love coconut, Lindsay got you covered. These dark chocolate coconut bites check a few boxes at the same time because they are quick and easy to make, and super delicious at the same time.
Get the recipe
Almond Butter Brownies: I have never believed that a brownie can be vegan and refined sugar free without a ton of butter and sugar. Well, this recipe changed everything for me, because I can confidently say that if and when you try this recipe you will never go back to the other version. Adapted from the cookbook At Home in The Whole Foods Kitchen (affiliate link) by Amy Chaplin, this is my all-time favorite chocolate brownie recipe that is made with clean ingredients.
Get the recipe
Flourless Chocolate Cupcakes: Almond flour chocolate cakes batter turned into chocolate muffins and then topped off with a dark chocolate glaze. A gluten-free dark chocolate dessert that you can make any time of the year.
Get the recipe
RELATED: Love baking with almond flours, but find almond flour to be too expensive to use it as often as you like? If so, check out my Comprehensive Guide To Learn How to Make Almond Flour At Home (CHEAPER!). It is easier than you think.
Easy Chocolate Desserts Without Oven
Don't feel like turning the oven on?
No oven, no problem! Here are a few of my no-bake chocolate desserts that you can add into your list of delicious chocolate recipes:
Sea Salt Dark Chocolate Popcorn from Green Kitchen Stories: Ready to up your pop corn game? This dark chocolate popcorn is the best no bake dark chocolate dessert when you want to get kids involved. You can use any chocolate you like, but this dark chocolate version has my heart.
Get the recipe
No Bake Chocolate Cream Tart from Bojon Gourmet : Guys, I know the title of this post starts with "easy" and this no-bake tart looks to good to be easy, but stay with me because I couldn't not include this gorgeousness in a post titled "chocolate desserts". I think Alana created magic here and therefore her chocolate cream tart (with a dreamy almond-cocoa crust) had to be included in this blog post.
Get the recipe
Well friends, here is one last simple chocolate cake recipe.
The last one of my easy chocolate desserts recipe is currently one of the most popular chocolate recipe on Foolproof Living. I shared this Almond Flour Chocolate Cake recipe last year and since then it has been a reader favorite. If you are a fan of minimally sweetened chocolate-y desserts, you will love this easy to make and gluten-free chocolate cake recipe.
RELATED: Love this round up of easy chocolate dessert recipes? Then you might also love these Clean (Naturally Sweetened) Almond Flour Recipes as well.
Easy Chocolate Desserts – A Reader Favorite: Flourless Chocolate Cupcakes
I can't imagine a better recipe than this Flourless Chocolate Cupcakes when it comes to quick and easy chocolate desserts. Made in one bowl with almond flour and sweetened with maple syrup, they are gluten free.
Print Recipe
Ingredients
For The Cake:
1

tablespoon

coconut oil

to grease the pan

1 ¼

cups

(4.22 oz.) almond flour

½

cup

(1.5 oz.)unsweetened cocoa powder

½

teaspoon

baking soda

½

teaspoon

kosher salt

4

large eggs

at room temperature

¾

cup

+ 2 tablespoons maple syrup

1

tablespoon

vanilla extract
For The Chocolate Frosting:
4

oz.

unsweetened baking chocolate

cut into small pieces

2

tablespoons

of maple syrup

or more to taste

1

cup

fresh strawberries

sliced
Instructions
Pre-heat the oven to 325 F degrees. Spray/brush a 12-cup muffin pan generously with coconut oil and line it with muffin liners. Set aside.

To make the batter: Mix together the almond flour, cocoa powder, baking soda, and salt in a bowl. In a separate mixing bowl, beat the eggs. Add in the maple syrup and vanilla extract and whisk until fully combined.

Pour the wet ingredients into the dry ingredients and whisk until thoroughly combined.

Pour the batter into the greased muffin tin. Bake for 35-40 minutes or until a toothpick inserted in the middle comes out clean. Set aside to cool for 20-30 minutes before frosting.

Meanwhile, to make the chocolate frosting, bring a cup of water in a small pot. Place a heat-proof glass bowl over the pot. Place the chocolate and maple syrup in it. Using a wood spatula, mix until chocolate melts completely.* Taste for sweetness and add in if necessary.

Spoon the frosting over the flourless chocolate muffins and garnish them with strawberries.

Serve immediately.
Notes
Alternatively, you can melt the chocolate in the microwave. To do so, place the chopped chocolate in a glass bowl and melt the chocolate in the microwave in two to three 20-second intervals. Be sure to stir in between. Stir the maple syrup at the very end.
Nutrition
Calories:
218
kcal
|
Carbohydrates:
23
g
|
Protein:
6
g
|
Fat:
14
g
|
Saturated Fat:
5
g
|
Cholesterol:
55
mg
|
Sodium:
173
mg
|
Potassium:
217
mg
|
Fiber:
4
g
|
Sugar:
14
g
|
Vitamin A:
79
IU
|
Vitamin C:
7
mg
|
Calcium:
71
mg
|
Iron:
3
mg
Like this recipe? Consider sharing: