Have you ever had a moment in life when you just couldn't breath for a second? Well, that happened to me last week.
It was just a regular day. I spent most of my afternoon talking to a friend on the phone and then right before starting to make dinner, I decided to go into Instagram and see the below post.
I could not breathe. My photo on the cover of National Geographic Traveler – UK edition?!?!!
I have been a photographer and have been photographing consistently for over 5 years now, but never in my wildest dreams I thought about a photo that I took would make it on the cover of such a reputable magazine.
I never even knew to dream about it.
I am beyond flattered, humbled, and happy that my work has gotten such an amazing acknowledgment. Especially if you think about the fact that this is my very first cover of a magazine.
Since I published this on my Instagram account, a lot of my friends and readers wrote to congratulate me. I thank all of you from the bottom of my heart. This is such a happy moment and I have been so grateful to have a community to celebrate with me.
Some of you also asked how it happened so I thought I'd share it with you.
Back in 2015, I started working with a stock photography agency called Picture Pantry. The owner Craig was very personable and helpful as I was just starting to feel confident about my photography skills. He helped me get a strong start and establish myself as a professional with his constant support and feedback.
Initially, my goal was to make enough money to cover the grocery expenses for the blog. Since the beginning, I made it a point to photograph every one of my recipe posts based on the requirements of the agency and submit them to the library on a consistent basis. In time as I followed Craig's advice and learn from his feedback my photography (and my confidence) improved.
Thankfully 3 years into it, I have been able to take care of more expenses than just the groceries with my stock photography income. I can never thank Craig enough for sharing his knowledge and helping me build my portfolio as a photographer.
With this National Geographic cover, he (and his team) put my work in front of more people than I could ever dream of. Needless to say, I am forever grateful to him and his team.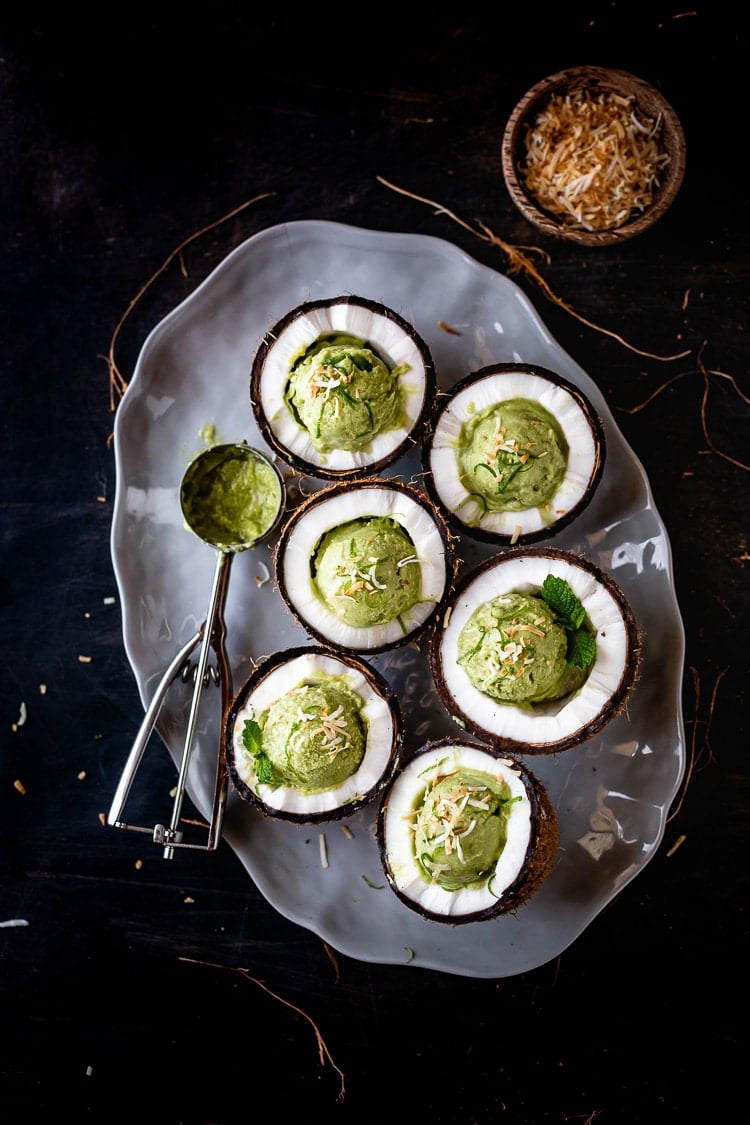 The original version of the cover photo you see above was one of the images from my Avocado Ice Cream recipe that I published back in July 2015. I still remember that like yesterday.
We were still living on Virgin Gorda. It was during the hurricane season and because of that finding fresh food was a challenge. Due to the low number of tourists (aka demand), we didn't have regular shipments of food coming into the island. In other words, it was hard to get my hands on quality fresh produce that would photograph well.
One morning I was sitting on the beach (feeling sad for myself and frustrated because of the lack of access to fresh food) and saw this guy using a long stick to pick a coconut from one of the palm trees. It was an AHA moment in that it made me think:
What if I found a way to create dishes using what I had on hand? Think about it; where on earth did you have access to such fresh coconut that was in abundance?
I went home to look for recipe ideas on Pinterest that I can make using fresh coconut. I found one and gave it a try. Luckily, it turned out perfectly. Then I went back to the beach on the same day and found someone to help me collect more coconuts.
I came back home and took a million photos of the coconuts and the ice cream I made earlier. I published just a few of the photos in the post, but believe me there were a lot of photos taken on that day.
Looking back now, years later, from where I write this in Vermont, I can't help but smile about those days. Don't get me wrong, they were SO hard. I remember constantly feeling cornered while I was trying to create content for a food blog without access to fresh food.
But now, I am able to see it from a different perspective and it feels so good. Because I know for sure that this will not be the last time I will feel cornered and without the resources I need to do what I want to do. The important thing is to do your best with what you have on hand and continue to create in spite of all the challenges.
I also know that whatever happens life has a funny and unexpected way of working itself out. And as always, in the end, it will be alright.
Like this recipe? Consider sharing: