I love to make a big batch of healthy overnight oats with Greek yogurt at the beginning of the week, especially when I know I have busy weekdays ahead. It's convenient, filling, yummy, and prevents me from skipping the most important meal of the day!
If you're looking to incorporate similar recipes into your breakfast routine, you have to try this Overnight Steel Cut Oats Recipe, my Almond Milk Oatmeal, and Muesli Overnight Oats.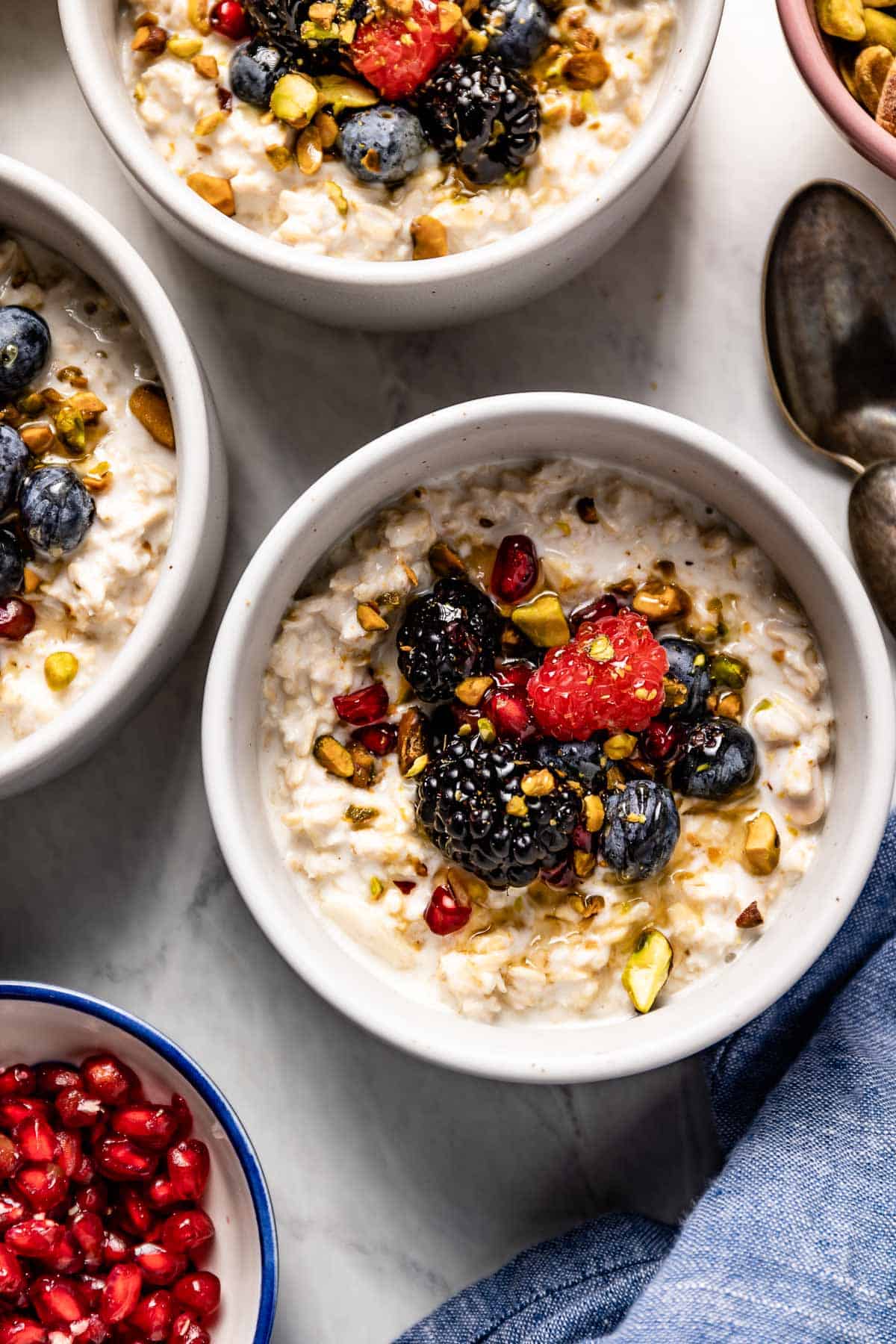 Ingredients
This simple yogurt and oats recipe requires four basic ingredients that you likely already have on hand or can easily pick up at the grocery store. To amp up the flavor, add as many additional ingredients or toppings as you'd like. Here's what you'll need: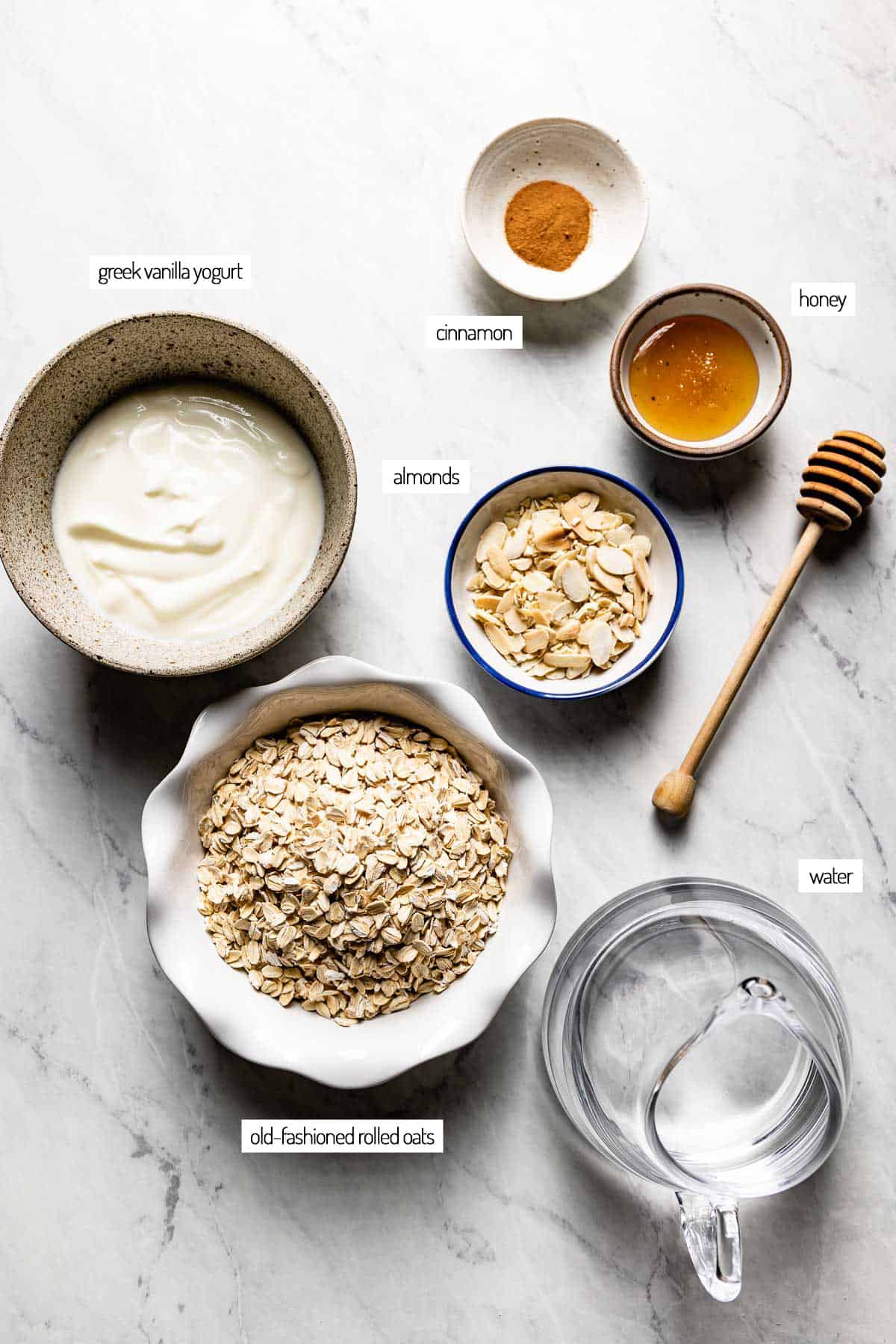 To make creamy overnight oats with yogurt, gather Greek Vanilla Yogurt, old-fashioned rolled oats, honey (or maple syrup), cinnamon, and water.
As optional toppings, use fresh fruit (such as fresh berries), chopped nuts or nut butter (such as almond butter, peanut butter, or sunflower seed butter), and even homemade granola.
Ingredient Substitutions
This easy overnight oats with yogurt recipe is very forgiving when it comes to substitutions. Feel free to customize it to your liking to accommodate the ingredients you have on hand or your dietary restrictions or preferences. Here are some suggestions:
Yogurt: While plain Greek yogurt gives this oatmeal with yogurt recipe a creamy texture and a perfect consistency, feel free to use plain yogurt or your favorite yogurt instead. I love to make vanilla yogurt at home, so I can control the sweetness, but you can also purchase vanilla yogurt from your local store. You can even make overnight oats with strawberry yogurt or your favorite fruit-flavored yogurts. If you wish to make the recipe vegan and dairy-free, simply substitute your favorite vegan yogurt. Just remember that vegan yogurt is typically thinner in consistency than regular yogurt, so your yogurt with oats recipe may not be super creamy if you use vegan yogurt (but it'll still taste great).
Oats: In my opinion, amongst all types, the best oats for yogurt overnight oats are old-fashioned rolled oats. My personal favorite is the organic brand One Degree (affiliate link), which offers old-fashioned oats and gluten-free oats. You can also use quick oats to make instant oatmeal with Greek yogurt. Not sure about how rolled oats are different than quick oats? Check out our comprehensive guide on quick oats vs. rolled oats. Or, to really pack in some extra superfoods, substitute equal parts of Homemade Muesli for the oats.
Water vs. milk: Some cold oatmeal cereal recipes use milk, but I thought water would suffice since we're also using yogurt. If you want to use milk to make this refrigerator oatmeal recipe extra rich and creamy, you can use cow's milk or non-dairy milk, such as almond milk, coconut milk, or even cashew milk.
Sweetener: While I love the flavor and sweetness of honey, you can use whatever type of sweetener you prefer or have on hand. I recommend maple syrup, coconut sugar, or brown sugar, as they all pair well with this overnight yogurt oatmeal.
Spices: If ground cinnamon just isn't enough, you can amp up the flavor with all your favorite "sweet" spices. Ground nutmeg, cardamom, ginger, and cloves would all pair beautifully with your oatmeal and yogurt breakfast.
Optional Toppings and Add-Ins
You can easily customize this recipe's flavor profile and sweetness by adding your toppings of choice. Feel free to get creative, but here are some of my favorites:
Fruit: Fresh fruit is a classic breakfast topping, and Greek yogurt with strawberries and oats pairs so well. I also love to top mine with a ripe mashed banana, raspberries, or blueberries. You can always use thawed frozen fruit if berries or your favorite fruits aren't in season.
Additional sweeteners: If you have leftover Cranberry Maple Sauce sitting around from holiday baking, use it to sweeten up this recipe! Other fruit sauces and jams, like Blueberry Sauce or Homemade Applesauce, are also great natural sweeteners to flavor your oats with Greek yogurt.
Nuts: To add some crunch to your simple overnight oats with yogurt, use chopped nuts, such as almonds, cashews, pecans, or walnuts. For a high-protein breakfast that's the perfect pre or post-workout fuel, add a tablespoon or two of nut butter, such as peanut butter or almond butter. To make your Greek yogurt with oats recipe extra decadent, try topping it off with chocolate chips (which pair great with peanut butter).
Granola: You can also top your oat and yogurt breakfast with my Chunky Granola Recipe or this Quinoa Crunch for additional texture, flavor, and a boost of nutrients.
Superfoods: If you're looking for a great way to incorporate an extra dose of health benefits into your daily diet, add a pinch of superfoods, such as chia seeds, hemp seeds, or ground flax seeds, into your yummy breakfast.
How to Make Overnight Oats with Yogurt
In only five minutes, you can whip up this basic vanilla overnight oats recipe with yogurt to have it ready to go first thing in the morning. If you'd like to make your own vanilla yogurt from plain yogurt to use in this recipe, follow the first two steps below. If you purchased vanilla yogurt from the store, you can skip to step three. Here's how to do it:
Make the vanilla yogurt: Place plain, whole milk yogurt (regular or Greek), honey, and vanilla extract in a bowl. Whisk to combine.
Taste and adjust: Give it a taste and add more honey or vanilla if needed.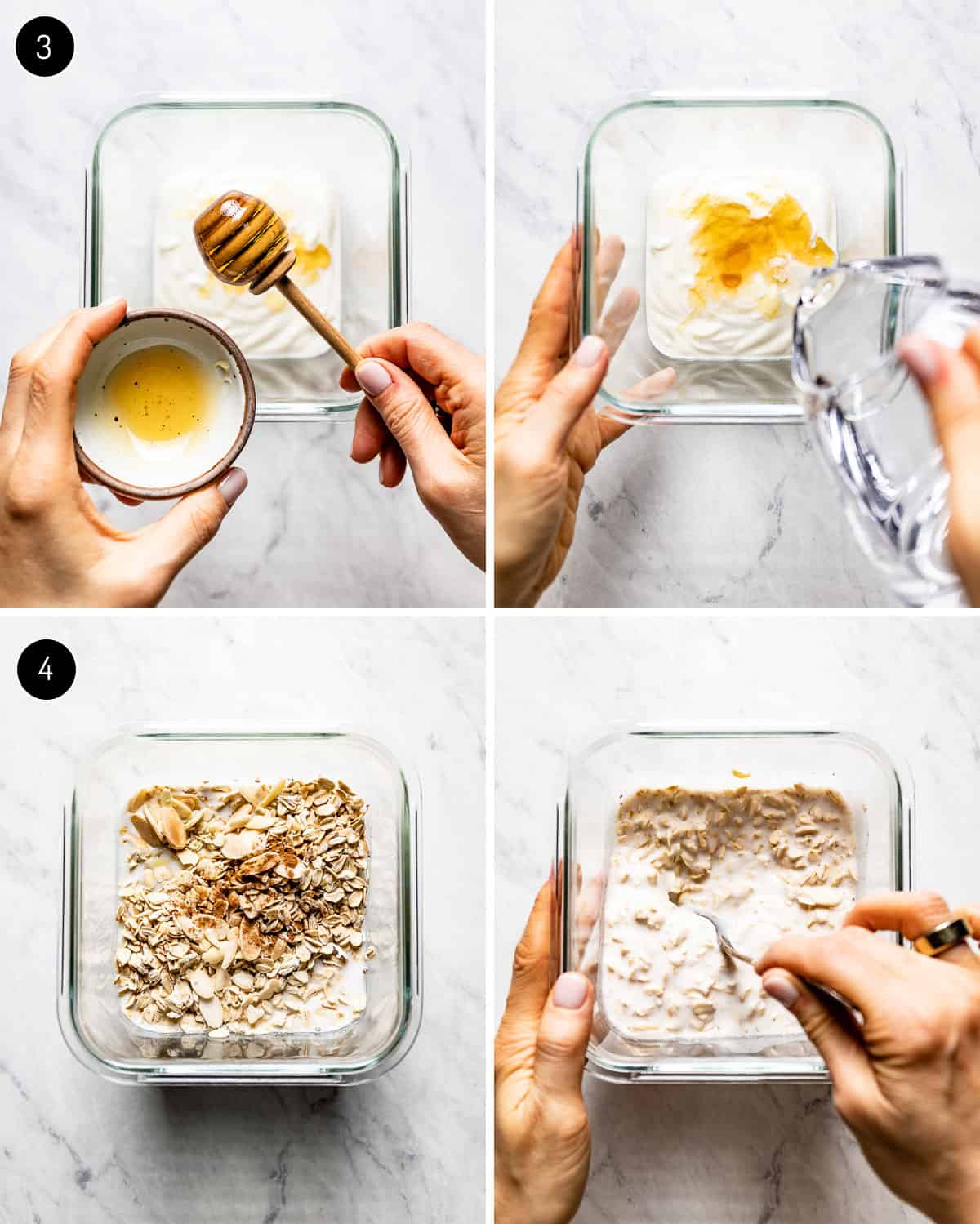 Combine the ingredients: Add the vanilla yogurt, honey, and water to a large mixing bowl. Whisk until well combined.
Stir in the oats: Add in the oats and ground cinnamon (if using) and give it a stir until the mixture is well combined.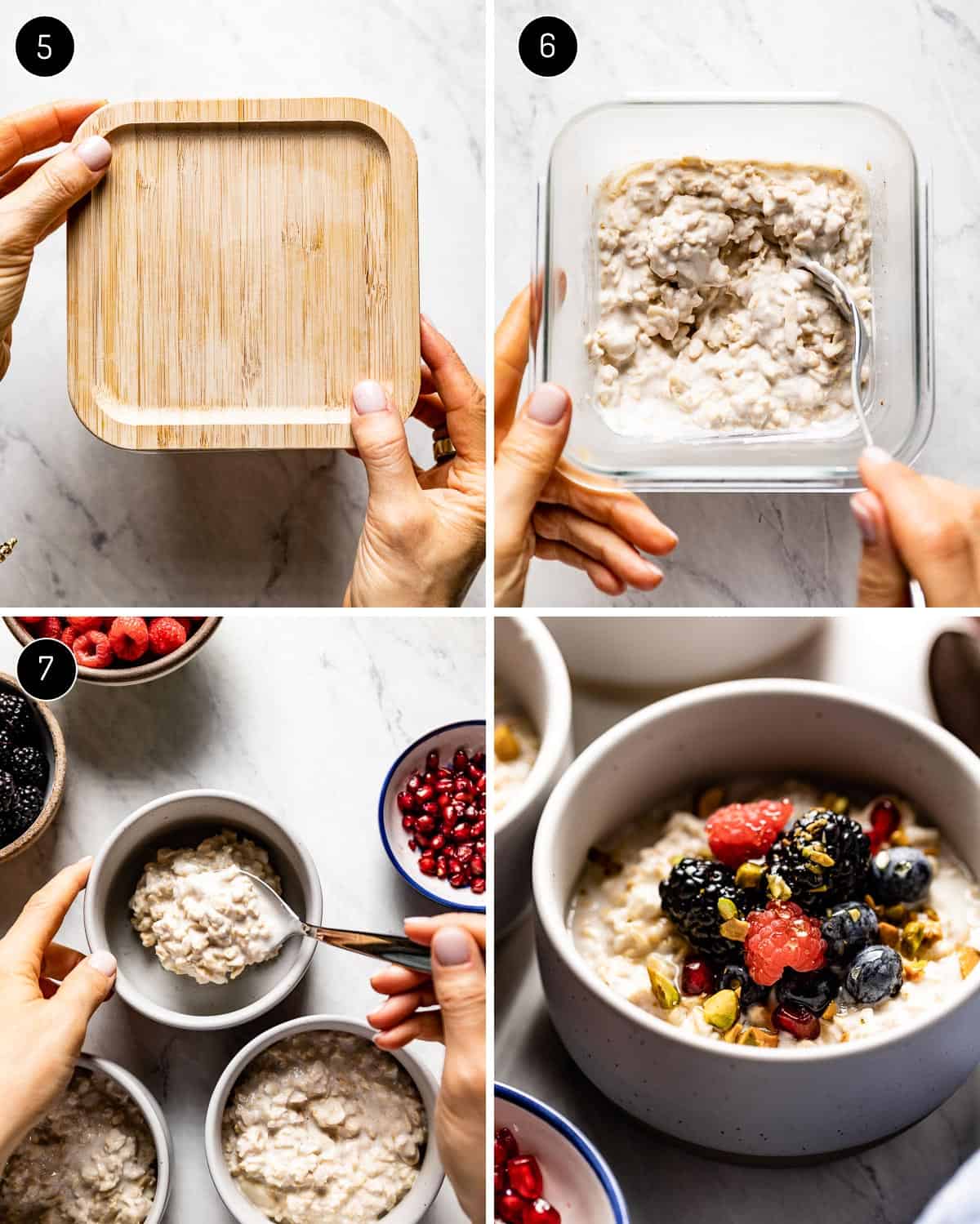 Rest: Cover the bowl with a lid or plastic wrap and place it in the fridge for at least 6 hours.
Stir: In the morning, take the vanilla yogurt overnight oats out of the fridge and give them a good stir to reincorporate the ingredients.
Serve or store: If you're ready to serve, place your desired amount of oats in a bowl and garnish with your toppings of choice and a drizzle of honey. If you wish to store your Greek yogurt and oats recipe, divide it into jars and store it in the fridge.
How to Serve Overnight Yogurt Oats?
It's no secret that starting your day with Greek yogurt is an excellent habit because of its many health benefits, such as its high calcium and protein content. Once your overnight oatmeal with yogurt is ready in the morning, you can enjoy it as-is or store it in jars as part of your weekly meal prep. Here are some tips:
Make breakfast in a jar with yogurt: For a truly grab-and-go, single-serving breakfast, make overnight oats in a mason jar! Mix up a big batch of this recipe (multiply the recipe as many times as you'd like), let it sit overnight, and divide it into 16 oz mason jars (or another one of your favorite containers) in the morning. To make things even easier, you can add your favorite toppings, such as fruit, into each 16-ounce jar. You can also layer the oats with granola, as you would in my Yogurt Parfait recipe. However, I recommend adding the granola to the jars right before you're ready to serve, as granola tends to get soggy as it sits.
Serve it in a bowl: For a quick way to serve your easy breakfast recipe, whip up a batch of Greek oats and add your desired amount to a bowl in the morning. Don't forget to add the toppings!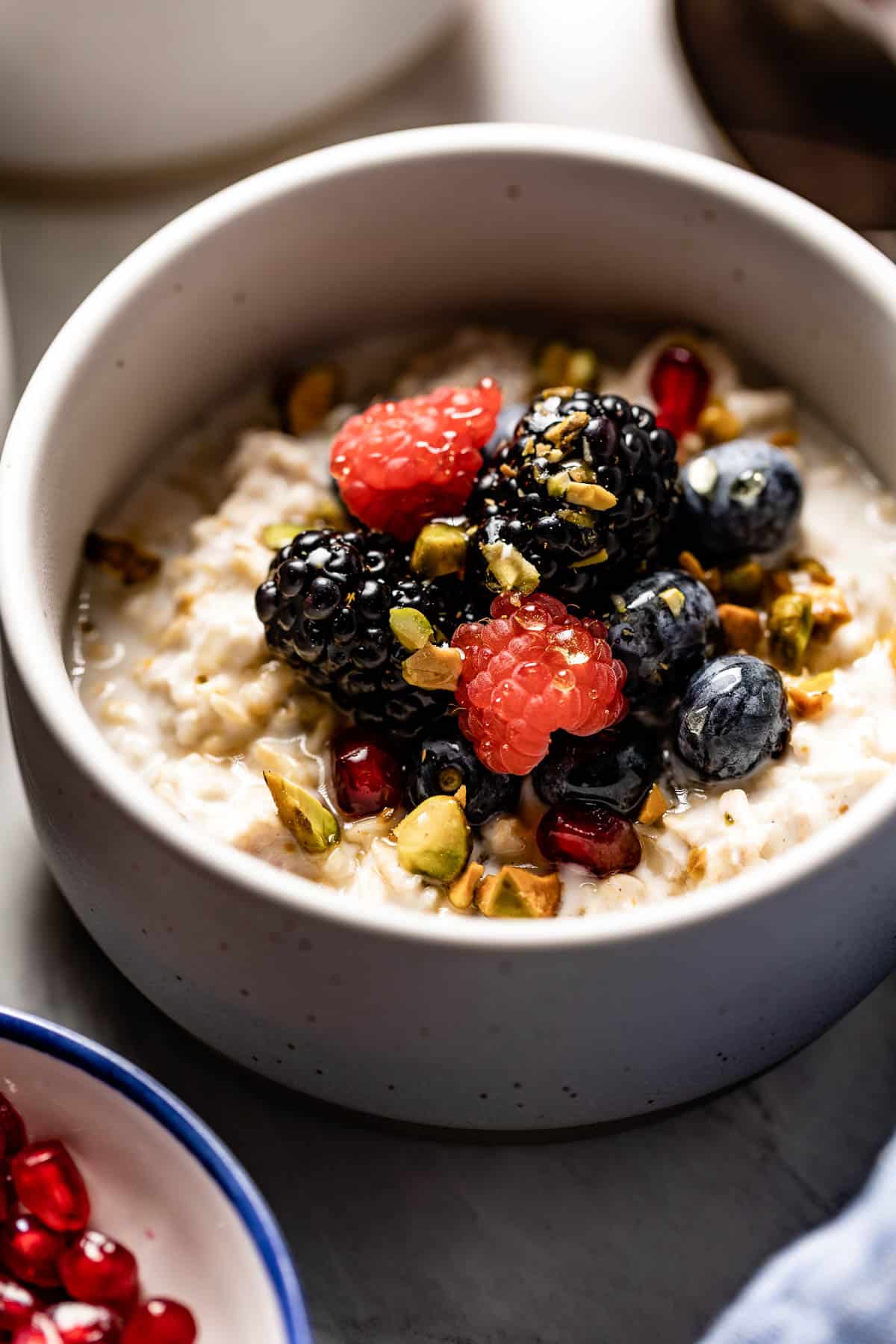 How to Store
This overnight oats yogurt recipe is super meal prep friendly, especially if you store the recipe in mason jars. If you store it in an airtight container, such as a mason jar, in the fridge, it will stay fresh for up to four days.
FAQs
Can you put uncooked oats in yogurt?
Yes, you can! Overnight oats are a no-cook raw oats and yogurt recipe. There's no need to cook the oats beforehand, as adding yogurt to oatmeal and letting it sit overnight allows the oats to soak up the liquid and become soft and easy to digest.
How long do overnight oats with yougurt need to sit?
Raw oats in yogurt need to sit for at least six hours in order to fully soak up the liquid and become soft. For best results, giving them an overnight soak is preferable.
Can I heat up overnight oats with yogurt?
I don't recommend heating it up, as overnight oat recipes taste better cold. However, if you prefer to serve it warm, the best way to do so is to microwave it in 30-second intervals, making sure to stir after each interval until it reaches your desired temperature.
How long do overnight oatmeal with yogurt last?
Overnight oats with vanilla yogurt will last for up to four days if stored in an airtight jar or container in the fridge.
Can you freeze overnight oats with yogurt?
Yes, technically, you can freeze refrigerator oatmeal with yogurt. However, I don't recommend freezing this recipe, as the taste and texture are best when refrigerated. Instead of freezing, I recommend making smaller, individual servings if you think you cannot consume an entire recipe within about four days.
Can I make this recipe using steel cut oats?
I don't recommend substituting steel-cut oats, as I found that they don't soften up as well as regular oats. If you want to make overnight steel-cut oats with yogurt, you can make my Overnight Steel Cut Oats recipe and add in vanilla yogurt once the oats are cooked.
Other Breakfast Porridge Recipes
Make-ahead breakfasts like this refrigerator yogurt oatmeal are a perfect option for busy mornings, as they're quick, filling, nutritious, and tasty. If you're looking for more easy, healthy breakfast ideas, browse the links below for inspiration:
If you try this Overnight Oats in Yogurt recipe or any other recipe on Foolproof Living, please take a minute to rate the recipe and leave a comment below. It helps others who are thinking of making the recipe. And if you took some pictures, be sure to share them on Instagram using #foolproofeats so I can share them on my stories.
Overnight Oats with Yogurt Recipe
This Overnight Oats with Yogurt recipe is a quick, nutritious, and high-protein breakfast that's easy to add to your weekly meal plan. Simply combine the ingredients, let them soak overnight, and enjoy in the morning! Plus, this basic recipe pairs perfectly with a variety of different toppings, making it easily customizable to suit your preferences.
Print Recipe
Ingredients
1

cup

Vanilla Yogurt

or Greek Vanilla Yogurt

2

tablespoons

honey or maple syrup

more to taste

1

cup

water

or milk of your choice

½

teaspoon

ground cinnamon

optional

1 ½

cups

old-fashioned rolled oats
Optional Toppings:
½

cup

fresh fruit

such as fresh berries

A handful of nuts or a few tablespoons of nut butter

Granola
Instructions
Combine the ingredients: In a large mixing bowl, whisk together vanilla yogurt, honey, and water until well combined.

Stir in the oats: Stir in the rolled oats and ground cinnamon (if using) and mix until fully incorporated.

Cover and rest: Cover with plastic wrap or a tight-fitting lid and place in the refrigerator for at least 6 hours or overnight.

Stir: In the morning, give it a quick stir.

Garnish and serve: Divide the overnight yogurt oats into bowls (or jars) and, if preferred, garnish them with your favorite toppings and a drizzle of honey.
Notes
Yogurt:

You can make your own vanilla yogurt or buy any of your favorite yogurt brands from the grocery store to make this recipe. You can also use your favorite fruit flavored yogurt in this recipe.

Oats:

You can make this recipe with instant oats, but I do not recommend using steel-cut oats as they do not soften properly even after a whole night in the fridge.

Store: Store in an airtight container or jar in the fridge for up to four days.
Meal prep

: If you are making the refrigerator oatmeal as a part of your weekly meal prep, you can easily multiply this recipe. As a general rule, my go-to overnight oats ratio with yogurt and water is 1 ½ cups rolled oats, 1 cup yogurt, and 1 cup water (or any milk of your choice.)

Calorie info: Calorie information below does not include the optional toppings.
Nutrition
Calories:
203
kcal
|
Carbohydrates:
43
g
|
Protein:
6
g
|
Fat:
2
g
|
Saturated Fat:
1
g
|
Polyunsaturated Fat:
0.04
g
|
Monounsaturated Fat:
0.4
g
|
Cholesterol:
6
mg
|
Sodium:
91
mg
|
Potassium:
334
mg
|
Fiber:
1
g
|
Sugar:
41
g
|
Vitamin A:
233
IU
|
Vitamin C:
2
mg
|
Calcium:
222
mg
|
Iron:
0.4
mg
Like this recipe? Consider sharing: