I am going to be honest, I am not a baker. And I am certainly not a bread baker. But when I originally found the no-knead bread recipe published by Mark Bittman in the New York Times, originally created by Jim Lahey of Sullivan Street Bakery in Manhattan, the world of bread baking was completely transformed.
Who knew you could bake a crusty loaf of bread in your home kitchen without the technique of kneading? I was instantly amazed.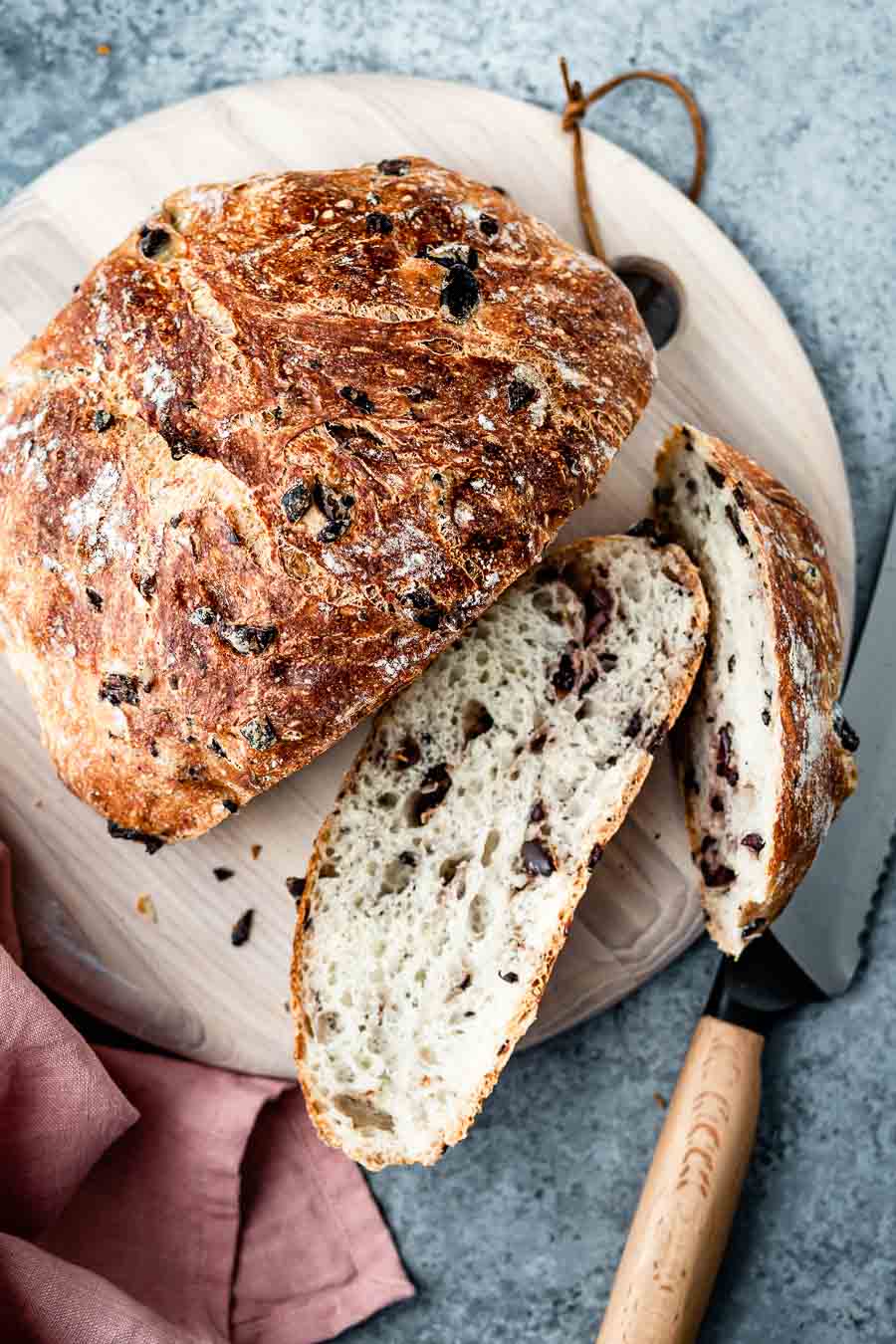 But then I realized, the 4-ingredient no-knead bread recipe is such a fantastic base, why not make it more interesting? And since olives are one of my pantry staples, as they are so prominent in Mediterranean cuisine, I knew I was on to something. So I got to work.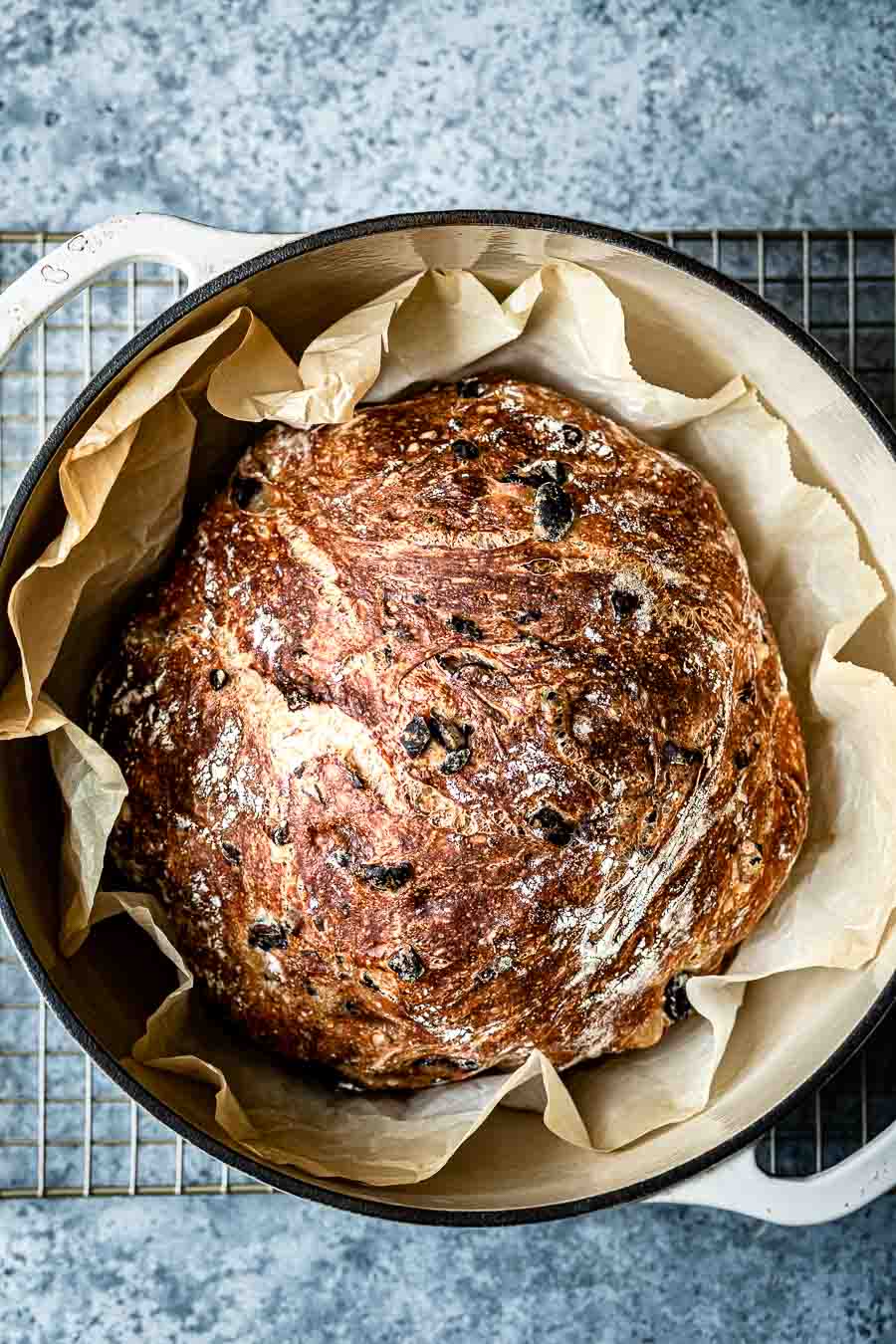 After a few trials and errors, this olive loaf bread became my new favorite. Warm from the oven, my husband and I simply couldn't get enough. Once we tried it with Olive Oil Bread Dip, it was simply perfection. It makes a great go-to bread to bring to all of our upcoming holiday parties, too! Just think of this rustic bread as a delicious way to impress all your friends!
What is Olive Bread?
Olive bread, sometimes referred to as olive loaf (not to be confused with the cold cut version studded with olives), is a bread where the loaf of bread is laced with whole or chopped olives. This ensures a quintessential olive artisan bread flavor.
Where did olive loaf originate?
From my research, the olive loaf recipe seems to have originated in the Mediterranean, mostly in Italian and Greek cultures. And it makes sense since olives are such a staple ingredient in this region. Many times, you will find artisan bread makers with a version of olive bread in their shops. But today, it can easily be made in your home kitchen!

What is an olive loaf made of?
Homemade olive bread requires 5 simple ingredients:
Bread Flour
Active Dry Yeast
Kosher Salt
Lukewarm Water (more on that later below)
Chopped Kalamata Olives (but you can use any of your favorite olives – more on that below)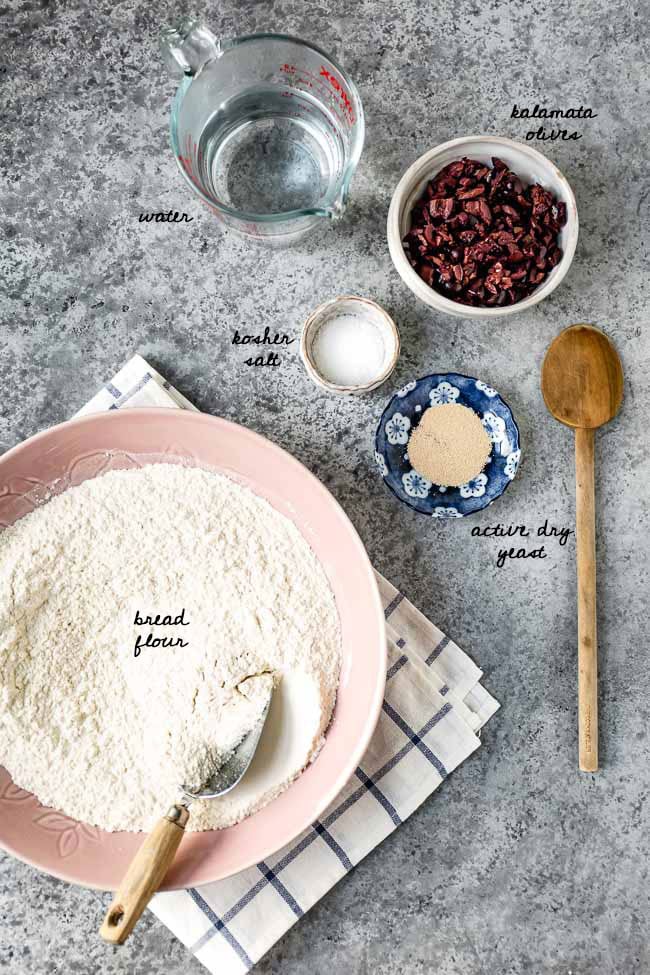 How to make olive bread?
This no-knead olive bread comes together in 3 folds.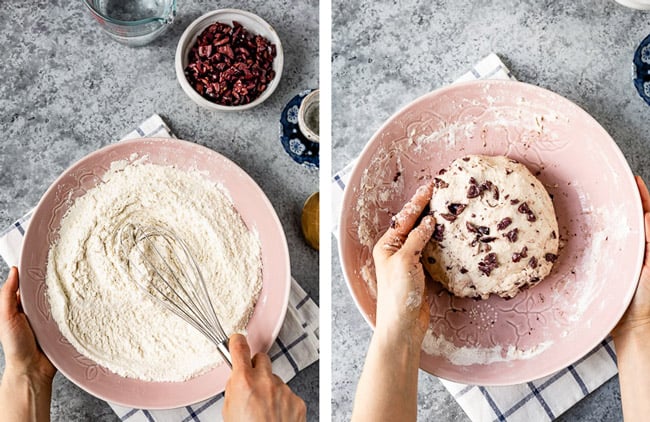 First, mix the dry ingredients in a large mixing bowl. Pour in the lukewarm water. Mix with a wooden spoon. At this point, the dough will be sticky.
Stir in chopped kalamata olives and ensure they are evenly distributed throughout the dough. (Feel free to also use your hands!) Cover the bowl with a clean kitchen towel and allow it to rest 18-24 hours in a warmer part of your kitchen.
PRO TIP: Warm water is very important to activate the yeast. Though you might ask, what is the exact temperature you are referring to when you say, "lukewarm water"?

Typically, this is a temperature between 100-110 degrees. You can use an instant-thermometer to know for sure. If you don't have one, you can simply stick your finger in the center, if it feels slightly warm to the touch, you are good to go!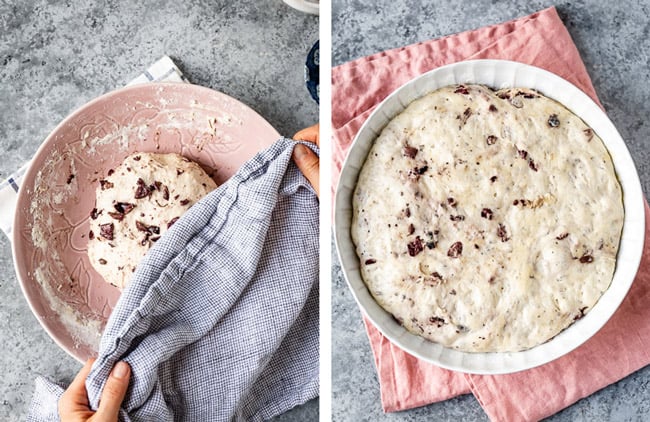 Second, transfer the dough from the bowl onto a lightly floured surface. It will be sticky. But if you gently remove the olive bread dough from the bowl, you will notice it will all come out easy and fold onto itself. If you need a visual, be sure to check out the quick how-to video in the recipe card below.
Form the dough into a ball by tucking the sides of the dough under. Transfer to a large piece of parchment paper, lightly dust with flour, cover with a kitchen towel and allow to rise once more in a warmer part of your kitchen until doubled in size, 1-2 hours.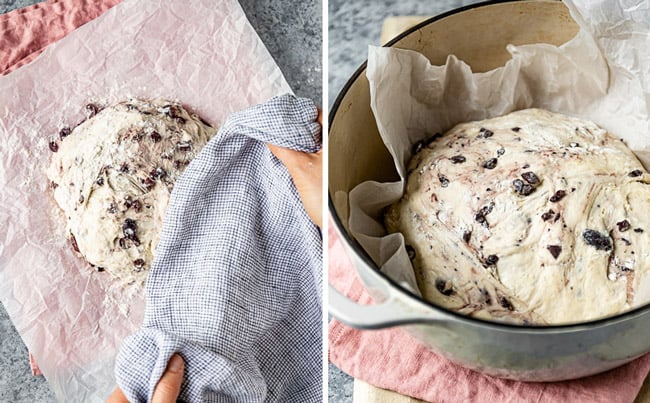 Lastly, towards the end of rising time, place your dutch oven in the oven and preheat the oven to 450 degrees F. When ready to bake, remove the very hot dutch oven from the oven with potholders.
Using the edges of the parchment paper, carefully place the dough in the dutch oven, cover and bake for 30 minutes. Then, remove the lid and bake another 20-25 minutes, or until golden brown. Remove the olive loaf from the dutch oven and place it on a cooling rack to cool for 30-45 minutes before slicing.
PRO TIP: To know for sure that your bread is fully cooked through, once you remove it from the dutch oven, gently lift it over and tap the bottom of the bread loaf. If it sounds hollow, it's done!
An important tip for using olives
Make sure the kalamata olives are completely drained as this rustic loaf recipe is already very moist and sticky. To ensure your olives are completely dry, chop first and pat them with paper towels to get rid of excess liquid.
Is olive bread healthy?
Yes, especially a dutch oven olive bread. Since olives have heart-healthy fats and we are making the bread from scratch with top-quality bread flour, it is good and good for you! So go ahead, have two, ahem, three slices!
What to serve with olive bread?
The rustic olive bread recipe is absolutely divine with Olive Oil Bread Dip (and a glass of wine!). But with the colder months coming, it also pairs perfectly with hearty fall and winter soups. Try it with Vegan Butternut Squash Soup, Ribollita Soup, Lentil Soup, Turkish Red Lentil Soup, or Homemade Vegetable Beef Soup.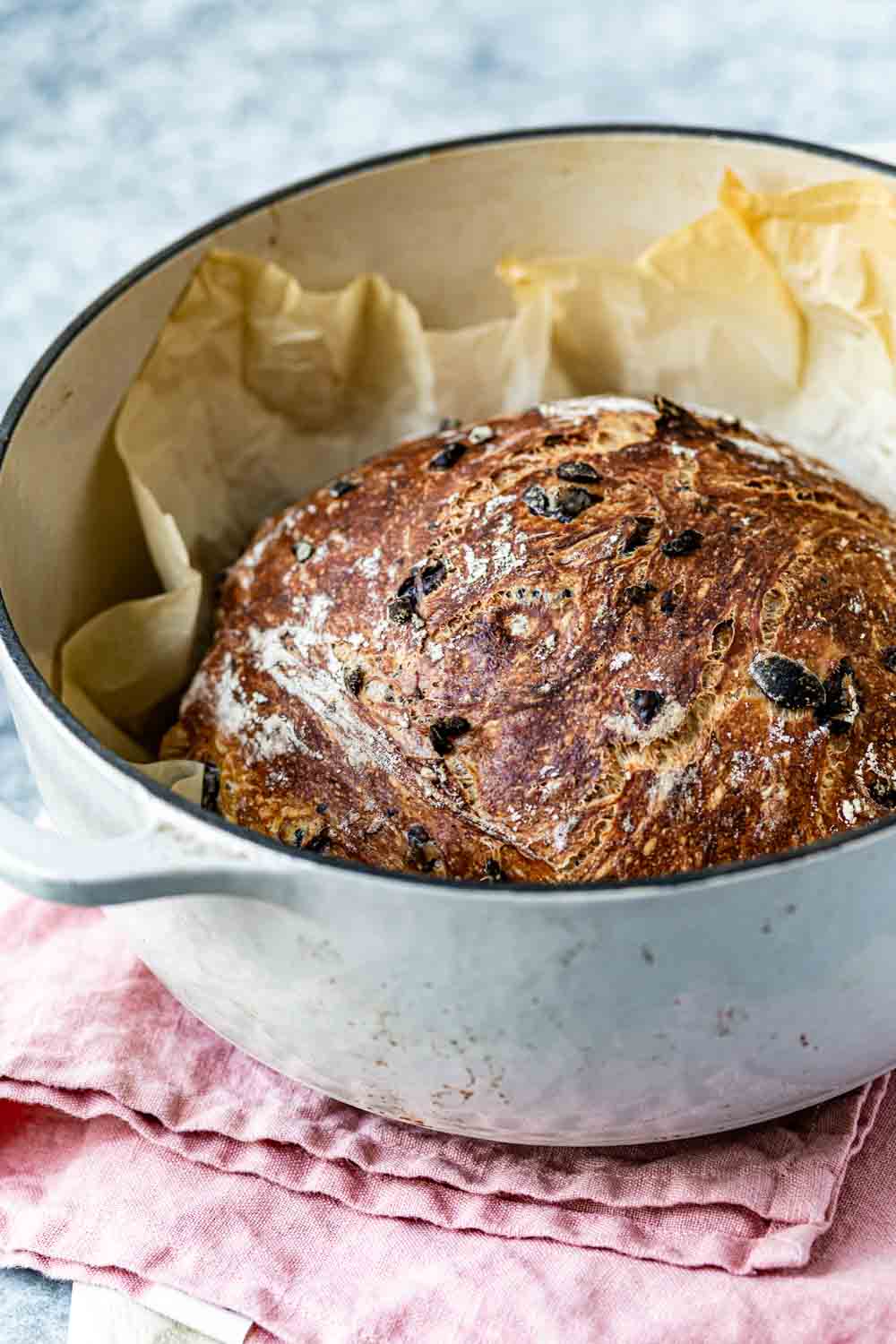 Olive Loaf Variations
The beauty of this rustic olive bread recipe is the number of variations you can make. I would recommend replacing the olives altogether or adding one additional ingredient to keep it simple. Here are a few of my favorites:
Olive Cheese Bread: Add 1 cup shredded white cheddar
Green Olive Bread Recipe: Replace the purple kalamata olives with chopped green olives
Olive and Herb Bread: Add 1 teaspoon each dried thyme and oregano to the dry ingredients
Olive Garlic Bread: Add 1 tsp garlic powder to the dry ingredients
Black Olive Bread: Replace the kalamata olives with black olives. I especially like the extra special briny bite of pitted, black oil-cured olives.
Sun-Dried Tomato and Olive Bread Recipe: Add 1 cup sliced sun-dried tomatoes
Olive Tapenade Bread: Replace the chopped olives with ½ cup strained olive tapenade
Rosemary Olive Bread Recipe: Add 2 teaspoons dried rosemary
Walnut Olive Bread: Add 1 cup chopped, toasted walnuts
A few tips for making the best recipe
Can I freeze this olive bread? You sure can. As a matter of fact, I usually make a few loaves on the same day. Let them cool completely, slice, place in freezer bags, and freeze until I am ready to use. When ready to serve, I toast a slice (or more) and serve.
Do I have to slice it before I freeze? Can I freeze the whole loaf? You can. However, (1) be sure to place it in an airtight container (I usually wrap it in a clean kitchen towel, place it in a freezer bag, and get as much air out as possible), and (2) be sure to thaw it in the fridge overnight before serving.
What is the best size of the Dutch oven to bake this olive loaf? I have made this baked bread in 3 different sizes of Dutch ovens and brands and they all worked well. The brands and sizes are as follows (the links below are affiliate links)
Le Creuset Signature Cast-Iron Round Dutch Oven, 3 1/2-Qt
Lodge 6 Quart Enameled Cast Iron Dutch Oven
Staub Cast Iron 5.5-Qt. Round Cocotte
A few requests for whole wheat olive bread have been mentioned. I have not tested this recipe with whole wheat flour as the structure and protein content is different than bread flour. If you are adventurous and want to try a whole wheat version of this bread on your own, I would start with replacing 25% of the bread flour with whole wheat and work your way up from there. I would love to know the results if you try it out!
Other bread recipes you might also like
Homemade No-Knead Olive Bread Recipe
Yields:
8
slices (1 Loaf)
This Homemade Olive Bread is a rustic and crusty no-knead bread recipe that anyone can make. Packed with Kalamata olives, this olive loaf comes together so easily in a Dutch oven.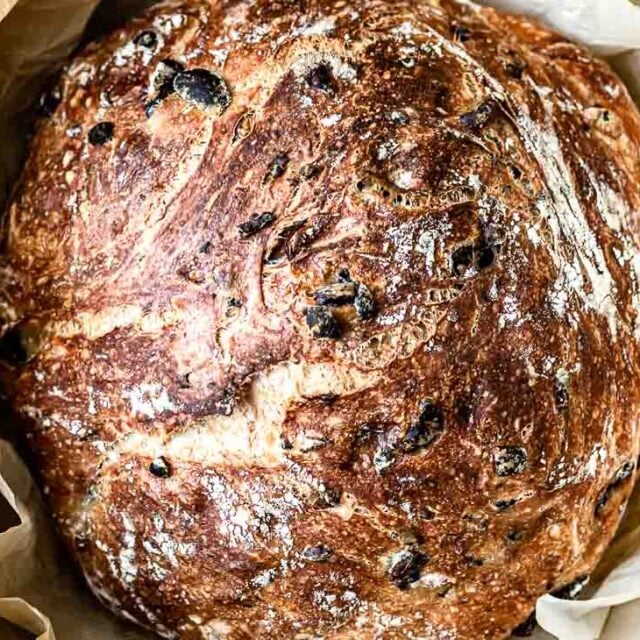 Print Recipe
Ingredients
3

cups

bread flour

(360 gr. )

¼

teaspoon

active dry yeast

2

teaspoons

kosher salt

1 ⅓

cup

lukewarm water (between 100-110 F degrees)

(316 ml)

1

cup

chopped kalamata olives

drained well
Instructions
Mix the dry ingredients; bread flour, active dry yeast, and kosher salt, in a large mixing bowl. 

Pour in 1 ⅓ cups (316 ml.) lukewarm water.

Give it a mix using a wooden spoon. At this point, the dough needs to be quite sticky. Stir in the chopped olives and ensure that they are equally distributed throughout the batter. (Alternatively, you can use your clean hands to mix and feel the stickiness.)

Cover the bowl with a clean kitchen towel and let it sit in a warmer part of your house for 18-24 hours.In my tests, I found that the bread baked after 18 hours of rising time was perfect, but the 24-hour one was also good. One important thing to mention here is that at the end of the rising time you might see a thin (kind of hard – for the lack of a better word) layer at the top of the dough. Don't be alarmed by that. In the next step, we will fold that into the dough and since it is a sticky one, the additional rising time will help soften it. 

Lightly flour your kitchen counter, gently remove the dough from the bowl, and place it onto your work surface. While removing, you will realize that it is quite sticky. However, if you take your time and gently pull it by folding it onto itself, you will see that it will come out easily without any dough remaining in the bowl. 

Form the dough into a ball tucking the sides of the dough under. Transfer the dough onto a large parchment paper, lightly dust with a little bit of flour, cover it with a clean kitchen towel, and let it rise for 1-2 hours or until it doubles in size. Again, I recommend letting it sit in a warmer part of your house. 

Towards the end of the rising time, place your dutch oven in the oven and pre-heat it to 450 F degrees. 

When ready to bake, carefully take the now-very hot dutch oven out of the oven. Using the edges of the parchment paper place the dough into the dutch oven. Put the lid on and bake for 30 minutes. Then remove the lid and continue to bake another 20-30 minutes or until the top is nicely golden brown as you see in the photos. 

At the end of the baking, remove it from the dutch oven, place it onto a cooling rack and let it cool for 30-45 minutes before slicing.
Notes
When using olives in any recipe, it is best to give them a taste. If they are too salty, I would recommend letting them soak in water for an hour or so. Obviously, the longer they sit in water the less salty they will become. Alternatively, you can use less salt, but I personally prefer to adjust the saltiness of the olives instead of using less salt. Because I like my bread dough to be properly seasoned. 
Nutrition
Calories:
195
kcal
|
Carbohydrates:
35
g
|
Protein:
6
g
|
Fat:
3
g
|
Saturated Fat:
1
g
|
Sodium:
845
mg
|
Potassium:
54
mg
|
Fiber:
2
g
|
Sugar:
1
g
|
Vitamin A:
66
IU
|
Calcium:
16
mg
|
Iron:
1
mg
Like this recipe? Consider sharing: