For the last few days, we have had the nicest weather. The temperatures have gone up to 50 degrees, and for this time of the year in Vermont, that is considered as "nice and warm". As far as I am concerned, it is not warm by any stretch of the imagination, but I am happy to see the sun shining outside. Sadly, the forecast shows snow tomorrow so I am making soup. This healthy and easy Lentil Soup, to be exact.
The first time I published this Green Lentil Soup recipe was back in February of 2014 and it has been a reader favorite so I decided to give it an update with a few new photos, some helpful information, and a quick how-to video.
Over the years, this has been one of my go-to weeknight recipes for cold winter evenings. My version here is vegan, but below I made sure to list a few ways to add in some animal protein to the soup.
I love this recipe as it is somewhere between a soup and stew making it a perfect main dish for a meatless Monday dinner. If you are like me, enjoy meal worthy soup recipes, I know you will enjoy this lentil soup recipe.
Intrigued? Let me break it down for you.
How to prepare lentils for lentil soup
As it is with beans, it is possible to have foreign objects like leaves, stones, or twigs in a bag of lentils. That is why before I start using them in my recipes, I always comb them thoroughly and give them a quick rinse.

To do so, place lentils in a shallow plate like a pie plate or a baking sheet. Pick out and discard any leaves or small stones.
Next, place lentils in a colander or strainer and rinse under cold running water.
Do I need to soak lentils for this lentil vegetable soup
You do not need to soak lentils before cooking. Compared to most legumes (i.e. chickpeas, beans, black-eyed peas, etc.), it takes a much shorter time for lentils to cook so there is no need to soak them beforehand.
Lentil soup ingredients
To make lentil soup you will need:
Onion
Carrots
Celery stalks
Tomato Paste
Garlic
Canned Tomatoes
Aromatics like: Bay Leaf, Thyme, and Fresh Parsley
Green Lentils ( I used French Du Puy Lentils)
Vegetable Stock or Water
Balsamic Vinegar (or red wine vinegar would also work)
How to make healthy lentil soup from scratch
The process for making this easy vegan lentil soup has 2 parts.
First, sautee onions, carrots, celery with a little bit oil in a large heavy bottom pot (i.e. Dutch oven) until softened. Add in tomato paste, garlic, tomatoes, and bay leaf. Sautee for another minute.
Second, add in the lentils and vegetable stock (or water). Put the lid on and bring it to a boil. Once boiling, turn down the heat and let it simmer.
Right before serving, remove the bay leaf, stir in the balsamic vinegar and garnish with chopped parsley.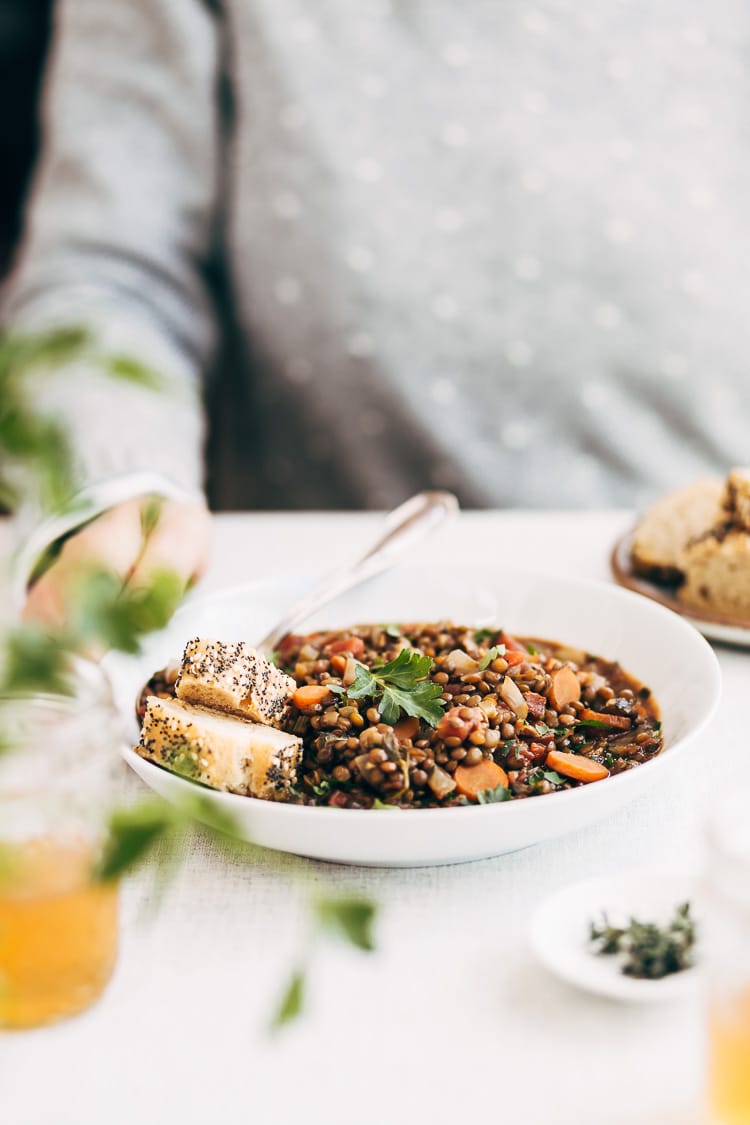 How long do lentil soup take to cook
Depending on the type of lentils you are using, lentils cooking time is about 25-30 minutes.
In this recipe, I used French lentils. It took me just under 45 minutes to cook the soup (including the vegetables) from start to finish.
If you use green lentils instead of Du Puy lentils it might take 5-10 minutes less to cook them.
How much water (or stock) to add to lentil soup:
When it comes to cooking lentils by themselves, my ratio for lentil to water (or vegetable stock) is one to three. In other words, I use 3 cups of liquid to cook 1 cup of lentils.
In this easy green lentil recipe, I used 1 1/2 cups of lentils and cooked it in 6- cups of liquid as I wanted to have extra liquid to cook all the other vegetables.
Want to know more about French lentils?
Here is a few FAQs answered about French du Puy lentils:
What are French du Puy Lentils and how are they different from regular green lentils?
Compared to green lentils, French du Puy lentils are smaller. I personally prefer them because they keep their shape after they are cooked whereas green lentils turn mushy after long cooking time.
In terms of taste, they are pretty similar so you would not compromise flavor if you use one or the other.
Where do I get du Puy lentils?
While they are becoming more and more popular, if you can't find them in your local supermarket, you can certainly find them in health food stores. Or else, you can order French Lentils (affiliate links) online.
If I do not have French du Puy lentils, can I use regular green lentils for this recipe?
Yes, you can. You can use them interchangeably. Though be aware that the end product (mostly the texture) will look different. Perhaps, a little bit mushy as most of the green lentils will burst.
Can you freeze lentil soup?
Yes, you can. As a matter of fact, I usually make a big batch of this easy lentil soup recipe and freeze some of it for another day. Simply, let the soup come to room temperature, place in airtight containers, and freeze up to 3 months. A day before you are ready to serve, thaw in the fridge overnight.
How long will lentil soup keep fresh in the fridge?
As long as it is kept in an airtight container, this vegan lentil soup will be fresh for 3-4 days. If you are serving it the next day, I recommend reheating only the amount that you plan to serve instead of reheating the whole soup.
What to serve this Frenh lentil soup with?
I usually serve it with a few slices of my no knead bread and a big green salad.
Is lentil soup healthy?
Absolutely! Green lentils high in fiber and protein and low in fat, which makes them a great alternative to meat. They are also packed with folate, iron, phosphorus, and potassium.
A Few variations for this easy lentil soup recipe
Like I mentioned earlier, this lentil stew recipe is one of my go-to weeknight soups, especially during the cold winter evenings.
Throughout the years of making it, I tried a few different variations so I am sharing those with you to help you as you make your own. Please know that while the recipe below is a vegan recipe, some of the ideas below include meat.
Vegan/Vegetarian Ideas
Add a cup of your favorite pasta (and even orzo) to the cooking liquid 10 minutes before everything is cooked: Adding a cup of pasta makes this a big one-pot meal that is perfect to feed a crowd.
Add 2 cups of baby spinach leaves or chopped fresh kale: You can make this dish even more nutritious by adding some greens. I usually go for spinach of kale and put them in 7-8 minutes before the cooking process is over.
Try adding different spices and fresh herbs: We love spicy hot food so sometimes I add in some crushed red peppers. In the past, I have also tried this recipe with paprika as well. You can use sweet or smoked paprika. Additionally, you can experiment with fresh herbs like sage, rosemary, and dill by adding them into the cooking liquid.
Non-Vegan (Animal Protein) Ideas
Add a cup of leftover or rotisserie chicken (cut in small cubes): An easy way to add animal protein in this recipe is to add a cup (or more) of shredded or cubed chicken. I usually add it right at the same time I add the stock. Additionally, you can use chicken stock to make it even more flavorful. If you decide to do so, I recommend using 4 cups of chicken stock and 2 cups of water.
Add ground beef: Another great way to add in some animal protein. If you decide to do so, I recommend adding 1/2 pound ground beef to the pot and cooking it for 5-6 minutes before you add in the onions. Be sure to use a wooden spoon and break the large pieces of beef as it cooks. After you cook it for a few minutes, you can follow the recipe as directed. Again, feel free to use chicken or even beef stock to make it even more flavorful.
Other lentil recipes you might like:
Other vegan soup recipes you might like:
French Lentil Soup Recipe
Recipe for French Lentil Soup that you can make under 45 minutes with tips, tricks, variations, and freezing instructions all in one blog post. If you are looking for a heart-healthy way to feed your family, this vegan French Lentil Soup will do the job perfectly. This recipe has been rewritten and updated on February 25th, 2018.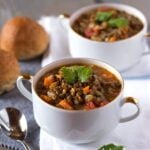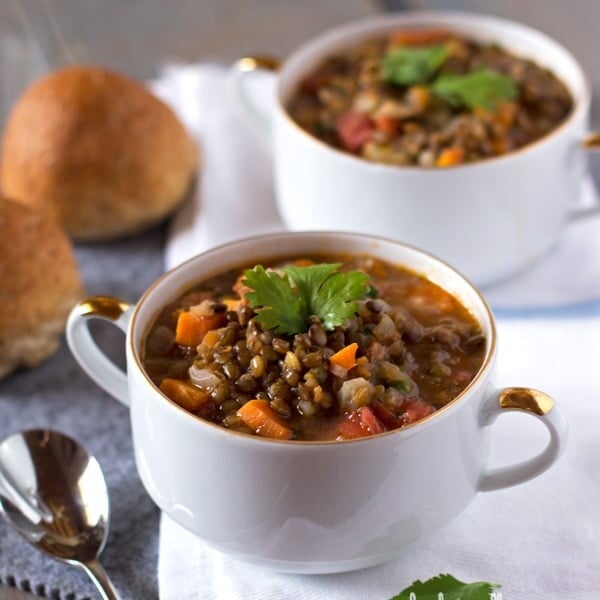 Print Recipe
Ingredients
1

tablespoon

olive oil

1

large onion

chopped

3

medium carrots

peeled and chopped

3

celery stalks

chopped

1

tablespoon

tomato paste

3

garlic cloves

minced

1

can diced tomatoes

(14 oz can)

1

bay leaf

1

teaspoon

thyme leaves

chopped

1 1/2

cups

French lentils

Lentils Du Puy, rinsed and picked over

1

teaspoon

salt

1/2

teaspoon

black pepper

6

cups

vegetable broth/stock

preferably homemade

2

teaspoons

balsamic vinegar

1/4

cup

fresh Italian parsley

chopped - plus more as garnish
Instructions
Heat olive oil in a large heavy bottom pot over medium heat. Add onions, carrots, and celery and cook until they are softened, 5-7 minutes.

Stir in the tomato paste and cook for a minute.

Add garlic and cook for 1 more minute.

Stir in the tomatoes, bay leaf, and thyme. Cook until fragrant, 1-2 minutes.

Add French lentils, salt and pepper. Give it a big stir to make sure that everything is mixed evenly.

Pour in the vegetable stock, turn the heat up to medium-high, put the lid on and bring it to a boil. Once boiled, turn down the heat to low and let it simmer for 30-35 minutes.

Right before serving, take out the bay leaf and stir in the balsamic vinegar and chopped parsley.

Pour the soup in individual bowls and garnish it with more parsley.
Video
Nutrition
Calories:
238
kcal
|
Carbohydrates:
38
g
|
Protein:
14
g
|
Fat:
3
g
|
Saturated Fat:
1
g
|
Sodium:
1377
mg
|
Potassium:
165
mg
|
Fiber:
16
g
|
Sugar:
6
g
|
Vitamin A:
5872
IU
|
Vitamin C:
10
mg
|
Calcium:
48
mg
|
Iron:
4
mg
Slightly adapted from America's Test Kitchen's Hearty Lentil Soup recipe and my mother's lentil soup recipe.
A QUICK TRIVIA:
IS LENTIL A BEAN?
If you are new to cooking with lentils, you might be wondering if lentils are a part of the beans family.
While they are grouped with peas and beans as a part of the legume family (as they grow in pods), they are not considered the same as beans.
This recipe was first published back in 2014 but recently updated with new photos, information, and a quick how-to video.
Like this recipe? Consider sharing: