This Sunday was the first time that I watched the Super Bowl from beginning to the end. Dwight and I literally sat in front of the TV the whole time, ate lots of good food, drank beer, and enjoyed the commercials.
To my surprise, unlike it was in the past I enjoyed watching the game as much as watching the commercials, mainly because at the beginning of the game Dwight agreed to answer my football related questions as they came up throughout the game.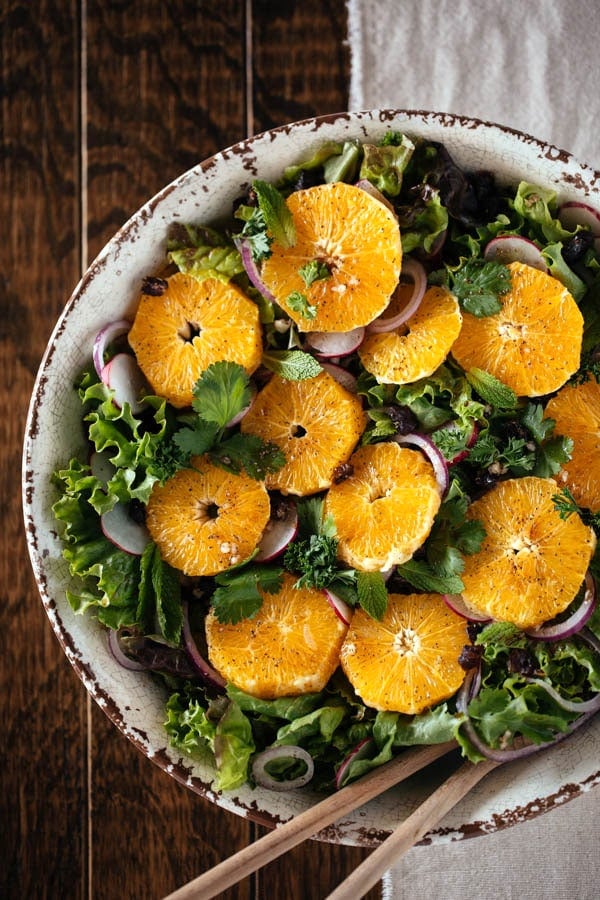 It wasn't long after the game started, thanks to Tom Brady, I learned what interception was and how it could change everything in the game of football. And by the end of the game, the last minute – to be exact- I had a better idea as to what was going on, which made it all so much more exciting especially when Malcolm Butler intercepted in the goal line changing the fate of the game making Patriots the winner of the Super Bowl of 2015.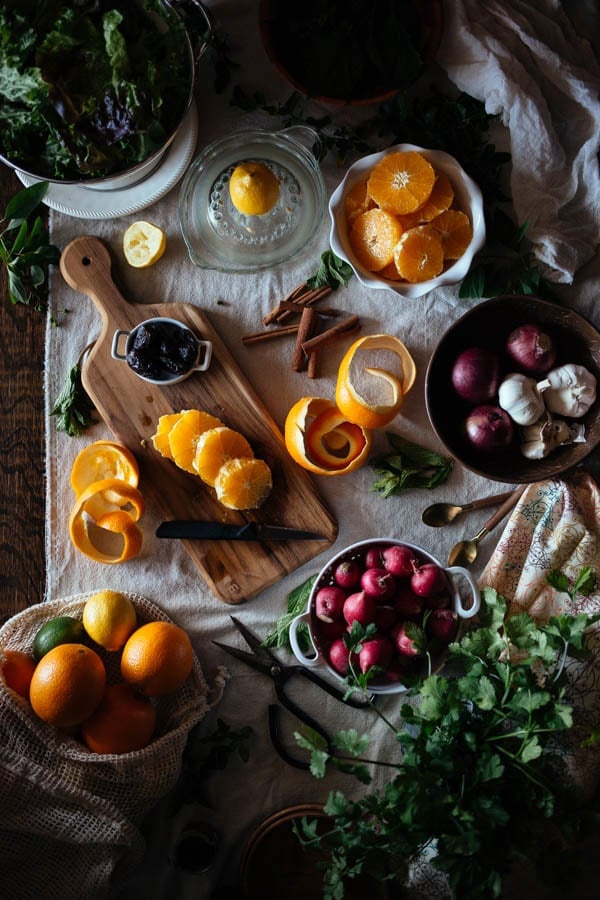 All in all it was so much fun, even though Dwight- a Sea Hawks fan- wasn't thrilled with the Patriots winning the game. But I felt great as I have been wanting to learn the rules of the game for a while now and feel as though I understand it much more than before.
The plan at first was to join some friends on a close by island to watch the game altogether, but when I found out that Dwight would have to work late I realized that I have no choice but to make dinner myself. I quickly made my oven-baked chicken wings, some guacamole, and this orange and date salad for dinner.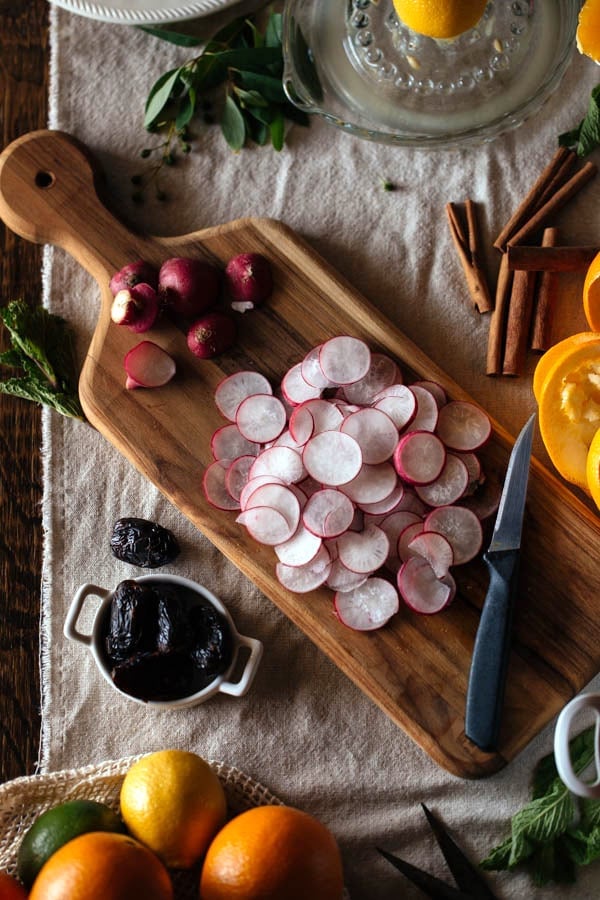 The recipe for this salad comes from Ottolenghi's cookbook Plenty More
, which has been my go-to cookbook for the last 3 months. I think I can safely say that I tried more than 25 recipes from the book and every single one of them turned out wonderfully. This salad was no exception. The first time I made it was in the beginning of the winter season when the first harvest of Florida oranges came to the supermarkets on the island.
Even though I wanted to share it on the blog immediately, I decided to wait with hopes of finding blood oranges later in the season. I thought it would be a great pop of color and flavor booster mixed with regular oranges.
But unfortunately, after talking to the biggest supermarket owner on the island, I found out that blood oranges were too sophisticated (and expensive) for the island customers and my chances of finding them on the island were close to none. But if you do have access to blood oranges, I bet they would take this salad to another level.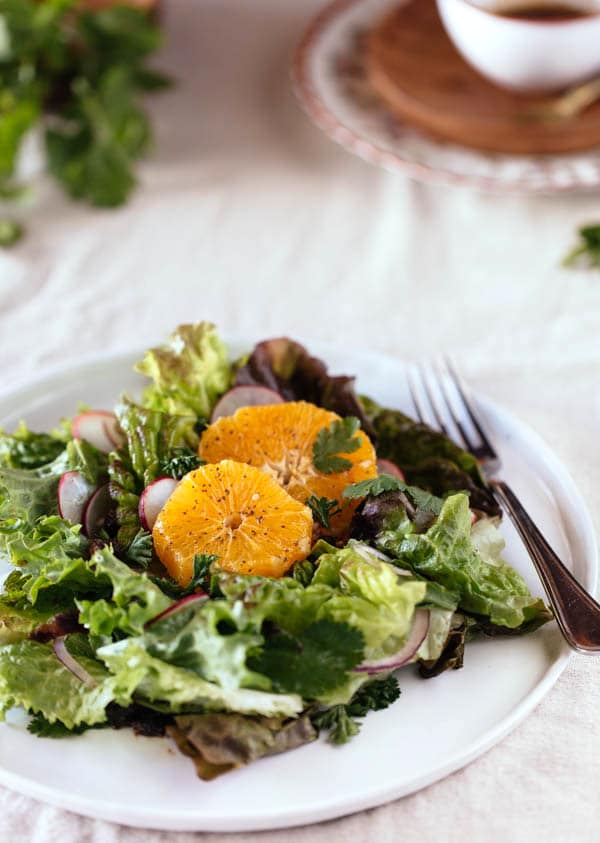 On a side note, I usually do not pick recipes that have unusual ingredients in them, because if I don't have it in my pantry most likely you don't either. This Orange and Date Salad has 2 ingredients- fennel seeds and orange blossom water- that you may not have in your pantry. I didn't either, but right after I started cooking from Plenty More I realized I could justify the purchase. Especially with the orange blossom water…
Because just a couple of dashes of it added into fruity desserts, custards, and salads (like this one) helps with boosting flavors by giving it a refreshingly citrusy flavor. On the other hand, fennel seeds are just as complimentary to salads and meaty dish in general. I read on an article on the Internet that they are the main spice used for making Italian Sausage. After being toasted for a couple minutes like I did in this recipe, their sweet licorice taste comes out and balances out the other savory notes in the dressing beautifully.
If you can't find them in your supermarket, you can order them from amazon.com. I really like and recommend the Nielson-Massey's Orange Blossom Water
.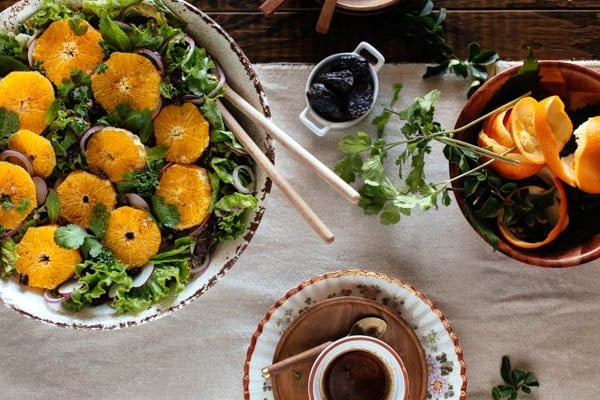 Looking at the recipe, you may think like I did, "How could garlic, cinnamon, fennel seeds, and orange blossom water possibly go well together?" Well… When mixed with thinly sliced radishes, red onions, sweet Medjool dates, and aromatic freshly chopped herbs, it turns an otherwise regular salad into something extraordinary. I think it is almost like a salad you would eat in a fancy restaurant and wonder what is in there to make it so delicious.
Ottolenghi's Orange and Date Salad
An orange and date salad that celebrate the sweet and savory ingredients all in one bowl.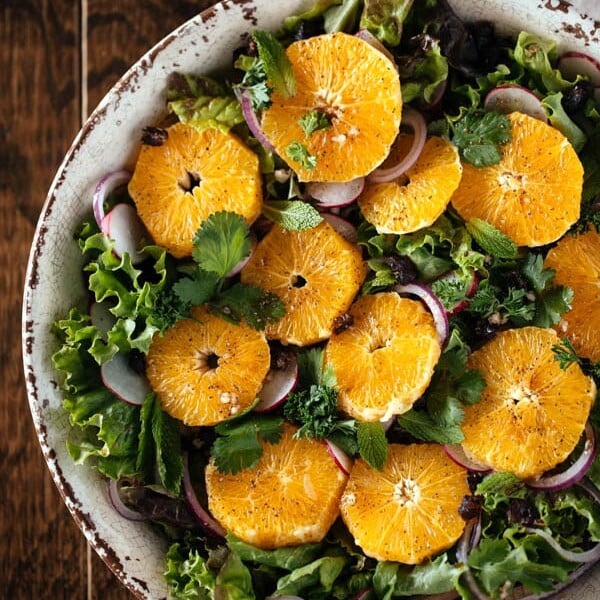 Print Recipe
Ingredients
Dressing:
2

tablespoons

lemon juice

2

cloves

of garlic

minced

1

teaspoon

orange blossom water

1/2

teaspoon

cinnamon

2

teaspoon

fennel seeds

toasted and crushed

3

tablespoons

olive oil

1/2

teaspoon

salt

1/4

teaspoon

black pepper
Salad:
6

cups

mixed salad greens

2

cup

arugula

1

cup

fresh Cilantro

chopped

1/2

cup

fresh mint

chopped

1/2

cup

fresh Italian parsley

chopped

3

Medjool Dates

pitted and sliced lengthwise

4

ounces

radishes

sliced paper thin

1/2

medium red onion

sliced thinly into rings

5

oranges

2 pounds, peeled and cut in slices (as seen in the picture)
Instructions
Start with making the dressing: Whisk all dressing ingredients in a small bowl.

To assemble: Mix all salad greens, arugula, radish and red onion slices, dates, and fresh herbs in a bowl. Pour half of the dressing over it and give it a toss.

Place the oranges on top and pour the rest of the dressing over the oranges. Serve.
Nutrition
Calories:
258
kcal
|
Carbohydrates:
41
g
|
Protein:
4
g
|
Fat:
11
g
|
Saturated Fat:
2
g
|
Sodium:
330
mg
|
Potassium:
759
mg
|
Fiber:
7
g
|
Sugar:
29
g
|
Vitamin A:
2455
IU
|
Vitamin C:
124
mg
|
Calcium:
152
mg
|
Iron:
2
mg
Recipe adapted from Yotam Ottolenghi's cookbook Plenty More
.
Like this recipe? Consider sharing: