Who knew that the secret ingredient to getting crispy (fried-like) chicken wing in the oven is baking powder? This Oven-Baked Chicken Wings with Hot Wing Sauce recipe is a healthier way to enjoy chicken wings without sacrificing the flavor and/or crispiness.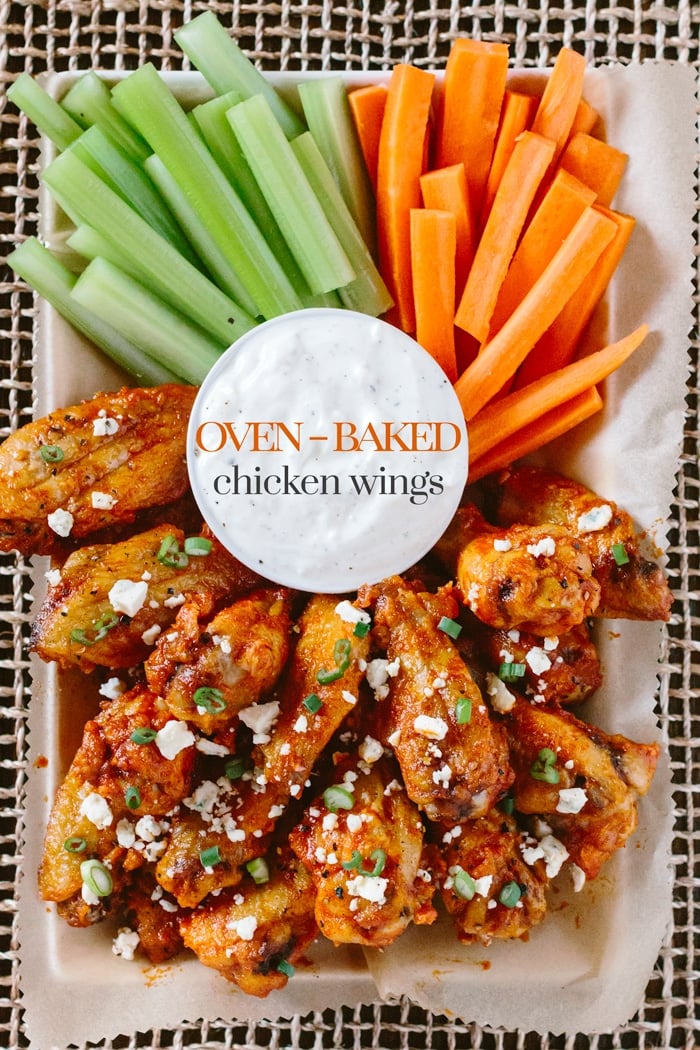 The other day I asked my husband what does he want me to make him for Super Bowl and even before I was able to finish my question he said chicken wings. But the way he said it and the expression on his face was more like "you would not make that".
He is right. I would not prefer to make a fried dish in my kitchen. He continued by saying that I should, pretty much, forget about healthy food when it comes to Super Bowl party food.
I told him that I would find a way to make healthier chicken wings. Again, he looked at me with an expression on his face saying "I don't think so…"
I looked for a recipe that (1) I do not have to fry (2) is going to be crisp on the outside and soft and flavorful on the inside, just like the fried version would be.
Come to find out, to get crispy chicken wings without frying, you have to find a way to dry out the skin outside. The secret that does that is baking powder.  Baking powder dries out the skin by breaking out the proteins within the skin. It also helps with the browning.
All you have to do is to coat chicken wings with baking powder and salt. Place them in a low heat (250 Degree) oven for 30 minutes on a lower rack and then crack up the heat (425 Degree), move them to an upper rack, and bake for 45-50 minutes.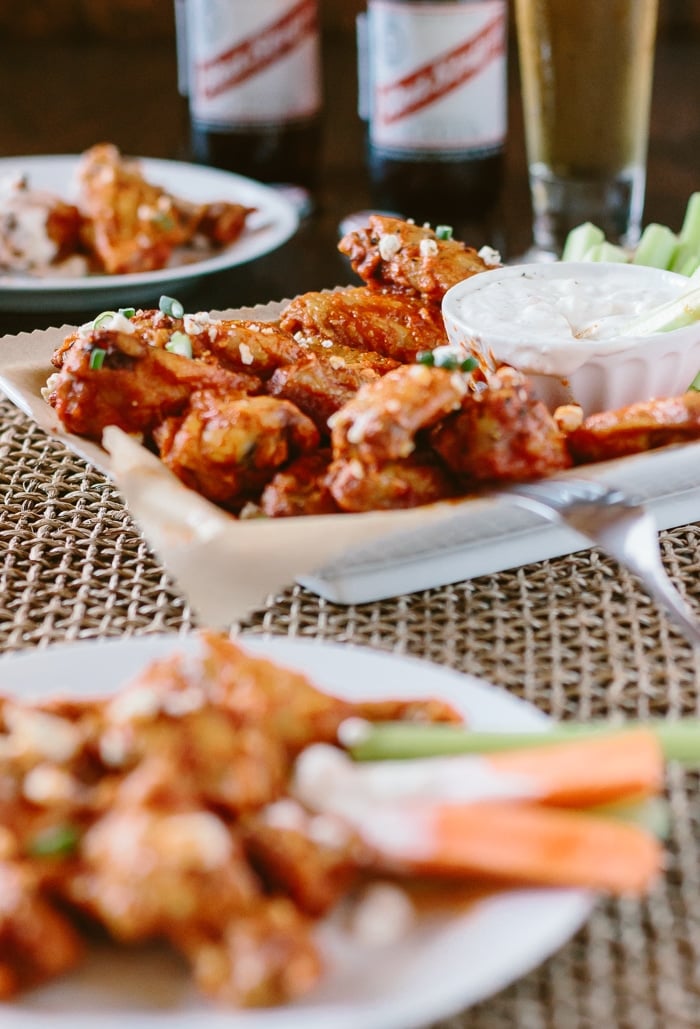 One important thing I strongly recommend is that you thoroughly pat-dry the chicken wings with a paper towel in order for the baking powder to stick and create a crisp outside.
I made a quick Sriracha based hot sauce to coat it with but you can coat these chicken wings with any of your favorite sauces.
As I was getting ready to photograph it, my husband walked in. After eating a couple of wings, he said that these are just as good as the fried ones.  I could not agree more. 
If you do not want to sacrifice your health and still want to have delicious chicken wings that are not fried, you should give this recipe a try.
Update: If you like this recipe, you may also like this Slow-Cooker Sticky Chicken Wings.
Click on the image to get the recipe. 
---
Print
Oven Baked Chicken Wings with Hot Wing Sauce
Author:
Prep Time:

15 minutes

Cook Time:

1 hour 25 minutes

Total Time:

1 hour 40 minutes

Yield:

40-45

Category:

Main Dish

Cuisine:

American
Ingredients
4 pounds chicken wings, pat-dried with paper towels
2 tablespoons baking powder
3/4 teaspoon salt
Hot Wing Sauce:
1/2 cup hot sauce (I used Sriracha)
2 tablespoons unsalted butter
1 tablespoon molasses
2 cloves of garlic, minced
2 tablespoon crumbled blue cheese (optional)
1 scallion – green parts only- chopped (optional)
Instructions
Adjust oven racks to upper middle and lower middle positions.
Heat the oven to 250 degrees.
Place baking powder and salt in large bowl. Add chicken wings. Toss wings and make sure that they are evenly coated with baking powder and salt.
Cover a baking sheet with aluminum foil and set a wire rack in it. Spray it with vegetable oil spray.
Place chicken, skin side down, on a single layer on the wire rack.
Bake wings on lower middle rack for 30 minutes. Turn up the heat to 425 degrees, move it to the upper middle rack. Bake for 45-50 minutes, rotating the sheet half way through the baking to ensure through baking.
Take them out of the oven and let them sit for 5 minutes.
In the mean time, make the hot wing sauce.
Place the hot sauce, butter, and molasses in a small saucepan. Cook, stirring occasionally, in medium heat until simmering, 5-7 minutes. Add garlic and turn the heat down to low. Cook for another 3-4 minutes.
Place wings in a large bowl and add the hot sauce over it. Toss to coat.
Place wings on a large plate and if preferred, sprinkle them with pieces of crumbled blue cheese and chopped scallions.
Serve immediately.
Nutrition
Serving Size:

6-8 servings
 Adapted from cookscountry.com's.