If you are looking for other delicious weeknight pasta recipes, this Gigi Hadid Pasta is a satisfying, easy pasta recipe. Mushroom Pea Pasta and Caprese Pasta Salad are also delicious, easy dinner recipes that are ready in under 30 minutes and sure to satisfy everyone at the table.
And if you have some leftover shrimp, be sure to try Barefoot Contessa's Roasted Shrimp Salad and Orzo Shrimp.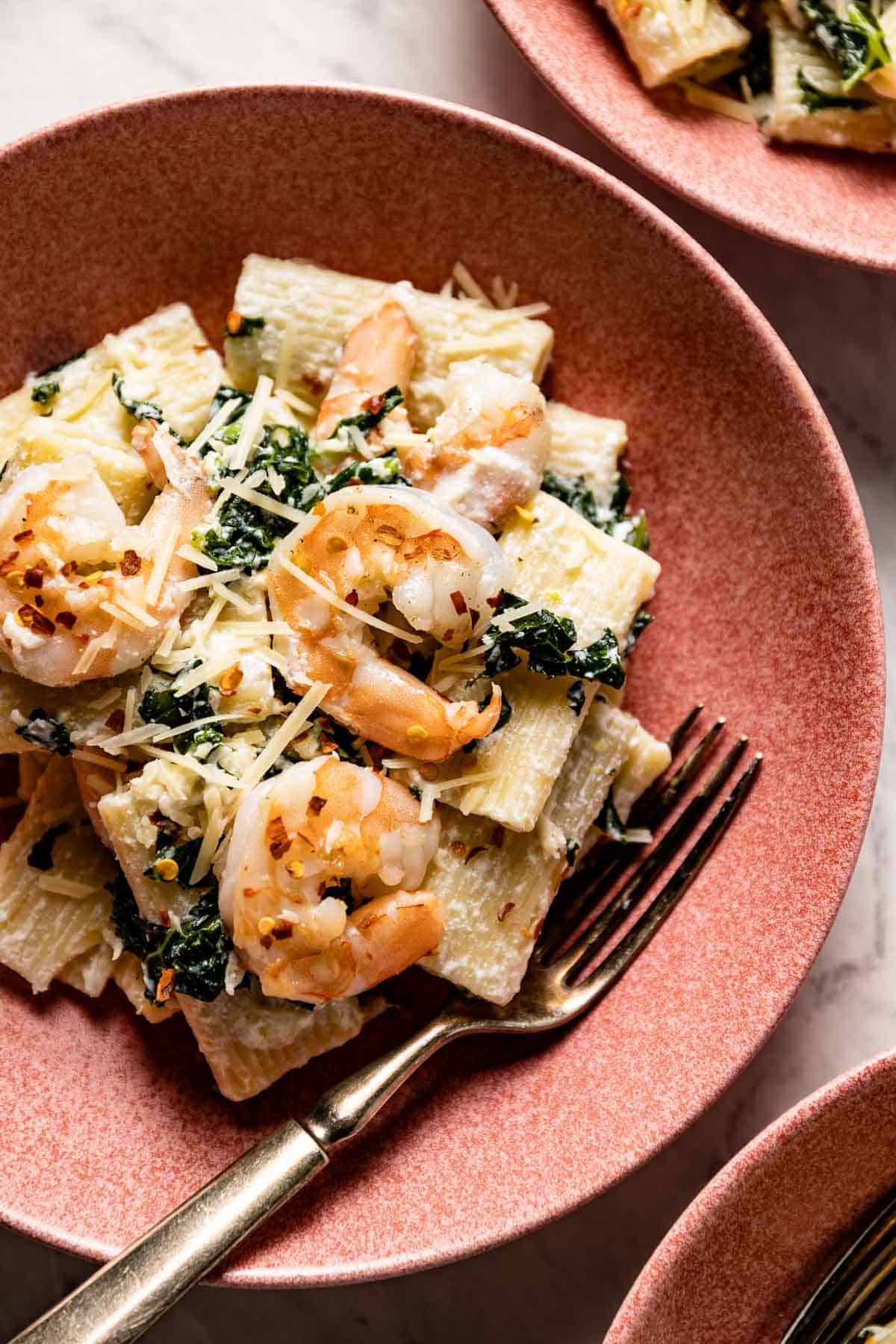 Ingredients
This lemon ricotta shrimp pasta is as delicious as it is straightforward. The main ingredients are shrimp, ricotta, and cooked pasta.
Shrimp: Shrimp is a low-fat, high-protein option for dinner that is ready in minutes. Simply sauteed or cooked with additional flavors (as suggested below), it is a weeknight dinner go-to protein for many of us. The recipe calls for size 16-20 shrimp, but you can also use 21-25. If you can get them, I always recommend buying your shrimp already peeled and deveined, at least for a weeknight dinner. It is a big-time saver!
Ricotta Sauce: Fresh ricotta cheese, parmesan cheese, fresh lemon, and a few cloves of garlic cloves are combined to make a simple creamy sauce with delicious flavor.
Pasta: While I use rigatoni in this recipe, you can use almost any kind of pasta you have on hand. Fusilli, bowtie, spaghetti, fettucini, or whole wheat pasta would substitute nicely. If you are following a gluten free diet, you can also use your favorite gluten free pasta.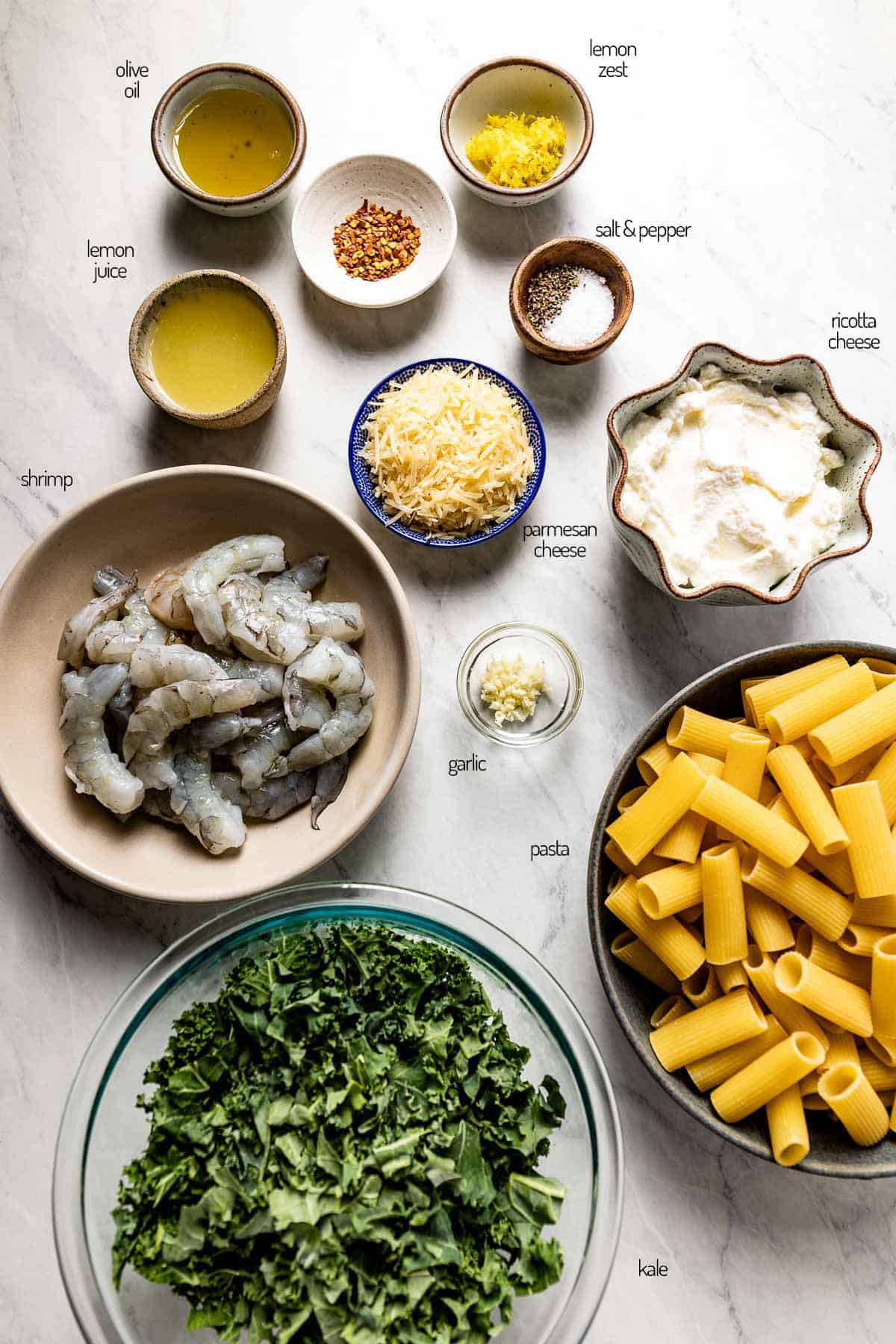 Helpful Notes and Substitutions
Shrimp:

If you have the extra time, marinate the shrimp using my classic Shrimp Marinade recipe to take the whole recipe up a notch.
If you have your grill fired up, my Grilled Shrimp Skewers are also delicious served on top of this ricotta pasta. Or better yet, if you have leftovers from the night before, you can serve these delicious shrimp in new ways by adding them to this quick pasta. Making enough protein for multiple meals is a great meal prep time saver!
Shrimp Scampi is another delicious alternative for the shrimp in this dish. Perfect for turning the flavor up a notch.

Ricotta Cheese: You can make fresh ricotta at home, or you can buy it at the store. I recommend buying the full-fat ricotta cheese for this recipe. It will make for a creamier, smoother sauce. This is already a light, healthy meal. Don't short yourself on the ricotta.
Olive Oil: The shrimp is sauteed in olive oil, but feel free to substitute butter. It will add a little extra richness to your shrimp.
Kale: Baby spinach would make a lovely substitute for kale. However, please remember that spinach does not take as much time to cook. You can add the spinach to the pasta water for about 30 seconds before draining it or simply toss it with the hot pasta after it is drained.
Not a fan of kale? If you want to add some veggies to this dish but are not a fan of kale, you can use fresh or frozen peas. I usually blanch peas in the summer and keep some in the freezer to use in weeknight pasta recipes like this one.
Extra kick: If you like a little heat in your meal, you can add ½ tsp of chili flakes to the sauce or garnish on top of the pasta at the end. Red pepper flakes will give you the kick you want without distracting you from the flavor.
Extra decadence: A splash of heavy cream into your sauce would make the dish richer.
How to Make this Recipe?
When I say this ricotta lemon shrimp pasta is easy to make, I mean it. Making creamy, dreamy, and easy pasta on a weekday has never been easier. Here are the steps: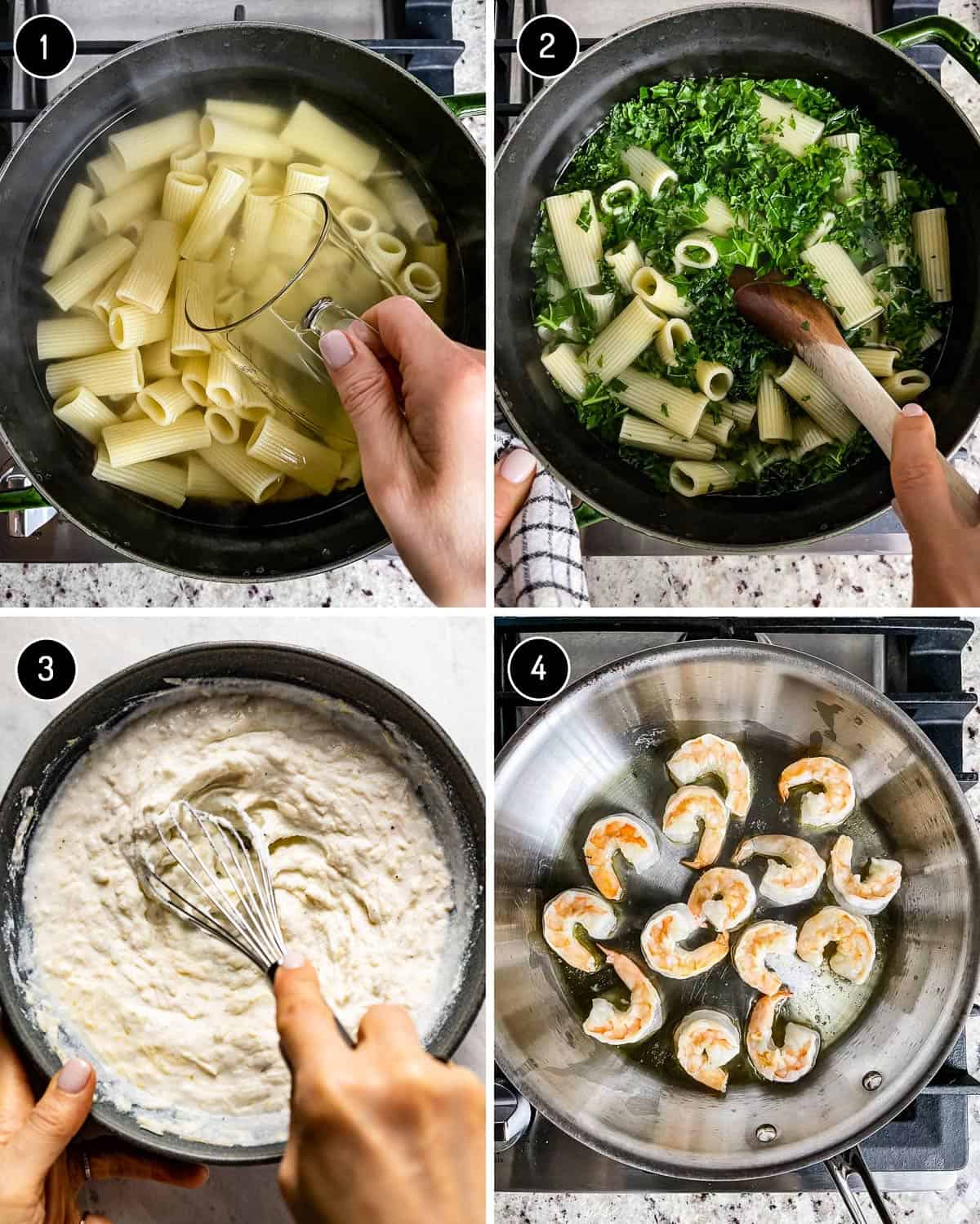 Cook pasta in a large pot of salted water according to package directions or until al dente. Be sure to salt your water.
Add kale to your large pot of water 5 minutes before the pasta is cooked. Before draining kale and pasta, reserve 1 cup of pasta water. Put drained pasta and kale back in the pan.
Make Lemon Ricotta Sauce: While the pasta is cooking, make the sauce by mixing your ricotta, parmesan, garlic, lemon zest, lemon juice, salt, and black pepper in a bowl. Add ½ cup of the starchy pasta water and stir until creamy.
Cook Shrimp: Heat oil in a large skillet over medium heat. Sear shrimp for two minutes on each side and season with salt and pepper.
Assemble the pasta: Add the ricotta sauce to the cooked pasta and gently stir. Add the rest of the pasta water if needed. Then add the shrimp to the dish. Garnish with parmesan and red pepper flakes as desired. If you like, enjoy your dinner with a glass of cold white wine!
How to Store and Reheat Leftovers
While you can store the leftovers and enjoy them in the next few days, we think that this dish is best when served hot as soon as it is ready. As the pasta sits, the noodles will soak up more of the sauce, which will still be delicious but less creamy.
Storing: Place any leftovers in an airtight container for up to three days.
Reheating: The best method is to reheat the pasta slowly in a skillet with a splash of water. It is possible to reheat in the microwave, but you have a higher chance of your sauce splitting.
Expert Tips
Even with a shrimp pasta recipe as simple as this one, there are always great tips that you can learn and new ways of doing things! Here are some tips to help you succeed on your first try:
Prep everything before you start. This recipe will come together in the time it takes your pasta to cook. Having everything ready to go will simplify your experience.
Salt your pasta water. Chefs say you should salt your water until it tastes like the sea. This greatly enhances the taste of your pasta in a way that cannot be added as well in later steps.
Dry shrimp thoroughly. When you pat your shrimp dry before you put them in the skillet, you reduce the chance of the shrimp steaming and will get better color and texture.
Taste before you serve. People often forget this important step. Give that pasta a taste to see if you need more salt or bright lemon flavor to suit your own personal palette.
FAQs
Will ricotta melt into a sauce?
Ricotta is actually a type of cheese that does not melt. That is a good thing in this sauce! Instead, the ricotta retains its creamy texture and spreads evenly over the pasta, without getting stringy.
What is ricotta sauce made of?
In this instance, ricotta sauce is made by combining whole milk ricotta with a number of delicious flavor-boosting ingredients and then thinning it with starchy pasta water. It is a simple and versatile sauce that can be adjusted to your taste and used in various dishes.
Other Weeknight Pasta Dishes You Might Like:
Quick-cooking pasta recipes are great recipes to keep on hand for busy weeknight meals. These recipes are all delicious, fast, and use easy-to-find ingredients.
If you try this Shrimp Ricotta Pasta recipe, please take a minute to rate the recipe and leave a comment below. It is a great help to others who are thinking of making the recipe. And if you took some pictures, be sure to share them on Instagram using #foolproofeats so I can share them on my stories.
Shrimp Ricotta Pasta Recipe
Shrimp ricotta pasta tossed with creamy lemon ricotta sauce and kale. It's the perfect 30 minute pasta recipe for busy nights.
Print Recipe
Ingredients
For The Pasta:
Water & salt to cook the pasta

1

pound

pasta

(bucatini, rigatoni, spaghetti, or penne would all work)

3

cups

kale leaves

destemmed and chopped thinly
For the Ricotta Pasta Sauce:
½

cup

shredded parmesan cheese

more as garnish

1

clove

garlic

minced

1

tablespoon

lemon zest

¼

cup

lemon juice

freshly squeezed

½

teaspoon

kosher salt

¼

teaspoon

black pepper
For The Shrimp:
3

tablespoons

extra virgin olive oil

1

pound

shrimp

16-20 shelled and deveined

½

teaspoon

kosher salt

¼

teaspoon

black pepper

Pinch

red pepper flakes

optional
Instructions
Bring a large pot of salted water to a boil. Add in the pasta and cook according to the packaging instructions or until al dente.

Five minutes before draining the pasta, add in the kale and cook until softened. Reserve 1 cup of pasta cooking water and drain the pasta.

Put the now-cooked pasta back in the pan.

While the pasta is cooking, make the ricotta lemon pasta sauce by mixing ricotta cheese, parmesan cheese, garlic, lemon zest, lemon juice, and salt and pepper in a bowl.

Add in the ½ cup of reserved pasta sauce and whisk until creamy. Set it aside.

To cook the shrimp: Heat olive oil in a large stainless steel skillet. Cook shrimp 2 minutes on each side. Season with salt and pepper.

To assemble the shrimp ricotta pasta: Add the ricotta sauce to the pasta and toss gently. It should be very creamy as you toss it with the help of the residual heat coming from the freshly cooked pasta. If you need it, add in the remaining pasta liquid and turn the heat on for a minute or so as you toss and turn the pasta.

Add the cooked shrimp and gently incorporate, ensuring that it is evenly distributed.

Taste for seasoning and add in if necessary. Garnish with a sprinkle of shredded parmesan cheese and red pepper flakes, if using. Serve.
Notes
Shrimp: The recipe calls for size 16-20 shrimp, but you can also use 21-25.
Prep everything before you start: This is a very quick recipe so it is recommended that you prepare all the ingredients while you wait for the pasta water to boil.
Dry your shrimp thoroughly before cooking. When you pat your shrimp dry before you put them in the skillet, you reduce the chance of the shrimp steaming and will get better color and texture.
Storing leftovers: This pasta is best when served hot as soon as it is ready. However, it can be stored in an airtight container in the fridge for up to 3 days. You can reheat it in a skillet with a splash of water over medium heat.
Nutrition
Calories:
464
kcal
|
Carbohydrates:
61
g
|
Protein:
18
g
|
Fat:
16
g
|
Saturated Fat:
6
g
|
Polyunsaturated Fat:
2
g
|
Monounsaturated Fat:
7
g
|
Cholesterol:
28
mg
|
Sodium:
591
mg
|
Potassium:
360
mg
|
Fiber:
4
g
|
Sugar:
3
g
|
Vitamin A:
3603
IU
|
Vitamin C:
37
mg
|
Calcium:
263
mg
|
Iron:
2
mg
Like this recipe? Consider sharing: