If you've ever wondered how to add ricotta to pasta, this dish is for you. Inspired by the New York Times' lemon ricotta pasta, this recipe is as tasty as it is versatile. Add sauteed shrimp for a mouthwatering Shrimp Ricotta Pasta, or mix in blanched peas for an easy pasta recipe as veggie-packed as my Mushroom and Pea Pasta. No matter how you prepare it, this filling ricotta lemon pasta is guaranteed to satisfy all your cravings.
Ingredients You'll Need
To make lemon ricotta spinach pasta, gather pasta, fresh spinach leaves (I use baby spinach), and kosher salt.
You'll also need whole milk ricotta cheese, shredded parmesan cheese, minced garlic, lemon zest, fresh lemon juice, salt, and black pepper for the ricotta lemon sauce. You may also choose to add red pepper flakes if desired.
Substitutions & Variations
Pasta: You can use almost any pasta to make noodles with ricotta cheese. I suggest using short pasta, like rigatoni or penne, for a hearty texture. However, you can also use long pasta to make lemon ricotta bucatini or spaghetti with ricotta sauce. Gluten-free pasta also works for a diet-friendly version.
Spinach: If you're not a fan of spinach, Swiss chard and kale make easy and nutritious substitutes. You can also top your dish with fresh arugula or mix in fresh herbs like basil or parsley to give it a light, delicious flavor.
Pesto Vinaigrette: To give your creamy spinach ricotta an herby kick, I suggest adding a few tablespoons of homemade Basil Pesto Vinaigrette.
How to Make Pasta With Ricotta Cheese
This ricotta lemon pasta recipe takes minimal effort and a handful of ingredients to prepare. Even beginner chefs can make this dish any night of the week.
Cook the pasta: Fill a large pot with water and 4 tablespoons of salt. When properly seasoned, your pasta water should taste like seawater. Bring the mixture to a boil, add the pasta, and cook it according to package instructions or until it becomes al dente.
Add the spinach: Right before draining the pasta, add the spinach to the pot and cook for 30-45 seconds. Then, reserve 1 cup of the pasta water and drain the rest of the pasta. Once it is fully drained, add the cooked pasta back to the pan.
Make the lemon ricotta pasta sauce: While the pasta cooks, mix the fresh ricotta cheese, parmesan cheese, garlic, lemon zest, lemon juice, salt, and pepper in a bowl.
Add the pasta water: Add ½ cup of the reserved starchy pasta water to the sauce ingredients. Whisk the mixture until it becomes creamy.
Toss the pasta: Pour the lemon ricotta sauce over the pasta and gently toss the noodles until fully coated. The ingredients should turn very creamy, as the residual heat from the cooked pasta melts the ricotta-based pasta sauce. However, if necessary, you may add the rest of the reserved pasta liquid to the pot, turn the heat on for a minute, and toss the mixture until it reaches the desired consistency.
Serve: Taste your ricotta and lemon pasta, and add any necessary seasoning. Then, garnish the dish with freshly grated parmesan cheese and if preferred, a splash of olive oil and a sprinkle of red pepper flakes. Serve!
How to Store
Say goodbye to wasted leftovers and complicated meal prep! With these simple storage tips, you won't miss out on a single bite of your ricotta lemon pasta.
Make-Ahead: The dish comes together rather quickly but if you want you can make the ricotta mixture a day in advance and keep it in an airtight container in the fridge.
Store: To store your ricotta pasta, place the leftovers in an airtight container. The pasta will stay fresh for up to two days.
Reheat: When reheating your pasta, it may help to add a little bit of water to the mixture. Then, warm the pasta in a large skillet over medium heat, adding more water as necessary.
Freeze: I don't recommend freezing this dish, as the extreme cold will ruin the texture of your pasta.
How to Serve
One of the best things about this one-pot lemon ricotta pasta is how easy it is to serve. This simple dish is versatile and delicious, making it the perfect addition to any meal plan.
Expert Tips
Elegant, tasty, and easy? Sounds too good to be true! I promise, though: This pasta recipe with ricotta cheese will come together in a cinch with these foolproof tips.
Use whole milk ricotta: If you want your pasta to come out creamy, flavorful, and rich, whole milk ricotta is the way to go. You can even make your own creamy Ricotta Cheese for the most delicious pasta dish without the extra trip to the grocery store.
Season well: Ample seasoning is the key to making pasta with ricotta cheese. For maximum depth and flavor, be sure to taste this pasta dish as you go and season it well.
Move fast: It's important to move fast when making this lemon ricotta pasta recipe. When prepared correctly, the residual heat of the cooked pasta should warm the parmesan and ricotta, giving the dish its signature creaminess. However, if your ricotta sauce doesn't reach the desired consistency, you can some cooking water to the pot, turn on the heat, and toss the mixture until ready.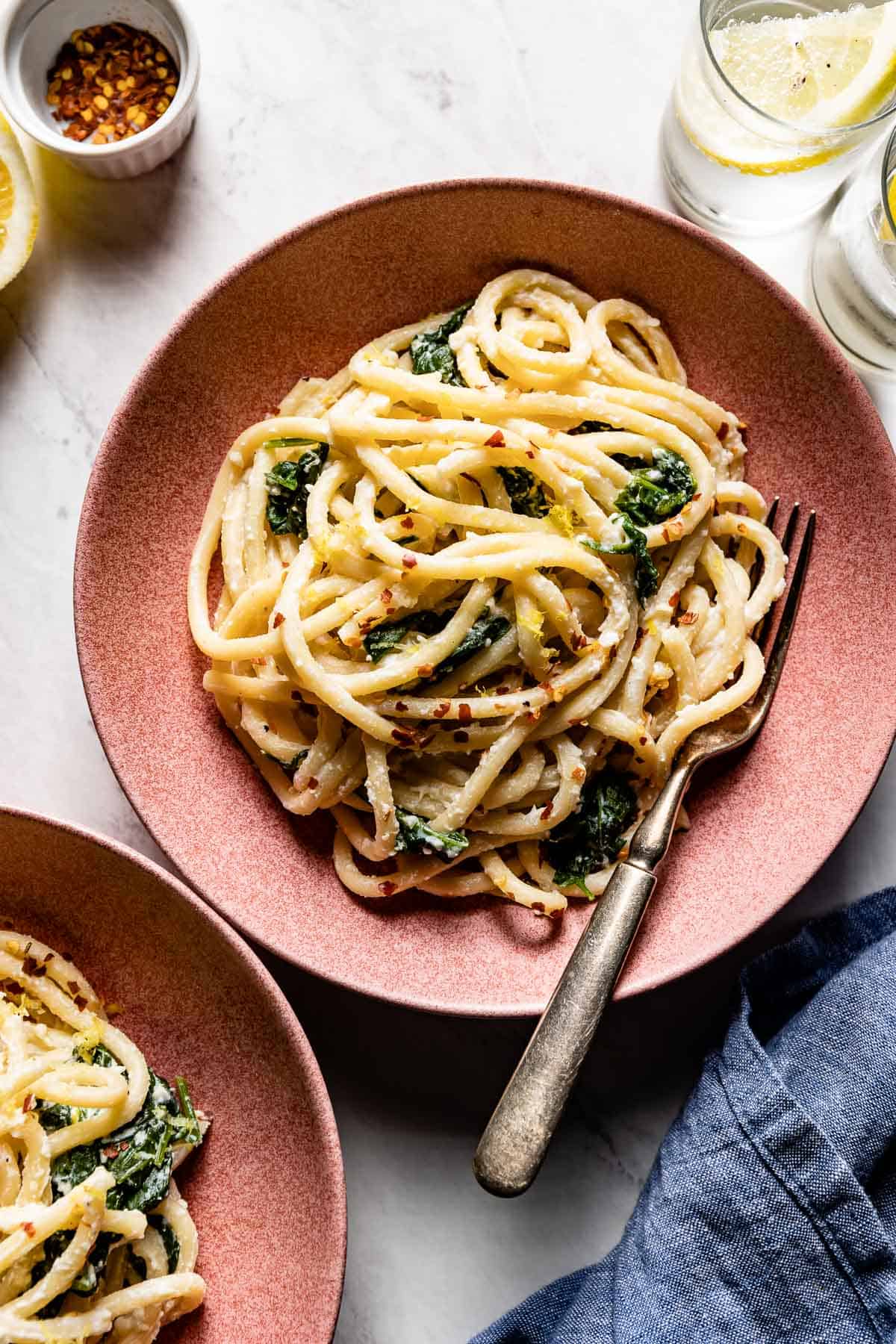 FAQs
It doesn't hurt to have a little help when making ricotta cheese recipes with pasta. This handy guide will give you everything you need to make creamy lemon ricotta pasta like a pro.
How to use ricotta cheese in pasta?
The best way to cook ricotta cheese with pasta is to first prepare the ricotta sauce on the side. Then, add the sauce to the pasta once it's cooked and drained.
Can I make this recipe with fat-free ricotta cheese?
Technically you can make this recipe with fat-free ricotta. However, skim and fat-free ricotta often leaves your pasta tasting grainy and perhaps even a bit bland. If you don't want to use full-fat ricotta, you could try using cottage cheese instead.
What sauce goes with lemon and ricotta pasta?
If you want to add an extra layer of flavor to this rich dish, I suggest serving it with tomato sauces like marinara or homemade tomato basil sauce.
Do ricotta and lemon go together?
Absolutely! The creamy texture of ricotta cheese makes a mouthwatering pair with lemon's bright, zesty taste. Don't believe me? Try my Lemon Ricotta Pancakes, and you'll be obsessed in no time.
Other Pasta Recipes You Might Like
It is no secret that creamy pasta recipes make easy weeknight dinners. If you liked this pasta with ricotta and lemon, I suspect you might enjoy the recipes I handpicked for you below.
If you try this Lemon Ricotta Pasta recipe or any other pasta recipes on Foolproof Living, please take a minute to rate the recipe and leave a comment below. It is a great help to others who are thinking of making the recipe. And if you took some pictures, be sure to share them on Instagram using #foolproofeats so I can share them on my stories.
Lemon Ricotta Pasta Recipe
Creamy and delicious Lemon Ricotta Pasta that you can make in 20 minutes! This is an easy vegetarian pasta dish that you can serve as a side dish with meat dishes or by itself for a satisfying meal.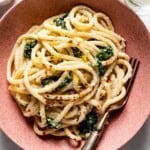 Print Recipe
Ingredients
1

pound

pasta

(bucatini, rigatoni, spaghetti, or penne would all work)

2

cups

baby spinach leaves

(16 oz) rinsed

½

cup

shredded parmesan cheese

more as garnish

1

clove

garlic

minced

1

tablespoon

lemon zest

¼

cup

lemon juice

freshly squeezed

½

teaspoon

kosher salt

¼

teaspoon

black pepper

Pinch

of red pepper flakes

optional

Drizzle of olive oil

optional
Instructions
Bring a large pot of salted water to a boil. Add in the pasta of your choice and cook until al dente.

At the very last minute, right before draining the pasta, add in the spinach and cook for 30-45 seconds. Reserve 1 cup of pasta cooking water and drain the pasta.

Put the now-cooked pasta back in the pan.

Meanwhile, make the ricotta lemon pasta sauce by mixing ricotta cheese, parmesan cheese, garlic, lemon zest, lemon juice, and salt and pepper in a bowl.

Add in the ½ cup of reserved pasta sauce and whisk until creamy.

Add the lemon ricotta sauce to the pasta and give it a gentle toss. It should be very creamy as you toss it with the help of the residual heat coming from the freshly cooked pasta. If you need it, add in the rest of the reserved pasta liquid and turn the heat on for a minute or so as you toss and turn the pasta.

Taste for seasoning and add in if necessary. Garnish with a sprinkle of shredded parmesan cheese and a drizzle of olive oil and red pepper flakes, if using. Serve.
Notes
The serving size is approximately about 2 cups per person. If you are serving it as a main course it would feed 4 people but if you are serving as a side dish it would be good for 6 servings.
Store the

leftovers in an airtight container in the fridge. It should stay fresh for up to two days.

Reheat with a

little bit of water to the mixture over medium heat. Be sure to toss to ensure even cooking and add water as necessary.



Freeze

: I don't recommend freezing this dish, as the extreme cold will ruin the texture of your pasta.
Nutrition
Calories:
196
kcal
|
Carbohydrates:
12
g
|
Protein:
13
g
|
Fat:
12
g
|
Saturated Fat:
7
g
|
Polyunsaturated Fat:
1
g
|
Monounsaturated Fat:
3
g
|
Cholesterol:
42
mg
|
Sodium:
1111
mg
|
Potassium:
531
mg
|
Fiber:
2
g
|
Sugar:
5
g
|
Vitamin A:
2282
IU
|
Vitamin C:
20
mg
|
Calcium:
274
mg
|
Iron:
2
mg
Like this recipe? Consider sharing: