My husband Dwight's favorite nuts are pistachios. He can never seem to get enough of them. In the first days of our marriage, I once witnessed him eating close to two pounds of pistachios in less than an hour while he was reading a book on his iPad. Shocking, right?! If I hadn't seen it with my own eyes, I, too, wouldn't have believed that he was capable of eating so much in one sitting.
It almost looked like he was under a spell, mindlessly shelling them, one after another, before tossing them into his mouth. As I watched with wide eyes, all I could think about was the major stomachache that was surely coming his way, but to my surprise, he was totally unfazed.
That is exactly why, when deciding what type of cake to make for his birthday this year, it seemed like a no brainer to choose a recipe with lots of pistachios in it. With a whopping 1½ cups of the tasty green nuts blended into the batter, this cake ended up being the perfect choice for his insatiable pistachio cravings. It was a big hit. He loved it so much that he awarded it the title of The Best Thing I Have Ever Made.
I'd like to think that his love for the cake is because of my stellar baking skills, but in all reality, I'm going to have to credit this win to the gratuitous amounts of pistachios baked into it.
In other news, as a big THANK YOU to my readers, I am giving away a $100 gift card for Amazon.com to one lucky winner!
I feel so fortunate to be surrounded by such an awesome community of fellow foodies, it's my turn to give something back to you for all of the joy you bring to me through your comments, emails, and camaraderie.
For your chance to win, please scroll down to the end of this blog post and use the rafflecopter widget below, keeping in mind that the giveaway closes on July 6th 2014 at 11:59pm Eastern Standard Time.
Good luck and thanks for reading!
Update on July 7th, 2014: The giveaway is over now. Lisa P. is the winner. Thank you all for participating and supporting my website.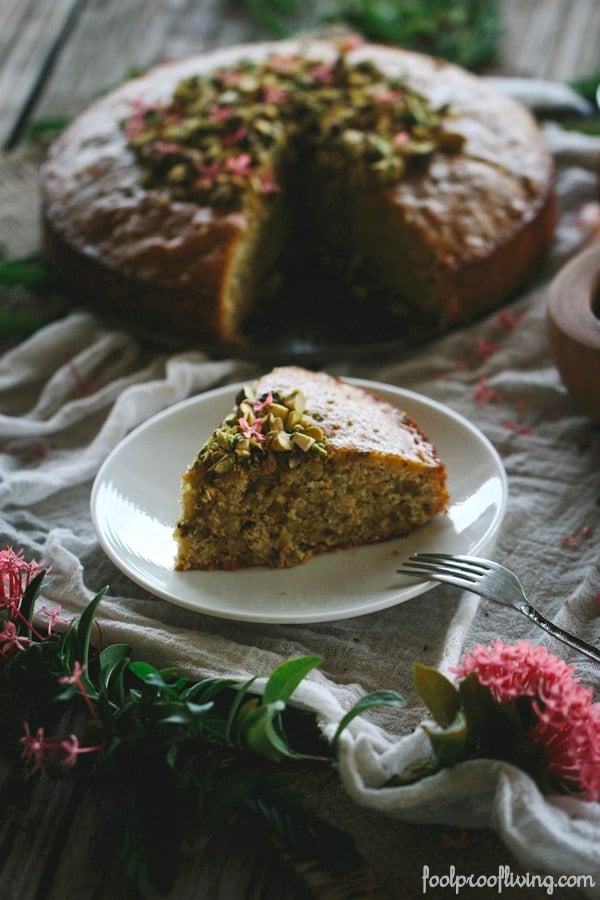 Semolina Cake with Pistachios and Honey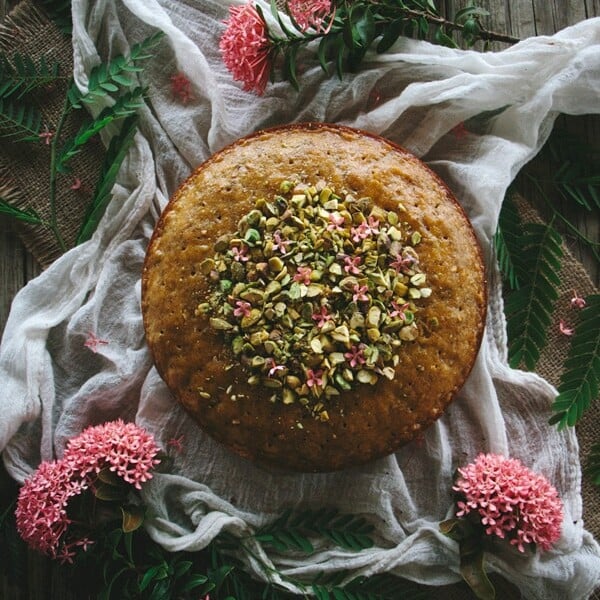 Print Recipe
Ingredients
For the cake:
1

tablespoon

butter

room temperature

3/4

cup

(3.75 ounces) + 1 tablespoon all purpose flour, divided

2/3

cup

(4 ounces) semolina

1 1/2

teaspoons

baking powder

pinch

of salt

4

large eggs

at room temperature

2/3

cup

(4.67 ounces) superfine sugar*

1/2

cup

vegetable oil

1 1/2

cups

(8 ounces) + 3 tablespoons unsalted pistachios, divided

1

teaspoon

freshly grated lemon zest

cute small flowers

washed (optional)
For the syrup:
3/4

cup

honey

1

cup

water

1

tablespoon

lemon juice

freshly squeezed
Instructions
For the cake:
Pre-heat oven to 350 F Degrees. Generously butter and flour (use the 1 tablespoons flour) a 9 inch spring form pan. Set aside.

In a medium sized mixing bowl, mix flour, semolina, baking powder, and salt. Set aside.

In the bowl of a food processor, measure 11/2-cups of pistachios and pulse 8-10 times until they are finely ground. Place it in a small bowl and set aside.

Place the eggs and sugar in the bowl of a standing mixer (you could do this with hand mixer as well) with paddle attachment. Beat on high speed for 5 minutes. Reduce to low speed and slowly add the vegetable oil.

While it is in low speed, add in the flour mixture in three batches and mix until combined, just until the batter comes together. Do not overmix.

Fold in the ground pistachios and lemon zest.

Pour the batter into the prepared pan. Using the back of a spoon or a spatula, ensure that the cake is equally distributed throughout the pan. Bake for 30-35 minutes or until a skewer comes out clean when inserted in the middle.
For the syrup:
In the mean time, make the syrup. In a small saucepan, place the honey, water, and lemon juice. Bring it to a boil, over high heat. Once it is boiled, turn down the heat to medium and let it simmer until it is reduced by half. This takes 15-20 minutes.

When the cake is still hot, using a toothpick, poke holes (30-40 holes) on the cake. Using a spoon, drizzle the syrup over the cake making sure that it absorbs it evenly. It is imperative that you do this when it is still hot for the cake to absorb the honey syrup.

Allow it to cool completely.

In the mean time, roughly chop 3 tablespoons of pistachios.

When ready to serve, decorate the top of the cake with pistachios and small flowers, if using.
Notes
* To make superfine sugar for this recipe, I processed 2/3 cup +1 tablespoon granulated sugar in my food processor for 1 minute.
Nutrition
Calories:
558
kcal
|
Carbohydrates:
72
g
|
Protein:
11
g
|
Fat:
28
g
|
Saturated Fat:
14
g
|
Cholesterol:
86
mg
|
Sodium:
127
mg
|
Potassium:
322
mg
|
Fiber:
3
g
|
Sugar:
48
g
|
Vitamin A:
258
IU
|
Vitamin C:
2
mg
|
Calcium:
87
mg
|
Iron:
3
mg
Adapted from Clodagh McKenna's cookbook, Homemade: Irresistible Homemade Recipes for Every Occasion
.
This giveaway is open until July 6th, 2014 11:59pm Eastern Standard Time. It is open to residents of the United States, who are 18 years or older. The winner will be randomly picked via rafflecopter and will be announced in this blog post. I, Aysegul D. Sanford will e-mail the winner, and if the winner does not respond within 48 hours, a new winner will be picked.
Like this recipe? Consider sharing: