It is strawberry picking season here in Vermont and we are celebrating it with this gluten-free and maple-sweetened strawberry almond flour cake that is flavored with mascarpone whipped cream. This easy to make and refined sugar cake recipe is perfect for all your summer entertaining needs.
This post is sponsored by Edible Green Mountains Magazine. As always, all opinions are my own.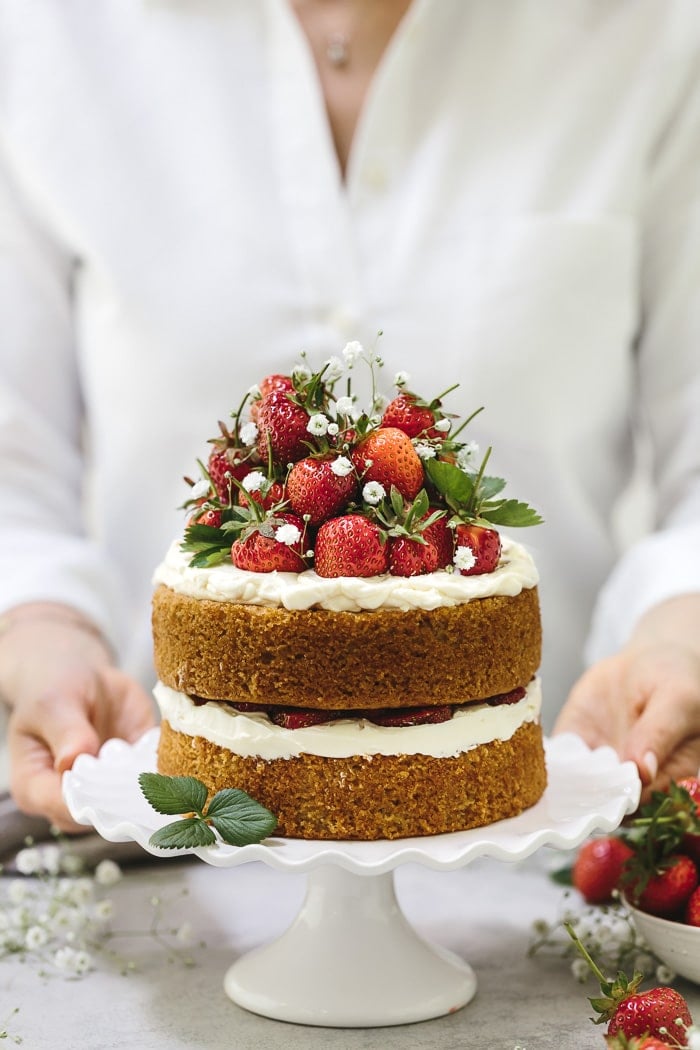 I first met Mary back in March, shortly after we moved to Vermont. The drastic temperature change combined with a husband who was always at work was making me feel so lonely. Mary's warm welcome e-mail that popped up in my inbox came at a perfect time. In her e-mail, she mentioned that she was the publisher behind Edible Green Mountains and Edible Capital District Magazines and that she would love to meet up and welcome me to Vermont.
We met in a local coffee shop in here Manchester. What was supposed to be a quick coffee chat turned into a 3-hour conversation. We bonded over life in Vermont, photography, and good quality content creation. As a resident of this state for many years, her knowledge of Vermont was so impressive. I loved her passion and willingness to promote the talents amongst the community through her publication. Her encouraging words towards my work were so genuine and complimentary that it was hard for me to not feel so humbled. I left that coffee shop thinking I just met someone, who I can call a friend.
So you can imagine my excitement when she asked me to photograph a local farm called Dutton Berry Farm for Edible Green Mountains Magazine's next issue. My assignment was to photograph the owner of the farm, Wendy Dutton, as well as the two locations of the farm showcasing their summer produce including their pick-your-own strawberries farm in Newfane.
Mary and I did the photography for the Manchester location back in the beginning of June. Then this week my dad and I drove up to Newfane, 55 minutes South-East of Manchester, to photograph the farm and pick our own strawberries. We came back home with so many freshly picked sweet strawberries that a cake was in order. This is how this Strawberry Almond Flour Cake found its way to the blog. As you can see in the photos, it was such a fun day in that we ate our weight in strawberries all the while taking photos of this beautiful location.
About The Edible Green Mountains Magazine:
Before I continue to talk about the recipe, I wanted to give you a little information about the Edible Communities. To be quite honest, I was not familiar with the Edible Magazines until I saw a copy of it in my hotel room in Boston back in November of last year.
With over 90 independently owned and published magazines all over the US and Canada, Edible Communities is the largest community of publishers celebrating the local farmers, chefs, artisans, and home cooks within their communities. Similarly, Edible Green Mountains Magazine is dedicated to introduce its readers to Vermont's local authentic foods, drink and culinary traditions with recipes and stories from people within the community. If you have seen one of these magazines, you would know, each story is written with a dedication to this purpose and represented with beautiful photography.
If you ever visit Vermont, I cannot recommend enough to pick a copy of Edible Green Mountains Magazine to get yourself acquainted with the current happenings as well as the foodie scene in Vermont. I know this so well as it was a great source for us when we first moved to Manchester.
About this Strawberry Almond Flour Cake:
For both my dad and I, this was the first time we had picked our own strawberries. In the end, we felt as though no supermarket strawberry could beat the freshness and sweetness of freshly picked strawberries. Seriously, if you have never tried it and live close to a farm where you can pick your own strawberries, you should do it. It is a fun activity for kids as well.
Now on to the cake…
I picked a super simple cake made with almond flour as I wanted an empty canvas that would compliment the sweet strawberries and make them shine. It is minimally sweetened with less than a cup of maple syrup. Most of the sweetness comes from the strawberries more so than the cake itself. I baked it in two 6-inch cake pans (this is the one I used
) and layered them with maple sweetened mascarpone whipped cream filling and sliced strawberries. However, if you do not have 6-inch cake pans, you can certainly bake the whole batter in a 9-inch cake pan, top it off with the filling and strawberries and serve it as a one-layer cake.
About The Mascarpone Maple Whipped Cream Filling:
Since I wanted a cake that was free of processed sugars, instead of using a filling made with powdered sugar, I used Italian Mascarpone cheese whisked together with some heavy cream, maple syrup, and vanilla extract. This is my go-to filling as I love that it produces a consistency similar to the filling made with butter, cream cheese, and powdered sugar without all the additional calories and added sugars.
However, there are a few things I would like to caution you on when it comes to working with Mascarpone cheese and this whipped cream recipe, in particular. As someone who has had her share of Mascarpone disasters in the past, I feel obliged to share this with you so that you do not have a less than ideal experience.
* Mascarpone cheese can be very prone to curdling if the temperature of the other ingredients; heavy cream, maple syrup, and vanilla extract are different than the cheese itself. That is why, when working with mascarpone cheese all ingredients should be in room temperature.
* To prevent curdling, it is best to whip the cheese first, and then slowly add the heavy cream, sugar, and vanilla extract.
* If, for some reason, you end up with a curdled whipped cream, do not panic. Using the double boiler method, gently heat the curdled mixture over some simmering water while constantly whipping it, until all lumps are gone and it is smooth. This happens pretty quickly so do not overheat and do not stop mixing it. Off the heat, you can continue to whip it by hand or in your mixer. Once it is in your ideal consistency, you can use it right away to fill your cake.
Whether you are looking for the local farmer's markets, a simple recipe using local produce (similar to this Strawberry Almond Flour Cake), a great restaurant, or simply ideas on what to do, be sure to pick up a copy of Edible Green Mountains magazine (and visit their website) next time when you are in Vermont. It will surely provide you with everything you need to know.
A big thank you to my friend Mary for letting me photograph for her beautiful magazine. I am beyond honored to be a contributor of such a great cause and be amongst the amazing talents of our state.♥
Print
Strawberry Almond Flour Cake
It is strawberry picking season here in Vermont and we are celebrating it with this gluten-free and maple-sweetened strawberry almond flour cake that is flavored with mascarpone whipped cream. This easy to make and refined sugar cake recipe is perfect for all your summer entertaining needs.
Author:
Prep Time:

20 min

Cook Time:

45 min

Total Time:

1 hour 5 minutes

Yield:

8 small slices (or 4 big slices)

Category:

Gluten-Free Cake

Method:

Baking

Cuisine:

American
Ingredients
For the Almond Flour Cake:
2 cups (8 ounces) almond flour

1 teaspoon baking powder

½ teaspoon baking soda

½ teaspoon table salt

¼ teaspoon ground cinnamon

3 large eggs, at room temperature

⅔ cup maple syrup (or honey)

¼ cup extra virgin olive oil, plus more for greasing the pans

Zest of an orange
For the Mascarpone Whipped Cream:
8 ounces Mascarpone cheese, at room temperature

¾ cup heavy cream, at room temperature

¼ cup maple syrup

1 teaspoon vanilla extract
For the cake:
2 cups fresh strawberries
Instructions
Pre-heat the oven to 325 degrees. Grease two 6-inch cake pans with oil and line them with parchment paper. Alternatively, you can use one 9-inch cake pan and make a one layer cake.

Line a baking sheet with parchment paper and set it aside.

For the dry ingredients: Mix together the flour, baking powder, baking soda, salt and cinnamon in a large bowl.

For the wet ingredients: Beat the eggs in a bowl and pour in the maple syrup and olive oil. Add in the orange zest and whisk until everything is fully incorporated.

Pour the wet ingredients into the dry ingredients. Stir just until a few lumps remaining.

Evenly divide the batter between the two 6-inch cake pans.

Place the cake pans onto the parchment lined baking sheet and place it in the oven. Bake for 40-45 minutes making sure to rotate the pan halfway through the baking for even baking. In the end, the cake should be golden brown with its center firm to the touch.




Let the cakes cool in the pan for 5 minutes and then take them out and let them cool on a wire rack. Make sure that they are fully cooled down to room temperature before assembling the cake.

To make the Mascarpone whipped cream:

Place mascarpone cheese in the bowl of a standing mixer fitted with the paddle attachment, and whip it for 1 minute. Slowly add heavy cream, maple syrup, and vanilla extract in the bowl and mix until it turns light and fluffy.

To assemble: Slice 8-10 strawberries to use in the middle part of the cake. Place the first 6-inch cake on a cake dish. Top it off with half of the mascarpone whipped cream and decorate it with sliced strawberries. Place the second cake on top and spread the rest of the whipped cream on top. Decorate the top with the rest of the strawberries. You can either place the whole strawberries on top like I did or slice them and decorate your cake as you prefer.

Serve immediately.
Notes
If you want to save on time, you can bake the cakes a day in advance, let them cool to room temperature, cover them tightly with stretch film to keep them in the fridge until you are ready to use. When you are ready to assemble it, let your cakes come to room temperature and then assemble according to the instructions above.

If you have an issue with the mascarpone whipped cream curdling, this could be because of the temperature differences between the ingredients used. For more information as to how to fix it, refer to the information in the blog post.

This cake yields 4 big slices or 8 smaller slices.
Nutrition
Serving Size:

1 slice

Calories:

532

Sugar:

26.3g

Sodium:

413.4mg

Fat:

40.6g

Carbohydrates:

34.6g

Fiber:

3.7g

Protein:

11g

Cholesterol:

131.5mg
The almond flour cake portion of this recipe is adapted from Kimberly Hasselbrink's cookbook Vibrant Food
.