Last weekend, we celebrated a great friend's birthday. I was responsible for the dessert. When it comes to birthday parties with more than 10 people, I usually prefer cupcakes to a large cake as they are much easier to serve – cupcakes, by their very nature, are already in individual serving sizes, no slicing required.
Over my years of baking for birthday parties, I have learned one thing: not everyone enjoys cakes with nuts in them. So when it comes to serving a crowd, I always make at least two different types of cupcakes. For this party, I went with red velvet (the nut-free option) and German chocolate cupcakes. Thankfully, everyone loved them and most of the guests even ate one of each.
While everyone was enjoying the dessert, someone asked me which one of the cupcakes was my favorite. It took me a minute to come up with an answer, as neither of them are my favorite actually. I do like them, but when it comes to celebratory desserts, I would make another choice if I had my druthers.
So when Saghar, from one of my favorite blogs Lab Noon, asked me if I would like to be a part of her beautiful blog's first virtual birthday party, I knew it was time to make my favorite dessert in the world.
This Summer Berry Tart is my absolute favorite dessert. Though it may look like a long recipe (mostly because it is very detailed), it is rather easy to make. There are only 3 simple steps.
You first make the pastry cream, then the tart shell, and finally bake the shell and put it all together. The first two steps can be done a day in advance, which makes it convenient if you are anticipating being short on time the day you want to serve it.
In terms of fruit, I used summer berries, but feel free to use a mix of whatever you desire – from peaches, kiwis, apricots, or even sliced bananas. Believe me, with this pastry cream, any summer fruit works wonderfully.
There are so many other food bloggers joining Labnoo's virtual birthday party – I am looking very forward to seeing all of the amazing things everyone else has concocted. If you are too, below are the links to all the other posts created for this special day:
Summer Berry Tart Recipe
A classic summer berry tart recipe made with pastry cream and decorated with seasonal berries.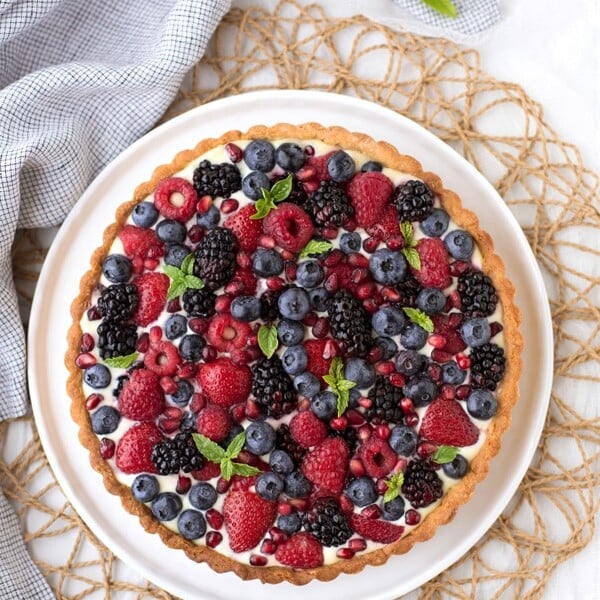 Print Recipe
Ingredients
For the pastry cream:
2

cups

half and half

1/2

cup

(3 1/2 oz.) granulated sugar, divided

1/8

teaspoon

salt

1

whole vanilla bean*1

5

large egg yolks

3

tablespoons

corn starch

4

tablespoons

2 oz. OR 1/2 stick unsalted butter, cut into 4 pieces
For the Tart:
1

large egg yolk

1-

tablespoon

heavy cream

1/2

teaspoon

vanilla extract

1 1/4

cups

(6 1/4 oz.) all-purpose flour

2/3

cups

(2 2/3 oz.) powdered sugar

1/4

teaspoon

table salt

8

tablespoons

(4 oz.) OR 1 stick unsalted butter, cut into small pieces and cold

2

cups

mixed summer fruit/berries*2

handful of fresh mint leaves

2

tablespoons

of honey
Instructions
To make the pastry cream:
Place half and half, 6 tablespoons of sugar, and salt in a medium size saucepan. Cut the vanilla bean in half lengthwise, scrape the seeds with the back of a knife, and place in the saucepan. Stirring occasionally, bring it to a simmer over medium-high heat.

Meanwhile, whisk egg yolks, cornstarch, and the rest of the sugar in a bowl.

Place 1 cup of the hot half & half mixture in a measuring cup. While whisking it constantly, slowly pour it into the egg yolks and cornstarch mixture to temper. Then slowly pour the tempered mixture back into the simmering saucepan. Reduce the heat to medium and whisk vigorously until it is thickened and a few bubbles burst on the surface. This process takes between 25-35 seconds.

Off the heat, whisk in the butter and continue whisking until combined. Transfer the pastry cream into a large bowl, place a plastic wrap directly on the surface. First let it cool outside for half an hour, and then place it in the fridge for at least 3 hours before using it.
To make the tart shell:
Whisk egg yolk, heavy cream, and vanilla extract in a bowl. Set aside.

Place flour, powdered sugar, and salt in the bowl of a food processor. Process until combined. Scatter the butter pieces on top and pulse 15 times, until it resembles coarse cornmeal.

While the machine is running pour the egg mixture over the tube and let it process until the dough comes together around the blade. This process takes around 10-12 seconds. Turn the dough onto a large plastic wrap and flatten it into a 6-inch disk. Cover tightly and refrigerate for an hour or overnight.

Take the dough out of the fridge and let it sit on the kitchen counter for 10 minutes. Sprinkle the kitchen counter with some flour. Roll the dough into an 11-inch round. Transfer it into a 9-inch tart pan with a removable bottom. Lifting the edges of the dough, gently ease the dough into the pan. Press it into the corners and the fluted sides of the pan. Run the rolling pin over the top to remove any access dough and to make a clean edge. Place it in the freezer and let it freeze for 30 minutes.

Pre-heat the oven to 375 degrees.

After 30 minutes, take the tart shell out of the freezer and line it with two sheets of aluminum foil, making sure that it is all covered. Fill it with pie weights (or dry beans). Set it on a large baking sheet and place in the oven. Let it bake for 30 minutes, making sure to rotate it halfway through the baking process.

At the end of 30 minutes, carefully remove the pie weights and the aluminum foil, and let it bake for another 10 minutes, until it is golden brown and fully baked. Let the tart shell cool to room temperature or for at least an hour and a half on the kitchen counter.

To assemble: Using a spatula spread the pastry cream evenly into the tart shell. Decorate the top with berries (or other fruits) and fresh mint leaves as seen in the photos.

Dilute the honey with a couple of teaspoons of water. Using a pastry brush dab it over the fruit.

Remove the outer metal ring of the tart pan. Carefully slide a knife (or a spatula) between the tart and the tart bottom. Slide it to a large serving plate. Cut into slices and serve.
Notes
For the pastry cream, you can substitute vanilla bean with 1 1/2-teaspoon vanilla extract. However, instead of adding it at the very beginning you should add it at the very end (while adding the butter).
After I washed the fruit, I laid them on two of sheets of paper towel, covered them with a sheet of paper towel, and let them dry (and come to the room temperature) for an hour. It is important for them to be completely dried or otherwise the juices of the berries may bleed into the pastry cream.
To make it easier and quicker, I made the pastry cream and the dough of the tart shell a day in advance. Once they were ready, the whole process took 1 hour and 15 minutes.
To store, cover it tightly with plastic wrap. It should be fresh for 3 days as long as it is kept in the fridge.
Nutrition
Calories:
496
kcal
|
Carbohydrates:
55
g
|
Protein:
6
g
|
Fat:
29
g
|
Saturated Fat:
17
g
|
Cholesterol:
217
mg
|
Sodium:
145
mg
|
Potassium:
133
mg
|
Fiber:
2
g
|
Sugar:
32
g
|
Vitamin A:
979
IU
|
Vitamin C:
2
mg
|
Calcium:
92
mg
|
Iron:
1
mg
Adapted (with minor changes) from America's Test Kitchen's Fresh Fruit Tart recipe.
Like this recipe? Consider sharing: