It's a fact: Once you make wild salmon on the grill, you'll crave fresh seafood dinners all year round. The good news is that countless other recipes for wild-caught salmon will effortlessly fill your table with omega-3s and rich, tender flavors. Add a brilliantly sophisticated freshness to your spread with an iconic Salmon Nicoise Salad, or delight your tastebuds with the creamy Thai taste of Salmon Coconut Soup. You can't go wrong with these easy fish recipes!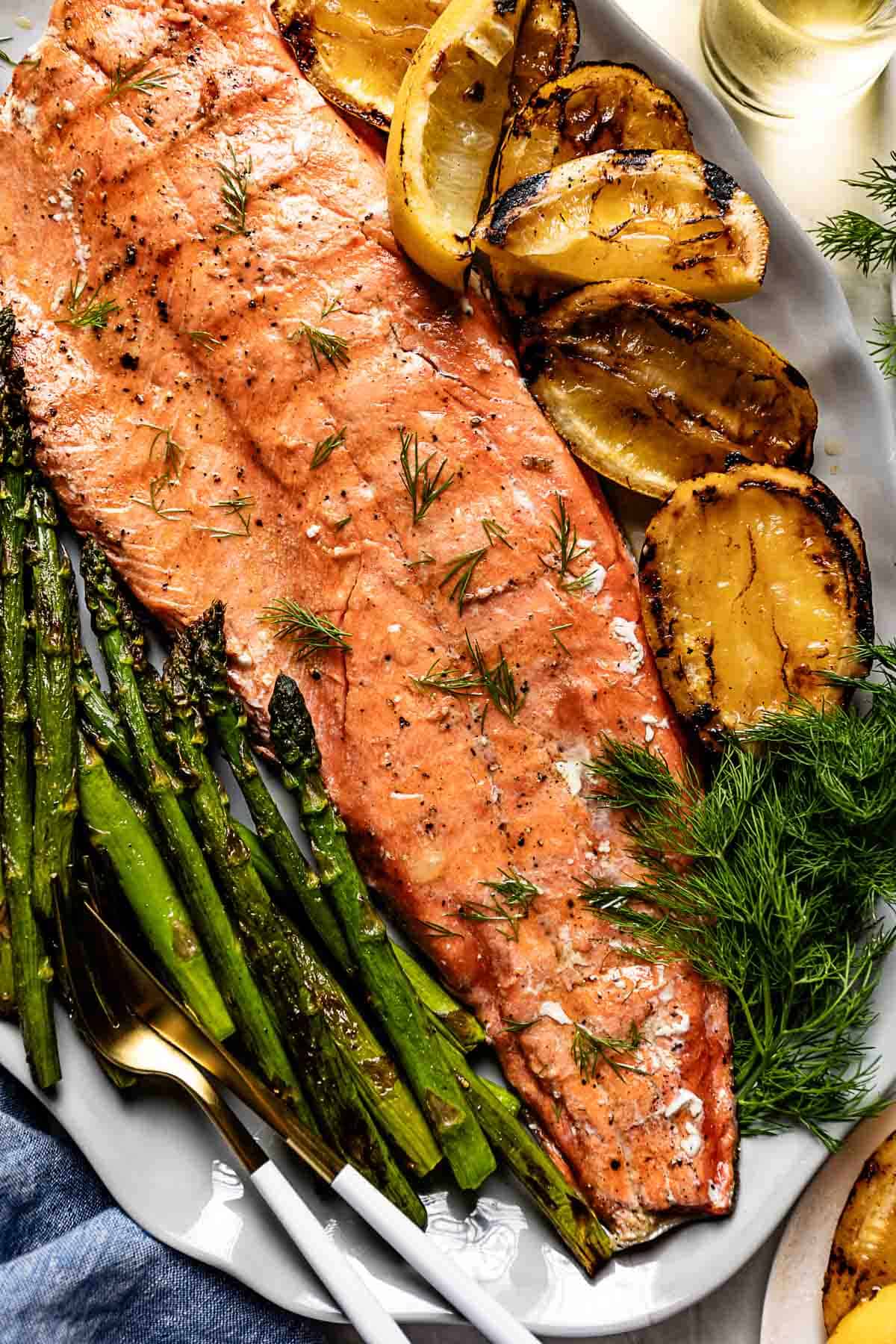 Ingredients You'll Need
To prepare this smoky recipe for fresh sockeye salmon on the grill, you only need two sets of simple ingredients—fish and seasoning.
For the fish:
Wild Alaskan sockeye salmon: I prefer a fresh, whole salmon fillet for this recipe, though you may also use pre-cut fillets if you prefer easier salmon portions. Red salmon tends to be in season from May through July, but if you want to make this dish out-of-season or don't have access to fresh alternatives, you can also use frozen sockeye salmon fillets. Just be sure to thaw them fully before roasting them.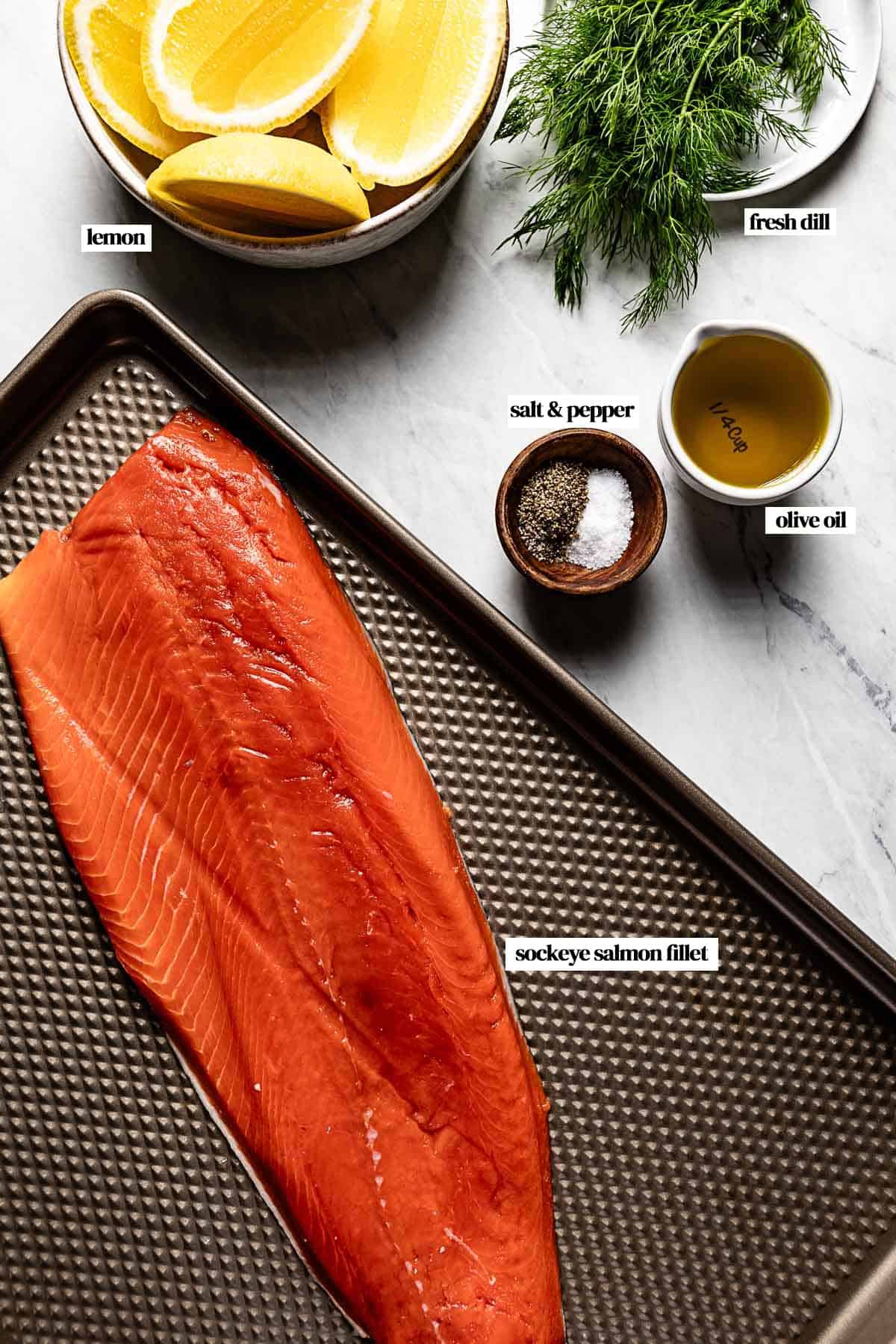 For seasoning:
I use a very basic seasoning mixture to prepare my sockeye salmon for grilling. Because, if you have ever cooked it, you know that Pacific salmon is already delicious by itself and doesn't need much.
So, in terms of seasoning, this easy recipe uses a handful of ingredients you likely already have in your pantry, but it will give your grilled salmon an irresistibly light, zesty, and robust flavor profile.
Olive oil
Lemon juice
Kosher salt and freshly ground black pepper
Garlic or garlic powder: Though optional, this pantry-ready addition adds bold, smoky undertones to this BBQ sockeye salmon recipe. Simply add it on top of your fillets or mix it into your seasoning mixture before brushing your fish. However, fresh minced garlic easily burns over high heat, so keep in mind that this addition may result in slightly charred notes in your seasoning for sockeye salmon.
Fresh Herbs: I like to sprinkle my grilled salmon with fresh dill, but any fresh herbs you like and have on hand would work for this recipe.
Lemon Slices: Serve it with fresh lemon slices or grill them for the dreamy char and grill marks.
How to Grill Sockeye Salmon on a Gas Grill?
This grilled sockeye salmon recipe is a godsend for quick, delicious meals. With this effortless guide, you'll enjoy tender, flavorful grilled fillets in under ten minutes.
Prepare the grill: Preheat the grill to 350 degrees F.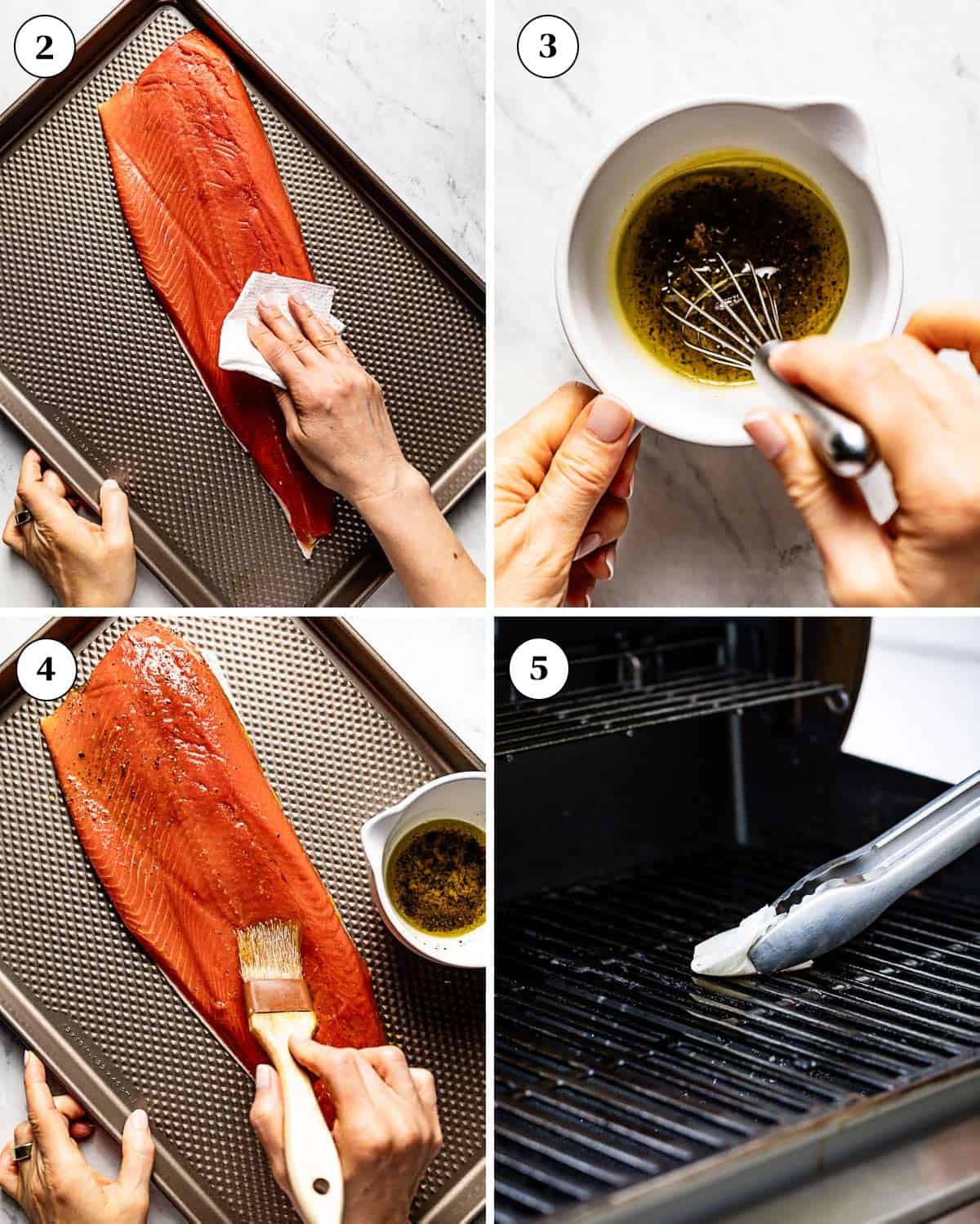 Dry the fillet: Use a paper towel to pat dry both sides of the salmon.
Mix the seasoning: In a small mixing bowl, whisk the olive oil, salt, and pepper until fully combined.
Brush the salmon: Brush both sides of the salmon fillet with the olive oil mixture.
Scrape and clean grill: Scrape the grill grates with a wire grill brush until you remove all leftover food residue. Fill a bowl with oil, and dip a wad of paper towel inside. Use this oiled towel to coat the grates generously.
Grill the salmon: Place the sockeye salmon on the grill, skin side down. Cook the fish uncovered for three minutes or until it releases easily from the grates when lifted with a spatula.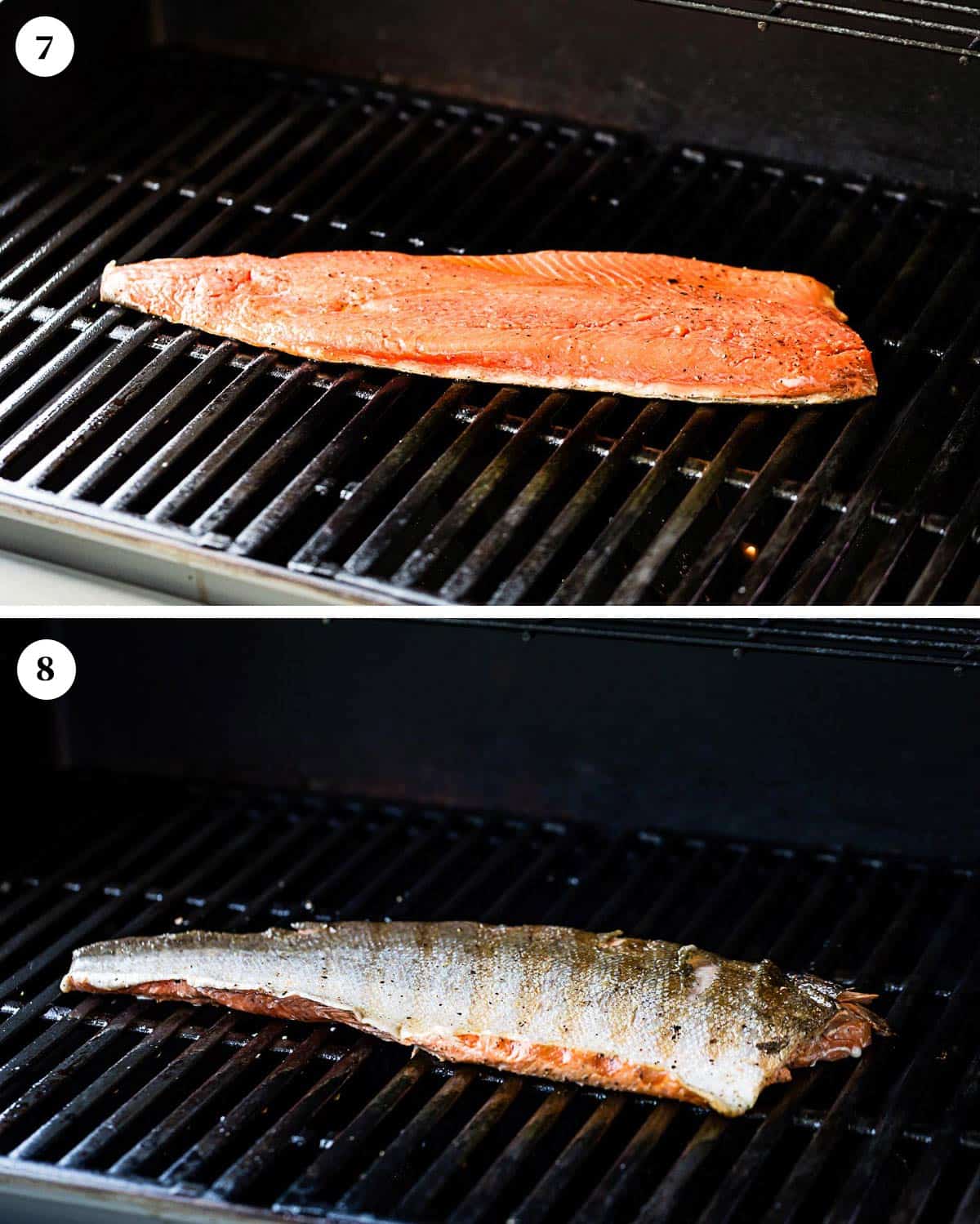 Flip the fillet: Use two spatulas to flip the salmon carefully. Grill the sockeye salmon for an additional three minutes.
Let the fish rest: Transfer the grilled wild salmon onto a plate and loosely cover it with a tent of aluminum foil for a few minutes.
Serve: If desired, drizzle the top of the salmon with lemon juice and garnish it with fresh dill. Enjoy while still warm.
How to Store and Reheat?
This Pacific salmon recipe makes an excellent option for easy meal prep because you can enjoy it both warm, room temperature, or cold. With these simple storage tips, you won't have to sacrifice a single bite of this sumptuous dish.
Storage: To store your grilled salmon fillet, let it reach room temperature. Then, transfer it to an airtight container and place it in the refrigerator for up to two days.
Reheat: The secret to keeping your leftover grilled salmon from drying out is to reheat it in a low-heat oven—preferably 300 degrees F.—for 2-3 minutes or until warmed through.
What to Serve With Grilled Alaskan Salmon?
Grilling sockeye salmon is a great way to get diverse, smoky meals all summer long. This collection of tasty sides—from tender potatoes to tangy salsas—pairs excellently with this heart-healthy meal.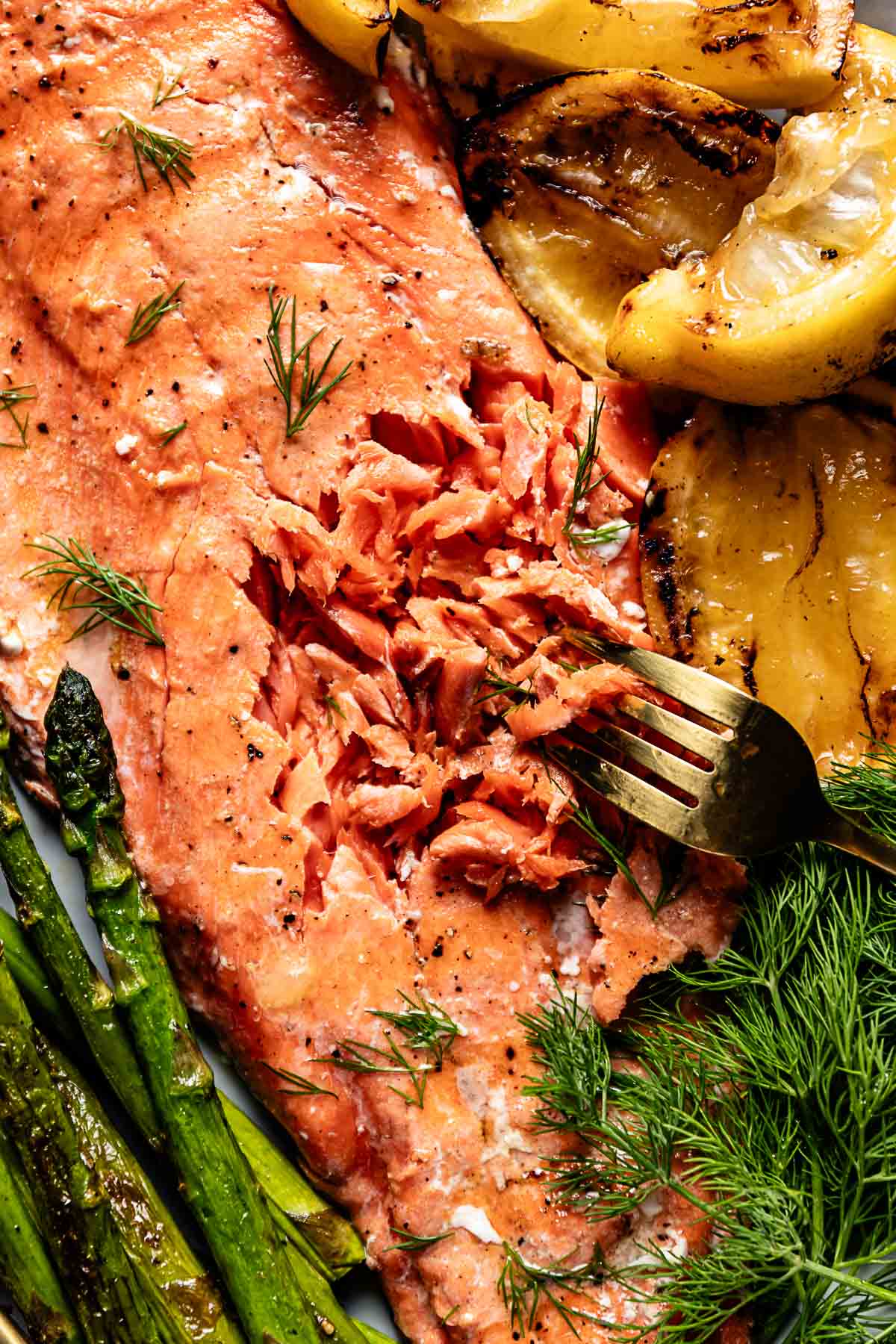 Expert Tips
If you want to know the best way to grill sockeye salmon, these pro-level tips are exactly what you need. You'll get rich, tender fillets every time with this easy guide.
Good-quality fish: I learned during my visit with the folks over at Copper River Salmon that the best way to turn a simple sockeye salmon recipe into a gourmet meal is by selecting high-quality fish. If you're using fresh fish, it's best to cook it within the first 24-48 hours for the brightest, most mouthwatering flavors. However, if you prefer frozen fillets, fully thaw them before roasting—preferably by storing them in the fridge overnight.
Preheat the grill: Ensure your grill preheats to 350 degrees F. before adding your salmon. Because salmon cooks quickly, transferring the fish too early will result in overly cooked, dry fillets.
Clean and grease the grill grates well: For best results, it's essential that you thoroughly clean and oil your grill grates before adding your salmon. If you don't generously grease your grates, your fish will stick to the grill, making it difficult to flip and remove the fillets.
Keep the skin on: The skin on your sockeye salmon fillet provides an excellent fatty barrier that keeps the flesh from overcooking when exposed to high temperatures. Therefore, I highly recommend keeping the skin on while grilling. Plus, it peels off easily after the cooking process.
Do not move: The key to perfectly cooked salmon is to leave the fillet on the grill grates, skin-side-down, without touching it during the grilling process. Once the salmon cooks fully, it will release itself from the grates, and your spatula should fit easily under it without tearing its flesh.
Use two spatulas: If you are new to grilling a whole fish fillet, we recommend using two large spatulas (fish spatulas (affiliate link) are best if you have them) when flipping it. It is easier to flip them when you have ample support.
Grilled sockeye salmon in foil: We tested this recipe using a sheet of aluminum foil as well. There was no difference in the cooking time but the flavor lacked some of the smokiness. However, if you prefer to grill salmon in foil, be sure to grease the foil pieces with an oil spray first. Then, transfer the salmon to the middle of the foil and grill using the recipe instructions as written.
The thickness of the fish: In general, sockeye salmon is thinner than Atlantic salmon, resulting in less time on the grill. However, if your salmon is thicker, you might have to add more cooking time to ensure fully cooked fillets (and vice versa).
Check the doneness: The secret to a moist sockeye salmon recipe is not to overcook it. Keep in mind that salmon cooks so quickly. According to the folks over at America's Test Kitchen, the ideal internal temperature for perfectly grilled sockeye salmon is 120-125 degrees F.
Marinade: Because this wild Alaskan salmon recipe packs so many robust, natural flavors, there's no need to marinate your fish beforehand. However, if you want a different flavor profile, brush your fillets after grilling with a sweet-and-spicy Honey Mustard Glaze or a flavorful Maple Ginger Glaze for a tangy Asian take on this classic dish.
FAQs
Have more questions about how to cook Alaska salmon? This hassle-free guide will answer all your queries, from salmon preparation to grilling time.
Should you soak salmon before grilling?
Because it has so much natural flavor, there's no reason to marinade salmon steak before grilling. However, if you prefer to add a more complex flavoring, you are welcome to brush it with your favorite glaze after it is grilled.
How long to grill sockeye salmon?
I recommend grilling red salmon over 350 degrees F. for two and a half to three minutes on each side—no more than six minutes in total. However, keep in mind that you may have to add a few minutes to the grilling time depending on the thickness of your fish.
Can you eat sockeye salmon skin?
Yes! The shiny side of Alaska sockeye salmon (AKA the skin) is perfectly edible, and skin-on fillets often contain more healthy omega-3 fatty acids. However, if you are not a fan, you can easily remove the skin before serving as it will easily come off.
Where does sockeye salmon come from?
Wild sockeye salmon is a type of salmon that comes from the Pacific Northwest, close to the coasts of North America and Asia. Fresh sockeye salmon is in season from late spring through middle summer (i.e., May through July) and are known for their deep red color and rich, firm taste.
Other Grilled Seafood Recipes You Might Like
Tempted to make grilled salmon every night of the week? These other grilled fish dishes will satiate your seafood cravings with their delectably moist, fresh, and bright flavors.
If you try this Grilled Sockeye Salmon recipe or any other recipe on Foolproof Living, please take a minute to rate the recipe and leave a comment below. It is a great help to others who are thinking of making the recipe. And if you took some pictures, be sure to share them on Instagram using #foolproofeats so I can share them on my stories.
Grilled Sockeye Salmon Recipe
This Grilled Sockeye salmon recipe is the ultimate summertime dinner that is ready in less than 15 minutes. Buttery rich and super flavorful, wild caught Alaskan salmon is perfect for grilling.
Print Recipe
Ingredients
1

whole wild Sockeye salmon fillet*

about 1 ¼ to 1 ½ pounds

¼

cup

extra virgin olive oil

plus additional to grill grates

1

teaspoon

Kosher salt

1

teaspoon

freshly ground black pepper

1

lemon

sliced or quartered

Fresh dill for garnish

– optional
Instructions
Preheat the (gas) grill to 350 degrees F.

Pat the fillet dry with paper towels on both sides. Set it aside.

Whisk olive oil, salt, and pepper in a bowl until combined.

Brush the salmon fillet generously with the olive oil mixture on both sides.

Scrape the grill grates to remove any possible food residue. Dip a wad of paper towel into a bowl with oil and then generously coat the grates.

Carefully place salmon, skin side down, and cook uncovered for 3 minutes or until it releases easily when you slide a spatula between the salmon fillet and grill grate.

Using two spatulas, carefully flip the salmon fillet and cook the other side for 3 minutes. The perfectly grilled salmon should register 125 degrees F when inserted with an instant read thermometer.

Transfer it onto a plate and loosely cover it with aluminum foil for a few minutes.

If preferred, drizzle it with lemon juice and garnish with fresh dill and plenty of sliced lemon before serving.
Notes
Yields:

This recipe makes one whole salmon fillet, which is ideal for 4 servings. The nutrition informatio below is for one serving.

Salmon:

We used fresh wild Sockeye salmon but you can use frozen salmon in this recipe. Just make sure that it is fully thawed before grilling. You can use this recipe to cook Coho or King Salmon, but keep in mind that they tend to be thicker so the grilling time might slightly be longer.

Grilling Salmon Fillets:

You can use this exact recipe to grill cut Sockeye salmon. The timing would mostly be the same. However, if your fillets are all center cut, you may have to grill slightly longer.

Marinade or glaze:

Since Sockeye Salmon is already very flavorful, we did not think that it is necessary to marinade it. However, if you want, you can reserve some of the olive oil mixture to brush the salmon after it is grilled.

Don't have a grill?

Baking Sockeye in the oven

is just as easy and delicious!

Storage:

To store leftovers, bring your grilled fish to room temperature. Place it in an airtight container and store it in the refrigerator for up to 2 days. Reheat in a 275-degree oven for 3-4 minutes or until it is warmed to your liking.
Nutrition
Calories:
189
kcal
|
Carbohydrates:
3
g
|
Protein:
9
g
|
Fat:
16
g
|
Saturated Fat:
2
g
|
Polyunsaturated Fat:
3
g
|
Monounsaturated Fat:
11
g
|
Cholesterol:
23
mg
|
Sodium:
601
mg
|
Potassium:
252
mg
|
Fiber:
1
g
|
Sugar:
1
g
|
Vitamin A:
26
IU
|
Vitamin C:
14
mg
|
Calcium:
15
mg
|
Iron:
1
mg
Like this recipe? Consider sharing: