I have a cookbook addiction. So much so that at the beginning of last year we had to buy another bookshelf and I managed to fill it up by the end of December. I read cookbooks like novels and find them to be so comforting.
So this month's cookbook is Dorie Greenspan's Everyday Dorie (affiliate link). Her newest book is a collection of classic comfort food recipes we all love made with her signature creative twist. And today's recipe, Texas Caviar, or "Cowboy Caviar Salad or Side" as she calls it, is from her book.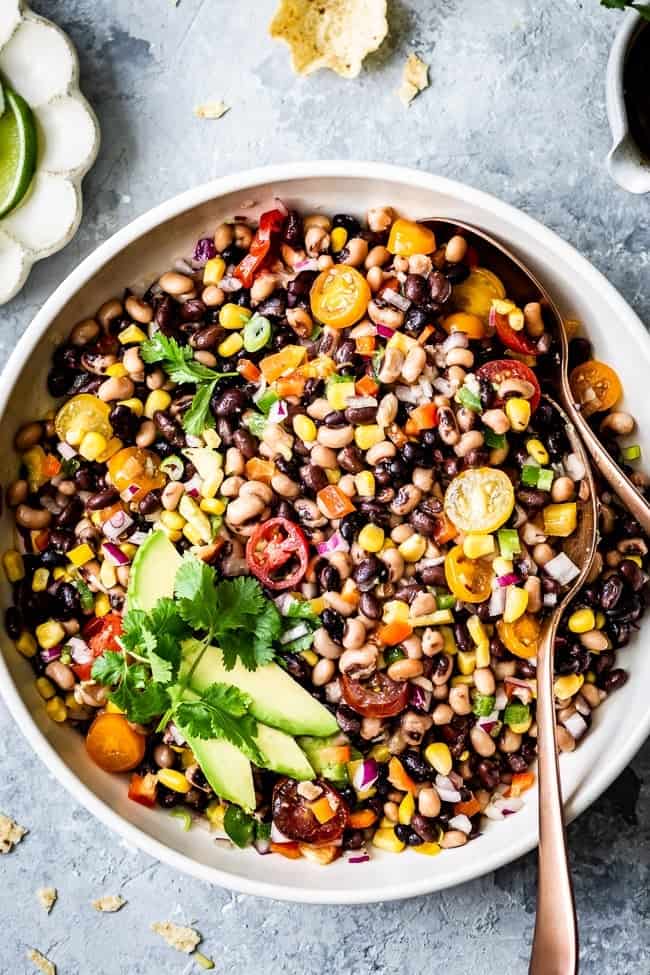 I chose this recipe as it is an American Southern classic that I wanted to have on Foolproof Living as I know I will be using it often in my own cooking.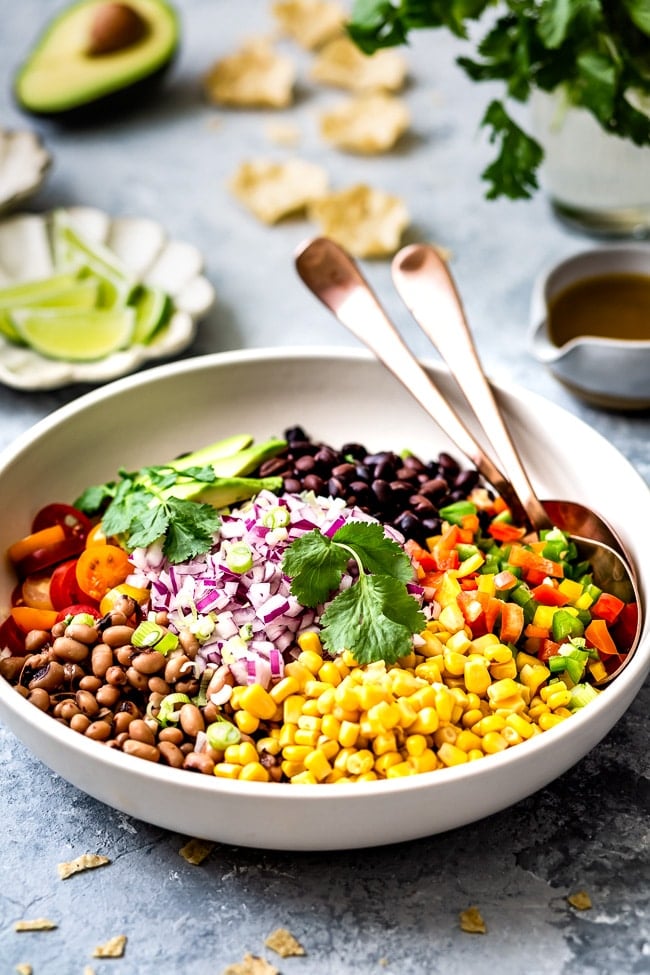 Additionally, it is a bean-based salad recipe that is similar to three other reader favorites on the blog: Black Bean and Corn Salad, Five Bean Salad, and Warm White Bean Arugula Salad. That is why I thought this Easy Texas Caviar Salad would also resonate with you.

What Is Texas Caviar
Texas Caviar is a recipe originally created and served by Helen Corbitt, the culinary director of Neiman Marcus, in 1940s Dallas.
Made with a combination of canned or cooked beans (i.e. red, black, or pinto), black-eyed peas, peppers, tomatoes, garlic, and other extras like corn, avocado, mango, and various herbs and spices, since then it has stood the test of time and become a Southern classic.
As Dorie explains in her book, the term "caviar" is a wink to the shape of inexpensive beans that mimick that of expensive caviar. Traditionally served on New Year's Day in the South, eating beans is said to bring a year of prosperity.
What Are Some Other Names Used For Texas Caviar
While the original recipe was called Texas Caviar, as its popularity increased over time and become a household recipe, it has also been called Cowboy Caviar, Southern Caviar, Hillbilly Caviar, Lone Star Caviar, and, Texas Bean Caviar, Tex Mex Caviar.
Additionally, due to it being so versatile, it is also referred to as Texas Salsa Dip, Black-Eyed Pea Caviar, and Texas Corn Salad.
Today, if you do a quick Google search, you will be presented with many versions of this easy cowboy caviar salad. Depending on the region in which it is served you will find that its name and ingredient will vary. Other names you may find include Tennessee Caviar, Oklahoma Caviar, and Carolina Caviar.
I also learned that people change their name by using locally sourced ingredients based on region such as Vidalia onions as they do in Georgia Caviar, cotija cheese, and chili powder as they do in Mexican Caviar, or cajun seasoning as they do it in Cajun Caviar.

What are some of the ways to serve this salad/dip
I think the best part of this recipe is that it can be used in many ways. Here are a few of my favorite ways to serve Texas Cowboy Caviar Recipe:
Use it As a Condiment: Top your grilled fish (salmon, white fishes like haddock, or breaded fish are my favorite) or meat dishes with a few tablespoons.
Serve As a Salad or Side Dish: Texas Bean Salad makes the best salad to serve along with meaty or vegetarian meals.
Entertain with it as a Dip or Fresh Salsa: Texas Caviar Dip makes the best party food. Whether you serve it by itself or with tortilla chips, it goes well with so many party foods.
Ingredients for Texas Corn Salad
As in most salad recipes, this Simple Texas Caviar has only 2 main components.
Texas Caviar Dressing
The first component is the dressing: While Texas Caviar with Italian Dressing (more on that version below) is more of a mainstream recipe, in her version, Dorie created a lime juice-olive oil-honey based salad dressing.
The Salad Ingredients
The second component is the salad ingredients: Cooked or canned beans (red, pinto, or black beans), black-eyed peas, onions (usually a combination of green and red onion), garlic, fresh or fire-roasted (like Rotel) tomatoes, and peppers like spicy jalapeños or sweet bell peppers.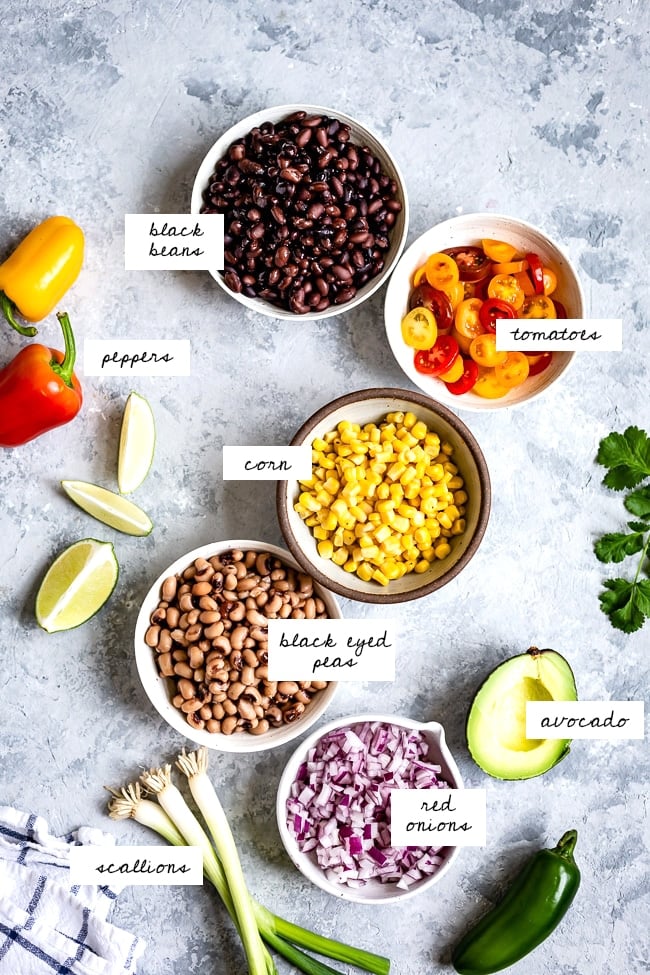 How To Make Texas Caviar With Black Beans And Corn
The recipe for Texas Caviar Bean dip is not much different than any other salad or dip recipe.
Mix all the salad dressing ingredients in a jar and give it a good shake. If you want to save on time, you can make the dressing a day in advance and keep it in the fridge.
Mix all the salad ingredients in a large bowl and give it a gentle toss. This part could also be done 24-hours in advance. Just be sure to store it in the fridge in an airtight container. However, I would recommend adding tomatoes at the last minute as they might get soggy over time.
Cowboy Caviar with Italian Dressing
As I mentioned earlier, in the recipe below I used Dorie Greenspan's version of Cowboy Caviar Salad. However, if you want more of a traditional Texas Caviar recipe (the real deal classic Texas caviar), you can use a simple and zesty Italian dressing instead of the chili lime-based dressing she uses.
Below is my favorite Italian dressing recipe that you can use instead of Dorie's lime-based dressing in this salad. Simply put everything in a jar and give it a good shake.
¼ cups extra virgin olive oil
2 tablespoons white wine vinegar or apple cider vinegar
1 tablespoon freshly squeezed lemon juice
1 clove of garlic, minced
1 teaspoon dried basil
1/4 teaspoon dried oregano
¼ teaspoon crushed red pepper (optional)
½ teaspoon Kosher salt (I use Diamond kosher salt)
¼ teaspoon ground black pepper
Optional ingredient for this Texas Caviar salsa recipe: 1 teaspoon of sugar (or honey)
Alternatively, if you are a fan of chili powder-based dressing recipes I highly recommend trying my Chili Lime Vinaigrette recipe as well. It is very similar to the one that I used in this recipe with the spicy kick that comes from ancho chili powder.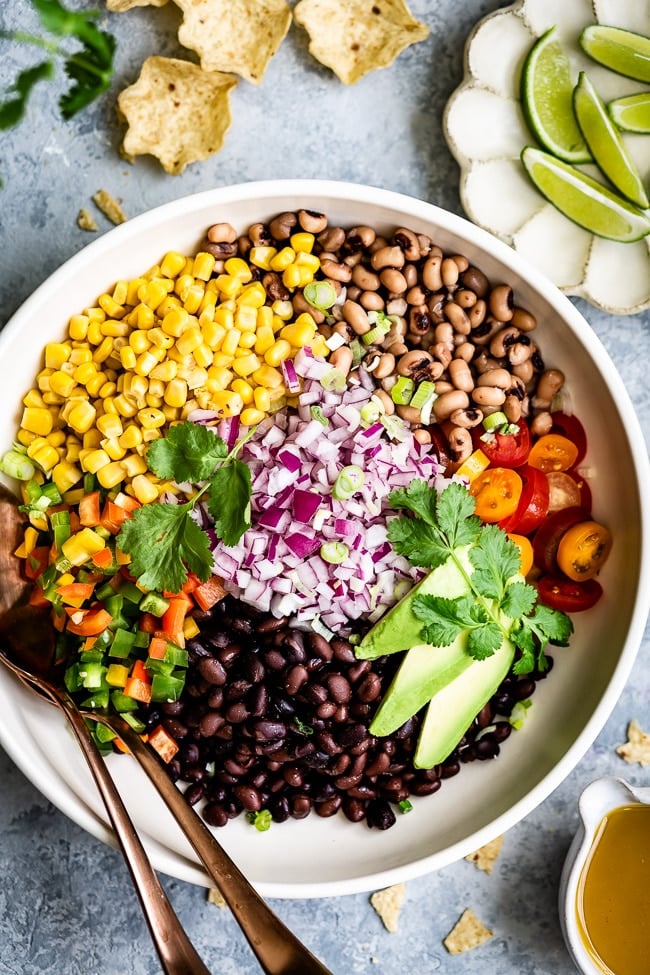 A Word On The Amount of Sugar Used:
If I am being honest, until I tried Dorie's version I never liked this salad. I think it was mostly because I thought that it was way too sweet for my taste.
Some recipes I found on the internet for the True Texas Caviar recipe use up to a quarter cup of sugar. While I understand and respect people's taste preferences, Dorie's version uses only a half teaspoon of honey in the dressing and is much less sweet compared to the original Texas bean dip.
In addition to the honey used in the dressing, this recipe also uses whole kernel corn (I used canned corn, but you can also use freshly shucked corn) that adds a nice earthy sweetness to the overall salad.
Speaking of corn, if you can get your hands on Shoepeg corn (affiliate link), a variety of corn known for its sweetness, use that instead as it is sweeter.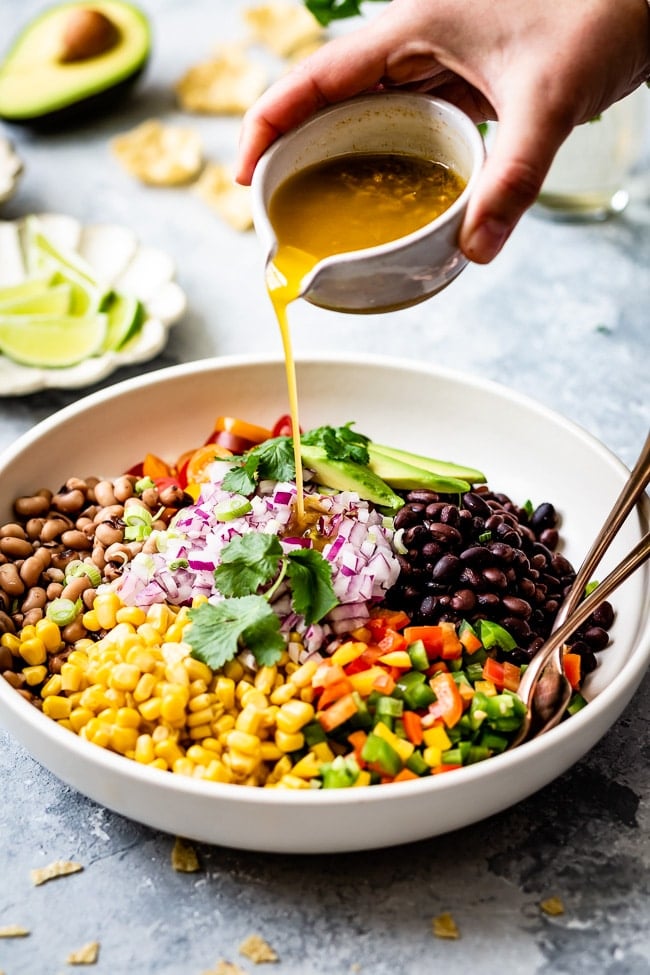 How Long Is Texas Caviar Good For:
As long as it is kept into an airtight container in the fridge, this bean salad should keep fresh 2-3 days.
A Few FAQs Answered
Canned vs Cooked Beans: As you will see in the recipe below, I used two 15 ounce canned beans, because I find canned beans to be a time saver. However, if you prefer to cook your own beans, you can substitute the canned beans with 2 cups of home-cooked beans.
Feel free to mix and match beans as you like. I used 1 can of black beans and 1 can of black-eyed peas, but you can use whatever you have on hand.
Can I multiply this recipe to serve a larger crowd?: Absolutely. As in most bean salads, you can multiply it as you please. Though I recommend giving it a taste as you go, especially because you want to make sure that it is well seasoned.
How Can I Make This Texas Bean Dip Vegan Friendly?: To make Vegan Cowboy Caviar with avocado, simply swap honey with maple syrup or add in a sweet and ripened fruit like mango. Using fruit is a great option if you prefer not to use any type of sugar but still want it to be somewhat sweet.
I personally love serving Texas Caviar with Black Beans and Mango on top of grilled fish. With the help of the lime juice in the dressing, it adds a nice tropical flavor to the overall dish.
What Can I Use Instead of Cilantro? If you are not a fan of fresh cilantro you can either swap it with fresh Italian parsley or omit it.
Can I make this Easy Mexican Caviar in advance? You can make this recipe 24 hours in advance. Just be sure to keep the dressing and salad ingredients separate from each other and mix them a few hours before you are ready to serve it.
Those few hours in the fridge allows the citrusy flavors of the dressing to infuse into the beans and blend nicely with the rest of the ingredients.
Is Texas Caviar Gluten-Free? Since it is made with vegetables, beans, spices, and herbs, this recipe is gluten free. With that being said, if you serve it as a dip then I recommend serving them with gluten-free chips.
Can I use Canned Fire-Roasted Tomatoes (like Rotel) instead of Fresh Tomatoes? To be honest, I am a lover of fresh tomatoes in salads and have not tried this caviar salad with canned tomatoes. However, Dorie has a note under the recipe saying that you can use a can of fire-roasted tomatoes as long as you drain them well.
Texas Caviar Calories: The recipe below easily serves 4-5 people as a side dish. If you are serving 5 people the calorie count per serving is 335 calories. You can find more information about this salad's nutritional underneath the recipe card below.
There you have it friends, my version of the Best Texas Caviar Recipe. If you are in need of a visual as to how I make it, be sure to watch the quick how-to video in the recipe card below. Make it as a side dish or a condiment for any of your potluck, picnic, or holiday parties, and enjoy it as much as we do.
Here are a few recipes you can serve this easy Texas Caviar with
Texas Caviar Recipe
Yields:
4
cups (4-5 servings)
This Texas Caviar (aka Cowboy Caviar)loaded with black-eyed peas, corn, tomatoes, peppers, and tangy lime dressing makes the best salad, dip, or side dish. Ready in 30 minutes and can be made ahead.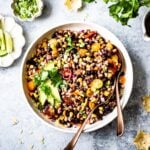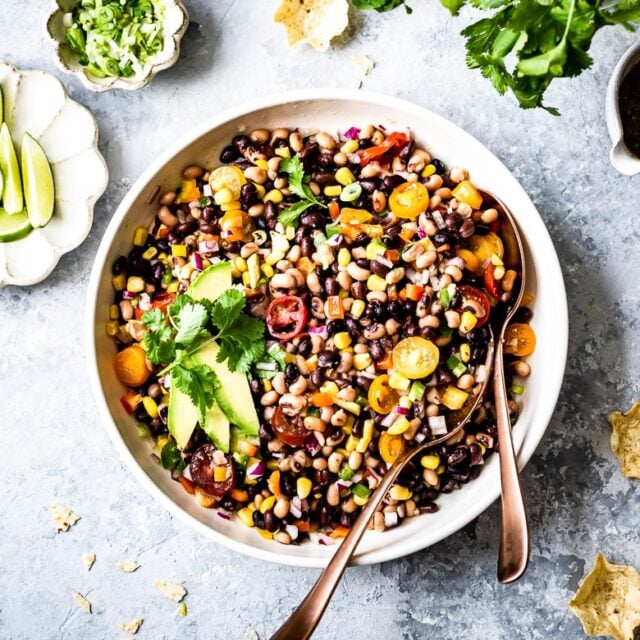 Print Recipe
Ingredients
For The Dressing:
¼

cup

olive oil

1

tablespoon

lime zest

4

tablespoons

lime juice

freshly squeezed

1

teaspoon

ground cumin

½

teaspoon

smoked paprika

sweet or hot

¾

teaspoon

kosher salt

½

teaspoon

honey

2

cloves

of garlic

minced
For The Caviar Dip:
1

15 oz. can black beans, drained and rinsed*

1

15 oz. can black eyed peas, drained and rinsed*

½

cup

whole corn kernels

I used canned corn, but drained it first

3

scallions

both white and green parts are chopped

⅓

cup

red onion

chopped finely or diced

3

small bell peppers

chopped (approx. ¼ cup)

1

small jalapeno pepper

seeded and chopped

½

cup

cherry tomatoes

sliced thinly

½

ripe avocado

cut into small cubes

½

cup

fresh cilantro

rinsed and chopped
To Serve With (Optional)
Your favorite hot Sauce

Tortilla Chips
Instructions
To make the dressing: Whisk together the oil, lime juice, ground cumin, smoked paprika, salt, honey and garlic. Set it aside.

For the Texas Caviar dip (or salad): Place, black beans, black eyed peas, corn kernels, scallions, red onion, bell peppers, jalapeno pepper, cherry tomatoes, avocado, and fresh cilantro in a bowl.

Drizzle the dressing over the salad. Give it a gentle mix.

Taste for seasoning and add in if necessary.

Add in a few dashes of your favorite hot sauce (if using) and serve with tortilla chips.
Video
Notes
Notes:
If you want to go with more of the traditional Italian salad dressing route instead of the lime dressing I used, feel free to use my Italian salad dressing below: ¼ cups extra virgin olive oil
2 tablespoons white wine vinegar or apple cider vinegar
1 tablespoon freshly squeezed lemon juice
1 clove of garlic, minced
1 teaspoon dried basil
1/4 teaspoon dried oregano
¼ teaspoon crushed red pepper (optional)
½ teaspoon Kosher salt (I use Diamond kosher salt)
¼ teaspoon ground black pepper
Optional ingredient for this Texas Caviar salsa recipe: 1 teaspoon of sugar (or honey)
How To Store Leftovers and How Long will they be good for? As long as they are kept in an airtight container in the fridge, the leftovers should keep fresh 2-3 days.
Can I make it vegan? Yes, you can. Simply use maple syrup instead of honey.
Nutrition
Calories:
167
kcal
|
Carbohydrates:
11
g
|
Protein:
2
g
|
Fat:
14
g
|
Saturated Fat:
2
g
|
Sodium:
357
mg
|
Potassium:
264
mg
|
Fiber:
3
g
|
Sugar:
3
g
|
Vitamin A:
947
IU
|
Vitamin C:
35
mg
|
Calcium:
16
mg
|
Iron:
1
mg
This recipe has been adapted from Dorie Greenspan's cookbook Everyday Dorie (affiliate link).
This post was originally published in March 2019. It has been updated with some additional information with no changes to the original recipe in July 2020.
Like this recipe? Consider sharing: