Hello friends! How are things going? From my end, things are going very well. My dad is still here with us and I am taking a little time off from all things blogging to have some quality time with him. We are spending most of our time driving around and visiting the nearby towns.
So far it has been so much fun to discover new parts of Vermont with him. Sadly, it hasn't fully warmed up yet. It was great for the last few days, but now it is 60 degrees and pouring outside as I am typing this. We are all yearning for some sunshine.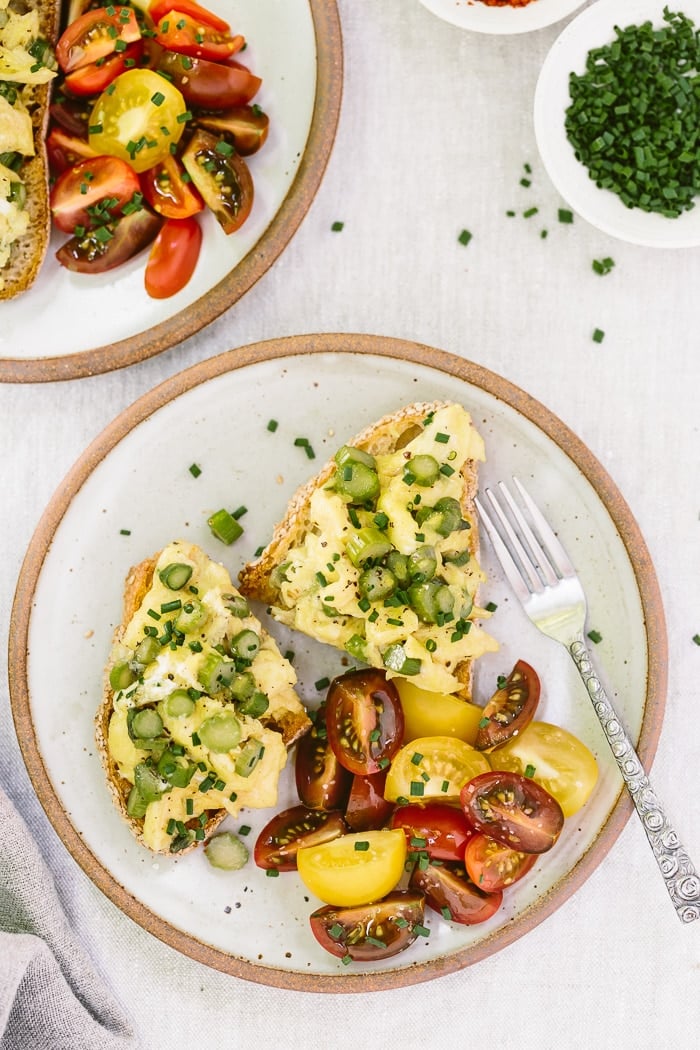 The good news is that most outdoor farmer's markets in Vermont are open rain or shine. For the last few weeks, almost every farmer in the market is selling freshly cut asparagus and we have been eating lots and lots of it.
Ready for a creative asparagus recipe?
This truffled asparagus eggs on toast have been a favorite in our house so I thought I would share. If you are a fan of asparagus and looking for a different way to flavor it, I highly recommend trying your hand at cooking it with a little bit of truffle oil. I know that it is not an ingredient most pantries have, but I promise you that you will not be disappointed if you go out and buy a bottle.
About This Truffled Asparagus Eggs On Toast Recipe:
Truffle Oil For Flavor:
The recipe has three parts. First, you sauté thinly sliced asparagus with a little bit of truffle oil. If you are like me, new to using truffle oil in your cooking and do not know what to buy, believe me you are not alone. It is mostly sold in gourmet food stores and comes in different flavors, but so far I have only tried white truffle oil and I like it.
It is usually sold for $10 (or more) for a small bottle of it. I know that it is more expensive than even a high-end olive oil, but the good thing is that it lasts long and a little bit of it is enough to provide you with the truffle flavor you need.
In addition, most supermarkets also sell olive oil flavored with truffles. It is usually less expensive and makes a great substitute for this recipe.
The 2 Secret Ingredients For the Fluffiest Eggs:
The second part of the recipe is making the eggs. I do not know you, but I love my eggs fluffy with their yolks runny. Quite frankly, for a very long time I didn't know how to cook my eggs exactly the way I wanted. You know how they make it in restaurants: creamy soft, fluffy and cooked to perfection.
This has changed a few months ago after I purchased America's Test Kitchen's The Science of Good Cooking
. If you are into the science of cooking and want to know how and why things work as they do, I cannot recommend this book enough.
The following are a few things I learned from the book on how to make the perfect scrambled eggs:
Beat eggs lightly: It is important to beat the eggs before cooking them, but you should be careful to not overbeat them. They say that overbeaten eggs will turn out tough. Therefore, for a smooth yellow color and no streaks of white only beat them until large bubbles form. Plus, you do not need any fancy equipment for whisking. A simple dinner fork will suffice.
Fat Makes Eggs Tender (Secret Ingredient #1): For fluffy and soft eggs, they recommend adding some fat into the recipe. After testing various dairy options, they found out that incorporating a little bit of half-and-half into the egg mixture produces the best results. The liquid in the half-and-half turns to steam during the cooking process and prevent the eggs from drying and getting tough.
Add in An Additional Egg Yolk (Secret Ingredient #2): To minimize the dairy tones coming from the half-and-half and increase the egg flavor, they add an additional egg yolk to the recipe. I thought this was a great idea as the additional fat coming from the yolk made the scrambled eggs so much richer.
Dual Heat Method to Cook The Best Scrambled Eggs: For the longest time, I thought the best way to cook eggs is using a low and slow cooking approach. According to the book, this is a mistake. Instead, they suggest starting with high heat and then going down to low. Below is passage from the book that explains it best:
"Getting the pan hot is crucial for generating the steam that creates moist, puffy curds. But cooking on high heat alone can easily cause overcooking. As a result, we use a dual heat method. First cook the eggs over medium-high heat, scraping the eggs with a spatula to form large curds and prevent any spots from overcooking. As soon as the spatula just leaves a trail in the pan, drop the heat the low and switch to a gentle folding motion. When the eggs look cooked through but still glossy (45 seconds later), slide them onto a plate to stop the cooking."
Putting it All Together:
The final step of the recipe is mixing the eggs with truffled asparagus and some cheese. I am a big fan of cheese in my eggs so I added some goat cheese into the recipe. If you are not a fan, feel free to substitute it with Gruyere or even cheddar cheese.
I served my eggs on whole-wheat sesame toast that I purchased from our local bakery, but you can use any bread you like. And if you do not want to serve it on toast, I assure you that this one-skillet truffled asparagus eggs are just as good by themselves. Either way, I think super easy to make make egg dish is a great way to spruce up your breakfast game and help you use asparagus in a creative way in your cooking.
Other Creative Egg Recipes:
Are you a fan of creative asparagus recipes? Here are a few more:
Truffled Asparagus Eggs on Toast
A 20-minute, one-skillet egg dish made with topping a slice of toast with asparagus sautéed in truffle oil and mixed with eggs and goat cheese.
Print Recipe
Ingredients
To make the Truffled Asparagus:
2

tablespoons

white truffle oil

10

stalks of asparagus

trimmed and cut on bias into 1/4 –inch pieces

½

teaspoon

kosher salt

¼

teaspoon

black pepper
To make the eggs:
4

large eggs

1

large egg yolk

2

tablespoon

half and half

½

teaspoon

kosher salt

¼

teaspoon

black pepper

1

tablespoon

unsalted butter

4

ounces

crumbled fresh goat cheese

4

slices

of your favorite bread

lightly toasted if preferred

4

tablespoons

fresh chives

chopped
Instructions
To make the truffled asparagus: Heat white truffle oil in a small (8-inch) non-stick skillet in medium heat. Add in the asparagus. Season it with salt and pepper. Cook, stirring frequently, until the asparagus is cooked and tender, 7-8 minutes. Transfer to a plate and set aside. Do not wash the skillet.

To make the eggs: Whisk together the eggs, egg yolk, half and half, and salt and pepper in a bowl. Heat the butter in the now-empty skillet over medium heat, swirling to coat pan, until melted but not browned. Pour in the egg mixture. Using a spatula, scrape along the bottom and sides of the skillet until eggs begin to clump, 2-3 minutes. Scatter the crumbled goat cheese on top. Using the spatula, mix the cheese with the eggs.

Fold in the cooked asparagus and cook for 2 more minutes (Or longer, if you like your eggs cooked thoroughly).

To assemble: Top each of your toast slices with the egg and asparagus mixture. Sprinkle with fresh chives. Serve immediately.
Nutrition
Serving:
1
g
|
Calories:
334
kcal
|
Carbohydrates:
16
g
|
Protein:
16
g
|
Fat:
23
g
|
Saturated Fat:
9
g
|
Cholesterol:
236
mg
|
Sodium:
900
mg
|
Potassium:
211
mg
|
Fiber:
2
g
|
Sugar:
3
g
|
Vitamin A:
1142
IU
|
Vitamin C:
4
mg
|
Calcium:
129
mg
|
Iron:
3
mg
Like this recipe? Consider sharing: