This post has been sponsored by Horizon Organic. All thoughts and opinions are my own.
I think we can all agree that egg frittatas are a life-saver when it comes to feeding a crowd in a quick way. I love that they are endlessly customizable and super easy to make. While most people serve them for brunch, I usually whip one up on a weeknight and serve it with a simple green salad when I am short on time.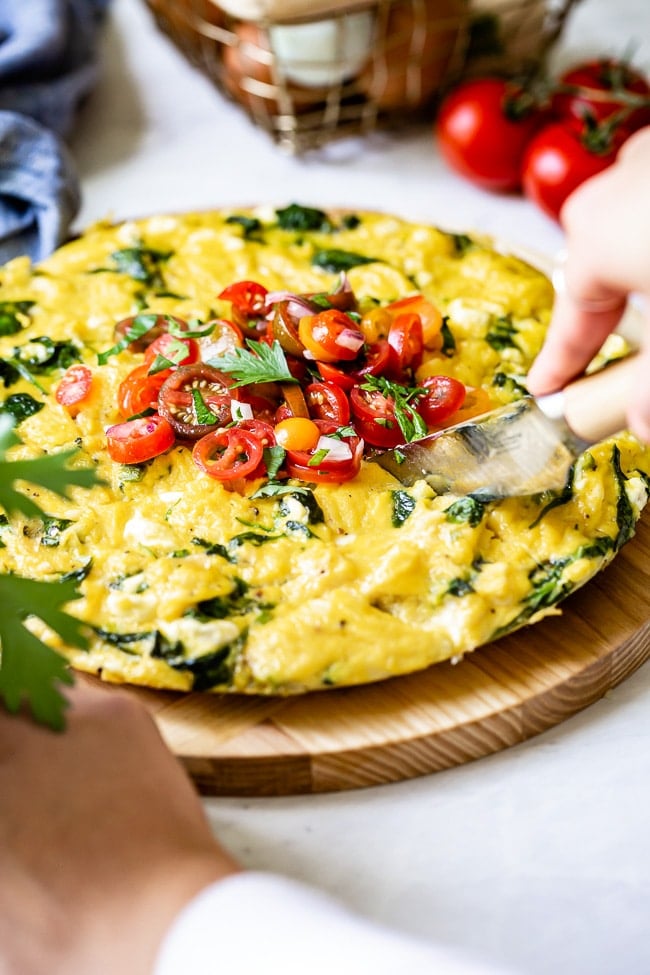 Today's recipe, Spinach Feta Frittata is my current favorite way to serve this simple baked egg dish. Lightly sauteed spinach mixed with feta cheese, eggs, and one secret ingredient (more on that later!) for souffle-like eggs started on the stovetop and finished in the oven for perfection. Just so SO good.
Intrigued? Read on.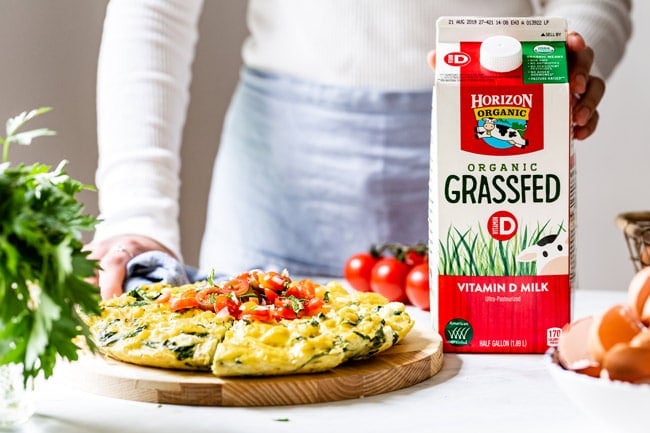 Ingredients for spinach frittata with feta:
When making simple dishes like this, I have one rule: Use the best ingredients I can get my hands on.
I am a big fan of buying organic ingredients as much as I can as I know doing so helps me do my part in taking care of our planet and helping hard-working farmers continue to do what they do best: provide us with the highest quality products.
For this spinach and feta cheese frittata recipe, I used organic baby spinach (I am a big fan of the prewashed and packaged variety for the convenience), Horizon Organic eggs, organic feta cheese, and Horizon® Organic Grassfed Whole Milk, which is the secret ingredient in taking this spinach frittata recipe to the next level.
I love Horizon Organic Grassfed Whole Milk, not only because of its great refreshingly creamy taste but also because it comes from organic pastures and humanely raised happy cows that graze freely on lush pastures with access to shade, shelter, and clean drinking water for 150 days per year per organic standards.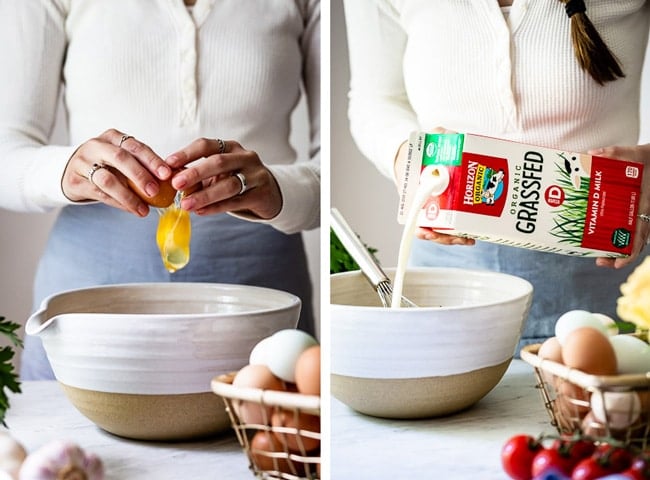 Why use whole milk in a frittata recipe:
My secret ingredients for the best spinach and egg frittata is organic whole milk. Because adding a splash of milk ensures eggs to stay tender by preventing them from overcooking and producing an end product that is fluffy and moist.
My go-to ratio for eggs to milk for frittata recipe is 12 large eggs to ½ cup of whole milk.
Did you know? Not all grassfed products are certified. Horizon Organic Grassfed Milk partners with the American Grassfed Association to provide your family with Certified Grassfed Organic Milk.
I don't know about you, but as an animal lover, I appreciate Horizon Organic Grassfed Milk for meeting this standard and treating their cows in a humane way. Therefore, I prefer grassfed milk coming from happy and healthy cows.
How to make egg frittata
The process of making this frittata recipe has three parts.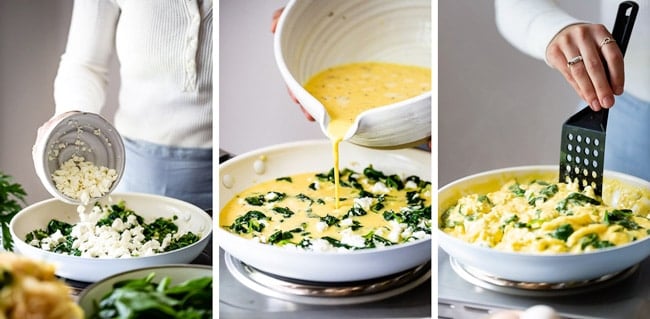 First, you prepare the eggs. Crack 12 large eggs into a large mixing bowl, add in ½ cup of Horizon Organic Grassfed Whole Milk, and season it with salt and pepper. Give it a good whisk and set it aside. Turn the oven on to 350 F degrees.
Second, prepare the spinach and feta filling. To do so, heat a tablespoon of oil in a 12-inch non-stick and oven-safe skillet. Add in a handful of chopped scallions, minced garlic, and 5 cups of baby spinach.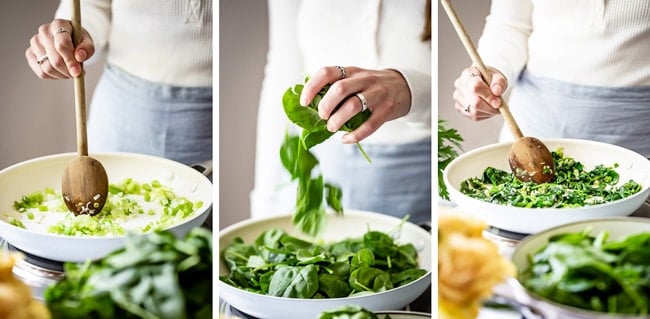 Now, looking at the amount of raw spinach, you might think of 5 cups of baby spinach to be a lot. However, if you have ever cooked spinach, you probably know that cooked spinach loses much of its volume and reduces dramatically in size. So don't be alarmed with the amount of spinach used in the recipe below.
Don't have fresh spinach on hand? Simply swap fresh spinach with six ounces of frozen spinach. Be sure to thaw it overnight in the fridge and drain (removing as much liquid as possible) before using in this frittata recipe.
Once the baby spinach is cooked, add crumbled feta cheese and spread it evenly throughout the pan. Then, pour in the egg-milk mixture.
At this point, since your skillet is very hot, eggs will start cooking immediately. To prevent fast cooking (that might produce tough eggs) scrape the bottom of the pan with a spatula and move the eggs around for even cooking until large curds forms. It takes about 30-45 seconds for this to happen.
How long to bake a frittata at 350 degrees F
Finally, to finish it off, place the skillet into the preheated 350 F Degree (180 Celsius) oven for 8-9 minutes.
How do I know when my frittata is cooked
You will know that your baked spinach feta frittata is cooked when the center is no longer jiggly and the edges are golden brown.
When done, carefully transfer the feta spinach frittata onto a cutting board to cool off for a few minutes before serving.
What to serve with frittata
You can serve your feta spinach frittata recipe with a simple green salad, which is what I usually serve it with. However, since fresh summer tomatoes are currently in abundance, I made a quick tomato salad that I also used as a topping.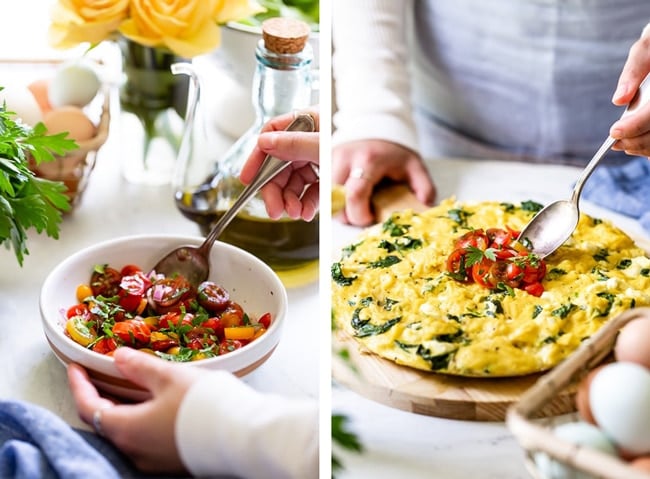 To make my quick tomato salad, I sliced up some cherry tomatoes and mixed them with ¼ cup chopped red onion, freshly squeezed lemon juice, olive oil, salt, and pepper. Finally, I added some fresh Italian parsley for additional flavor.
Variations for this baked spinach and frittata recipe:
While I think spinach and feta is a great combination, I love switching things up every so often. Below are a few variations to this recipe that I made in the past. I am sharing them with you so that you can play around with the ingredients you have on hand:
Sausage Spinach Feta Frittata: If I am making this frittata for dinner, I sometimes add in ½ pound of Italian sausage into this recipe. My husband, who is a big meat eater, says that this version is his favorite.
If you decide to use sausage, heat one tablespoon of oil to cook the meat over medium-high heat—breaking it apart with a spatula until browned, about 5 minutes. Then, continue with adding the vegetables and egg mixture and the rest of the recipe.
Mediterranean Frittata: If you want to continue with the vegetarian theme, you can do so by adding a few Mediterranean ingredients into the mixture. I love adding a small red bell pepper into the vegetable mixture and a handful of chopped Kalamata olives into the egg mixture right before baking it in the oven.
Spinach Tomato and Feta Frittata: If tomatoes are in season, you can also add in a chopped tomato into the veggie mixture and cook it with the eggs. Sweet flavors of summer tomatoes baked in with eggs are just out of this world.
Want to try a version of this in the instant pot? Check out this Instant Pot Breakfast Casserole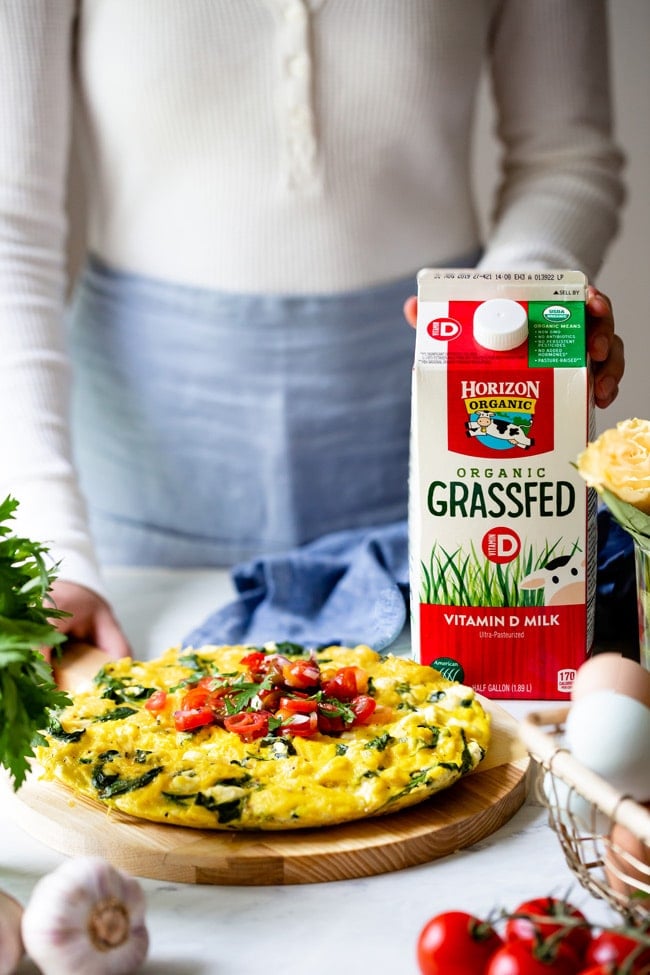 A Few FAQs & Answers for the best spinach and feta frittata
Can I use a different cheese than feta cheese? Absolutely. A few of my favorite cheese varieties for frittatas are goat cheese, cheddar, and shredded mozzarella.
How to store the leftovers? I doubt that you will have any leftovers but if you do be, sure to store them in an airtight container in the fridge. They should be good for the next three days.
Can I freeze this frittata recipe? Yes, you can. Though I have to admit, this egg bake tastes much better when it is consumed right away. However, you can freeze it in an airtight container up to a month in the freezer.
A day before you are ready to eat, thaw it in the fridge overnight. When ready to serve, place it in a 350 F degree preheated oven for 5-8 minutes or until thoroughly warmed.
Can I make this vegetable frittata as a part of my weekly meal prep? You sure can. If you decide to do so, let the frittata cool, slice it into individual portions, and place in your meal-prep containers.
Got some leftover spinach? Try these recipes:
Spinach Feta Frittata Recipe
This easy Spinach Feta Frittata cook up perfectly in less than 20 minutes in the oven.
It's perfect for any brunch gathering or for a quick weeknight dinner with a simple green salad on the side.
Print Recipe
Ingredients
For The Eggs:
12

large Horizon Organic eggs

½

cup

Horizon® Organic Grassfed Whole Milk

½

teaspoon

Kosher salt

¼

teaspoon

ground black pepper
For The Frittata:
1

tablespoon

vegetable oil

3

scallions

sliced thinly

3

cloves

of garlic

minced

5

cups

of baby spinach

washed and spin-dried

½

cup

crumbled feta cheese
As Garnish:
1 to

mato

cut into small chunks

¼

cup

red onion

2

tablespoons

of lemon juice

freshly squeezed

1

tablespoon

olive oil

¼

teaspoon

kosher salt

Pinch

of ground black pepper

¼

cup

fresh parsley

chopped
Instructions
Preheat the oven to 350 F degrees.

Prepare the egg mixture: Crack the eggs in a large bowl. Pour in the milk and add in salt and pepper. Give it a whisk. Set aside.

To make the filling: Heat oil in a 12-inch nonstick skillet over medium heat. Add in the scallions and cook, stirring frequently until they are softened—2-3 minutes.

Stir in the garlic and cook for 30 seconds.

Add in the baby spinach and cook until wilted. Sprinkle it with the feta cheese.

Pour in the eggs. Using a spatula, gently stir and scrape the bottom of the skillet until large curds form but the eggs are still wet—about 30-45 seconds.

Smooth the top into an even layer and let it cook for 30 seconds.

Place it in the oven and bake until the center is no longer jiggly and edges are golden brown, about 8-9 minutes.

Meanwhile, make the topping: Mix tomatoes, onions, lemon juice, olive oil, parsley, salt and pepper in a bowl.

When the frittata is fully baked, carefully loosen the edges using a spatula and transfer it onto a cutting board. Let it cool for 5 minutes.

Garnish with the tomato mixture. Slice and serve.
Video
Nutrition
Calories:
230
kcal
|
Carbohydrates:
6
g
|
Protein:
15
g
|
Fat:
17
g
|
Saturated Fat:
7
g
|
Cholesterol:
341
mg
|
Sodium:
588
mg
|
Potassium:
390
mg
|
Fiber:
1
g
|
Sugar:
3
g
|
Vitamin A:
3346
IU
|
Vitamin C:
17
mg
|
Calcium:
171
mg
|
Iron:
3
mg
Other egg dishes you might also like:
Other spinach recipes you might like:
Like this recipe? Consider sharing: