While I also love the ease and convenience of roasted asparagus, air fried asparagus, and steamed asparagus, I find that this pan-seared version is quicker and can be prepared easily when your main dish is cooking.
It can also be adjusted with various flavorings to serve it as a quick vegetable side dish or a Chopped Asparagus Salad. Regardless of how you are serving it, this pan-seared garlic butter asparagus recipe is a great way to elevate any of your main dishes and feed your family in a healthy way.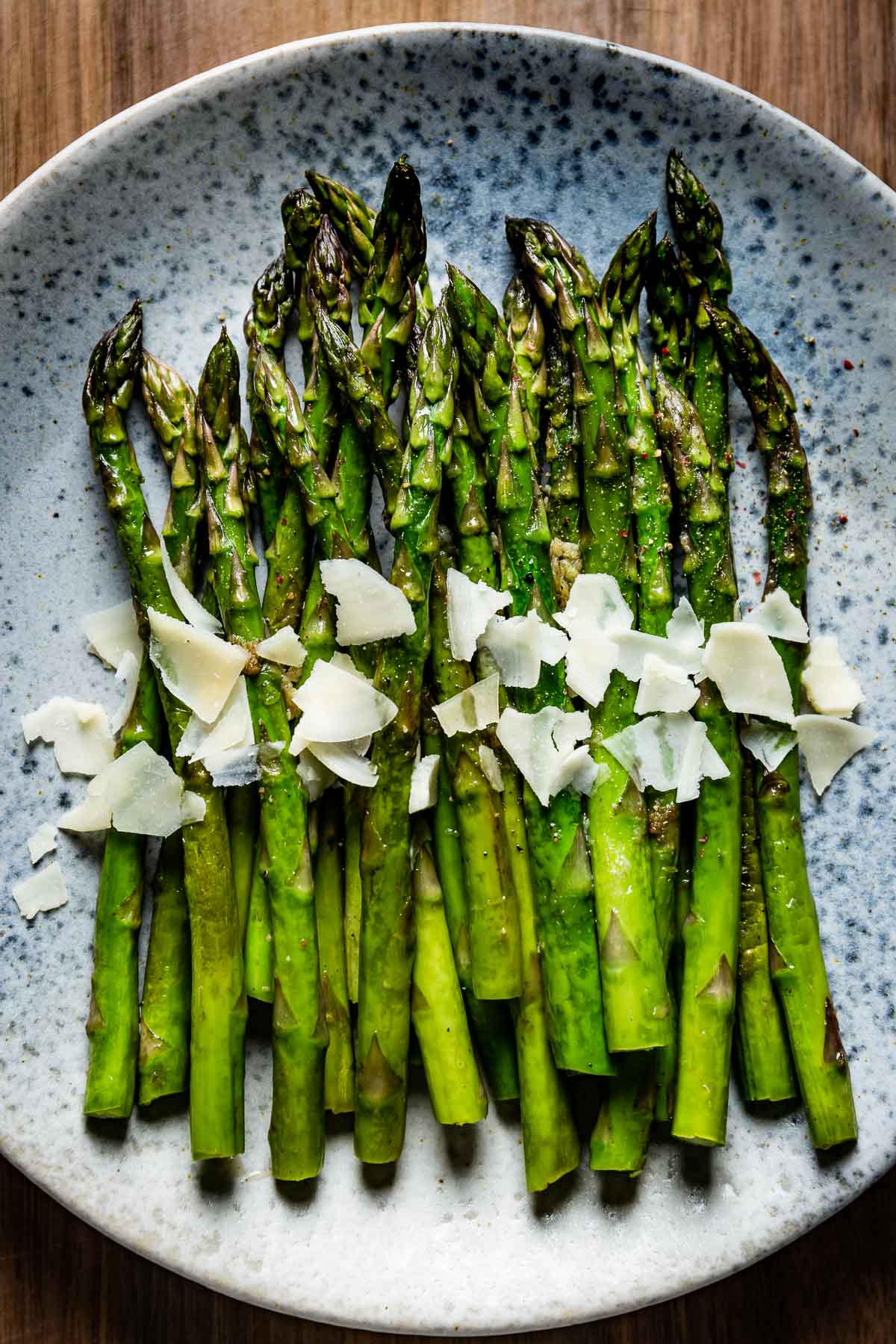 I Love This Basic Recipe Because:
It comes together in one skillet in under 10 minutes from start to finish.
You can use it as a blank canvas and flavor it in any way you like (more on that below)
It is visually impressive and healthy.
Ingredients:
You will need butter (or olive oil), asparagus spears, garlic, and kosher salt and pepper.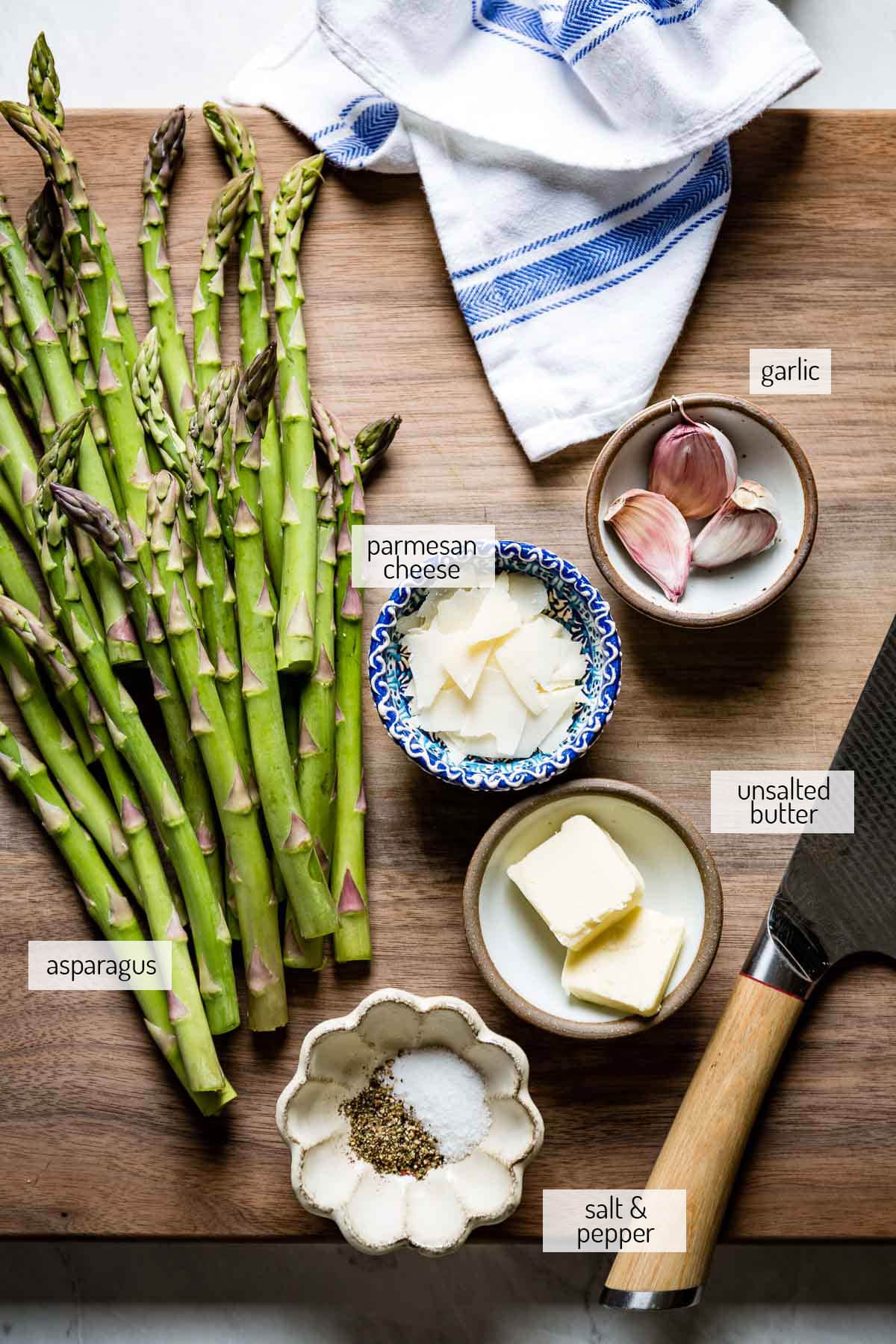 It is optional, but I love serving asparagus with parmesan. I think the saltiness that comes from parmesan paired with the earthy tones of garlicky asparagus is an easy way to elevate this otherwise humble dish.
With that being said, if you are not a fan, you can simply omit using it.
Seasoning Ideas:
While I went for the basic salt and pepper for seasoning, the beauty of cooking asparagus on the stovetop is that you can add in any of your favorite spices during the cooking process.
Alternatively, you can really take it to the next level by using roasted garlic butter instead of regular unsalted butter.
I personally like spices like store-bought Italian seasoning or simple ground cumin and coriander and fresh ingredients like lemon zest, fresh chives, and fresh mint for seasoning.
How To Prepare Asparagus?
To prepare asparagus for cooking it in a skillet: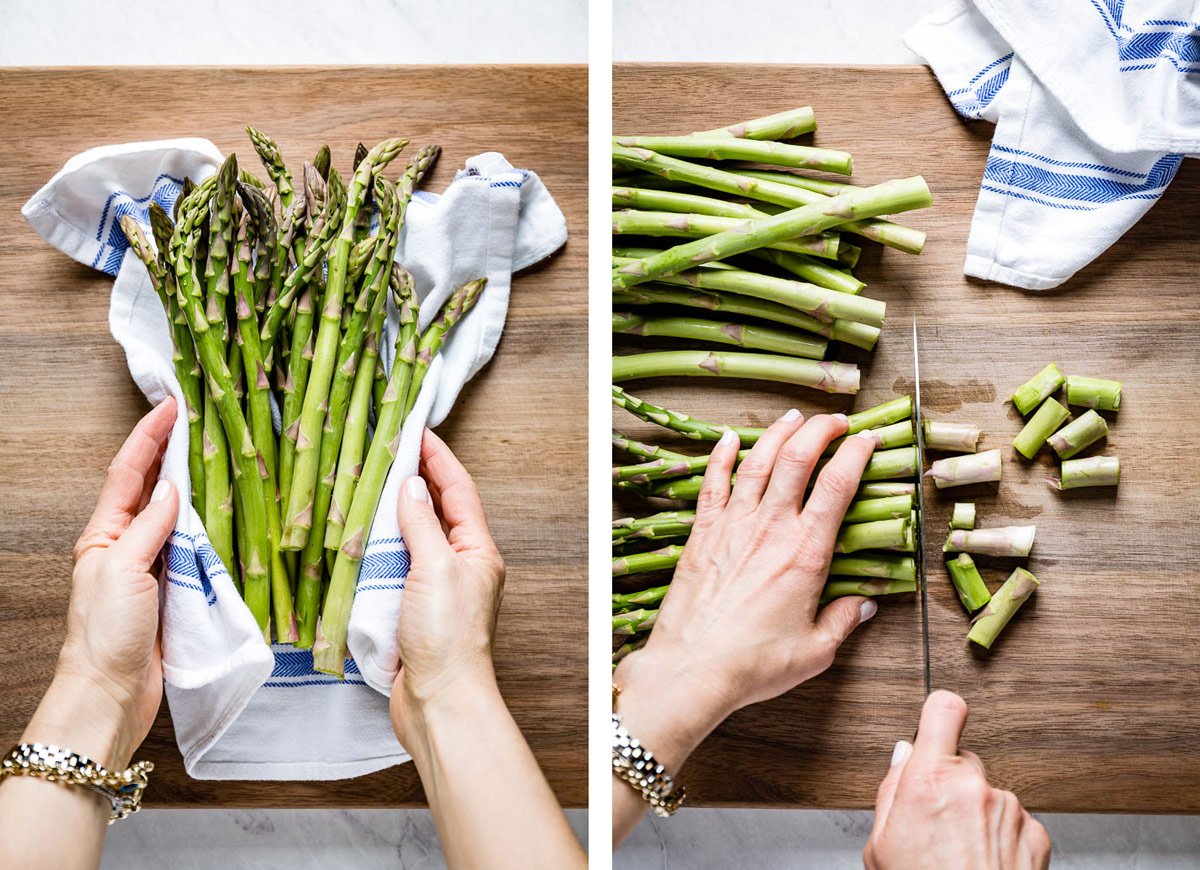 Rinse: Wash asparagus spears under cold water
Dry: Place them on a clean kitchen towel and dry them thoroughly.
Trim: To trim asparagus, you have two options – First, you can snap off the ends one by one. Or second, you can snap one spear (to find the natural breaking point), then bunch the rest of the asparagus spears together, line up the ends and trim at the same point where the one asparagus spear was cut.
Do I Need To Cut the Asparagus?
It is up to you. As you can see in the pictures, I sauteed my asparagus spears as a whole, but you can cut them into 2-3 inch pieces. The cooking time might change slightly (more on that below), but it will be just as delicious.
How To Make It?
To process of cooking asparagus in a skillet on the stovetop has 4 folds: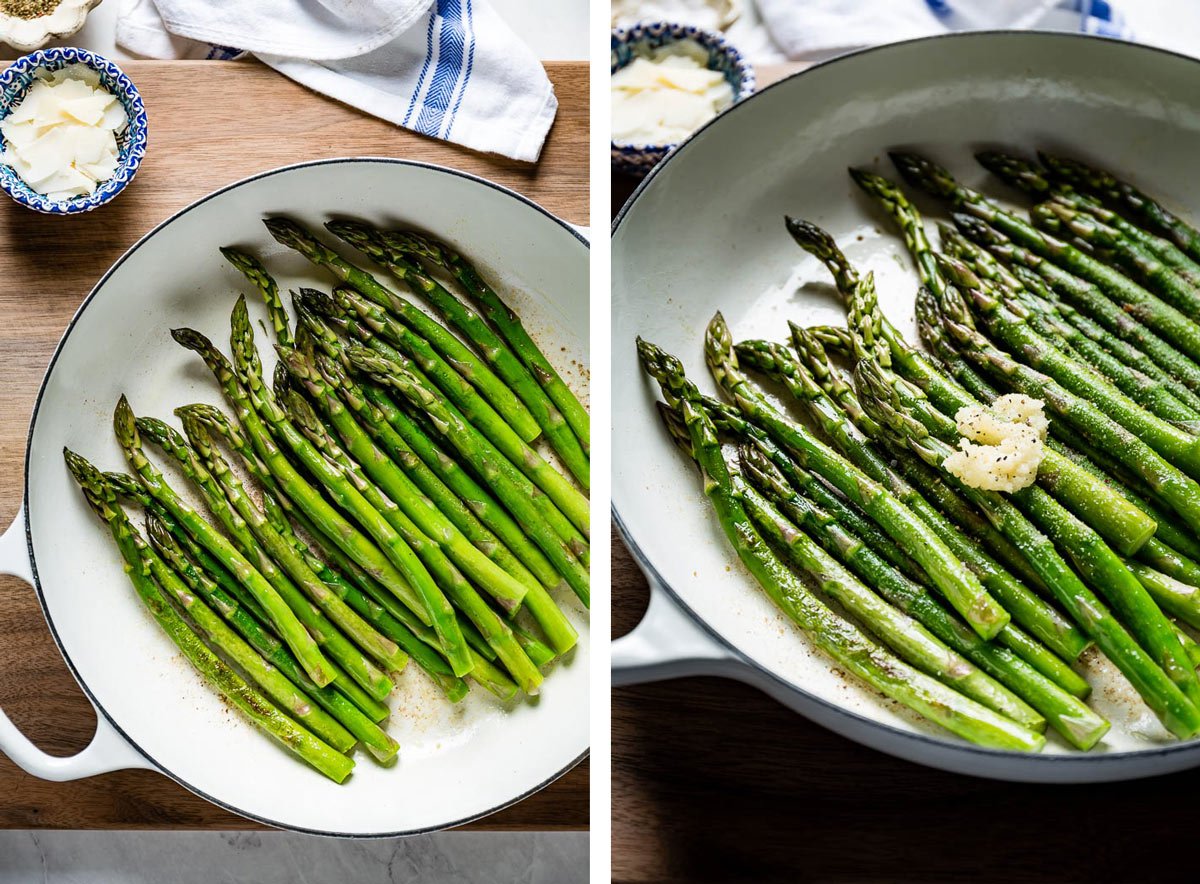 Start in a large skillet: Heat butter in a skillet over medium heat. I recommend a skillet large enough to accommodate all your asparagus easily without overcrowding it. If you do not have one, then you can cook it in batches.
Add in the asparagus: Transfer the dried asparagus to the skillet and cook, turning once or twice with kitchen tongs, until it is lightly charred on all sides. You can also check doneness by inserting a knife into a spear. It should be cooked if it comes in and out easily without any resistance.
Add the seasoning: Stir in the minced garlic, kosher salt, and ground black pepper. Saute asparagus with garlic for 30-45 more seconds until the garlic is evenly distributed but not burned.
Garnish & Serve: Transfer asparagus to a serving platter and garnish with shaved parmesan if using. Serve.
How Long Do You Saute It?
The cooking time for asparagus on the stove depends on how you are preparing your asparagus. I find that cooking whole asparagus spears takes a few minutes more than cooking asparagus cut into smaller (2-3 inch) pieces.
If you are pan-frying asparagus that are cut into small pieces, it takes about 5-6 minutes to cook them. However, if you cook whole asparagus spears, the cooking time might be around 6-8 minutes.
Additionally, if you are using thin asparagus spears, the timing might significantly change. If that is the case, I would keep a close eye on them after the 3-minute mark.
In either scenario, it is essential to make sure that you are not crowding the pan and making sure that the spears are distributed evenly.
How To Know If It Is Fully Cooked?
The best way to check doneness is by inserting a knife into the thickest part of an asparagus spear. If it comes in and out easily, it should be cooked. If not, let it cook for a few minutes longer.
Variations:
While I think asparagus sauteed in garlic and butter is truly delicious, there are a few other options you can try:
Make it vegan with olive oil and olives: Swap butter with olive oil and omit the parmesan cheese. If you like a bit of a salty kick, you can top it off with chopped & pitted kalamata olives.
Make it fresh with lemon: It is no secret that a squeeze of lemon juice brightens any dish and this sauteed asparagus recipe is no exception. I would even recommend zesting a lemon for extra freshness and color.
Top it off with fresh herbs: My favorite herbs to pair stovetop asparagus are fresh chives, basil, and mint.
Use different types of cheese: As you can see in the pictures, I went with shaved parmesan cheese, but crumbled goat cheese and feta can also be used.
Add nuts: I am a big fan of roasted and sliced almonds, but pine nuts are also great in this recipe. I would use ¼ cup per pound of asparagus.
How To Store & Reheat?
To Store: Bring sauteed asparagus to room temperature. Place in an airtight container and store in the fridge for up to 3 days.
To Reheat: Lightly pan fry with a teaspoon of butter or olive oil until it is warmed through. Alternatively, you can reheat it for 30 seconds in the microwave.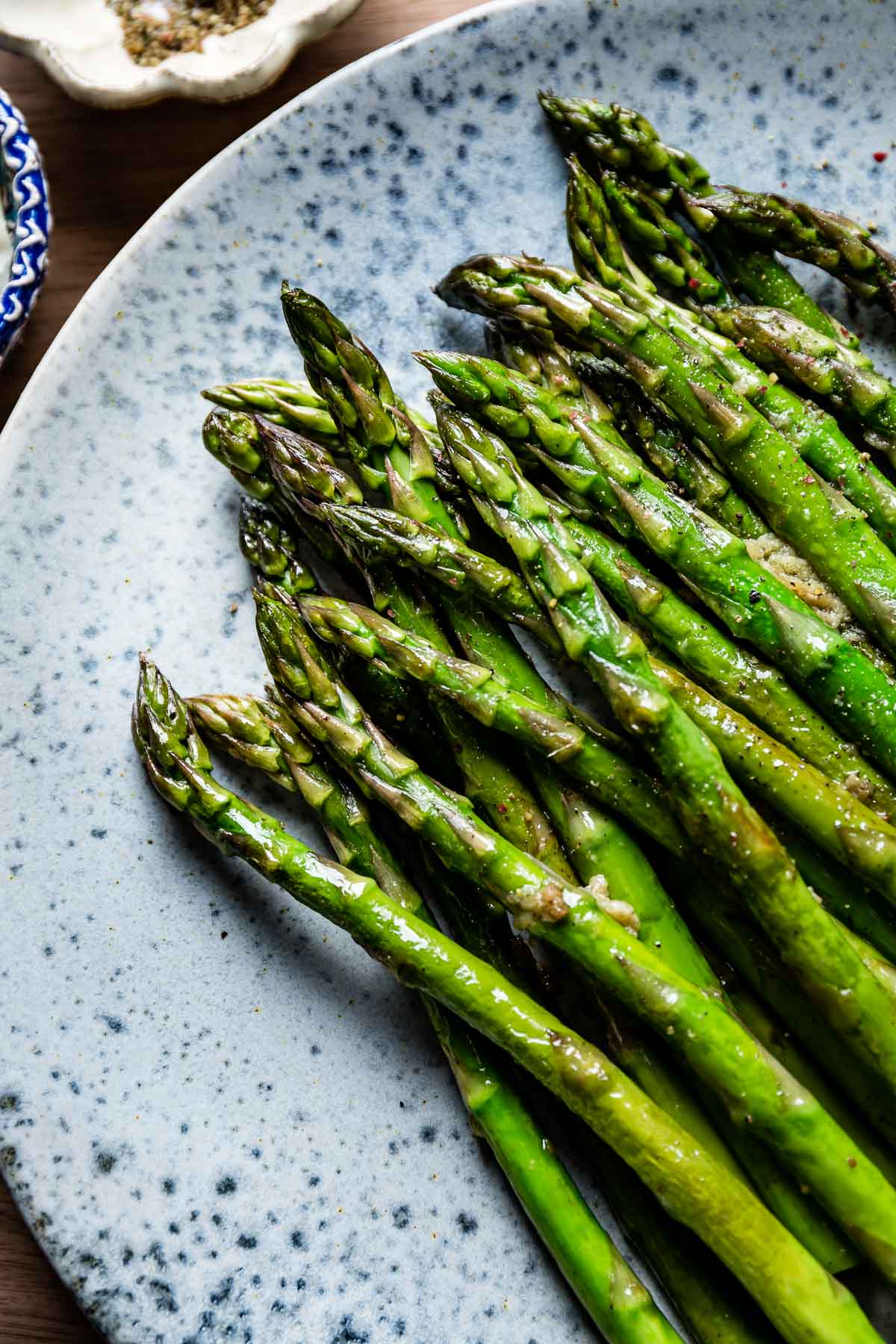 A Few Helpful Tips:
Adding garlic in the end: Since garlic cooks much faster and browns easily, I chose to add it in the end. The only time I recommend sauteing garlic with butter (in the beginning) is when you are using thin asparagus spears.
Do not overcrowd the pan for even cooking: If you are cooking for a crowd, it is best to saute asparagus in batches rather than cooking them all at the same time.
New to using asparagus in your cooking? Be sure to check out my detailed post on the best way to store fresh asparagus to extend its shelf life.
What To Serve It With?
You can serve this sauteed parmesan asparagus as a side dish with any of your main dishes. Here are a few of my favorite ones:
Sauteed Asparagus Recipe
Pan-Sauteed Asparagus flavored with butter, garlic and parmesan cheese. This simple recipe is the perfect side dish to serve with any of your meat, chicken, and fish recipes.
Print Recipe
Ingredients
1 1/2

tablespoons

unsalted butter

1

lb.

Asparagus

rinsed, dried, and trimmed

1

clove

garlic

minced (1 large one or 2 small one)

1/2

teaspoon

kosher salt

1/4

teaspoon

ground black pepper

1/4

cup

parmesan cheese

shaved or shredded (optional)
Instructions
Heat butter in a large skillet over medium heat.

Add in the asparagus in to the pan making sure to not to overcrowd the pan. Cook, turning a few times using tongs for even cooking for about 6-7 minutes.

Add in the minced garlic, salt and pepper. Give it a gentle stir. Cook for another 30-45 seconds or until garlic is lightly browned (but not burned).

Transfer onto a plate and garnish with shaved parmesan cheese. Serve.
Notes
Cooking Time: The cooking time might change based on the way you prepare your asparagus. As you can see in the pictures, I used whole spears. However, you can cut them in small (2-3 inch) pieces before cooking. I find that it takes a little shorter (due to increased cooking surface), 1-2 minutes less, if you do so.
Thin Asparagus: If you are using thin asparagus, be aware that it cooks much faster. I recommend keeping a close eye on it after the 3- minute mark.
Do not overcrowd the pan: If you are using a smaller skillet or want to saute more asparagus, I recommend you cook in batches rather them overcrowding the pan.
To Store: Place the leftovers in an airtight container and keep in the fridge upto 3 days.
Nutrition
Calories:
86
kcal
|
Carbohydrates:
5
g
|
Protein:
5
g
|
Fat:
6
g
|
Saturated Fat:
4
g
|
Trans Fat:
1
g
|
Cholesterol:
16
mg
|
Sodium:
394
mg
|
Potassium:
241
mg
|
Fiber:
2
g
|
Sugar:
2
g
|
Vitamin A:
1038
IU
|
Vitamin C:
7
mg
|
Calcium:
105
mg
|
Iron:
3
mg
Like this recipe? Consider sharing: