My mother did not want me to come to the US. The year was 2002. I had recently graduated from college and returned home for a visit. I was at an age where we understood each other more than ever. I was her only child and we were each other's best friend. Coming to the US was the hardest decision I ever made in my life.
On one hand, I was excited about my journey to America and what the future had in store, yet I felt guilty leaving her behind. The day before I left, we had a long conversation and she told me that if I ever felt I was not wanted or unhappy, I should immediately come home.
The journey from Istanbul was long, but the moment I set foot in New York City, I knew my life had changed forever. I was mesmerized with almost everything; tall buildings, crowded streets, beautiful stores, and all kinds of food and people. It was a whole new world that I had only seen in movies. Years went by feeling this way. I never got tired of what this country had to offer me and its people. It would be a lie if I told you that I didn't have tough times. Believe me, I had my share of visa issues. However, I never felt I was not wanted or out of place. To me, the beauty of America was that life was hard for everyone, but we were all in this together. I always found someone to offer me a helping hand when needed. In the last 15 years, I made some of the best friendships of my life in this country. More importantly, I met the love of my life and married him here.
So I think you can understand why I am so baffled with everything that has happened in the last few weeks. I do not want this blog to be a place where I talk about my political views because I understand that we may have a difference of opinion and I am not here to expose you to my views. However, as an immigrant who has always felt welcomed, it saddens me to see a group of people banned entrance into the country because of their beliefs, especially after everything they had been through. I know America is better than this.
With the hopes of lightening the mood, today I am sharing my mother's one-pot winter root vegetable dish. If you have been following me for a while, you know I believe in the healing power of food. I also believe that food makes us all come together, set aside our differences, and enjoy each other's tastes and company.
About this One-Pot Citrusy Winter Root Vegetables Recipe:
If I were to translate the name of this dish from Turkish to English, it would be something like celery root cooked in olive oil. Growing up, it was a wintertime staple in our house. As the name suggests, winter's popular root vegetables; celery root, potatoes, and carrots, are placed in a large pot, drizzled with olive oil and freshly squeezed orange juice and cooked until the vegetables are tender. Some people use lemon juice instead of orange juice, but I personally prefer orange juice because it is sweeter and I think it pairs beautifully with celery root. Plus, as you can see in the photos, I was able to get my hands on the sweetest pink Cara Cara oranges, which are my absolute favorite fruit ever.
During my childhood, my mother would make this on a Sunday and we'd eat it cold as a salad or a side dish throughout the week. After I married my American husband and served him this dish as my mother did, I learned that eating cold root vegetables even as a side dish could be a foreign concept for some people. If you feel the same way, feel free to warm it up in the microwave for a few minutes before serving.
---
I wrote this blog post as a part of a bloggers initiative, where we all shared our own #immigrantfoodstories. Below you will find a few of my favorite bloggers' posts on the subject:
Honestly Yum: Lu Dan (Soy Eggs)
The Year In Food: Winter Squash Fritters
Eat This Poem: Immigrant Picnic
Floating Kitchen: Armenian Bulgur Parsley and Tomato Salad
Brooklyn Supper: Spelt Crust Apple Pandowdy
Kale & Caramel: Fatteh with Cumin Chickpeas & Tahini Yogurt
Fix Feast Flair: Beef Teriyaki
The Crepes of Wrath: Polish Apple Pie
One-Pot Citrusy Winter Root Vegetables
This One-Pot Citrusy Winter Root Vegetables is a Turkish vegan and gluten-free dish that my mother used to make during the winter months using celeriac, carrots, potatoes, and orange juice. It is a light side dish or a winter salad that you can serve both warm or cold.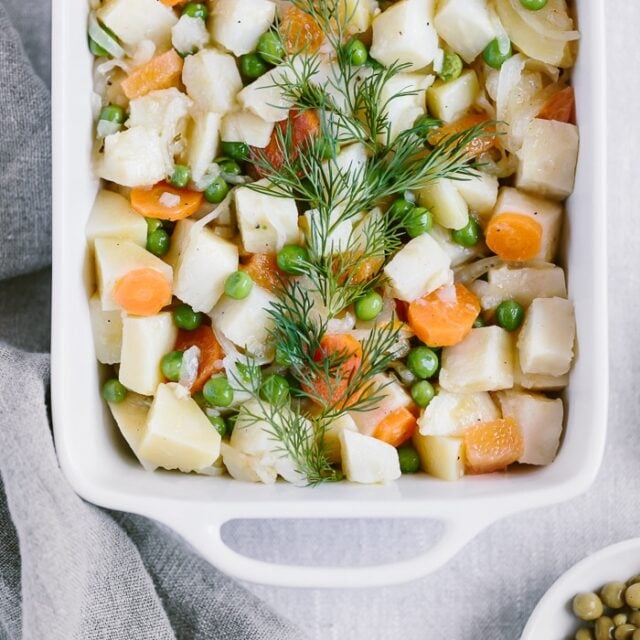 Print Recipe
Ingredients
1

medium onion

chopped

2

cloves

of garlic

peeled

2

medium-sized celery root

also called celeriac, (1 ½- 2 pounds in total) – peeled and cut into 1-inch cubes

1

medium-sized potato

peeled and cut into 1-inch cubes

2

carrots

peeled and cut into ½-inch pieces

½

cup

orange juice

freshly squeezed

3

tablespoons

good olive oil

1

tablespoon

granulated sugar

1/2

teaspoon

salt

¼

teaspoon

black pepper

1

cup

fresh or frozen peas

¼

cup

fresh dill

rinsed and coarsely chopped
Instructions
Place the onion, garlic, celery root, potato, and carrot in a large pan with a lid.

Drizzle it with the orange juice and olive oil. Stir in the sugar, salt, and pepper. Give it a large stir.

Cover and cook over medium heat for 20-25 minutes or until the celeriac and potatoes are cooked through.

Stir in the peas and cook for another 5-6 minutes.

Taste for seasoning and add in if necessary.

Garnish it with fresh dill.

You can serve this dish immediately or let it come to room temperature and store in an airtight container in the fridge and serve cold as a side dish for the next 2-3 days.
Notes
If you prefer, you can also make this dish with lemon juice instead of orange juice. If you choose to do so, I recommend increasing the sugar to 2 tablespoons.
Nutrition
Calories:
355
kcal
|
Carbohydrates:
58
g
|
Protein:
9
g
|
Fat:
12
g
|
Saturated Fat:
2
g
|
Sodium:
645
mg
|
Potassium:
1509
mg
|
Fiber:
10
g
|
Sugar:
17
g
|
Vitamin A:
5661
IU
|
Vitamin C:
73
mg
|
Calcium:
184
mg
|
Iron:
4
mg
Like this recipe? Consider sharing: