Vermont weather finally got to us. Both Dwight and I have been sick for over 3 days now. I do not even remember the last time I got a cold like this. The weather started warming up outside, but nights are still very cold. Even though I layer like a crazy person, it seems like I am unable to keep myself warm enough.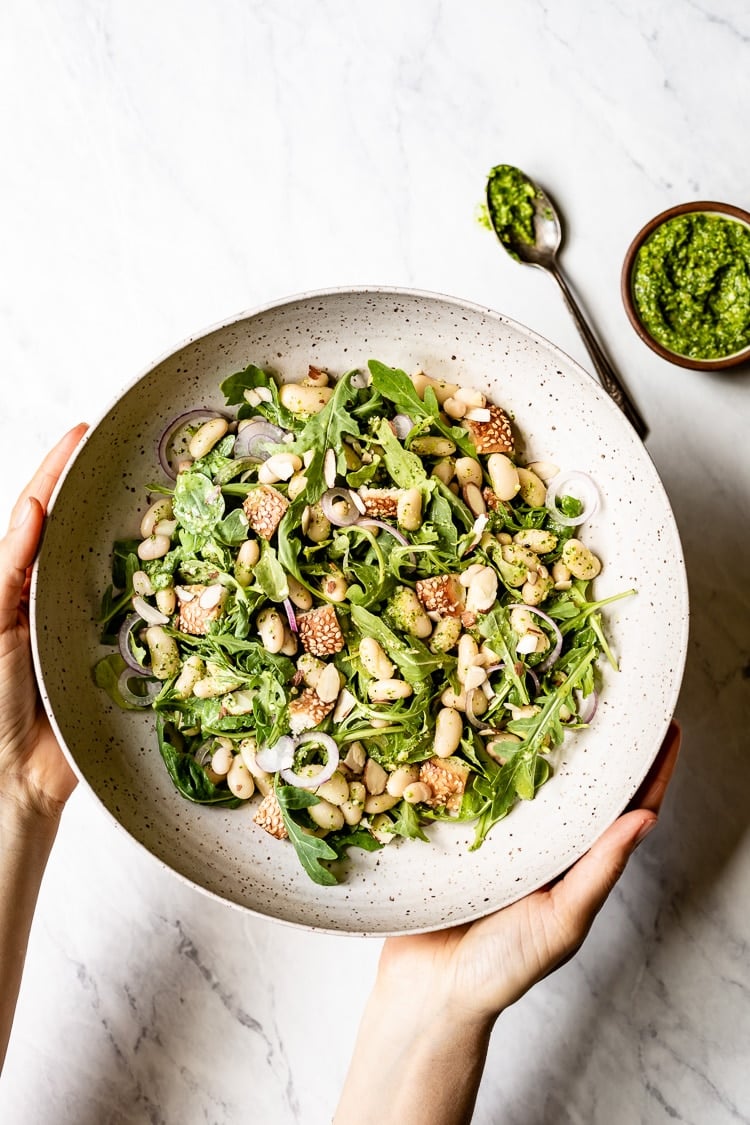 In addition to all the layers, I have been wearing a hat all day long (even while I am inside), because someone told me that the best way to keep the heat in your body is to keep your head warm. I know the major temperature change will take some getting used to, but I hope it will happen sooner than later as I am not a big fan of being sick like this.
Okay, enough about me, onto this warm white bean arugula salad. To me, this salad is the kind of food that you make when you do not want to cook and eat a whole meal, but you still need to feed yourself. However, it also makes a great side dish.
About this Warm White Bean Arugula Salad Recipe:
Canned Beans versus Home-cooked Beans:
Before I start talking about the process, I want to talk about white beans. I know many people, who enjoy the ease of using canned beans and I am one of them. However, since canned beans tend to be softer in texture than their freshly cooked counterparts, I mostly use them in dips, soups and stews instead of salads. I know it takes time to cook them and requires soaking overnight, but I also know that freshly cooked and still warm white beans mixed in with arugula pesto is next level deliciousness.
With all this being said, knowing this might come up, I tried this white beans salad recipe both with canned and home-cooked beans and it worked well with both. The beans in the canned version were mushy and they were mostly broken, but it was still okay.
The recipe below suggests cooking the beans at home, but if you decide to use canned beans make sure to rinse them well. You would also need to warm them up on the stove-top or in the microwave until they are warm to touch. Though if you are short on time, this warm white bean salad can be served cold as well.
Arugula and Almond Pesto:
To me, what makes this Cannellini bean salad "next level" is the pesto made with arugula, sliced almonds and garlic. When mixed in with the warm beans, it slightly melts and coats them beautifully. The recipe below uses 1/3 cup of olive oil to make the pesto. If you are calorie-conscious and/or feel like that is too much, feel free to substitute some of it with the beans' cooking liquid.
I also used arugula as a part of the salad and mixed it with thinly sliced radishes. If you do not have radishes, you can also try beets. In the past, I also added thinly sliced Chioggia beets and that was really good as well. So feel free to play with whatever you have in your fridge.
What to do with the leftovers?
I know I have been raving about serving this salad while it is still warm, but I also think that the leftovers enjoyed at room temperature are really good too.
On the next day, I scooped some on a piece of bread (as you can see on the pictures) and drizzled it with some olive oil. I didn't think of doing this while I was photographing, but next time I will put a fried egg on it, sprinkle it with a little sumac, and serve it as a meal just like that.
All in all, if you are in need of a creative recipe for arugula salad that is truly next-level, this recipe is the one to go. Every minute of your efforts will pay off when you receive compliments. I promise.
Warm White Bean Arugula Salad
A gluten-free warm white bean salad recipe flavored with arugula and almond pesto.
Print Recipe
Ingredients
For the beans:
1

cup

Navy or Cannelini

or both white beans, soaked overnight*

1

bay leaf
For the Arugula-Almond Pesto:
2

cups

arugula

rinsed and spin-dried

1/3

cup

sliced almonds

¼

cup

Parmesan cheese

cut into small chunks

2

tablespoons

lemon juice

freshly squeezed

2

cloves

of garlic

minced

¼

teaspoon

Kosher salt

¼

teaspoon

black pepper

1/3

cup

extra virgin olive oil*
For the Salad:
3

cups

arugula

rinsed and spin-dried

1

small red onion

chopped

2

tablespoons

sliced almonds

as garnish (optional)

a slice of bread

(optional)
Instructions
To cook the beans, place them in a medium-size pot. Cover them with 2-inches of water. Add in the bay leaf and bring it to a simmer in medium-low heat. Cover and cook (stirring occasionally) until they are soft and tender, but not mushy, 1 ½ to 2 hours. When cooked, remove and discard the bay leaf and drain the beans. Place them in a large salad bowl.

To make the arugula almond pesto: Place the arugula, almonds, Parmesan cheese, lemon juice, garlic, salt and pepper in the bowl of a food processor. Process until everything is finely chopped. While the machine is running, drizzle the olive oil over the tube slowly. Pour the pesto over the warm beans and give it a gentle mix making sure to not break the beans.

To assemble the salad: Add in the arugula and red onion into the beans mixture and give it a mix. Taste for seasoning and add in, if necessary.

If preferred, garnish it with sliced almonds and torn bread.
Notes
If you decide to use canned beans, you would need 3 (15 ounce) cans of white beans. I would recommend rinsing them first and then warming them up either on the stove-top or in the microwave.
If you are calorie conscious and or want to use less oil, feel free to substitute some of the oil with the beans' cooking liquid.
Nutrition
Calories:
269
kcal
|
Carbohydrates:
11
g
|
Protein:
7
g
|
Fat:
23
g
|
Saturated Fat:
4
g
|
Cholesterol:
4
mg
|
Sodium:
349
mg
|
Potassium:
144
mg
|
Fiber:
3
g
|
Sugar:
1
g
|
Vitamin A:
642
IU
|
Vitamin C:
7
mg
|
Calcium:
163
mg
|
Iron:
2
mg
This recipe is adapted (with changes) from Melissa Clark's cookbook Dinner: Changing the Game
.
Like this recipe? Consider sharing: