I created this recipe last week after I was able to find ripe avocados on sale in our local grocery store. After using it in my Southwestern Chicken Salad with Creamy Avocado Dressing recipe I knew it was a keeper and deserves a spot in my collection of healthy salad dressing recipes.
That was the real inspiration for this easy homemade creamy avocado dressing recipe. Just like my 4-ingredient guacamole recipe, it is simple to make and absolutely divine.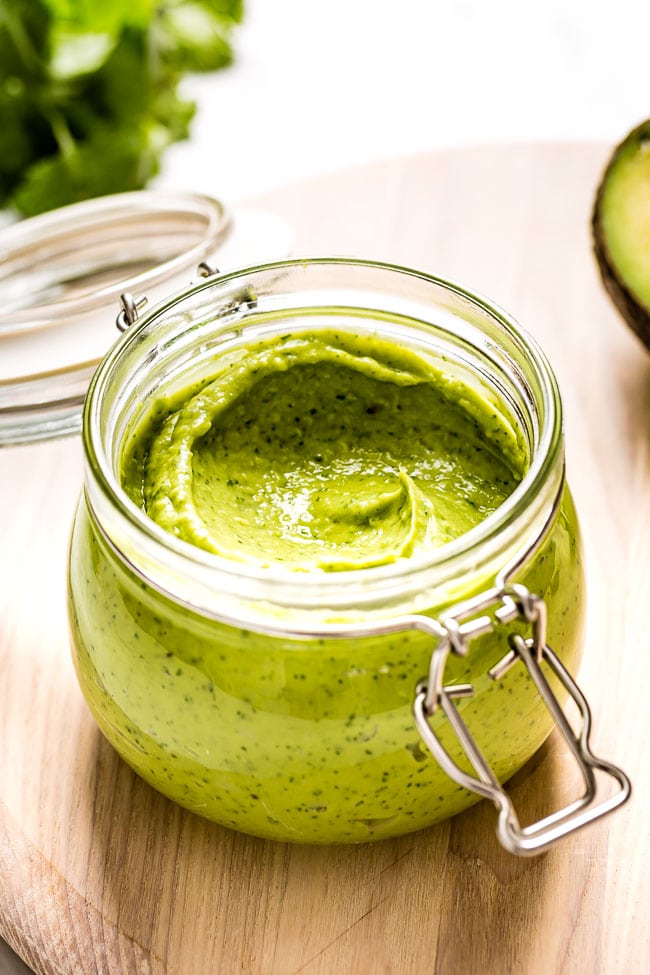 This is why I decided to feature this creamy salad dressing all on its own so you can really learn what it takes to make the best avocado-based dressing. Plus, it's a richer and creamier alternative to my all-time favorite, Simple Lemon Vinaigrette.
Why I Love This Recipe:
If you are someone who appreciates the value of a ripe avocado, you probably don't need much convincing. But if you do, here are a few reasons why I think this is the best creamy avocado sauce:
All you need is 10 minutes and six simple every day ingredients like ripe avocados, cilantro, jalapeno peppers, garlic, and lemon or lime juice.
It is super versatile. Use it as a salad dressing in your favorite salad recipes, avocado dipping sauce as a part of your meat and cheese platter, or as a spread for your avocado toast.
It is the best way to use ripe avocados that are about to go bad.
It works for a variety of special diets because it is vegan, raw, gluten-free, egg-free dairy-free, low-carb, paleo, and Whole30 friendly.
Ingredient Checklist:
This simple homemade avocado dressing is made with ripe avocados, olive oil, garlic, fresh cilantro, freshly squeezed lime juice, kosher salt, black pepper, water (or almond milk) and jalapeno (depending on if you'd like it spicy).
Helpful notes on the ingredients
Avocados: There are two popular types of avocados easily available in the supermarket – Hass and Gwen. Hass is considered the best variety of avocado for its buttery, nutty flavor, and the type I always use. For this DIY avocado salad dressing, we want avocados at the peak of ripeness.
Jalapeno: I prefer my avocado dressing mild, so I remove the seeds and ribs before blending. Feel free to leave these intact for a spicy salad dressing. Or simply omit the entire jalapeno to keep it mild.
Water or Almond Milk: Adding water or almond milk is optional. The dressing is very thick when you first whirl it in the blender. Adding any form of liquid, whether it is plain water, almond milk, or your favorite plant-based milk will make it looser. It's best to add the liquid 1 Tablespoon at a time depending on how thick or thin you want it.
Lemon juice or Lime Juice: This is one of those dressings that you can use fresh lime and lemon juice interchangeably. The important thing to note here is that freshly squeezed is always better than storebought.
Fresh garlic or garlic powder: If you find the flavors of fresh garlic to be too strong, you can use 2 teaspoons of garlic powder instead.
How to make homemade avocado salad dressing from scratch?
This simple and homemade avocado sauce requires a food processor (or a blender) and less than 10 minutes to creamy goodness. Simply: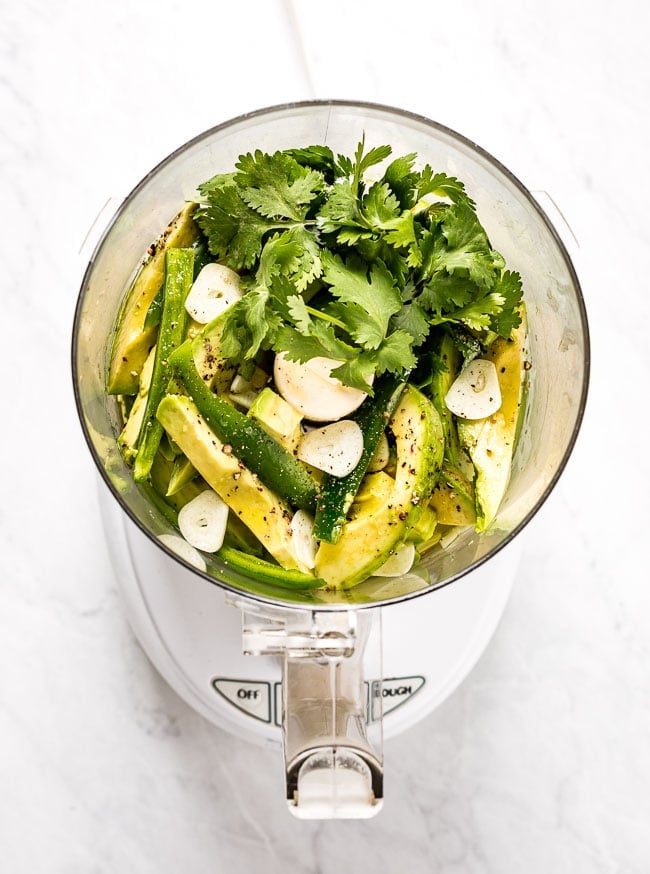 Start with the liquid ingredients. In the base of your food processor, add olive oil and fresh lime juice.
Add avocados. Next, add the remaining ingredients – avocado flesh, fresh garlic, fresh cilantro, salt, pepper and jalapeno (if using).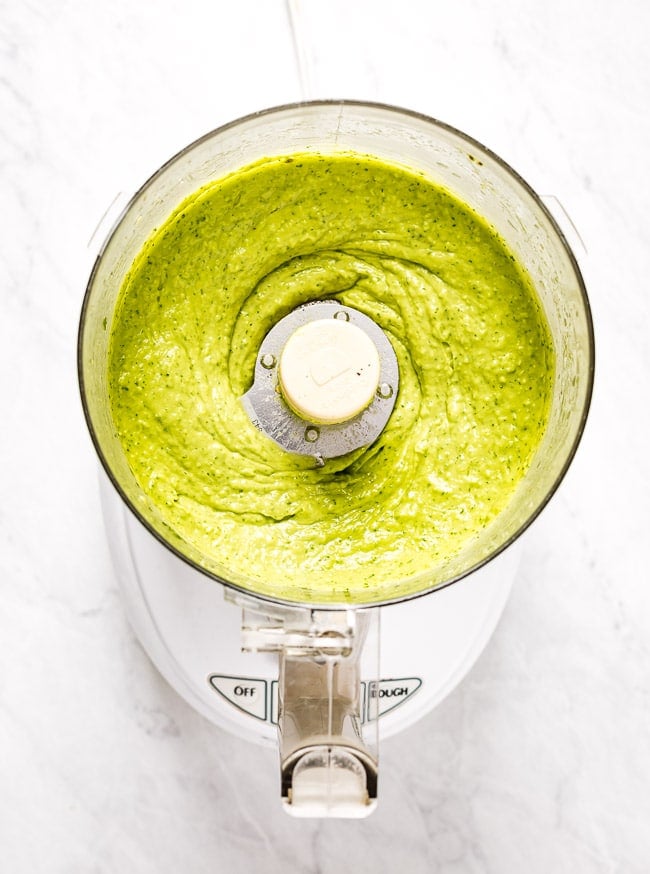 Blend. Blend for 30 seconds or until it has reached to your desired creamy texture. If you'd like the dressing to have a thinner consistency, add water or almond milk, 1 Tablespoon at a time stopping the machine and scraping the sides of the bowl a few times. Taste and adjust seasonings, if necessary.
Pro Tip: I used a food processor but an upright blender or even an immersion blender would also work.
How To Store & Freeze:
Storage: Place it in an airtight container, cover the top of the dressing with a sheet of plastic wrap (to prevent oxidizing and turning brown) and tighten the lid before placing in the fridge.
Freezing: I do not recommend freezing this dressing recipe.
FAQs:
How Long Does Avocado Dressing Last
This dressing made with avocados will last for 3-4 days in an airtight container in the fridge. The acidity in the freshly squeezed lime juice will help prevent the sauce from turning brown.
How To Keep Raw Avocado Dressing From Turning Brown?
The acid in the lime juice will help keep the avocado from turning brown. But for added insurance, the best way to prevent the dressing from oxidizing and turning brown is to press a piece of plastic wrap directly on the surface.
Alternatively, simply drizzle the surface with a thin layer of mild olive oil after each use.

How Many Calories In One Serving Of Dressing?
This recipe makes about a cup and a half of avocado garlic dressing, which is about 24 tablespoons. One serving, or about 1 Tablespoon of this healthy avocado dressing, is 15 calories. Keep in mind this dressing is packed with clean, good-for-you ingredients. And the avocados come with a ton of healthy fats you can feel good about.
It also just so happens to be Paleo, Raw, Dairy-Free and Vegan, too!
Variations
I think this is a fantastic salad dressing, dip or sauce you can make year-round that makes the best use of ripe avocados. A few variations include:
Omit the olive oil. If you are calorie conscious and want to avoid adding additional fat in the dressing, feel free to add water instead of olive oil.
Make it mild, medium or spicy. If you like heat, keep the seeds of the jalapeno pepper intact. If you are not a fan, omit the seeds for medium or simply omit the jalapeno for mild.
No cilantro. I know a lot of people who do not like cilantro. If you are one of them, you can always replace it with fresh herbs like flat-leaf Italian parsley or mint, or omit the herb entirely.
Add a creamy ingredient. This will no longer make it vegan, but ¼ cup full-fat Greek yogurt, Mexican crema, or sour cream would add a special touch. This will thicken the sauce, so make sure to have extra water or almond milk nearby.
Uses for Avocado Dressing
I know that I have been talking about this recipe as more of a vegan salad dressing, but it could also be used as a pasta sauce or even as a dip. I love to add this creamy, vibrant dressing to any type of leafy greens or salad recipe, but you could also try:
Serve it as a dip on a cheese plate: Eating it as a creamy guacamole dressing with fresh-cut vegetables and tortilla chips as a part of a Mexican-inspired cheese plate.
Use it as a topping in place of sliced avocados: Topping your favorite chili bowls like my ultimate Vegan Chili, Vegetarian Quinoa Chili or Easy Chicken Chili.
As a base for your avocado toast: Simply spread a piece of toast with a generous amount of this avocado cilantro lime sauce and top it off with a fried egg.
Add a dollop on any of your favorite grain bowl or rice bowl recipes.
At this point, I think we can all agree that this creamy avocado lime dressing is one of those lifesaver dressings. If you have it in your fridge, you can have dinner on the table in no time.
Other Recipes with Avocados That You Might Like
---
Creamy Avocado Salad Dressing Recipe
Yields:
6
servings or 1 1/2 cups
This 10-minutes-to-make and vegan Creamy Avocado Salad Dressing is an easy way to freshen up your salads and pasta dishes. You can even serve it as a dip with chips on the side. It is made with everyday ingredients like ripe avocados, cilantro, jalapeno peppers, garlic, and lemon or lime juice.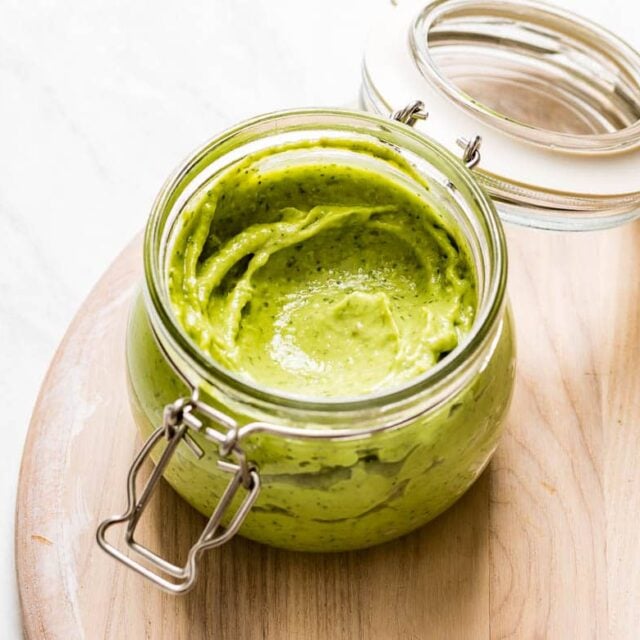 Print Recipe
Ingredients
3

tablespoons

of lime or lemon juice

3

tablespoons

of olive oil

2

ripe avocados

peeled and cut into small pieces

2

cloves

of garlic

peeled and minced

1

jalapeno pepper

seeded (optional)

½

cup

cilantro

rinsed and roughly chopped

¾

teaspoon

kosher salt

¼

teaspoon

black pepper

Almond milk – optional
Instructions
Place lime or lemon juice, olive oil, avocados, garlic, jalapeno, cilantro, 3/4 teaspoon salt, and black pepper into the bowl of a food processor. Process 4-5 minutes or until creamy. Scrape down the bowl with a spatula a few times during the process.

If you want a more liquidy avocado dressing add in almond milk in one tablespoon increments until it reaches to the consistency you desire.

Taste for seasoning and add if necessary.

Place in a jar, place a piece of stretch film on top of the surface of the dressing to keep it from browning, and close it tightly with a lid. As long as it is kept in the fridge, this dressing will be good for 4-5 days.
Video
Notes
Yields: This recipe makes about 1 1/2 cups of dressing, which is good for 6 serving (or so). Each serving is around 4 tablespoons.
Storage: As long as it is stored in an airtight container and stored in the fridge, this avocado dressing will keep fresh up to 4-5 days.
If you do not have a food processor, you can use a blender or an immersion blender as well.
This recipe can easily be multiplied. Though I highly recommend stopping the machine regularly and scraping the sides during the process.
While I love a creamy avocado dressing, if you like it to have more of a chunky avocado texture, you can process less.
Nutrition
Calories:
173
kcal
|
Carbohydrates:
7
g
|
Protein:
1
g
|
Fat:
17
g
|
Saturated Fat:
2
g
|
Sodium:
296
mg
|
Potassium:
340
mg
|
Fiber:
5
g
|
Sugar:
1
g
|
Vitamin A:
213
IU
|
Vitamin C:
13
mg
|
Calcium:
10
mg
|
Iron:
1
mg
This recipe was originally published in September 2016. It is updated with new photos, additional helpful information and a how-to video in June 2021.
Like this recipe? Consider sharing: