My husband and I have been to New York City many times, but we have never done the touristy things (i.e. Top of the Rock, Empire State Building, Brooklyn Bridge, etc.) that you are supposed to do when you visit NYC.
So we thought, now that we are living only a 2-hour train ride to the city, this would be a great time to take a weekend trip to the city, see Christmas time in NY, have some good food, and pay a visit to all those places that we have been wanting to see.
While I was planning our trip I had several questions that I tried to find answers, so I thought it would be helpful to share some of our experience and answer those questions with some of the photos I took from our weekend trip.
Here they are:
Is it worth to invest in the New York CityPASS?
Absolutely. We purchased our CityPASS online before the trip. It was super easy to exchange the confirmation with the booklet at our first destination, Statue of Liberty.
If you are like us and want to see the most iconic attractions of New York City like The Empire State Observation Desk, Top of the Rock at the Rockefeller Center, The Metropolitan Museum of Art, Statue of Liberty, and 9/11 Museum, then you save a lot of money with CityPASS. Also, in most places, having the CityPASS allows you to bypass the long line, excluding the 9/11 Museum.
We had to wait in a long line, out in the cold, for almost half an hour. However, without the CityPASS we would have had to wait in a longer line. Overall, CityPASS is a great purchase both for efficiency in timing and price.
You can get more information about NYC CityPASS and how to get it here.
Would 3 days be enough to see all the places that the City Pass includes?
Yes and no.
Yes, only if you are very fast and you understand that visiting these places is the only thing that you are in NYC to do.
No, because to be able to see everything in detail you need more time than 3 days. We were not able to spend more than 2 hours in each place. When you think about the lines, the trip in between attractions, the time spent there, and lunch breaks we were barely able to hit every spot.

With that being said, in my opinion 2 hours was enough for every spot excluding The Metropolitan Museum of Art. We both wished that we had more time to see every exhibit. So, if you are planning to go to the Met and want to see it in detail, I suggest that you plan to spend at least 4 hours in there.
Is it easy to figure out the train/subway system and use it as a form of transportation in addition to walking?
Absolutely. I used the Google Maps App on my I-Phone and it was quite easy. Several tracks were in construction for repair, which made it difficult at times, but the information as to what to do was clearly communicated with signs in every train station. Even if this is your first time in the city, as long as you pay attention to the signs and use an app you should be fine getting around via train.
We literally took the train/bus everywhere, including Brooklyn.
Photography related questions:
Am I allowed to take photos in the Metropolitan Museum of Art?
Yes, but you cannot use flash. And you are not allowed to take a tripod.
Am I allowed to take a tripod to the Empire State and Top of the Rock in Rockefeller Center Building for low light/evening photography?
As I was hoping to get a couple of shots of the city at night, I brought my tripod with me. However, we were told that taking a tripod is out of the question. In fact, you go through an airport-like security, where they see what you are taking upstairs with you.
After we were told that we were not allowed, I didn't take my tripod. However, once we made it up there, especially at the Top of the Rock, I saw many people with small tripods taking photos.
Next time I go, I will definitely invest in a small tripod for sharp and clear night time photography.
Would The Observation deck at the Empire State building still be busy at night?
When I found out that the observation deck at the Empire State is open until 2 in the morning, I thought that this would be a great opportunity to photograph the city at night. And for some reason, I assumed that it would not be that busy in the evening.
Well, I was wrong. BIG TIME.
Even though it was SO cold and windy, it was ridiculously crowded. I would have stayed, enjoyed the view and took photos much longer, but after 15 minutes of taking photos I wasn't able to feel my hands. Also, the wind made it so hard to keep my camera still.
With that being said, there is an indoor space where you can take a break from the cold, but in my opinion even with that, going back to that crazy wind was not fun. Still, I was able to get a couple of good shots of the city at night.
Where is the best place to photograph the Brooklyn Bridge?
I have never been to Brooklyn until this trip. We went there on Sunday morning, our last day in the city. Since I wanted to get a shot of the bridge, our first stop was at the Brooklyn Bridge. Luckily, we were there early (9 am-ish) as it got really busy with people jogging and riding bicycles. Even with the crazy wind and cold, I really enjoyed walking on the bridge and taking photos.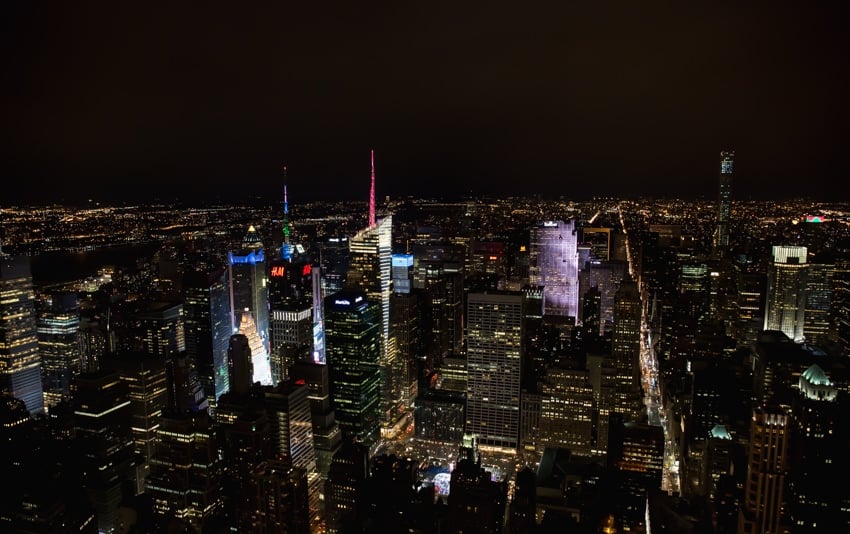 I was told that another great place to get a good shot of the bridge is the Brooklyn Park and a neighborhood called Dumbo. Unfortunately, we were short on time to go there and take photos, but next time I will definitely plan to go to those two places to get some shots of the city and the bridge from a different angle.
Some of the places we dined and enjoyed:
Pick A Bagel: A small bagel & breakfast café/restaurant. It was very crowded, but the bagels were pretty good. Great spot for a to-go breakfast.
Bouchon Bakery: A great spot for a quick coffee & breakfast and out-of-this-world delicious macarons. The grilled cheese sandwich and pistachio macarons were to die for.
Balthazar in Soho: Balthazar is my favorite spot in Soho and we try to go there every time we visit NYC. Once again, it didn't disappoint. This was the first time I made a reservation beforehand. And I am glad I did, because this was the first time we didn't have to wait for an hour (or more). If you are planning to go to Balthazar, I highly recommend making reservations. It really pays off.
Eataly: The first time I have been to an Eataly was last year while I was in Chicago. Since then, I have been wanting to have dinner there with Dwight. If you have never been there, it is totally worth a visit. In addition to being a supermarket, Eataly offers several restaurants (ranging from seafood to vegetarian to pasta&pizza) in one place. We ate at the Pizza and Pasta section and it was wonderful.
Rosie's – Authentic Mexican: Rosie's was simply amazing. We didn't have a reservation, but we were lucky to find a spot at the bar after waiting for 10 minutes. The house margarita with pasilla de Oaxaca salt rim was phenomenal.
Last but not least, we went to see STOMP. Dwight had seen it before and thought that it would be fun to see it again. And it was INCREDIBLE. Here is a great a review that summarizes the show from their website:
"A rotating cast of eight energetic young performers create rhythms and, yes, music, with their hands and feet and all manner of noisy objects, such as hammers, garbage can lids, buckets, and so on.Their technical skill is truly awesome: this perfectly synchronized ballet of juggled sticks, drums, and what-have-you is indeed thrilling to witness. Music, Dance, Theatre, Choreography or Performance Art? All of the above! Or is it none of the above. Well, both are sort of right… In a way. Confused? read on… STOMP is a movement, of bodies, objects, sounds – even abstract ideas. But what makes it so appealing is that the cast uses everyday objects, but in non-traditional ways. There's no speech, no dialogue, not even a plot."
This is a perfect show for young adults and for those, who do not speak English well. Since there is no speech or dialogue, it is easy to follow while it is truly entertaining. I cannot recommend it enough.
Some helpful information for photographers:
Low Light & Night photography: If you are new to night photography like I am, I recommend taking lynda.coms' Steve Simon's Street Photography: The City at Night Course. It was truly helpful to know and experiment some of the tricks that I learned from the class like using exposure delay mode, mirror lock up feature (or using live view), and long exposure noise reduction feature of my camera.
Tripod: Like I mentioned above, Top of the Rock and The Observation Deck at the Empire State Building do not allow tripods. However, I saw many photographers using mini tripods ( like this one) to minimize camera shake. It is a pretty inexpensive investment that would pay off if you want to get sharp photos of the city at night.
Photographing During Golden Hour: We went to the Top of the Rock around 4pm (for a 4:25 sun down) so that we can get a beautiful shot of the sun going down (a.k.a. the golden hour). We purchased our tickets (using our CityPass) a day in advance so we can secure a spot and do not have to wait in line. As you can imagine, there were many other photographers doing the same thing. I was able to secure a spot on the third floor, but moving around was almost impossible, because everyone was trying to get the same shot. When you add in the wind and the cold, even with layers and layers of clothing, it was quite difficult to be standing in one spot for an hour to get the best shot. Still, I took many shots of the city and the sunset. And I think it was totally worth it.
Have you ever been to New York City?
What were your favorite places to eat, visit, or photograph? I am going to be traveling there again pretty soon and would love to hear your suggestions.
Like this recipe? Consider sharing: