Living on an island for the last 2 years, I forgot about the weather in Atlanta around this time of the year. One day it is cold in the 40s and then the next day, it is high in the 60s. To make the matters worse, the temperature fluctuates throughout the day, making it the perfect conditions to make me sick.
As I am about to go back to the island, to a new dimension of temperature change, I am doing my best to not get sick. I find that the best way to prevent any last minute health issues is to support my immune system by eating lots of fresh fruits and leafy green vegetables.
Yesterday, when I went to Trader Joe's, I had no idea about what to make. All I knew was that I wanted to buy some fresh leafy greens and fruit. I grabbed a cart and directly wheeled over to the fresh produce section.
First, I saw the baby spinach and thought that I can make a salad. As I was deciding on what kind of a salad to make, I saw these beautiful blood oranges. With their sweeter-than-regular-oranges taste, I find them to be addictive. I immediately picked a couple and placed them in my cart.
I couldn't be more excited when I saw pomegranates right next to the blood oranges. After grabbing one, I knew that it was going to be a sweet and sour salad.
So, at that point, I had baby spinach as the "green leafy vegetable" and pomegranate and blood oranges as the "sweet" part of my salad. All I needed was to find sour and fatty ingredients to complete my salad.
To add some healthy fat, I grabbed a ripe avocado and to give it the "sour" kick I wanted, I picked limes and red onions.
After I was done with the fresh produce section, I walked over to the dairy section and saw the beautifully presented cheeses. That is when I decided that it would not hurt to splurge with some crumbled feta cheese to sprinkle on my salad.
My sweet & sour and healthy salad was easy to put it together in no time. To give it an additional layer of flavor and crunch, I added a handful of pecans. I seasoned it with salt & pepper and drizzled with just a little bit of extra virgin olive oil for extra shine.
I meant to take pictures of the half eaten salad, in addition to the pictures you see in this post, but I could not stop myself.
It was all gone before I knew it.
Baby Spinach Salad with Blood Oranges
This Blood Orange Spinach Salad recipe is an easy to make green salad recipe that is flavored with avocados, feta cheese, and a quick lime vinaigrette. It comes together in minutes and makes a nutritious and healthy salad that you serve with your favorite main dishes or by itself for a light lunch.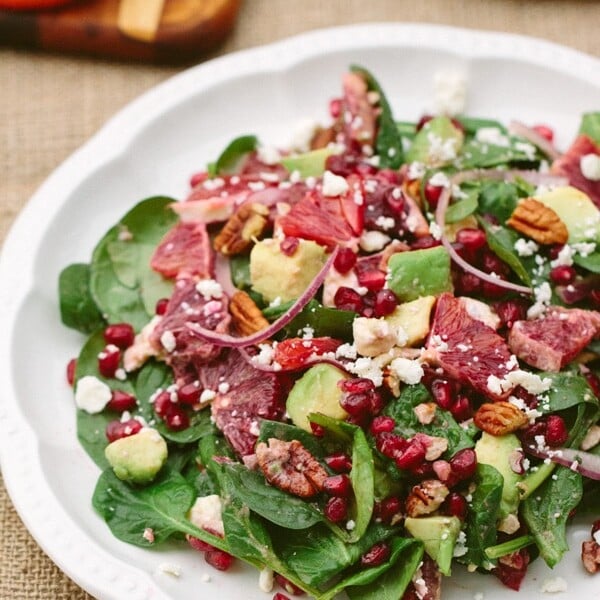 Print Recipe
Ingredients
3

cups

of baby spinach

washed and spin-dried

2

medium blood oranges

peeled and sliced

1/2

cup

pomegranate seeds

1

avocado

sliced

1/4

cup

pecans

coarsely chopped

1/2

red onion

thinly (paper-thin) sliced

1

tablespoon

lime juice

1/4

cup

of crumbled feta cheese

1-

tablespoon

extra virgin olive oil

1/2

teaspoon

sea salt

1/4

teaspoon

black pepper

freshly ground
Instructions
Place baby spinach, blood oranges, pomegranate seeds, avocado slices, lime juice, and red onion slices in a large salad bowl. Gently stir to mix, making sure to not break baby spinach leaves.

Drizzle it with extra virgin olive oil, and sprinkle it with salt and pepper. Taste it for seasoning.

Place it in individual plates and top it off with chopped pecans and crumbled feta cheese.

Serve immediately.
Nutrition
Calories:
422
kcal
|
Carbohydrates:
25
g
|
Protein:
8
g
|
Fat:
35
g
|
Saturated Fat:
7
g
|
Cholesterol:
17
mg
|
Sodium:
836
mg
|
Potassium:
950
mg
|
Fiber:
11
g
|
Sugar:
10
g
|
Vitamin A:
4475
IU
|
Vitamin C:
38
mg
|
Calcium:
169
mg
|
Iron:
2
mg
Like this recipe? Consider sharing: