This quick and easy topping adds bright flavor and a gorgeous pink color to any recipe, from Mexican Corn Salad to quesadillas to Mexican Street Corn Salad with Pasta. You can even use Mexican onions for tacos, giving you dozens of Mexican party food ideas. Take your Flank Steak Tacos, Brisket Tacos, and Black Bean Quinoa Tacos to the next level with one easy recipe.
Love red onions as a condiment? Also, check out our Roasted Red Onions recipe!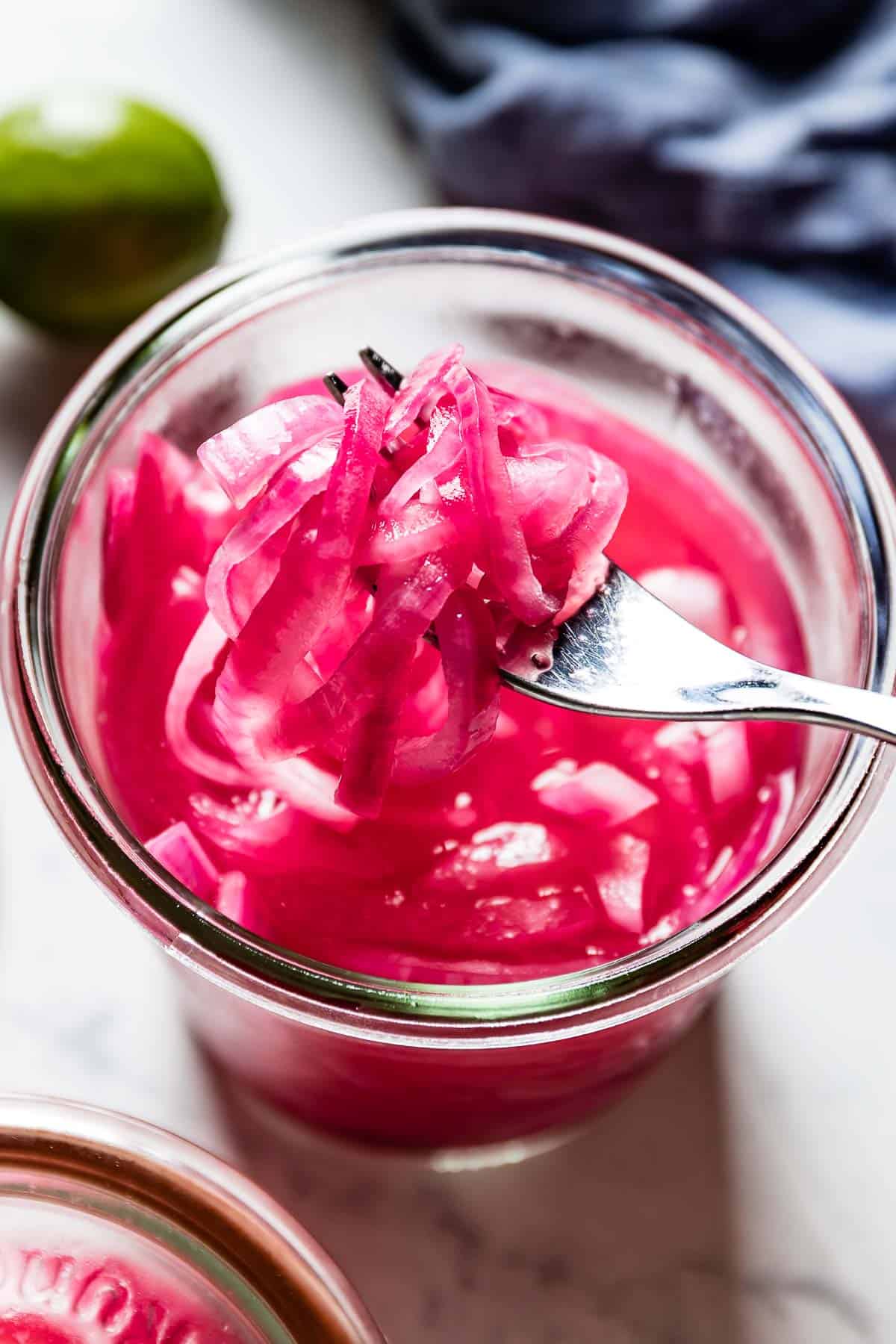 Ingredients
For this Mexican pickled onion recipe, you'll need one large red onion, boiling hot water, fresh lime juice, apple cider vinegar, and kosher salt.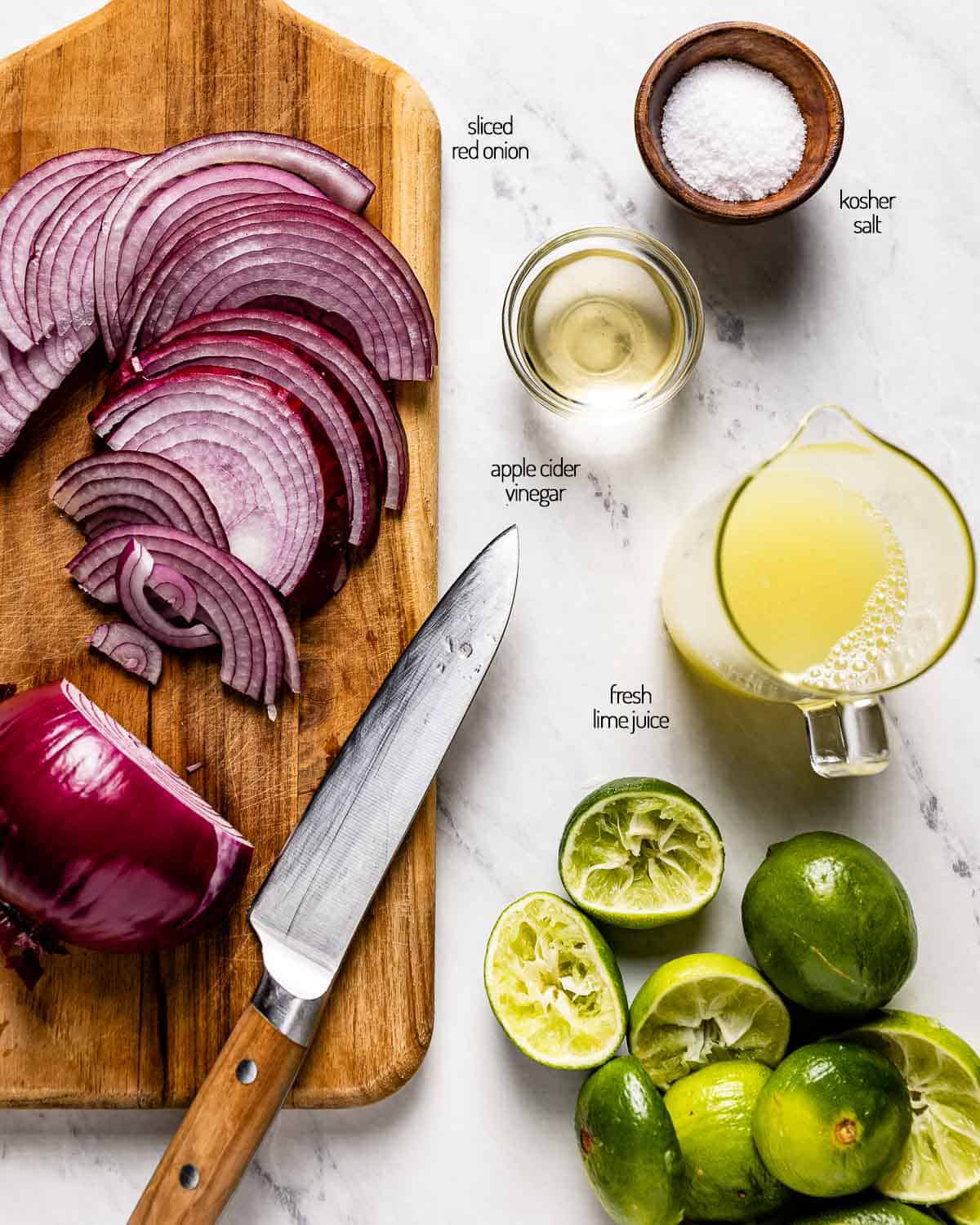 Substitutions & Optional Add-Ins
When it comes to add-ins, these red pickled onions make Mexican cuisine an adventure. Choose a few of your favorite ingredients from this tasty list for a flavor experience perfectly suited to your taste buds.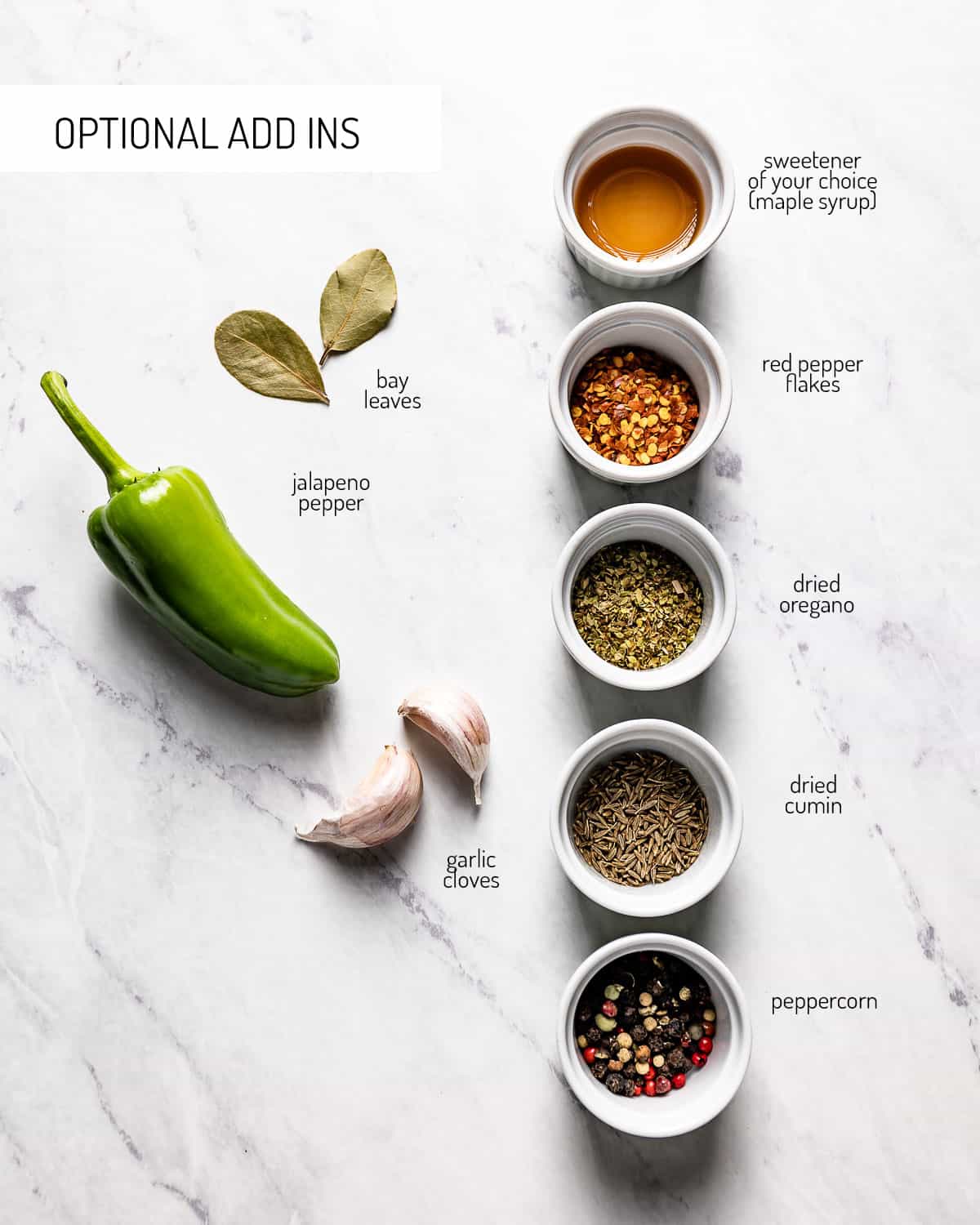 Add some spice: Turn up the heat at your Mexican potluck by making a batch of quick pickled red onions with jalapenos. Just be sure to slice your jalapeno peppers thinly before adding them to the pickling jar. Or, add a pinch of red pepper flakes to the mix for another spicy solution.
Make it sweeter: Mexican pickled onions are known for their sharp, tangy flavor. Now you can balance this robust condiment with a touch of sweetness by adding just a teaspoon of honey, maple syrup, or granulated sugar.
Add seasoning: Want to make this Mexican pickled red onion recipe even more flavorful? Then, additional seasoning is just what you need! Thinly sliced garlic clove and allspice berries will give your onions a potent edge, while cumin seeds and whole black peppercorns are perfect for a rich and earthy taste. You can even add bay leaves or dried oregano (or Mexican oregano, if you can get your hands on it) for bold herby notes.
White onions: Not a fan of red onions? No problem! Though I love red onions for their brilliant color and sweet taste, white or yellow onions will also work in this easy recipe.
Vinegar: Though I use apple cider vinegar in my Mexican red onions, red wine vinegar or distilled white vinegar will also work.
Lemon juice: If you don't want to make your Mexican pickled red onions with lime juice, fresh lemon juice works as a tart and tasty substitute.
How to Make Pickled Red Onions for Tacos
Mexican-style pickled red onions are a cinch to make and even better to eat. One small batch of this pickled red onion recipe, and you'll want it for all your Mexican meals.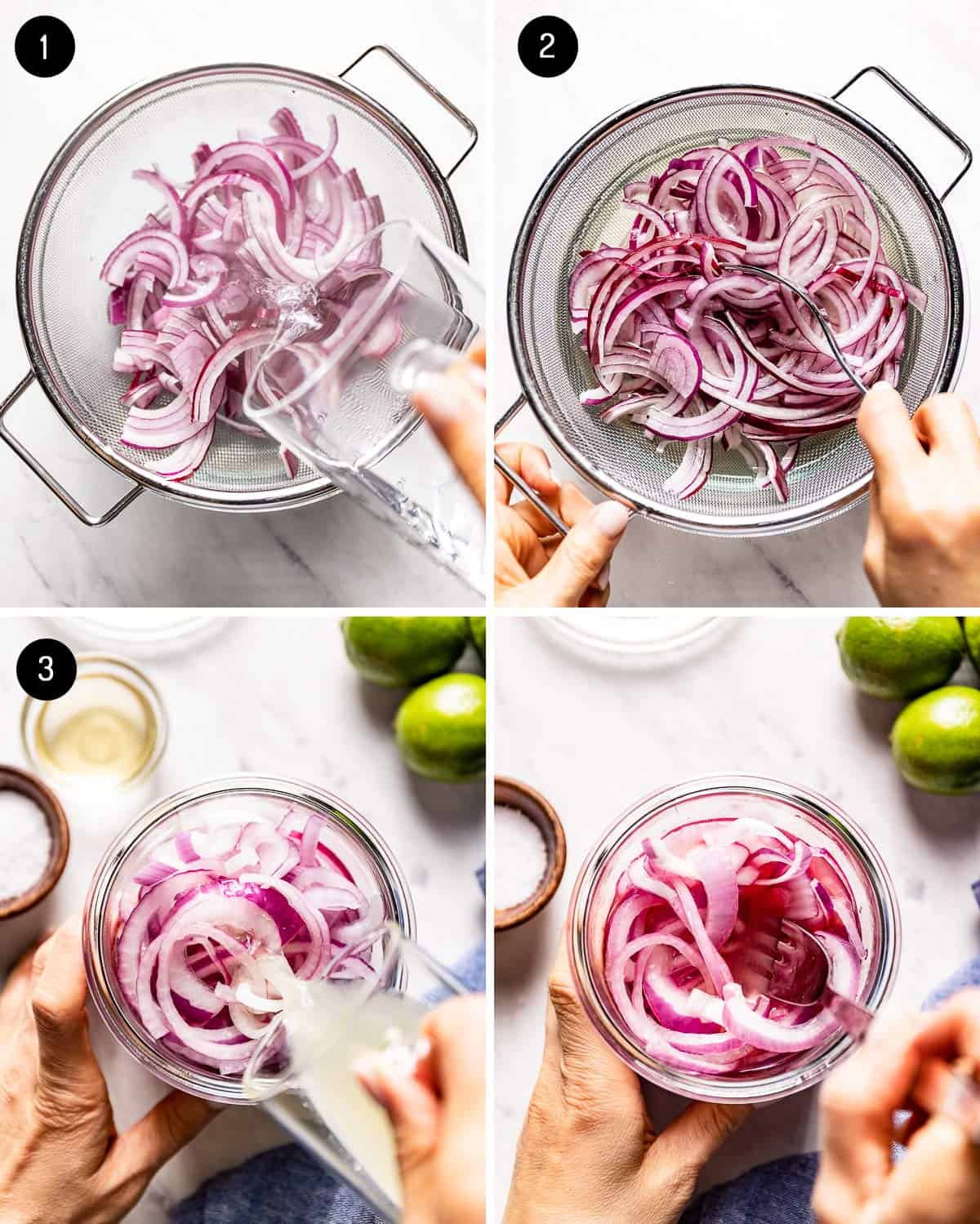 Prep the onions: Place the sliced red onion in a colander, set the colander in a bowl, and set aside. Pour two cups of boiling water atop the sliced onions and gently press with a spoon.
Soak: Be sure to submerge all of the onion slices in the water. Let them soak for 45 seconds and drain.
Add ingredients to the jar: Transfer the onion slices to a jar with a tight-fitting lid. Then, pour the fresh lime juice and apple cider vinegar over the onions, and add the salt. Using a fork, make sure to push them down so that they are submerged in the liquid as much as possible.
Add additional ingredients: If you're using any optional add-ins, put them into the jar.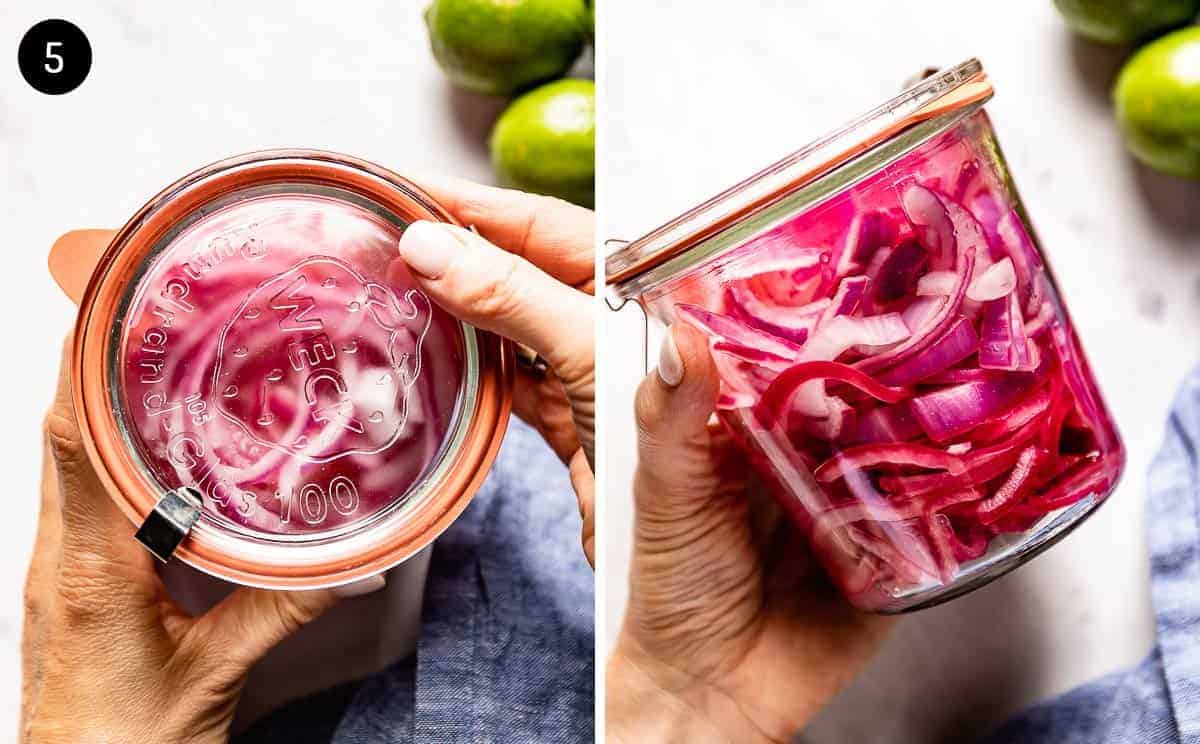 Shake the ingredients: Close the lid over the jar and give it a good shake.
Refrigerate the jar: Place the closed jar in the fridge and let it sit for a minimum of two hours.
Serve: Serve the pickled Mexican onions as a condiment or garnish with your favorite taco, salad, or grain bowl recipes.
How to Store
To store leftover Mexican pickled red onions, place them in an airtight container in the fridge for up to 2 weeks. However, keep in mind that the more things you add in, the higher the potential of spoilage.
How to Use These Lime Pickled Onions
These authentic Mexican pickled red onions (aka Escabeche Onions) are a godsend when it comes to garnishing any of your meat or vegetable dishes. And guess what? They are not just for Mexican cooking! They can also be served with dishes from Cuban, Dominican, and even Spanish cuisine.

Needless to say, you can use this versatile condiment anywhere you use red onions, from tasty tacos to garden-fresh salads. Below are a few dishes from the archives to get you started:
Your Favorite Tacos & Quesadillas
These red pickled onions are mostly served for street tacos in Mexico, so it is a no-brainer to serve them with your favorite tacos in your home as well.
For a savory, protein-filled meal, add your onions to Flank Steak Tacos or Brisket Tacos (hello, meat-lovers!). Use it as a topping for your Salmon Avocado Toast. You can also serve vegetarian or pescatarian dishes by adding your pickled purple onion to a Spinach Quesadilla, fish tacos, or Black Bean Quinoa Tacos.
Chilis & Grain Bowls
Who can resist a bold and hearty bowl of authentic Mexican chili? Not me! You can add authentic Mexican pickled onions to rich and savory recipes, like Quinoa Chili, Chocolate Chili, and my fan-favorite Mexican Quinoa Bowl. Pink onions are also a great condiment in vegan recipes and surely a perfect match for my Vegan Chili and Burrito Bowl.
Salads
This quick recipe makes a delicious addition to dozens of your favorite Mexican dishes, from spicy Mexican Corn Salad to fresh Mexican Street Corn Salad with Pasta. You can even add this simple recipe to dishes beyond Mexican food, like my creamy, crowd-pleasing Potato Salad with Capers.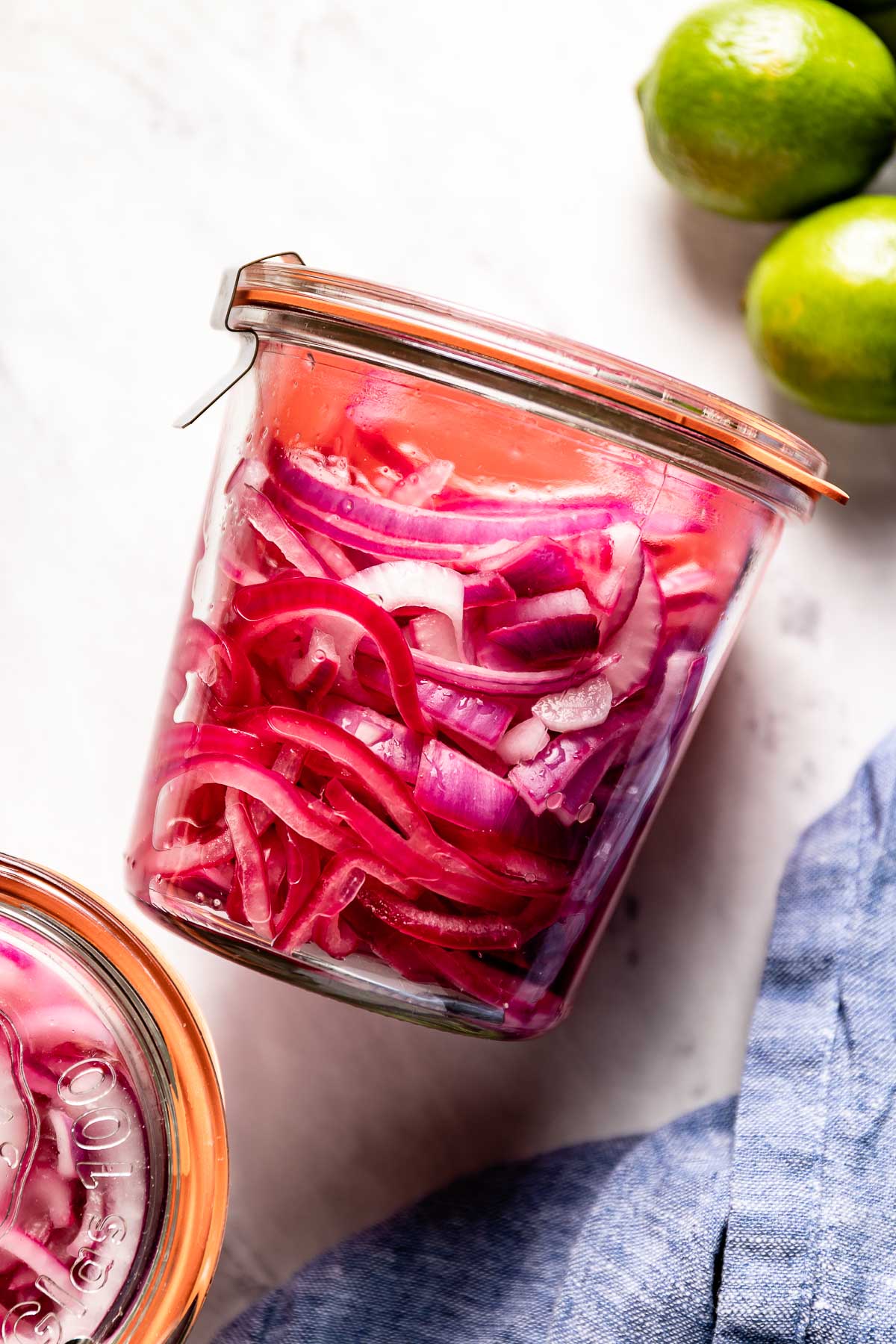 Expert Tips
You don't have to live south of the border to learn how to make pickled onions Mexican style. These tasty tips will have you preparing these delicious marinated onions any day of the week.
Use the freshest onions you can get your hands on: When making this lime pickled red onions recipe, make sure your onions are super fresh. Not only will they taste fresher, but they will also have a brighter color and more intense flavor.
Slice your onions thinly: Even thin onion slices make the best pickled onions. For best results, use a sharp chef's knife, or a mandoline (affiliate link), if you have one.
Do not skip the 45-second soaking: I learned this trick from Rick Bayless' cookbook, Mexican Kitchen (affiliate link). While it might seem like an extra step, soaking raw onions for a short amount of time helps with softening their flavor and pungent taste.
Pickled purple onions lose volume as they sit: Don't be worried if your onion slices seem to overflow in their jar, especially at the beginning. They lose volume as they marinate in the acid, so feel free to push them down until they fit. If your onions still don't fit, feel free to split them into two jars instead.
Use a glass container with a tight-fitting lid: Glass containers with tight lids—such as a pint-sized jar such as a mason jar (affiliate link) with a wide mouth or a large jar such as this Weck Canning Jar (affiliate link) —are your best options.
Use the pickle juice in salad dressings: Don't throw away the pickle brine, as the leftover tangy juice makes for a great addition to any of your salad dressings.
FAQs
How long do pickled red onions last?
Mexican pickled red onion will last 2 weeks when stored in an airtight container in the fridge.
How to make pickled onions very quickly?
To make quick pickled onions for tacos, use lime juice—also referred to as "Mexican vinegar"—as your pickling base. When you make pickled onion in lime, the citrus juice will break down your onions in less time than other pickling ingredients.
Other Recipes You Can Make with Red Onions:
Wondering what else you can do with red onions? Here are a few of my favorite recipes to help you use them:
If you try this Mexican Pickled Onions recipe or any other recipe on Foolproof Living, please take a minute to rate the recipe and leave a comment below. It is a great help to others who are thinking of making the recipe. And if you took some pictures, be sure to share them on Instagram using #foolproofeats so I can share them on my stories.
Mexican Pickled Onions Recipe
These easy Mexican Pickled Onions add a punch of tangy flavor and a burst of bold color to all your favorite Mexican recipes. This 4-ingredient recipe is super quick to make and adds the perfect finishing touch to tacos, salads, chilis, and more!
Print Recipe
Ingredients
1

large red onion

sliced thinly (approximately 1 ½ cup sliced onion)

2

cups

boiling hot water

¾

cup

fresh lime juice*

2

tablespoons

apple cider vinegar

red wine vinegar

1

teaspoon

kosher salt
Optional Add Ins:
1

garlic clove

sliced thinly (⅛ inch thick slices)

½

small jalapeno

slice thinly – remove seeds if you like

¼

teaspoon

cumin seeds

¼

whole black peppercorns

1

teaspoon

honey

maple syrup or granulated sugar

1

bay leaf

¼

teaspoon

oregano

Mexican oregano if you can get your hands on

½

teaspoon

all spice berries

Pinch

of red pepper flakes
Instructions
Place red onion slices in a colander set in a bowl. Pour 2 cups of boiling water over the onion. Gently press with a spoon to make sure that the onions are fully submerged in water. Let it sit for 45 seconds.

Transfer the now-drained onion slices to a jar with a tight-fitting lid. Pour fresh lime juice and apple cider vinegar over the onions. Add in the salt.

If you are using any of the optional add-ins, go ahead and add them in.

Put the lid on and shake until everything is fully combined.

Place it in the fridge and let it sit for at least 2 hours.

Serve with your favorite taco, salad, or grain bowl recipes as garnish.
Notes
Lime juice:

I highly recommend using freshly squeezed lime juice here, but in a pinch, you can also use store-bought lime juice.

Storage:

If you have leftovers, place them in an airtight container in the fridge for up to 2 weeks.

They lose volume as they sit in lime juice and vinegar mixture:

When you are first placing them in the jar it might feel like you have a lot, but keep in mind that as they sit in the acidic brine juice, they lose some of their volume.

Weck Jars or Pint Size Mason Jars are ideal:

I use Weck jars for pickling (as you see in the photos), but pint-sized Mason Jars are also ideal. Just make sure that they have a large mouth and a tight-fitting lid.
Nutrition
Serving:
1
cup
|
Calories:
96
kcal
|
Carbohydrates:
26
g
|
Protein:
2
g
|
Fat:
0.2
g
|
Saturated Fat:
0.1
g
|
Polyunsaturated Fat:
0.1
g
|
Monounsaturated Fat:
0.02
g
|
Sodium:
2359
mg
|
Potassium:
395
mg
|
Fiber:
3
g
|
Sugar:
8
g
|
Vitamin A:
93
IU
|
Vitamin C:
63
mg
|
Calcium:
68
mg
|
Iron:
0.5
mg
Like this recipe? Consider sharing: