When I left Virgin Gorda, where we live, on Thursday, it was 81 degrees. When I made it to Atlanta, 8 hours later, I was welcomed with the freezing temperature of 18 Degrees.
To say the least, that kind of a temperature difference is really hard on the body. Since the minute I set foot in Atlanta, I cannot seem to feel warm. I have been layering and layering but it does not seem to work.
And then the snowstorm happens. The kind that happens every 10 years or so!?!! What are the chances that I am here for that?
Here I am thinking about meeting with friends and going out to restaurants, movies, shopping, etc. All those things that I can't do when I am on the island.
And what happens?
1254 accidents in one day. People are either stuck on the road or in their houses.
And for me, I am stuck here at my friend Paula's house. The worst part of it is that she is not even at home. She was supposed to come back from a work trip today but because of the weather she could not travel.
As I was feeling stuck and lonely, I decided to do what I love doing most. Cook.
I wanted to come up with a special breakfast. The kind you would make on a day like this when it is cold outside and all you want to do is cuddle with a book in your bed.
Speaking of books, I just purchased Katie Quinn Davies's cookbook: "What Katie Ate"
. It is a beautiful cookbook with great recipes and photography. Her story is very inspiring and makes you (once again) realize that hard work pays off.
She has several versions of baked egg recipes both on her blog and in her book. As I was very inspired, I decided to come up with my version of baked eggs and that is how this recipe came about.
The principle is simple. Sauté some vegetables, place them in gratin dishes (or ramekins, or a big Payrex), sprinkle it with cheese, crack eggs on top, and bake them in the oven.
I happened to have leeks, kale, and Gruyere cheese in my fridge but you could make it with any green leafy vegetable (e.g. spinach, swiss chard), type of onion (e.g. white onions, scallions, shallots), and cheese (Mozzarella, Parmesan) you have in your fridge.
I seasoned it with freshly ground black pepper and red pepper flakes, and served it with toast next to a glass of freshly squeezed orange juice. Who would think simple ingredients would make such a beautiful breakfast?
I can see this dish making an appearance on our Sunday morning table more often than not. As I try different variations I will let you know how they turn out. And if you are a fan of eggs for breakfast, be sure to try this Mini Quiche recipe as well.
In the mean time, if you happen to come up with your own version, let me know how it turns out.
Baked Eggs with Kale and Leeks
Oven baked eggs flavored with kale and leeks for a scrumptious breakfast you can make for your family. This sophisticated yet easy to make egg dish is perfect for a crowd, or for just one or two people.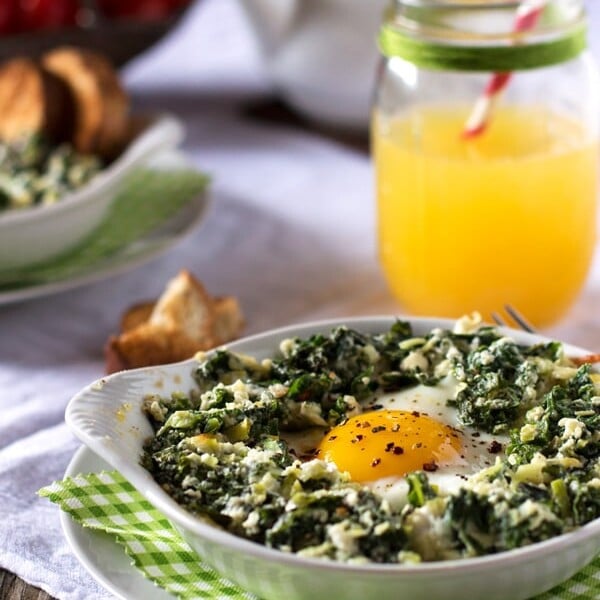 Print Recipe
Ingredients
4

large eggs

2

leeks

washed and sliced thinly

4

cups

kale

washed and sliced

1

big clove garlic

minced

1

tablespoon

olive oil

1/2

cup

half and half

1/2

cup

Gouda cheese

grated

1/2

teaspoon

Kosher salt

1/4

teaspoon

black pepper

freshly grounded

1

tablespoon

butter

for gratin dishes

Tabasco Sauce

red pepper flakes, chopped parsley to top it off – (Optional)
Instructions
Pre-heat the oven to 350 F Degrees. Butter each gratin dish lightly.

Heat olive oil in a large skillet. Sauté leeks until wilted, for 4-5 minutes, in medium heat. Stir in the garlic and cook for 1 minute.

Add kale and continue to sauté for 2 minutes until kale is softened.

Gradually whisk in the half and half, stirring constantly. Let it come to a boil. Let it simmer for 2-3 minutes or until it thickens. Season it salt, and pepper.

Take it off the heat.

Evenly divide sautéed leeks and kale mixture among 4 small gratin dishes. Sprinkle them evenly with Gouda cheese.

Using the back of a spoon, push filling to the sides creating enough space in the middle for the egg.

Crack eggs into individual bowls, taking care not to break yolks. Gently, pour eggs from cups into each gratin dish, centering yolk in the middle.

Place the gratin dishes in a deep baking tray and fill it with enough water to come half way up the size of the gratin dishes.

Carefully transfer them to the oven. Bake them for 15-20 minutes until the eggs are cooked to your liking. * After the first 15 minutes, keep a close eye on it as eggs can easily go from over easy to over hard.*

Season with salt and pepper. (I also like to season them with hot sauce, red pepper flakes and chopped parsley.)

Serve immediately with toast.
Nutrition
Calories:
302
kcal
|
Carbohydrates:
15
g
|
Protein:
18
g
|
Fat:
20
g
|
Saturated Fat:
9
g
|
Cholesterol:
209
mg
|
Sodium:
646
mg
|
Potassium:
545
mg
|
Fiber:
1
g
|
Sugar:
3
g
|
Vitamin A:
7946
IU
|
Vitamin C:
86
mg
|
Calcium:
394
mg
|
Iron:
3
mg
Like this recipe? Consider sharing: