I love reading magazines and I have proudly maintained subscriptions to 4 magazines (Time, InStyle, Cooks Illustrated, and Cooking Light) for many years. I read them cover-to-cover and save articles (and recipes) to refer to later.
My favorite section in a magazine is where they publish letters or e-mails from readers. I love it because it gives me a different perspective on how other people think. Especially, if the comments are negative.
In the October issue of Cooking Light magazine, there was an article about the fact that it takes time and effort to make a good homemade meal. This one lady was upset and she said that no one has that kind of time to cook unless they are in the culinary industry or cooking is a hobby for them.
I did not know what to make of it. As a food blogger, it makes me happy to share the joy I get from cooking with people from all around the world. But really, do a mother of 2 with a full time job have the time to (1) go to the supermarket to find the freshest ingredients (2) get the mise-en-place ready (3) follow a recipe (4) serve it in a way that is presentable to the eye (5) do this on a regular basis?
Or, is it easier to get a frozen meal, warm it up, and get done with dinner in less than an hour?
You know what, I cannot answer that question because I am not in her shoes, but one thing I learned in life is that the answer to success starts with planning. Managing your meals for the week ahead takes a little bit of time but the return on your investment, to me, is priceless.
More often than not, we sacrifice the traditions of making a homemade meal for our family for the convenience of frozen supermarket meals and fast food drive-throughs, thinking that by saving time in the kitchen, we will get ahead in some other way in life. But ironically, research shows that the long term consequences of eating processed food on a regular basis will catch up with us and put us behind in the later years of our lives.
Therefore, I believe (and suggest) in taking the time to plan weekly meals. It maybe hard at the beginning but once you get into a routine, it will be much easier.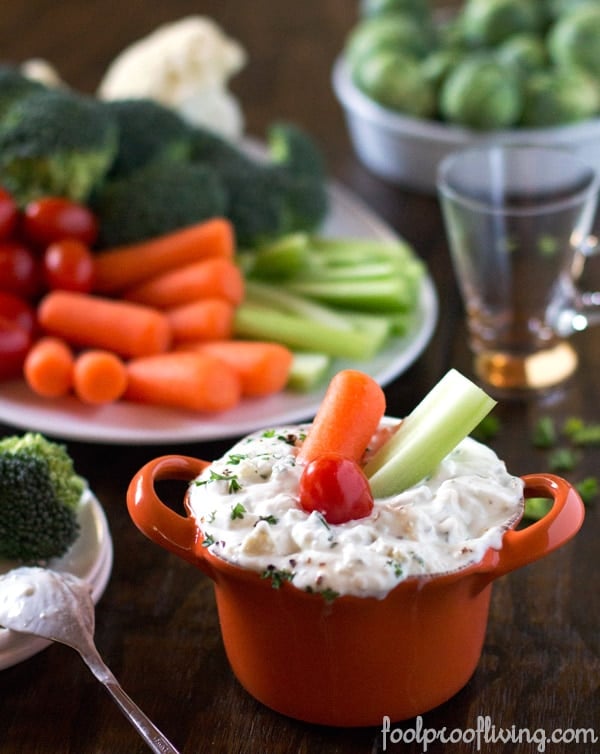 If you are still not convinced that you should make time for cooking, I have news for you. This blue cheese dip takes less than 5 minutes to make and you do not need any special equipment to make it. All you need is to mix everything in a bowl and serve with whatever veggies you have in your fridge.
My version of the classic blue cheese dip is somewhat healthier. Instead of using the usual sour cream and mayonnaise, I used fat free yogurt and vegenaise. The difference in taste is very mild but I think it is still very tasty.
You could make this for your upcoming Super Bowl party or add it in your salads as a salad dressing. It will be good for up to 3 days in your fridge as long as it is kept in an airtight jar.
Other Yogurt Based Recipes You Might Like:
Healthy Blue Cheese Dip
A healthier blue cheese dip/dressing made with fat free yogurt instead of sour cream. Even though it is lighter it is still super delicious and great to serve with chicken wings or as a blue cheese dip by itself.
Print Recipe
Ingredients
1/2

cup

fat-free plain yogurt

1/4

cup

vegenaise

1/2

cup

blue cheese

crumbled

1-2

clove

of garlic

pressed through a garlic press

2

tablespoons

lemon juice

freshly squeezed

2-3

dashes Tabasco Sauce

optional

1/2

teaspoon

salt

1/4

teaspoon

coarse black pepper
Instructions
Place sour cream, yogurt, vegenaise, garlic, lemon juice, Tabasco sauce (if using), salt, and pepper in a medium bowl. Give it a big stir. Add the blue cheese.

Taste for seasoning. Add if necessary.

Chill, covered, until you are ready to serve.

Serve with freshly cut carrots, broccoli, celery sticks, tomatoes, and cauliflower.
Nutrition
Calories:
170
kcal
|
Carbohydrates:
5
g
|
Protein:
5
g
|
Fat:
14
g
|
Saturated Fat:
4
g
|
Cholesterol:
13
mg
|
Sodium:
630
mg
|
Potassium:
121
mg
|
Sugar:
3
g
|
Vitamin A:
129
IU
|
Vitamin C:
3
mg
|
Calcium:
150
mg
|
Iron:
1
mg
Like this recipe? Consider sharing: