The grocery shopping experience when you are living on a small island such as ours is much different than the one that you would have in a large city. First of all, you do not have the luxury of knowing what you will be able to find before actually stepping a foot into the supermarket. This is especially true when it comes to fresh produce. It changes from one week to the other based on whatever was available at the time and transported in the large ships coming from the U.S (a.k.a. the mainland).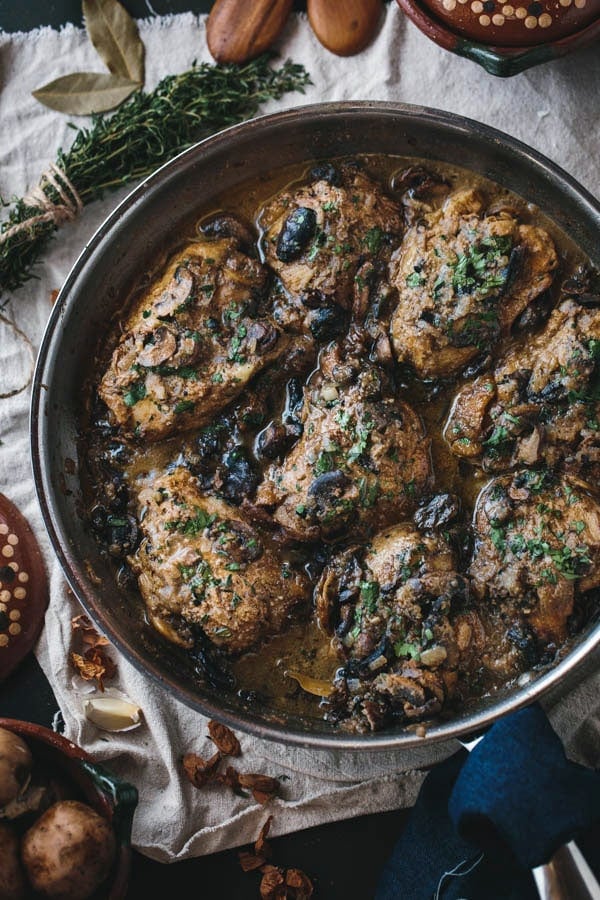 Second, everyone knows that in order to get the best deals and options one should pay a visit to every single supermarket on the island. I agree that it sounds time consuming, but luckily there only four of them and they are in close proximity from one another.
Third, you learn pretty quickly that you should buy the thing you like right there and then, because you may not be able to find it again when you need it. This answers the question why my kitchen pantry is full of things that I don't know what to do with.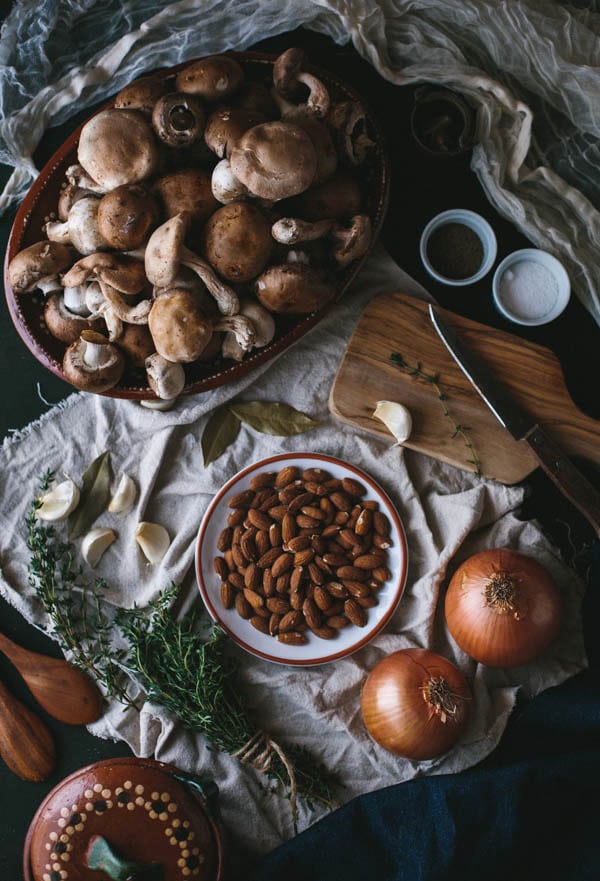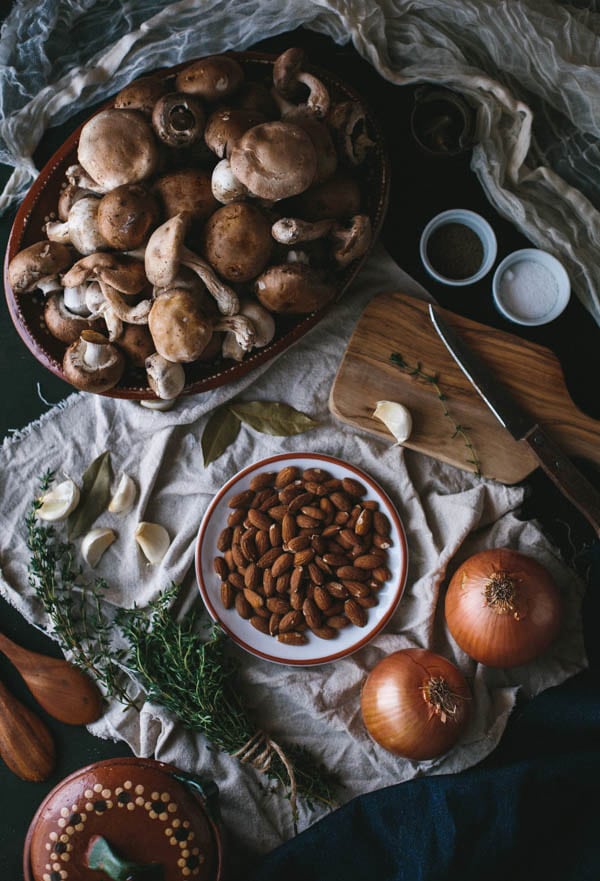 Last but not least, you have to get used to the fact that most of the time, you are not going to be privileged with the luxury of knowing the price of an item before you are ready to check out, because it is not customary to put a price tag on products in island supermarkets. When I first moved to Virgin Gorda, I inquired about the reason as to why and was told that things go so fast and the prices change from one week to another, there was not enough time and people to put a price tag on items sold in the markets. Unfortunately, in time you get used to this fact, accept that it is what it is and you have no other choice. And I find it quite saddening that most of the time, you pay, at least, two times more than what you would in a city supermarket.
Once you understand and accept these four basic concepts of island grocery shopping, you will be fine and get on with your life. Though this might be difficult in the beginning, once you start enjoying the benefits (white sand beaches, quietness, warm weather, etc.) of island life you'll realize that this is not such a bad price to pay to live here.
With that being said, I have to admit – it took me close to a year to get used to the idea of having to go to 4 different supermarkets to find fresh produce and pay $7 for a head of lettuce. And even after 3 years of living here, I am still having a hard time with planning my weekly meals because almost always I don't know what I am going to be able to find in the grocery stores of Virgin Gorda.
Last week, it was the first time I saw cremini, shiitake, and portobello mushrooms at the same time in the same supermarket. And to my surprise, they all looked fresh. As usual, there were no price tag on any of them and I had no idea as to what to make with them if I were purchase one of each. But I bit the bullet and trusted that Internet will provide me with a recipe idea using these beauties. I am glad I trusted my instinct, because this braised chicken thigh recipe with assorted mushrooms and almond puree ended up being delicious and worthy of sharing here on the blog.
The recipe is pretty straight forward – sear the chicken, set it aside, cook the aromatics and mushrooms, return the chicken back in the pan, let it simmer…etc. However, what takes this otherwise regular mushroom & chicken recipe is the addition of almond puree, also known as the thickener. The blanched and toasted almonds mixed with the juices of chicken thighs and mushrooms add a rich and nutty flavor to the overall dish.
If you don't have already blanched almonds, it is so easy to blanch them yourself.
Here is a quick tutorial on how to blanch almonds. Or simply, follow the instructions below.
Simply soak the almonds in boiling water for 30-45 seconds, drain and wash them under cold running tab water (to stop cooking). Then dry them on a paper towel and peel the skins one by one. This maybe a long process if you need lots of almonds blanched, but luckily for this recipe you only need half a cup.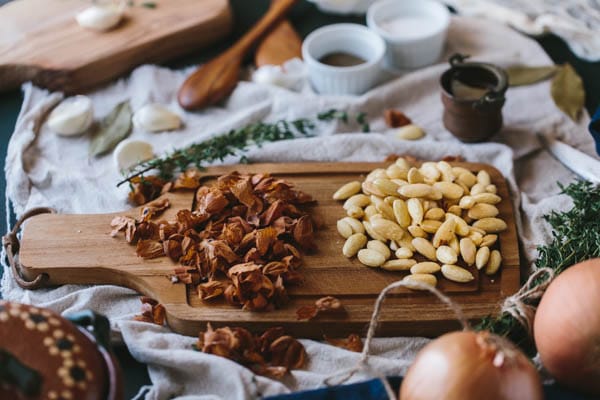 On a final note, it may seem like an extra task, but I recommend not skipping the task of toasting the blanched almonds, because in my opinion doing so intensifies their nutty flavor making the end product tastier.
You do not know how to toast nuts? No worries, I did not either. The following is from famous Food Network Chef Anne Burrell's Cookbook "Cook Like a Rock Star
" – page 17:
"… Some people toast nuts in a sauté pan, but they don't toast evenly this way – that is why I am an oven toaster. Put your nuts on a baking sheet and toast them in a 350 F. degree oven. How long does it take nuts to toast? Just long enough to forget. Start with 6-7 minutes, but keep an eye on them. Once you start to smell them it is too late – so set a timer! … If you feel like toasting nuts ahead, go for it, then store them in the freezer until you are ready to use them or for up to six months."

---
Braised Chicken Thighs with Mushrooms and Almond Puree Recipe
This Braised Chicken with Mushrooms and Almond Puree dish is a one-skillet weeknight recipe that is made by cooking braised chicken thighs with mushrooms and thickening the sauce with almond meal. It is rich and creamy with a nutty twist on a simple chicken recipe.
Print Recipe
Ingredients
Olive oil

8

chicken thighs

pat-dried with paper towels

1

teaspoon

Kosher salt

1/2

teaspoon

black pepper

2

medium size onions

chopped

3

cloves

of garlic

pressed through a garlic press (or minced)

2

pounds

assorted mushrooms

shiitake, oyster, cremini, Portabella..etc., cleaned and sliced

1

cup

dry wine

4-5

cups

chicken stock

3-4

sprigs of fresh thyme

tied with kitchen twine

2

bay leaves

1/2

cup

blanched almonds*

toasted

1/2

cup

chopped fresh Italian parsley
Instructions
Heat 2 tablespoons of olive oil in a large and wide skillet until sizzling hot.

Season chicken with salt and pepper on both sides.

Cook chicken thighs, starting skin side down, 5-7 minutes on each side. When chicken thighs placed on a hot skillet, at first they will stick, but in time as they cook, they will unstick by themselves.

Transfer the cooked chicken thighs onto a large plate, cover with aluminum folio, and set aside.

Discard fat (and all the juices) in the pan (no need to wash it). Lower the heat.

Heat 1 tablespoon olive oil. Add in the chopped onions, and cook stirring frequently, for 8-10 minutes or until they are softened. Add in the garlic and cook for another minute or so.

Add mushrooms and cook stirring occasionally, for 5-7 minutes, or until they are soft and aromatic.

Pour in the wine, give it a large stir, and cook until the wine is reduced by half, 9-10 minutes.

Return the chicken thighs to the pan, pour in enough stock to almost cover the chicken (I used only 4 cups), add the thyme bundle, and bay leaves.

Allow it come to a boil, and then let it simmer with a lid on for 30-40 minutes. If the liquid level gets low, feel free to add more stock.

In the mean time, puree the toasted almonds in a food processor. Once they are ground, while the machine is running add in a pinch of salt and a little bit of (1/2 tablespoon or so) olive oil. At this point it should be more like a paste.

When the chicken thighs have fully cooked, transfer them to a large plate and cover with aluminum folio to keep them warm. Set aside.

Fish out and discard the thyme bundle and bay leaves.

Stir the almond puree into the sauce. Taste for seasoning and add if necessary.

Bring the sauce to a boil and let it simmer until it is reduced and thickened to your liking.

Return the chicken thighs back into the pan, garnish with chopped parsley, and keep warm until ready to serve.
Nutrition
Calories:
968
kcal
|
Carbohydrates:
36
g
|
Protein:
62
g
|
Fat:
60
g
|
Saturated Fat:
14
g
|
Cholesterol:
290
mg
|
Sodium:
1177
mg
|
Potassium:
1768
mg
|
Fiber:
9
g
|
Sugar:
12
g
|
Vitamin A:
893
IU
|
Vitamin C:
16
mg
|
Calcium:
102
mg
|
Iron:
5
mg
---
Like this recipe? Consider sharing: