The dynamics of the holidays on a Caribbean island is much different than it is in a city. One thing is that it doesn't feel like the holidays. Even after living here for almost 3 years, I just can't get used to the fact that it is 80+ degrees outside in December. This also applies to Christmas shopping.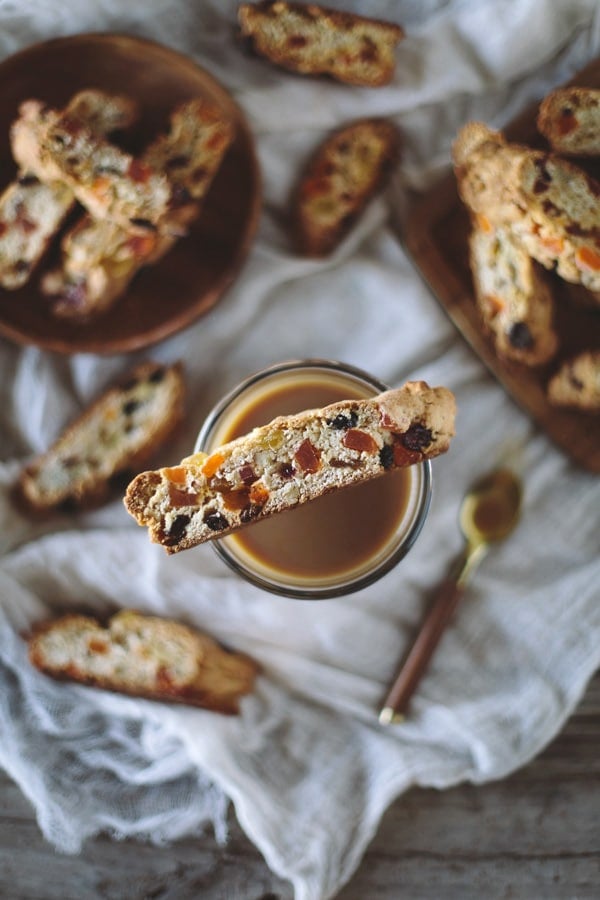 Without the chaos of shopping malls decorated with beautiful Christmas decorations, shopping is no fun. We Virgin Gordanians, have no choice but to rely on the Internet for our Christmas shopping.
Essentially, you have to buy a gift online, send it to a P.O. box address on St. Thomas, and then a local mail handling company picks it up and brings it down to the island. Needless to say, it takes much longer to get it here than normal, which for me, is the most frustrating part. Also, you have to pay a lot more for shipping to mail things down here rather than to other places within the continental U.S. Not to mention, we can almost never take advantage of free shipping opportunities, because they don't apply to the Virgin Islands.
Therefore this year, I decided not to deal with online shopping and give people edible gifts. If you are one of those people who is going to be getting a gift from me, please consider this your official spoiler alert. My plan is to put together a basket of edibles like cookies, homemade cheese, coffee, etc. I am hoping that with the right type of packaging, I will be able to create something beautiful and thoughtful for my friends on the island.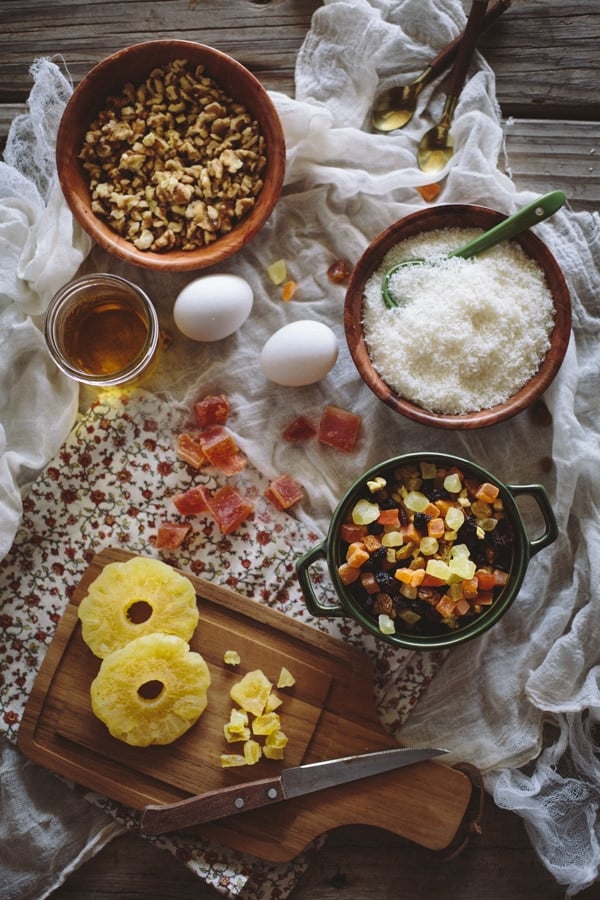 This Caribbean biscotti recipe is one that I am planning to use as a part of my gift baskets. Because (1) it is so easy to make, (2) I can make it with ingredients that are available in the supermarkets on Virgin Gorda, (3) it keeps it freshness for a week, and (4) it is Caribbean (duh!).

If you have never had biscotti before, allow me to explain what it is. Biscotti is the Italian word for twice cooked/baked. Traditionally, the dough is made with flour, sugar, eggs, pine nuts, and almonds without using any form of fat like butter or vegetable oil. The barely wet dough gets baked twice: first, in a log form, and then in slices (after it is sliced into oblong-shaped biscuits).
The end product is supposed to be a hard, dry, and crunchy cookie. Most people in Italy serve it with milk or coffee, and it is mostly enjoyed by dunking it into the drink to make it softer.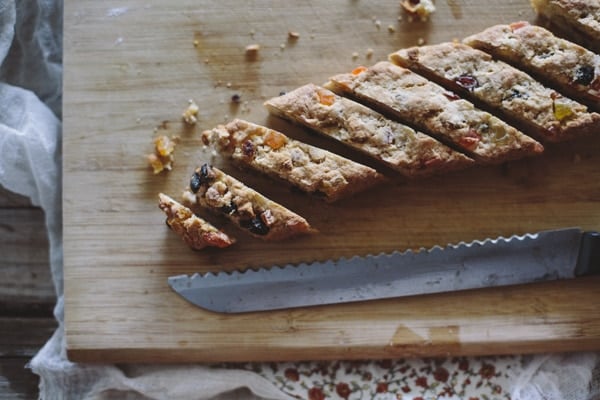 In time, as bakers were looking for more flavors and a somewhat softer texture, they added fat to the recipe to make it easier to enjoy just by itself. The recipe for this Caribbean biscotti includes just 2 tablespoons of vegetable oil. On my first try, I wanted to stick to the original Biscotti recipe and didn't use oil. But the result was a cookie that much harder than I would prefer.
However, if you are a traditionalist and like your biscotti really hard, just omit the oil. On a final note, when shaping the dough into a log, it really helps to (1) use a ruler and a pencil to draw a 2X12 inch rectangular shape to get two even logs, and (2) flour your hands to be able to easily handle the sticky dough.
In terms of the dried fruit, even though I used tropical fruit options like papaya, mango, and pineapple, you could certainly substitute it with whatever dried fruit you have in your pantry. For the nuts, I used walnuts, because I couldn't find macadamia nuts on the island.
However, if you can get your hands on them, I think they would give this cookie a more tropical feel than it has with walnuts. They keep their freshness for up to a week, even if you leave them uncovered. However, I personally keep them in an airtight container.
Caribbean Biscotti
This Caribbean Biscotti recipe is the perfect treat when you want to splurge on tropical flavors. Made with dried fruits like mango, papaya, and pineapple, it is the perfect accompaniment for your cup of coffee in the morning.
Print Recipe
Ingredients
1/2

cup

rum

2

cups

dried tropical fruit

such as papaya, cherry, mango, cranberry, and pineapple – chopped

2

cups

(10 ounces) all-purpose flour

1

cup

(7 ounces) sugar

1 1/2

teaspoons

baking powder

1/4

teaspoon

salt

1/8

teaspoon

ground all spice

2

large eggs

at room temperature

2

tablespoons

vegetable oil

1

teaspoon

vanilla extract

1/2

cups

macadamia nuts or walnuts

toasted and chopped

3/4

cup

unsweetened shredded coconut
Instructions
Preheat the oven to 350 degrees.

Combine rum and dried fruit in a bowl. Cover it with plastic wrap, and microwave until rum boils, 45 seconds to a minute. Set aside to cool.

Whisk the dry ingredients (flour, sugar, baking powder, salt, and all spice) in a bowl. Set aside.

Strain the dried fruit, reserving 3 tablespoons of the rum.

Whisk together the eggs, vegetable oil, vanilla extract, and the reserved rum in a mixing bowl.

Stir the rum-egg mixture with the dry ingredients. Add walnuts (or macadamia nuts), dried fruit, and coconut into the bowl. Fold them into the dough.

Using a ruler and a pencil, draw two 2 by 12-inch rectangular shapes on a parchment paper. They should be 3-4 inches apart from one another. Flip it, and place it on a baking sheet.

Divide the dough into two equal pieces and form each log into a 2X12-inch log.

Bake for 30-35 minutes, or until lightly browned. Take it out of the oven and let it cool for 15 minutes. Do not turn the oven off.

Transfer one of the logs onto a cutting board, and using a serrated knife, cut on bias into 3/4-inch-thick slices. Place the biscotti slices cut side down onto the baking sheet. Repeat the same process with the second log.

Bake for 10 minutes, flipping them halfway through the baking process.

Let cool for 20 minutes before serving.
Nutrition
Calories:
205
kcal
|
Carbohydrates:
29
g
|
Protein:
5
g
|
Fat:
8
g
|
Saturated Fat:
4
g
|
Cholesterol:
25
mg
|
Sodium:
91
mg
|
Potassium:
123
mg
|
Fiber:
2
g
|
Sugar:
15
g
|
Vitamin A:
30
IU
|
Vitamin C:
1
mg
|
Calcium:
42
mg
|
Iron:
1
mg
Recipe adapted (with changes) from cookscountry.com
Like this recipe? Consider sharing: