With the holiday baking season in full force, I am no different than most of you, in the kitchen baking up a lot of cookies. It is snowing outside and I just made a batch of this pecan shortbread recipe. It is rare that I bake something and write about it at the same time, but here I am writing this on my kitchen table as I am inhaling the addictive sugar and butter smells coming out of the oven.
If you are a lover of sandies shortbread cookies that we all grew up eating, you will probably love this shortbread recipe (made with pecans instead of walnuts). This recipe might be a little different than your grandma's recipe in that it is minimally sweetened.
Unlike it is in most nut shortbread cookie recipes, in this version, the sweetness doesn't take over the whole cookie. Instead, the flavors coming from butter, sugar, and pecans are equally balanced for the optimal shortbread cookie goodness.
Intrigued? Let's break it down.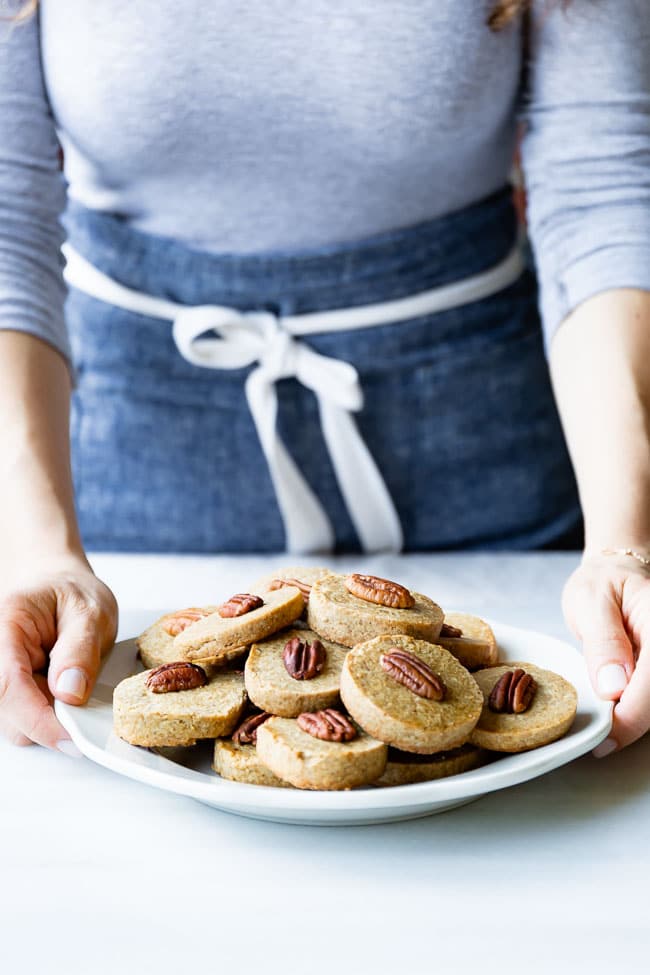 What is the difference between granulated sugar and cane sugar?
As the name suggests, these cookies are naturally sweetened. While there are several natural sweeteners out there, like coconut sugar, date sugar, maple syrup, raw, etc., in this recipe I used natural cane sugar (this brand in particular – affiliate link).
If you are like me, new to baking with unrefined sugars, allow me to explain. The main difference between natural cane sugar (also called Sucanat) and granulated white sugar is the way that they were produced. While producing granulated sugar requires heavy-duty and mechanical processing with many steps, producing natural cane sugar requires far fewer steps and no chemicals to get from plant to packaging.
Now you may ask, is baking with natural cane sugar a healthier choice? Even though the answer is yes, I prefer to be cautious, as it is a proven fact that too much of any kind of sweetener, regardless of how natural it is, does not promote health. With that being said, I think a small switch from granulated sugar to natural sweeteners like natural cane sugar, dates, maple syrup, honey or coconut sugar might be a healthier choice. Plus, as in every dessert, you should consume it in moderation.
This recipe is created by the talented cooks of America's Test Kitchen and published on their cookbook Naturally Sweet (affiliate link). If you want to read more about natural sweeteners, how they are processed, and foolproof healthier sweets recipes, it is a cookbook that I recommend. I have been baking from it for many years and have always had amazing results.
How to make pecan shortbread cookies:
The recipe for shortbread cookies with pecans has 6 folds.
First, start with grinding natural cane sugar (aka Sucanat) in a spice or coffee grinder. This is an important step as unlike granulated sugar, Sucanat's granules are irregular in size due to the way they were produced. Grinding it ensures that all the granules are in equal size, and as a result, the sugar gets distributed evenly within the cookie dough. If you skip this step, your cookies might end up being less sweet.
If you do not have a spice grinder, you can also use your food processor. It might take a few extra minutes to reach the ideal powdery "fine" texture we want, but it is totally doable. Once the cane sugar is ground set it aside.
Second, prep your wet ingredients; egg yolks, water, vanilla extract, and melted butter (that is cooled), by mixing them in a small bowl.
Third, reserve 30 pecans for decoration and grind the rest of them in your food processor. We want them finely ground. Add in the flour, cinnamon, salt, and nutmeg. Process until combined.
Fourth, pour the wet ingredients through the tube as the machine is running to thoroughly mix the dough. It is a good idea to stop the machine and scrape the sides of the bowl with a spatula a few times to ensure a cohesive and smooth dough.
Next, transfer the dough on to a clean kitchen counter. Bring it together and divide it in half. Using your hands turn each half into a log that is about 6-inches long and 2 inches thick.
A Quick note for the home baker:
Don't be alarmed if the cookie dough has a powdery texture, at least in the beginning. When I first tried this nut shortbread recipe, at this stage, I thought I did something wrong.
However, as you bring the dough together, it will start getting together easily with the help of your body heat. Since this was the one and only "tricky" part of this recipe, I thought it would be nice to show it to you in a quick video so be sure to watch it. It is located inside the recipe card below.
Finally, wrap each log tightly with plastic wrap, place in a glass or a jar, and chill for at least two hours, or even better, overnight. When you are ready to bake, preheat your oven to 325 F degrees, slice each log into ¼ inch thick slices. Line a baking sheet with parchment paper and arrange cookies on the sheet making sure that there is at least ¾ inch distance in between each cookie.
As a finishing touch, place a pecan on each shortbread cookie for a special touch. Bake for 16-19 minutes or until the edges of the cookies starts to turn golden brown.
If you decide to bake both logs, I recommend using two separate baking sheets.
A Few tips for this the best healthy shortbread cookie recipe:
Make a few batches and store in the freezer: This is a great cookie recipe to freeze and forget. I make a few batches and store them in the freezer. When ready to bake, take them out of the freezer 30 minutes before baking, slice, and bake.
How long do these pecan nut cookies last? As long as they are stored in an airtight container (i.e. cookie jar with a tight lid), they should still be fresh up to 3 days.
Other naturally sweetened cookies you might like:
Want more recipes where you can use unrefined sugar for baking cookies? Here are a few of my favorites:
Naturally Sweetened Pecan Shortbread Cookies
Butter Pecan Shortbread Cookies made healthier by replacing granulated sugar with natural cane sugar. The cookie dough in this recipe comes together easily in the food processor. It can be made ahead, frozen, and baked right before serving for the most delicious fresh-out-of-the-oven healthy shortbread cookies.
Print Recipe
Ingredients
¾

cup

(4 oz.) natural cane sugar

1

cup

pecans

divided

2

large egg yolks

at room temperature

2

tablespoons

water

at room temperature

2

teaspoons

vanilla extract

8

tablespoons

of butter

melted and cooled

2 ¼

cups

(11 ¼ oz) all-purpose flour

1

teaspoon

ground cinnamon

½

teaspoon

salt

1/8

teaspoon

ground nutmeg

1

large egg white mixed with 2 tablespoons of water
Instructions
Using a spice/coffee grinder, ground the natural cane sugar in 3 batches until it is fine and powdery. Set aside.

Reserve 30 of the whole pecan-halves to use as garnishing. It should be ½ cup in total.

Whisk together egg yolks, water, vanilla extract, and butter in a small mixing bowl until combined. Set aside.

Place the rest of the pecans (approximately ½ cup) in the bowl of a food processor and process until coarsely ground. Add in the flour, cinnamon, salt, and nutmeg. Process until combined.

While the food processor is still running, add the butter mixture through the tube. Process until thoroughly combined. You may have to stop the food processor a few times and scrape the bottom of the bowl with a spatula.

Transfer the dough onto a clean work surface and knead until smooth. It might be a little powdery, but it will come together as you knead with the body heat from your hands.

Using a knife, divide the dough into two equal pieces.

Roll each dough into a 6-inch log that is about 2-inches thick. Wrap each log tightly using stretch film and place upright in tall glasses. Refrigerate until firm, at least 2 hours up to 2 days.

When ready to bake, pre-heat the oven to 325 F degrees. Line two baking sheets with parchment paper.

Working with one log of dough at a time, slice into ¼-inch thick cookies, turning log every few slices to prevent sides from flattening. Space them ¾-inch apart from each other on prepared sheets.

Brush cookies with the egg white-water mixture, then gently press the reserved pecan halves into center of each cookie.

Bake one sheet at a time, until the edges of cookies are beginning to brown and set, 16-19 minutes, rotating the sheet halfway through baking. Let the cool before serving.
Video
Notes
Notes: 1. The number of cookies you end up with might change with the size of your logs. 2. As you will see in the video, I only baked one of the rolls. I froze the second roll to see if it will still be good in a few days. Before I was ready to bake, I took the frozen dough out of the freezer, let it thaw in the fridge overnight, sliced, and baked it in the morning. It was just as good. So feel free to freeze them for fresh shortbread cookies for future.
Nutrition
Calories:
120
kcal
|
Carbohydrates:
15
g
|
Protein:
2
g
|
Fat:
6
g
|
Saturated Fat:
2
g
|
Cholesterol:
23
mg
|
Sodium:
45
mg
|
Potassium:
28
mg
|
Fiber:
1
g
|
Sugar:
7
g
|
Vitamin A:
120
IU
|
Vitamin C:
1
mg
|
Calcium:
7
mg
|
Iron:
1
mg
Like this recipe? Consider sharing: