You know, as a daughter, how you make your mom go through the stages of your life.
When I was a little girl, I needed my mother for the basic things like feeding me, taking me to school, braiding my hair…etc. She was right by my side. In my teen years, I hated the fact that she was always there. God knows I did not make it easy for her.
Still, she was there…
Right around the time I was done being a "teenager" and realized that no one in the world will love me like she does, I left home to go to college. Then I graduated and moved 8000 miles away from her.
I think it is not fair for a mother to let her daughter go to live her life right around the time she can be a friend to her. I knew that my mother was proud of me but it was hard for her to bear the fact that I was so far away.
I understand it more than ever now as she is so far away for me.
I was lucky because my parents were able to come visit me once or twice a year. It was a wonderful thing to have them over because it meant that I would have amazing food waiting for me when I come home. Knowing that I was working early in the morning or late at night, she would spoil me with her amazing cooking.
The more I liked it, the happier she would be. Closer to the time of their departure, she would make several dishes and fill my fridge (and freezer) with food for me to eat after they leave. Enough food for the next couple of weeks…
Who would that???
My mom would.
Then knowing that I will run out of food pretty soon, she would write recipes of my favorite dishes in my recipe book. They were written in detail; in a way that one can understand even if she does not know how to cook. Foolproof recipes…
This "Chicken with Bechamel Sauce" is one of those recipes.
I usually make this dish with the leftover chicken pieces when I make chicken stock. After cooking with vegetables and herbs for 4 hours, so much flavor goes into the chicken that I think it would be a shame to not to use it.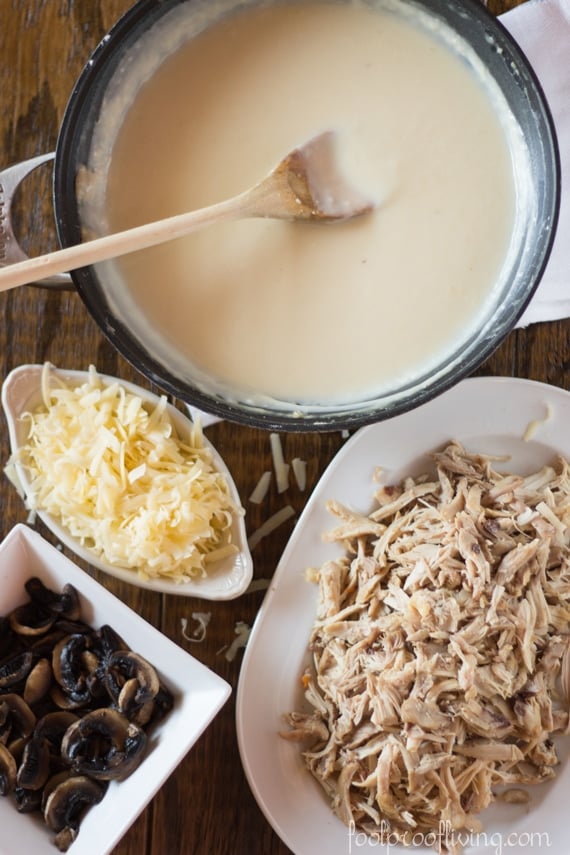 Béchamel sauce is a mixture of butter, flour and milk. My mom adds a little bit chicken stock to deepen the flavor, which I totally agree and love.
This is the sauce that Italians use in lasagna.
To make good béchamel sauce, you need to be patient. You need to constantly stir it and add ingredients one by one at the right time. I must admit, it took me a couple of tries to achieve the right consistency, but after making it a couple of times, now I feel much more comfortable making it.
I used an 8X8 oven-proof glass dish like "Pyrex" but if the pan you are making the béchamel sauce is oven-proof, after mixing everything, you can bake in it as well.* It serves for four people. I usually serve it with a simple green salad, which makes it quick and easy for a weeknight dinner.
On a last note, it freezes very well. If you are planning to do that I recommend cutting it in portions and freezing each portion separately.
Chicken and Mushrooms with Béchamel Sauce
Chicken and mushrooms mixed in with homemade bechamel sauce, placed in a casserole dish, topped off with cheese and baked in the oven. An old recipe from my mom's cookbook.
Print Recipe
Ingredients
1/2

cup

homemade chicken stock

1

cup

whole milk

warm to touch

1 1/2

tablespoons

butter

3

tablespoons

of all-purpose flour

1

tablespoon

salt

1

tablespoon

pepper

5

pieces

of cooked and shredded chicken thighs

I used the leftovers from my homemade chicken stock

1

pint

of button mushrooms

cleaned and sliced

1/2

tablespoon

butter

1/3

cup

of Gruyere cheese

freshly shredded

1/4

teaspoon

cayenne pepper

optional
Instructions
Preheat the oven to 350°F.

Heat 1/2 tablespoon butter in a 12-inch nonstick skillet over medium-high heat.

Add mushrooms and cook stirring occasionally, until all moisture is evaporated for 5 to 6 minutes.

Place the cooked mushrooms in a bowl and set aside.

Reduce the heat to medium.

Using the same skillet, melt 11/2 tablespoons of butter until foaming. Add flour, whisking constantly, cook for 2 minutes or until bubbling.

Remove from heat.

Slowly first add milk and then chicken stock, whisking constantly, until mixture is smooth, 1 to 2 minutes.

Return to medium heat.

Cook, stirring with a wooden spoon, for 13 to 15 minutes until the sauce thickens and comes to a boil. It should be silky enough to coat the back of a wooden spoon.

Reduce the heat to low.

Add in the shredded chicken and mushrooms in the béchamel sauce and give it a quick stir until all the mushrooms and shreds of chicken are coated with the sauce.

Place the mixture in an ovenproof glass dish (*please see note) and sprinkle cheese evenly on top. If desired, sprinkle some cayenne pepper as well.

Bake it in the oven for 35-40 minutes.

Wait for it to cool, 15 – 20 minutes, prior to serving.
Like this recipe? Consider sharing: