I am going to be honest with you. Cooking and photographing food for a food blog in someone else's house is hard.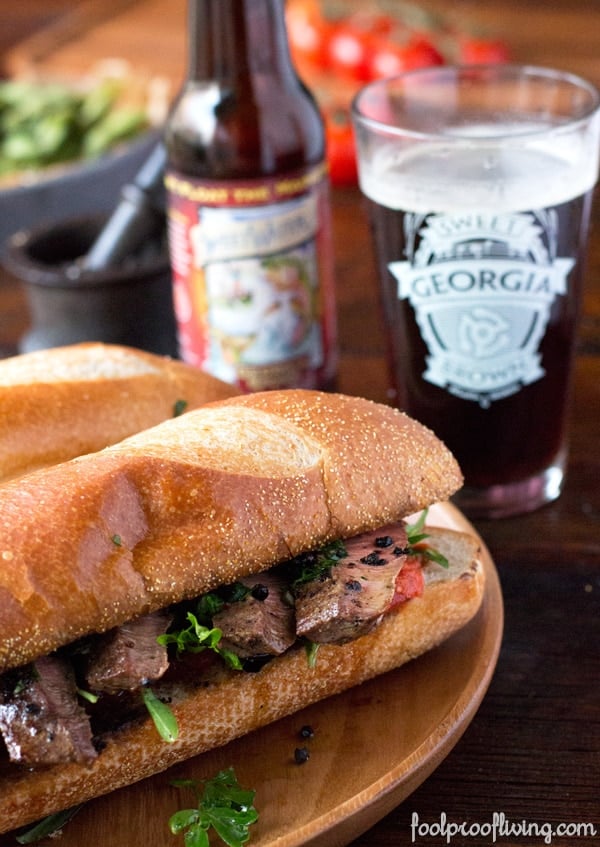 Although I enjoy the abundance and ease of availability of ingredients, getting a recipe blog-ready without props and my own kitchen equipment is more challenging than I thought.
When I came to Atlanta almost a month ago, I did not know that I am going to have to stay this long. My friend Paula, whose house I am staying, is a wonderful host but she has no interest in cooking and therefore has no cooking equipment or photography worthy props.
As I was looking for things I can blog about, my friend Lisa, who is a culinary school graduate, offered to cook and create a recipe together at her house. I jumped at the opportunity because (1) she is a true culinary nerd (2) she knows a lot about the technique of cooking and she teaches me as we cook along together (3) she has super cool props to photograph food with (4) cooking together with her is always fun.
As I have been into sandwiches lately, we decided to make a really good sandwich. We wanted it to be simple with everyday ingredients but with the volume turned up. We had a 6 pack of local beer in the fridge and we both were in the mood for a good piece of steak. As we were thinking about how to build our sandwich, Lisa came up with the idea of making Chimichurri Steak Sandwich, and as a big time cilantro lover, I was on board after hearing the word Chimichurri.
The best part of this sandwich is that it takes no time to make. Especially, if you know the technique of cooking a piece of steak…

Here is what I learned from Lisa:

Allow the steak to sit on the kitchen counter to come to room temperature at least 15-20 minutes before starting to cook.
Season both sides of the steak generously with salt and pepper (freshly ground and coarse).
If you have it, use a cast iron skillet and preheat it before you begin cooking the steak.
Once you place the steak in hot skillet do not move. Allow it to cook for 4 minutes (for medium) on each side without flipping or moving around.
Finish it with butter.
Allow it to rest before cutting it.
Chimichurri sauce cannot be any simpler. It is such a classic that never fails. The original recipe is made by mixing chopped cilantro, parsley, oregano, garlic, salt and pepper with red wine vinegar and olive oil.To give it our own twist, we added minced capers at the very end. I thought it added an additional layer of flavor.
We allowed it marinade on the kitchen counter as we cooked the meat.
To make Chimichrurri sauce, you can simply chop everything by hand or use a food processor.Either way it is delicious.
To assemble the sandwich; first cut the baguette diagonally in half and then spread some Chimichurri sauce at the bottom, top it off with some chopped tomatoes (if using), thin slices of the steak, and finish it up with more Chimichurri sauce on top.
It is that simple.
Ohh and do yourself a favor and serve it with cold beer. It is veeryy good.
I guarantee you will agree with me after you take the first bite.
Chimichurri Steak Sandwich
This Chimichurri Steak Sandwich recipe is made by searing flank steak on a cast iron skillet, topping it off with homemade chimichurri sauce and then serving it in a baguette for (or sandwich bread) for a steak sandwich on steroids. Ready in under 30 minutes, it is easy to make and makes the perfect lunch/picnic food.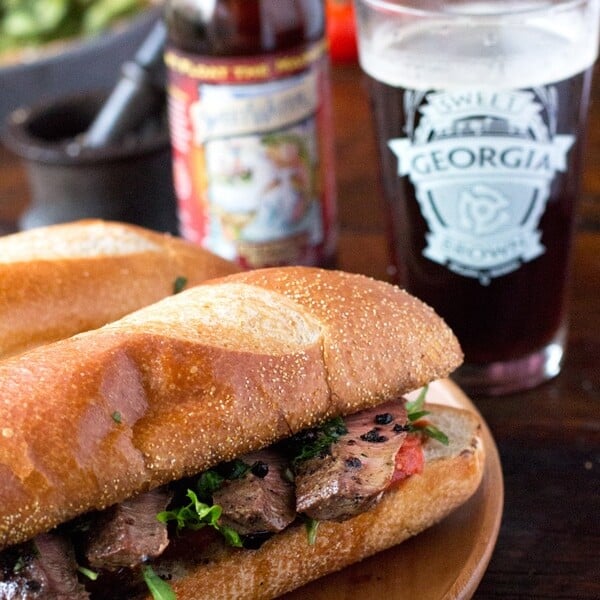 Print Recipe
Ingredients
1

pound

1-inch thick flank steak (let it sit at room temperature for 15 min. before cooking)

1/2

teaspoon

Kosher salt

1/2

teaspoon

black pepper

freshly ground

1

tablespoon

olive oil

1

tablespoon

butter
Chimichurri sauce:
1

cup

cilantro

1

cup

Italian Parsley

4

cloves

of garlic

minced

2

tablespoons

fresh oregano

or 1 tablespoon (or more dried oregano)

1/4

cup

red wine vinegar

1/2

cup

olive oil

1

teaspoon

salt

1/2

teaspoon

black pepper

freshly ground

1/2

teaspoon

red pepper flakes

optional

1

tablespoon

of capers

drained and minced
For the Sandwich:
1

Baguette

cut into 2 pieces

1

cup

cherry tomatoes

sliced (optional)
Instructions
Start with making the Chimichurri sauce. Place cilantro, parsley, garlic, oregano, salt, pepper, and red pepper flakes in a food processor. Process for 30 seconds or until they are combined. Add red wine vinegar and pulse 3 times. Turn on the processor and slowly add the olive oil and mix for 10 seconds.

Place it in a bowl and add minced capers. Taste for seasoning and adjust if necessary. Set aside and let all the flavors marinade in room temperature.

Season both sides of the steak with salt and pepper.

Heat 1 tablespoon olive oil in a cast iron skillet over medium heat until smoking.

Place the steak in skillet and cook each side for 3.5 -4 minutes. After the second side is cooked, add 1 tablespoon of butter into the pan. Spoon the melting butter over the steak and make sure it is all coated with it. Take it off the heat and let it sit in room temperature covered with aluminum foil for 5-10 minutes.

Place the meat on a cutting board and slice diagonally into 1-inch pieces. Spoon half of the Chimichurri sauce over the meat.

When ready to make the sandwich, cut baguette in half lengthwise. Spread 2 tablespoon Chimichurri sauce at the bottom piece. Place 4-5 slices of the meat and top it off with tomatoes, if you like.

Serve immediately with cold beer.
Nutrition
Calories:
1096
kcal
|
Carbohydrates:
75
g
|
Protein:
38
g
|
Fat:
72
g
|
Saturated Fat:
12
g
|
Cholesterol:
69
mg
|
Sodium:
2732
mg
|
Potassium:
980
mg
|
Fiber:
8
g
|
Sugar:
4
g
|
Vitamin A:
3665
IU
|
Vitamin C:
61
mg
|
Calcium:
276
mg
|
Iron:
10
mg
Like this recipe? Consider sharing: