The first time I published this muffin tin potatoes recipe was back in 2013. Since then it has been my go-to recipe for entertaining. I served it again last week for our Thanksgiving meal, and as it is usually the case, everyone asked for the recipe. So I thought why not take a few photos, update the recipe and make a quick video to help you as you get ready for your Christmas cooking.
You can serve these as a side dish or as an appetizer. They are perfect when served along with eggs for breakfast (like in the old photos I took below) or along with your favorite meat dishes. While I think they are better served right out of the oven, you can make them ahead and reheat right before serving.
Muffin-Pan Potatoes
Whether you serve them as a side dish or finger food (as appetizer), these muffin pan potatoes are perfect for entertaining. Made with just a few ingredients and ready in less than 40 minutes.
This recipe is adapted from Martha Steward's Muffin Pan Potato Gratins recipe.
Print Recipe
Ingredients
2

tablespoons

of butter

melted

4-5

medium russet potatoes

peeled and sliced in 1/2 -inch slices

Coarse salt

Black Pepper

freshly grounded

12

tablespoons

heavy cream

1

tablespoon

fresh thyme
Instructions
Preheat the oven to 400 degrees

Use melted butter to grease each muffin cup.

Place 3 slices of potatoes and season with salt and pepper. Top it off with 3-4 more slices or until the muffin cup is full. Repeat until all 12 muffin cups are full.

Pour 1 tablespoon of heavy cream over each muffin cup.

Garnish with thyme.

Place it in the oven and bake it for 30 minutes.

Let it cool in room temperature for 5-10 minutes and spoon it out. Sprinkle it with fresh thyme and serve immediately.
Video
Notes
Like I mentioned in the post, I made these many times. And every time I make it, I use 1 tablespoon of heavy cream. However, a reader commented that when she used only 1 tablespoon she thought that it wasn't enough. After reading her comment, I increased the amount of heavy cream to 1 1/2 tablespoons and tried it that way. It was still good, but a little too soft (less crispy) for my taste. If you like it softer, feel free to increase the amount of heavy cream used to your liking.
Nutrition
Calories:
125
kcal
|
Carbohydrates:
13
g
|
Protein:
2
g
|
Fat:
8
g
|
Saturated Fat:
5
g
|
Cholesterol:
26
mg
|
Sodium:
10
mg
|
Potassium:
311
mg
|
Fiber:
1
g
|
Sugar:
1
g
|
Vitamin A:
307
IU
|
Vitamin C:
5
mg
|
Calcium:
21
mg
|
Iron:
1
mg
**** Below is the old post that was published in November 2013. ****
As I felt the sweet touch of his lips on my cheek, I knew that it was time to get up. It was way too late to stay in bed. The only problem was that my eyes and body were not cooperating.
It was not until he came back, crawled next to me and whispered in my ear: "Let's have breakfast, honey." He said the magic word – BREAKFAST – and I thought to myself how he knew me all too well.
I got up and took a quick shower. While I was getting ready, he knocked on the door to let me know that the coffee was ready.
As I inhaled the smell of coffee into my lungs, I realized how grateful I am to have the life that I do.
I went to the kitchen, poured a cup of coffee for myself, and started making breakfast. I had an inexplicable desire to make it really special, for absolutely no particular reason. A breakfast that I know he has been waiting for, for many hours.
I decided to steam some asparagus to serve with our usual: two eggs "over easy" and the simple potatoes that I made the other day for friends.

I quickly peeled two potatoes and sliced them thinly. It took me longer than usual to find my muffin pan in the cupboard, which made me realize how long it's been since I last made muffins. As I was thinking about which muffin recipe I should try next, I started placing the slices of potatoes in each cup and seasoned them with salt and pepper, every few slices until all cups were filled. I poured one tablespoon of heavy cream over each cup and placed it in a 400 F degree oven.
As they were baking, I went downstairs to pick some flowers. The purple-blue flowers that I have been admiring lately made the most beautiful breakfast decoration for my table.
It was only half an hour later that the potatoes were ready to be served. All I had to do was to sprinkle them with some fresh thyme.
As I was cracking the eggs, he came to the kitchen and gave me a quick hug from behind and said: "It smells so good. I just cannot wait to eat. "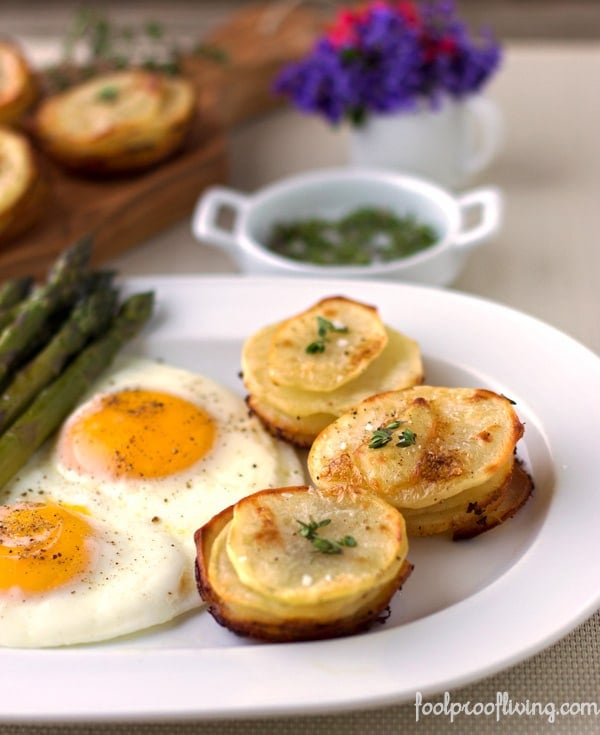 I placed the eggs in the middle of the plate, being careful not to break the yolks. Stalks of asparagus that I arranged near the eggs gave it the healthy green color it needed. I spooned the potato slices out of the muffin cups and I set them on the other side of the eggs.
We had the best breakfast that day. A simple breakfast with the basics: eggs, potatoes, and steamed vegetables.
He said that he could eat these potatoes every morning. I did not tell him, but I was thinking the same way.
We took our time eating that day, enjoying each other's company. Just as I was thinking to myself that this is why I love cooking so much, he said aloud how much he loves our mornings together.
Not knowing what was going through my mind, he gave me the answer I was looking for…
Like this recipe? Consider sharing: