During this time of the year, you can find a lot more items that you would not normally be able to find in the supermarkets on our island, Virgin Gorda. Although most islanders do not celebrate the Thanksgiving holiday, a lot of American tourists (or home owners) pay a visit to our small island this time.
As a result, supermarkets carry things like buttermilk, fresh cranberries, wild mushrooms, persimmon, etc., most of which are not available outside these special days.
As you can imagine, as a food blogger, being able to have access to food makes my life much easier.
So the other day when I was able to find fresh cranberries I got so excited as I have been meaning to try Ina Garten's Cranberry Apple Cake for a while now. I immediately picked a few pounds and came back home to make this easy apple cake recipe.
As in all Barefoot Contessa recipes, this one didn't disappoint as well. It was just perfect on my first try.
Coincidently, right after it came out of the oven, I got a phone call from a friend who invited me over for a cup of coffee. Since I planned on making another one to photograph, I decided to take this one with me and surprise her with an unexpected treat.
Oh man, was it a nice surprise or what?
I swear, if you want to make a friend happy make this apple cranberry cake and take it with you. They will love you for it.
How To Make Cranberry Apple Cake:
The process of making this easy apple cake recipe has 3 folds.
First, you prep the apple and cranberry mix. To do so, you peel and slice the apples. Then you cut into small (1/2 to 1/4 inch cubes – doesn't have to be perfect) and mix them with fresh cranberries, cranberries, orange zest and juice along with some cinnamon.
I think what makes this recipe so special is the addition of the orange zest and juice as they add a nice and unexpected kick to the end product.
Second, you make the batter. To do so, you mix the butter, sugar, eggs, vanilla, and sour cream together and then add in the flour.
Lastly, you spread the fruit mixture into a pie plate and pour the batter evenly over the apples and cranberries. After 55-60 minutes in a 325 degree oven, you cranberry apple cake is ready.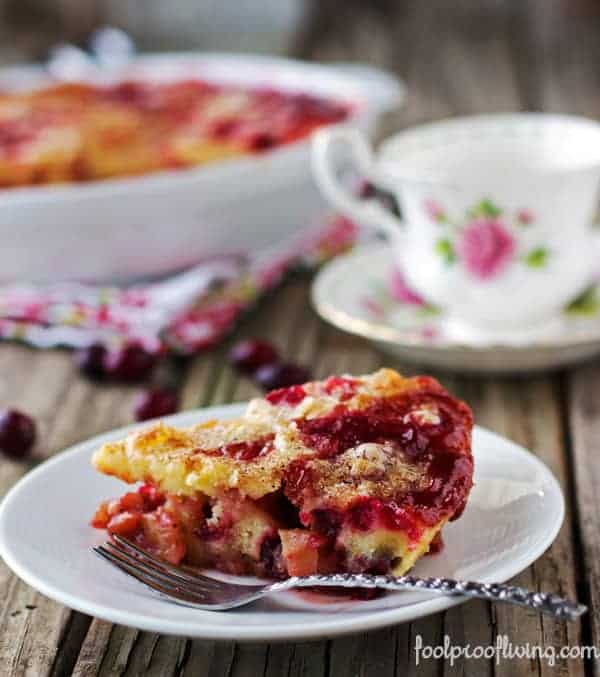 All in all, it takes 15-20 minutes to put it all together and less than an hour to bake.
Though in my opinion, the best part is that by the time it comes out of the oven, the house smells like one of those store bought apple, cinnamon, and cranberry candles.
If you are in need of an easy cranberry and apple cake recipe that you serve during the holidays, especially on Christmas, I simply cannot imagine a better recipe.
In her book Barefoot Contessa, How Easy Is That?
, Ina suggests to serve with a scoop of vanilla ice-cream, which, I think, is a marvelous idea. I promise you. Try it, it will be a hit.
If you liked this Cranberry Apple Cake Recipe You Might Also Like:
Easy Cranberry Apple Cake Recipe
An easy to make and quick to put together Cranberry Apple Cake recipe right out of Barefoot Contessa's cookbook. A recipe that I make every year as soon as the fresh cranberries are available in the market. It has been a family favorite for years.
Print Recipe
Ingredients
12

ounces

fresh cranberries

rinsed

1

Granny Smith apple

peeled, cored, and cut into 1/4 inch cubes

1/2

cup

(3,5 ounces) brown sugar, lightly packed – (I used light brown sugar)

1

tablespoon

orange zest

from 2 oranges

1/4

cup

(2 fl ounces) freshly squeezed orange juice

1 1/8

teaspoons

cinnamon

divided

2

extra large eggs

at room temperature

1

cup

plus 1 tablespoon

7 ounces + 0.5 ounce (divided) granulated sugar

1

stick

4 ounces unsalted butter, melted and cooled

1

teaspoon

vanilla extract

1/4

cup

(2.25 fl ounces) sour cream

1

cup

5 ounces all-purpose flour

1/4

teaspoon

kosher salt
Instructions
Preheat the oven to 325 F. Degrees. Lightly spray a 9 inch pie plate with oil spray and set aside.

In a medium bowl, combine the cranberries, apple cubes, brown sugar, orange zest, orange juice and 1-teaspoon cinnamon. Give it a stir and set aside.

In the bowl of an electric mixer fitted with paddle attachment, mix eggs for 2 minutes in medium speed. Add 1 cup of the granulated sugar, butter, vanilla, sour cream, and mix for 1 minute.

Turn it down to slow speed and add the flour and salt mixture in 3 batches. Just mix until combined. If there are clumps of flour fold them in using a rubber spatula. Do not overmix.

Pour the cranberry and apple mixture into a 9-inch pie plate.

Pour the batter over the fruit mixture, covering it completely. Use the back of a large spoon to spread it evenly.

Combine the remaining 1/8 teaspoon cinnamon and 1 tablespoon granulated sugar. Sprinkle it over the batter.

Place it in the oven and bake until a toothpick inserted in the middle comes out clean, 55-60 minutes.

Let it cool for 15-20 minutes and serve with a scoop of ice-cream.
Nutrition
Calories:
389
kcal
|
Carbohydrates:
87
g
|
Protein:
5
g
|
Fat:
4
g
|
Saturated Fat:
2
g
|
Cholesterol:
60
mg
|
Sodium:
133
mg
|
Potassium:
182
mg
|
Fiber:
4
g
|
Sugar:
64
g
|
Vitamin A:
210
IU
|
Vitamin C:
15
mg
|
Calcium:
47
mg
|
Iron:
2
mg
Adapted from Ina Garten's cookbook Barefoot Contessa, How Easy Is That?
Like this recipe? Consider sharing: