During this time of the year, you can find a lot more items that you would not normally be able to find in the supermarkets on our island, Virgin Gorda. Although Virgin Gordanians (not sure if there is a word like that!?!) do not celebrate the Thanksgiving Holiday, there are a lot of American tourists or home owners come here during Thanksgiving. Therefore, supermarkets carry things like buttermilk, fresh cranberries, wild mushrooms, persimmon, etc.
As you can imagine, as a food blogger, this makes my life much easier.
As I was admiring these fresh cranberries at the supermarket my phone rang. It was my friend Chrissann asking if I wanted to come by and have a cup of coffee with her and her brother. I considered this as a sign from above and bought a packet of fresh cranberries to make Ina's "Easy Cranberry and Apple Cake" recipe.
After all who wants to go to a friends house empty handed?
It took me less than 15 minutes to put it together and less than an hour to bake. By the time I took it out of the oven, the house smelled like one of those store bought apple, cinnamon, and cranberry candles.
I took a couple of pictures of it, saved a piece for my husband, and took the rest to Chrissann's. We had the rest of it all together. They thought that it was delicious.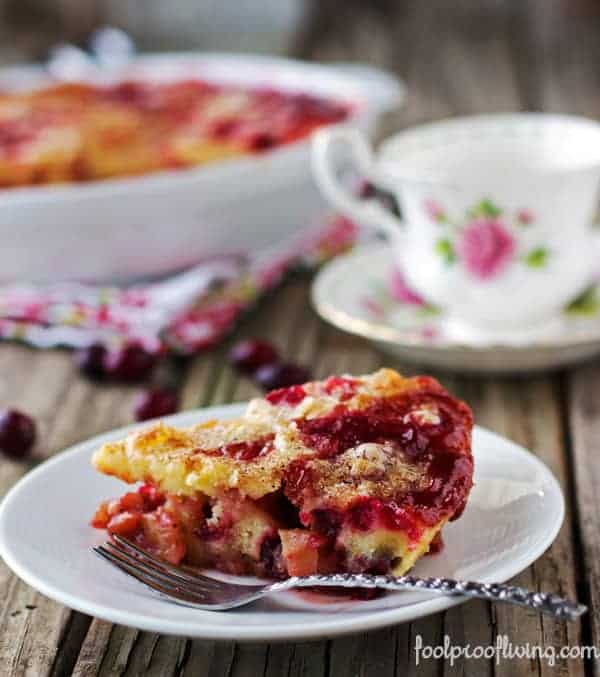 As we are approaching Christmas, this cake would be an amazing desert for your holiday parties not only because it will make your house smell Christmassy but also it has some of the ingredients of traditional Christmas deserts. Not to mention it is super easy to make.
In her book Barefoot Contessa, How Easy Is That?
, Ina suggests to serve with a scoop of vanilla ice-cream, which, I think, is a marvelous idea.
I promise you.  Try it, it will be a hit.
Print
Easy Cranberry and Apple Cake
Ingredients
12 ounces fresh cranberries, rinsed
1 Granny Smith apple, peeled, cored, and diced
1/2 cup (3,5 ounces) brown sugar, lightly packed – (I used light brown sugar)
1 tablespoon orange zest (from 2 oranges)
1/4 cup (2 fl ounces) freshly squeezed orange juice
1 1/8 teaspoons cinnamon, divided
2 extra large eggs, at room temperature
1 cup plus 1 tablespoon (7 ounces + 0.5 ounce) (divided) granulated sugar
1 stick (4 ounces) unsalted butter, melted and cooled
1 teaspoon vanilla extract
1/4 cup (2.25 fl ounces) sour cream
1 cup (5 ounces) all-purpose flour
1/4 teaspoon kosher salt
Instructions
Preheat the oven to 325 F. Degrees.
In a medium bowl, combine the cranberries, apple cubes, brown sugar, orange zest, orange juice and 1-teaspoon cinnamon. Give it a stir and set aside.
In the bowl of an electric mixer fitted with paddle attachment, mix eggs for 2 minutes in medium speed. Add 1 cup of the granulated sugar, butter, vanilla, sour cream, and mix for 1 minute.
Turn it down to slow speed and add the flour and salt mixture in 3 batches. Just mix until combined. If there are clumps of flour just hand-fold them in using a rubber spatula. Do not overmix.
Pour the cranberry and apple mixture into a 9-inch pie plate.
Pour the batter over the fruit mixture, covering it completely. Use the back of a large spoon to spread it evenly.
Combine the remaining 1/8 teaspoon cinnamon and 1 tablespoon granulated sugar. Sprinkle it over the batter.
Place it in the oven and bake until a toothpick inserted in the middle comes out clean, 55-60 minutes.
Let it cool for 15-20 minutes and serve with a scoop of ice-cream.
Adapted from Ina Garten's cookbook Barefoot Contessa, How Easy Is That?
---
You might also like…