Serve it with fresh berries and crunchy granola for a healthy breakfast or an afternoon pick-me-up, or add it to your favorite recipes that call for vanilla yogurt. Better yet, make our Overnight Oats Recipe with Yogurt for a quick breakfast for busy mornings.
Yogurt is such a perfect complement to so many foods, so trust us when we say the yogurt recipes don't stop here. If you're like us and love the classic combo of yogurt and fruit, you'll love this Frozen Yogurt Bark & my go-to Yogurt Dip for Fruit!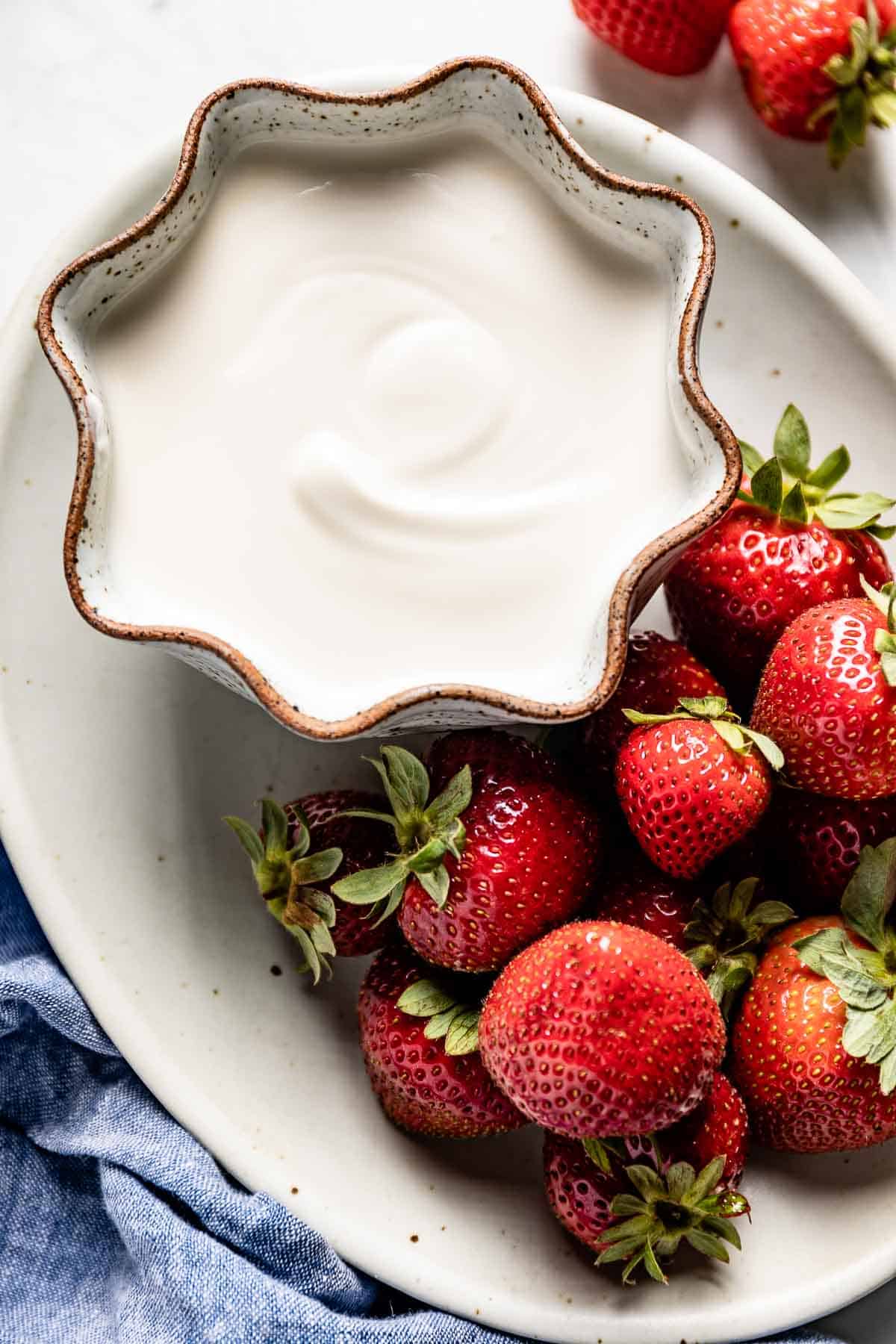 Recipe Ingredients
This ultra quick and easy homemade vanilla yogurt recipe requires only 3 staple ingredients that you probably already have on hand or can quickly grab from the grocery store. You'll need plain whole milk Greek yogurt, vanilla extract, and honey.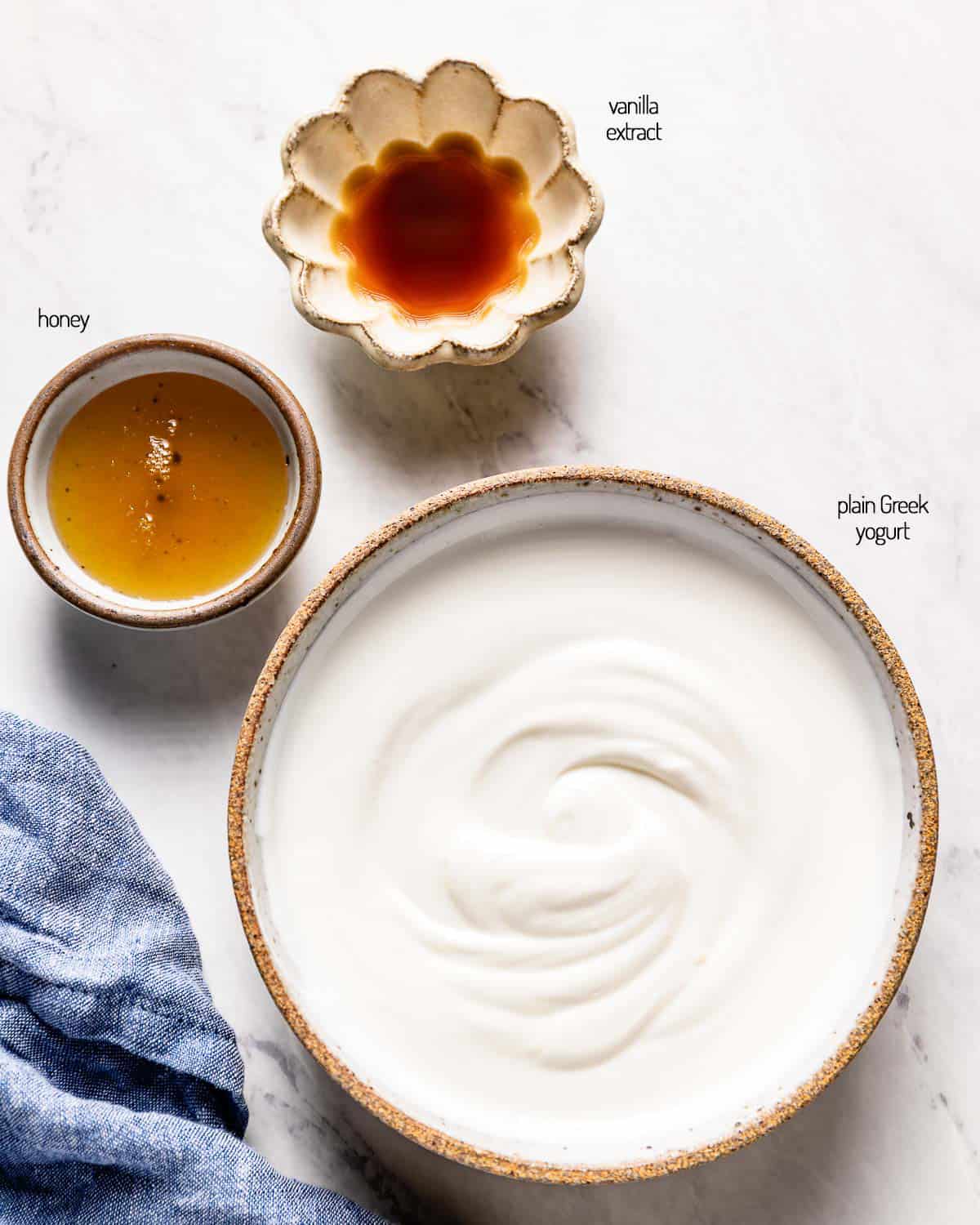 Substitutions
The beauty of this easy recipe is that it's totally customizable based on your preferences. Once you make vanilla yogurt from plain yogurt, that's just a jumping-off point! Feel free to substitute or make additions to suit your sweet tooth or dietary restrictions. Here are some suggestions:
Yogurt: While I personally love that creamy greek yogurt taste and texture, you can use whatever type of yogurt you prefer for this recipe! Regular yogurt, whole milk yogurt, or skim milk yogurt would all beautifully pair with vanilla and honey. You can even use plant-based yogurt if you're vegan!
Other sweeteners: To make sweetened Greek yogurt, feel free to play around with added sugar based on your preference. Here at FPL headquarters, we prefer flavoring plain yogurt with natural sweeteners, like maple syrup and raw honey, but you can use confectioners' sugar (aka powdered sugar) in its place for extra sweetness. To make a keto version of this recipe, sub in low-carb sweeteners, like monk fruit sugar or erythritol. We also recommend that you be careful when adding artificial sweeteners, like aspartame, sucralose, xylitol, etc., to unsweetened yogurt, as it can highly impact the flavor.
Vanilla: Adding a dash of pure vanilla extract to plain yogurt is usually what I prefer, but you're also free to use vanilla bean paste for a 1:1 substitute (meaning you can substitute one for equal amounts of the other). You can also use imitation vanilla extract, which tends to be more affordable. Or, if you'd rather, you can use half of a vanilla bean (vanilla beans have a potent flavor, so half of a bean is all you need).
Honey syrup: As another sweetener option for this recipe, you can use my Honey Syrup recipe (a combination of honey and water) for honey vanilla greek yogurt. If you choose to use honey syrup, use double the amount of honey that the recipe calls for.
Ground cinnamon: This is an optional addition, but adding a sprinkle of ground cinnamon to your plain vanilla yogurt really complements the flavors.
How to Turn Plain Yogurt into Vanilla Yogurt
You can whip up this delicious recipe in no time! Simply: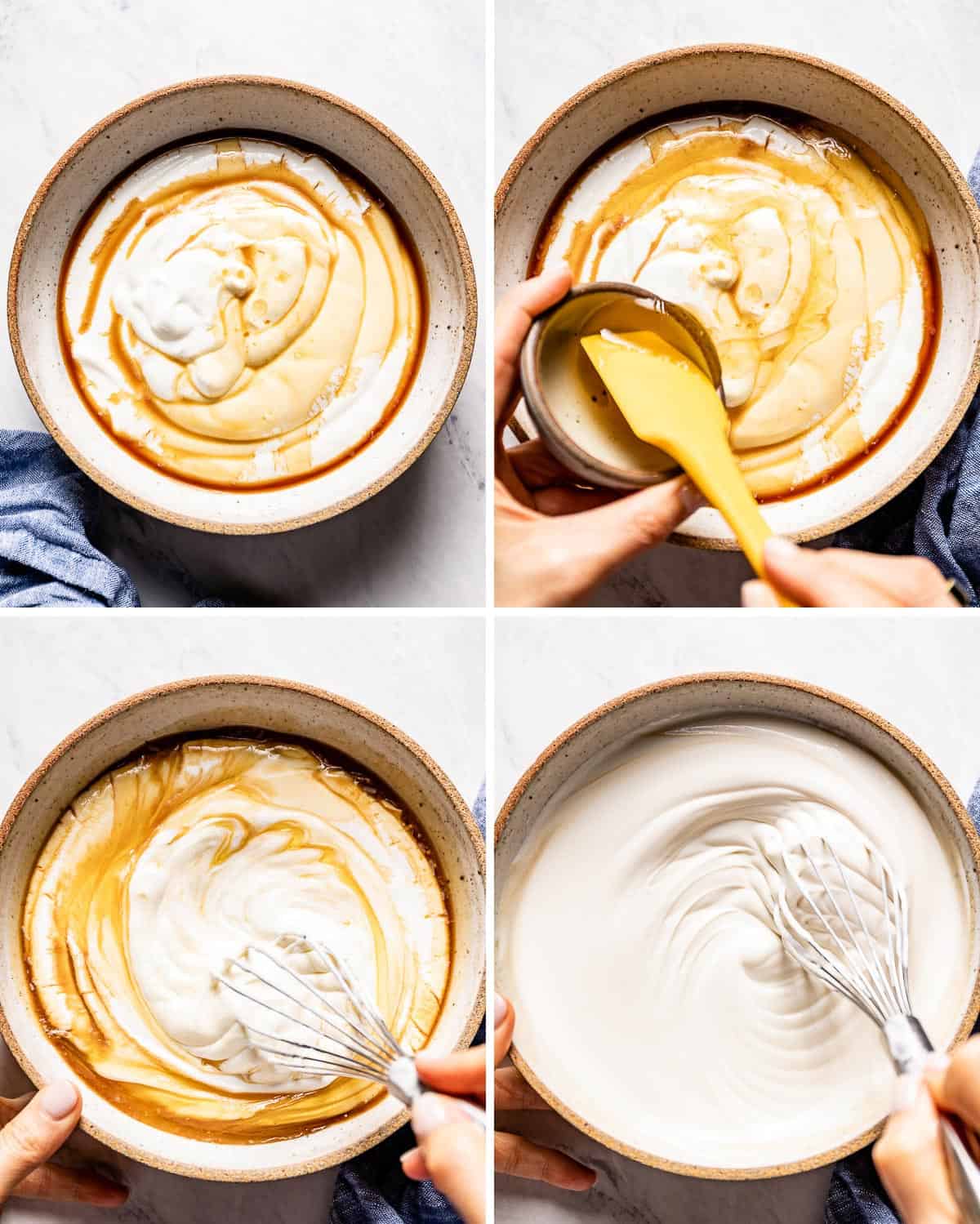 Combine the ingredients: Add the yogurt, honey, and vanilla extract to a bowl. Whisk until smooth and well combined.
Taste and adjust: Give it a taste and add more vanilla extract or honey, if desired.
How to Store
If you have leftovers of this honey and Greek yogurt recipe, you can store them in the fridge or freezer to enjoy later. Here are some tips:
Storage: You can store your homemade honey vanilla yogurt in an airtight container in the fridge for up to 5 days.
Freeze: Freeze your vanilla-flavored yogurt for up to 2 months to preserve the best taste and texture.
Thaw: To serve the vanilla honey greek yogurt from frozen, first thaw your container of yogurt in the refrigerator (preferably overnight). The yogurt may appear separated once thawed, which tends to happen when you freeze dairy products. To revive the thawed yogurt, give it a stir to incorporate the ingredients or add in a small amount of yogurt if it's watery. If it's still not quite smooth, try blending it in a food processor before serving. Make sure not to refreeze once thawed!
How to Use Vanilla Yogurt in Recipes?
Not only can you enjoy this flavorful vanilla greek yogurt recipe by itself as a breakfast or snack, but you can also use it in any recipe that calls for vanilla yogurt! Here are some vanilla yogurt recipe ideas: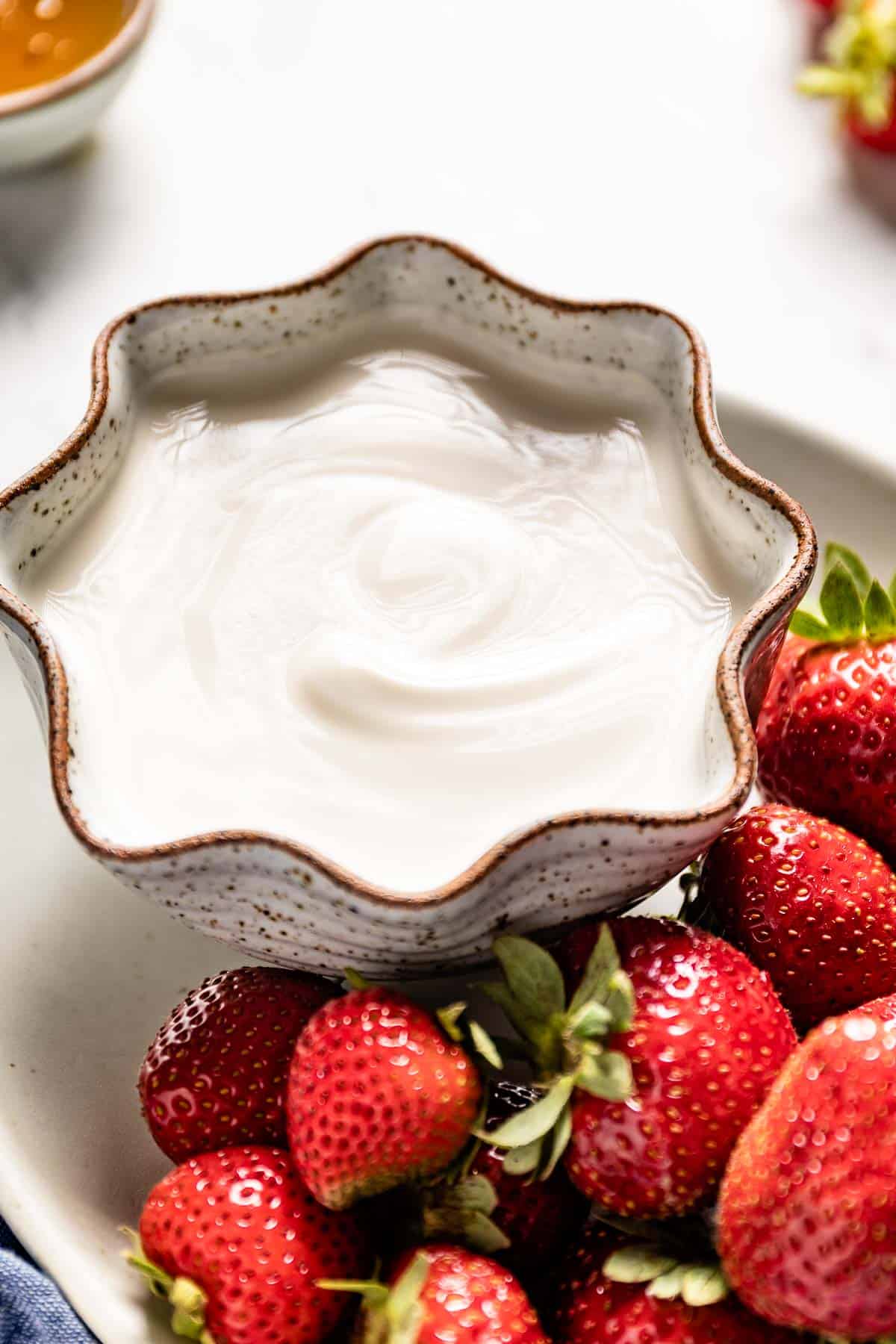 FAQs
Can you add vanilla extract to yogurt?
Yes, you can! Adding a dash of vanilla extract in plain yogurt really complements the tanginess of the yogurt and gives it a subtly sweet taste and flavor. Make it even better by adding a tablespoon of honey!
How much vanilla to add to plain yogurt?
When making plain yogurt vanilla-flavored, add half a teaspoon of vanilla extract for every cup of plain yogurt. Feel free to add more or less, depending on your personal preference.
Other Yogurt Recipes You Might Like
If you have an abundance of yogurt in your fridge that you're dying to use, or if you're just a yogurt fanatic like me, here are some other yogurt recipes you'll love!
If you try your hand at making this recipe, please take a minute to rate it and leave a comment below. It is a great help to others who are thinking of making the recipe. And if you took some pictures, be sure to share them on Instagram using #foolproofeats so I can share them on my stories.
Vanilla Yogurt Recipe
Learn how to turn plain yogurt into vanilla yogurt with this simple Vanilla Yogurt recipe! This refreshing, subtly sweet yogurt requires only 3 ingredients and takes 2 minutes to prepare. Enjoy it as a yummy breakfast with granola and berries or as a bedtime snack, or use it in any recipe that calls for vanilla yogurt!
Print Recipe
Ingredients
1

cup

plain whole milk yogurt

regular or Greek yogurt

2

tablespoons

hone

½

teaspoon

vanilla extract
Instructions
Place yogurt, honey and vanilla extract in a bowl. Whisk until well combined.

Give it a taste and add more if necessary.
Notes
Storage

: Store yogurt in an airtight container in the fridge for up to 5 days.

Freeze

: Freeze yogurt for up to 2 months to preserve the best taste and texture.

Thaw: Thaw frozen yogurt in the refrigerator (preferably overnight). If the yogurt has separated while thawing, stir to reincorporate the ingredients. Add a few more tablespoons of yogurt if it's too watery, or blend for a few seconds in a food processor. Make sure not to refreeze once thawed.
Nutrition
Calories:
283
kcal
|
Carbohydrates:
46
g
|
Protein:
9
g
|
Fat:
8
g
|
Saturated Fat:
5
g
|
Polyunsaturated Fat:
0.2
g
|
Monounsaturated Fat:
2
g
|
Cholesterol:
32
mg
|
Sodium:
115
mg
|
Potassium:
405
mg
|
Fiber:
0.1
g
|
Sugar:
46
g
|
Vitamin A:
243
IU
|
Vitamin C:
1
mg
|
Calcium:
299
mg
|
Iron:
0.3
mg
Like this recipe? Consider sharing: