Celebrate the beginning of autumn with a bowl of this freshly baked vegan and healthier apple crumble made with oats, almond flour, quinoa and sweetened with maple syrup.
This post is sponsored by Hannaford, but as always, all opinions are mine.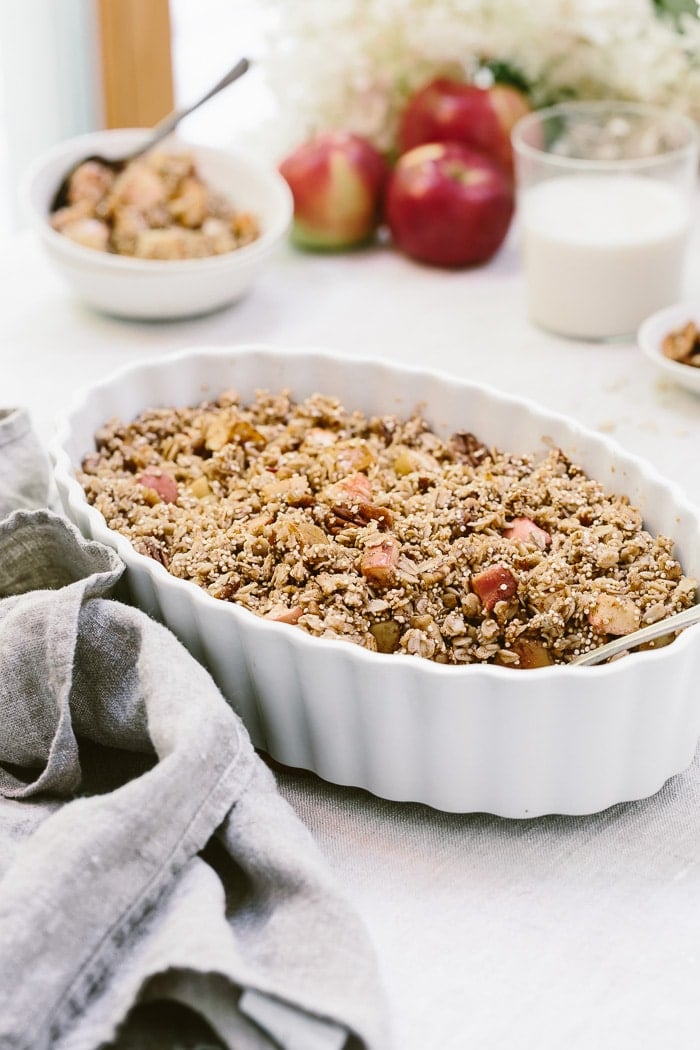 Autumn is in full force here in Vermont. The leaves have started to change in color and it is simply breathtaking. Witnessing the start of foliage season is to me, one of the biggest benefits of living in this region. With the weather changing, especially during the early hours of the morning, I find myself craving something warm and hearty. With apples now in abundance, this crumble recipe is just what I'm looking for to start the day.
About this Healthier Apple Crumble Recipe:
One of the most important things I have learned over the years in sharing recipes and writing a food blog is that I should be very careful when labeling a dish "healthy." The word can hold such different meanings from person to person, depending upon their diet and lifestyle. With that being said, I wholeheartedly believe that by making small changes in your cooking, you can easily increase the healthfulness of a recipe. And thankfully, the rest of the world is beginning to come to the same conclusion. As the demand increases for healthier ingredient options, brands like Hannaford are leading the way by not only providing quality products, but by making them more affordable as well.
If you are a baker, you know that the classic apple crumble recipe is made by sweetening apples with brown sugar and then topping them off with a crumble comprised of flour, brown sugar, and butter. While I have made crumbles like this many times over the years (and know how decadently delicious they can be), I am here to tell you that my healthier version can easily compete with the classic one. In my recipe, I used maple syrup instead of brown sugar. The crumble topping is made with ground oats, almond flour, quinoa, coconut oil, pecans, and maple syrup. As you can see, it is a whole new set of ingredients for an end product that is much healthier, yet rivals the original in flavor.
The rest of the recipe is pretty much the same. Cinnamon-flavored apple chunks covered with the crumble topping and baked in the oven for a scrumptious autumn breakfast dish.
Shopping For The Ingredients:
To get the ingredients, I went to our local Hannaford grocery store. Quite frankly, having lived most of my life in Atlanta, I wasn't familiar with this brand until we moved here to Vermont. However, since my first visit to their spacious, well-kept store, I have become a regular. I love that they have an extensive line of healthy, yet still affordable, ingredients to choose from – all in one place.
One of my favorite features is their Guiding Stars® program, which provides an easy to navigate system ranking foods based on their nutritional value. It takes the guess work out of what's healthy versus what's not. Take this healthier apple crumble recipe, for example. The ground oats, pecans, coconut oil, ground cinnamon, and maple syrup used in the recipe are all from the Hannaford brand and the whole recipe only cost me $8.25 to make (yup – just $1.37 per person). Gone are the days of splurging just to make better nutritional choices for your family.
As the weather begins to cool and fall creeps in with every leaf that turns orange, welcome the flavors of the season into your home with this guilt-free apple crumble recipe.
Print
Healthier Apple Crumble
A healthier vegan apple crumble recipe: Chunky apples topped of with a topping made with ground oats, almond flour, quinoa, cinnamon and sweetened with maple syrup.
Author:
Prep Time:

15 min

Cook Time:

40 min

Total Time:

55 minutes

Yield:

6 servings

Category:

Breakfast

Method:

Baking

Cuisine:

American
Ingredients
For The Apple Layer:
1 tablespoon Hannaford coconut oil, for greasing the casserole dish

4-5 cups apples, cut into 1-inch cubes

2 tablespoons arrowroot powder (or cornstarch)

1 teaspoon Hannaford ground cinnamon

⅛ teaspoon nutmeg

2 tablespoons Hannaford maple syrup

1 tablespoon lemon juice
For the Crumble Topping:
1 ½ cups (4.76 oz.) of Hannaford old fashioned ground oats

½ cup (1.7 oz.) almond flour (or almond meal)

¼ cup (1.5 oz.)  cooked quinoa, rinsed well and drained

½ cup (2.2 oz.) Hannaford pecans, roughly chopped

1 teaspoon ground Hannaford cinnamon

½ teaspoon salt

½ cup Hannaford coconut oil, warmed and cooled

½ cup Hannaford maple syrup
Instructions
Pre-heat the oven to 350 degrees. Grease a casserole dish (9 X 13 or 8 X 11) generously with coconut oil. Set aside.

To make the apple layer, mix together the apples, arrowroot powder (or cornstarch), ground cinnamon, and nutmeg in a bowl. Drizzle it with maple syrup and lemon juice. Give it a gentle toss. Transfer to the casserole dish and spread in an even layer. Set aside.
To make the crumble topping, mix together the oats, almond flour (or almond meal), quinoa, pecans, cinnamon and salt in a mixing bowl. Drizzle the mixture with coconut oil and maple syrup. Give it a stir to make sure that the oats are coated with all the other ingredients. Some chunky pieces are okay.
To assemble: Spread the crumble topping evenly on top of the apple mixture.

Bake for 35-40 minutes or until the topping turns golden brown.

Serve with more maple syrup, a dollop of creme fraiche or yogurt on the side.
Notes
*** Update on November 13th: A few readers came back and said that the uncooked quinoa made it crunchier than they would like. I tried the recipe myself and thought that they have a point. Therefore, I updated the recipe as "cooked" quinoa. If you don't have quinoa on hand, feel free to use 1/4 cup almond flour to compensate.
Nutrition
Serving Size:

1

Calories:

606

Sugar:

28.2g

Sodium:

199.9mg

Fat:

34.9g

Carbohydrates:

68.8g

Protein:

10.8g

Cholesterol:

0g