I'll be the first one to admit. I am not very good at making pies. Because I find making pie dough from scratch to be very hard, it stresses me out. I can never manage the ratio between flour, butter, and water to get the right texture even if I follow a recipe.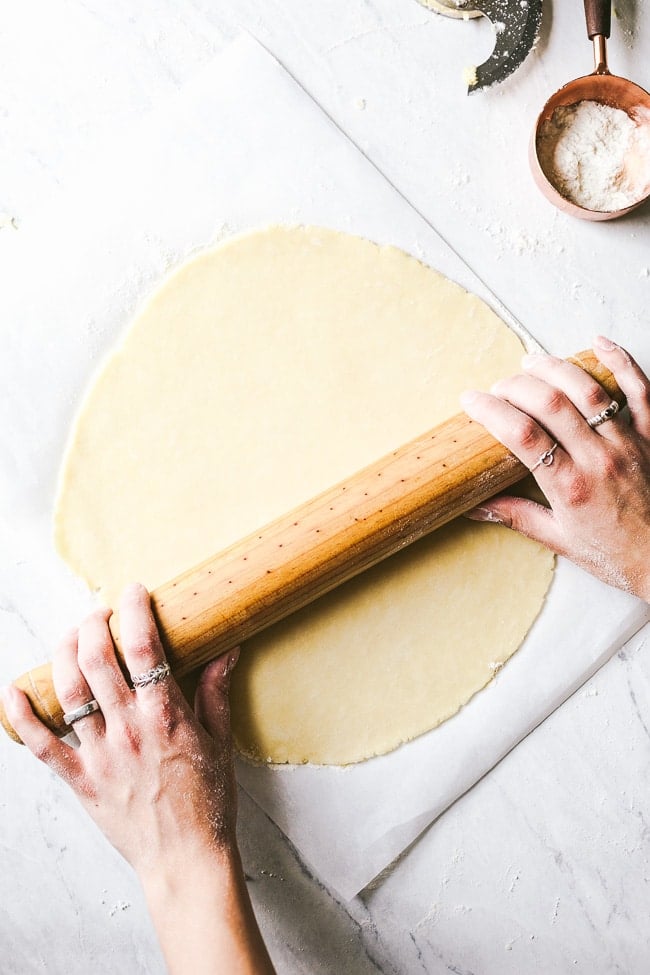 If you are good at making pie dough, my hat is off to you, my friend. But in my case, as someone who grew up in Turkey, I had never had a pie before I moved to the U.S. in my twenties. I still remember the day that I had my first apple pie. It was love at first bite. I wanted to eat the whole thing by myself.
But then I tried making it at home and quickly learned why most people make their pies using store-bought pie dough.
Fast forward to today, I can make it now, but the dough part is usually a hit or miss. However, with galette dough, there is hope for someone like me. Especially with the easy galette recipe I am sharing here today.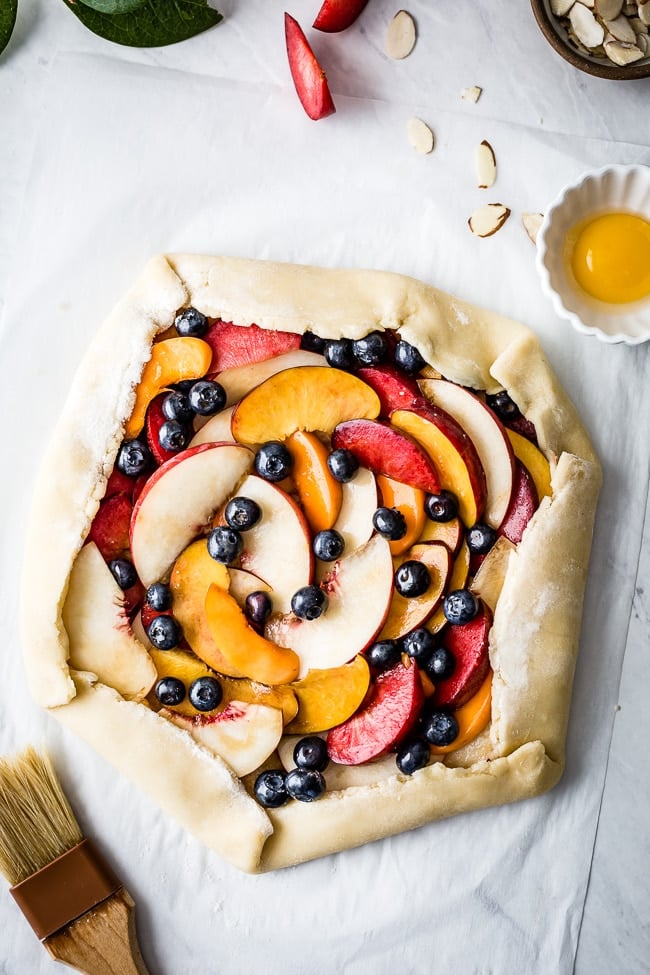 The recipe comes from one of my favorite cookbooks, Naturally Sweet (affiliate link), by the folks behind America's Test Kitchen. If you are familiar with their work, you probably now how they test recipes over and over again until they perfect it. This galette crust recipe is no different. It is foolproof. And I plan on telling you why in detail, but let's first go back to basics and talk about the meaning of galette.
What is galette? (Galette Definition)
The term galette comes from the Norman word gale, which is a term used in French cuisine to identify a flat round cake made of pastry dough or bread. (Source) However, nowadays galette is referred to as homemade pastry dough that is more of a rustic, free-form tart made with a single crust of pastry.
It is different than your usual pie in that galette recipes are baked on a baking sheet rather than on a plate. I think the fact that they are baked in this free-form format makes them much easier compared to a pie.
No need to stress about fitting the dough into the pie plate or cramping the side to make it look picture perfect. Whether you make a sweet galette recipe filled with various fruits or savory galette recipe filled with vegetables, galette dough is so easy to roll out, fill, fold, and bake.
Plus, the recipe for savory galette dough that I am sharing here can be used for sweet and savory galette recipes.
Crostata vs galette
You may have heard people refer to galette as crostata. Come to find out, crostata is the term that Italians use for the galette. They are basically the same thing.
Ingredients for this easy galette crust
This free-form tart dough is made with four ingredients.
All-purpose flour
Kosher Salt
Unsalted Butter
Ice Water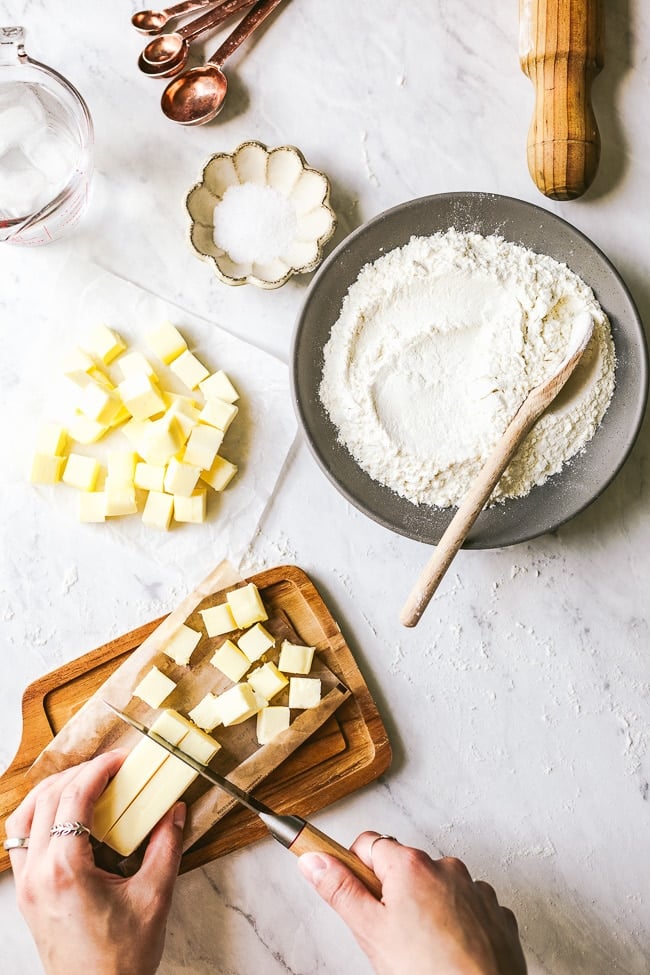 This recipe is a little different than most recipes you find online or in cookbooks in that it does not have any sugar in it. I prefer a galette dough recipe without sugar as I try to minimize our sugar intake as much as possible. Plus, since I usually bake it with sweet fruit on top, I do not think that any additional sugar is necessary.
However, if you want to use sugar in your galette crust, feel free to add in a tablespoon of sugar into the flour and salt mix in the beginning.
A Word on the butter
I think we can all agree that butter is the most crucial ingredient for a flaky nicely browned galette dough. I usually buy the European style (aka cultured butter) when it comes to baking. If you are not familiar, here is a great explanation from an article called The Difference Between American Butter and European Butter, Explained:

European butter refers to butter produced through a style that's popular across much of Europe. It's a cultured butter that's been churned for a longer period of time to achieve at least 82 percent butterfat.
At this point, you might rightfully ask, how is American butter different? The following comes from the same article:

The main difference between European and American-style butter is the butterfat content. In the U.S., USDA federal regulations require a churned dairy product to contain at least 80 percent butterfat to be officially considered butter.
That 2 percent variation might seem small, but it makes a difference in taste and consistency.
Butter produced in the U.S. usually isn't cultured, so it has a less tangy, more neutral flavor.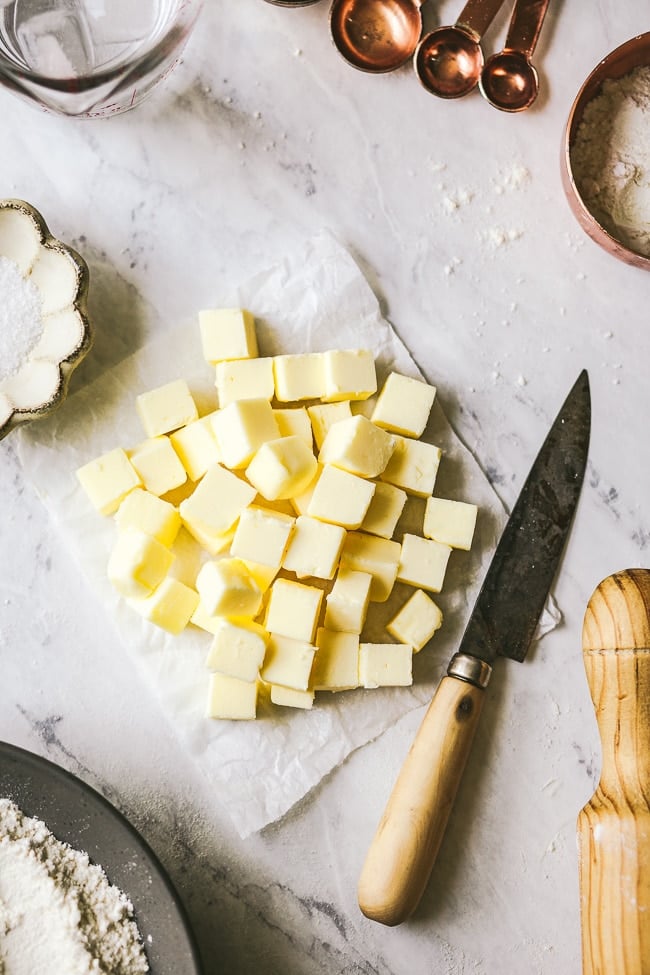 While one version is not better than the other (and it is also a personal choice), most chefs prefer cultured butter when it comes to baking due to its higher butterfat, less water content, and flavor.
For that reason, I too prefer cultured butter for this galette dough recipe. I find that it produces a flakier and more flavorful end product compared to its version made with American butter.
However, this is not to say that this galette crust recipe cannot be made with American style butter. Both versions would work and taste great, but I think if you are serious about upping your galette game a few extra bucks you will spend for European style butter is worth it.
How to make galette dough in a food processor
I find that making the dough in a food processor is the easiest and most foolproof way, mainly because the temperature of the dough is an essential factor for a flaky crust. I like that I can easily manage the amount of mixing that I need to do without having to touch the dough by using the pulse feature.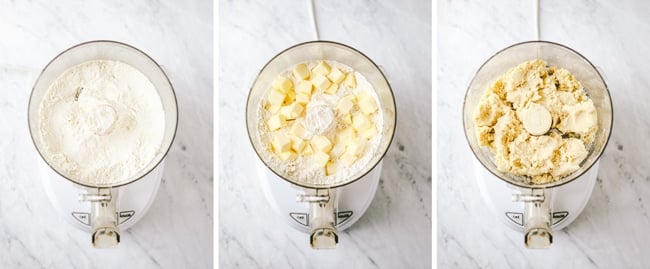 The process to make this easy galette dough in a food processor has four parts:
First, place flour and salt in the bowl of a food processor fitted with the metal blade. Pulse 3-4 times to mix. Add in the cubed butter and pulse until mixture resembles coarse sand. You want the butter pieces to look like small lentils. This process takes about ten 1-second pulses.
Next, add in the water as you continue you to pulse one tablespoon at a time until the dough starts to collect on the sides and form into a ball. I think this, the fact that the dough forms into a ball giving an idiot-proof visual cue of doneness, is the part that makes this recipe foolproof. Be sure to watch the how-to video in the recipe card to get a visual of what I mean.
Second, dump the dough onto a lightly floured surface and form it into a 4-inch disk. Wrap it tightly with plastic wrap and let it sit in the fridge for at least 45 minutes up to 2 days.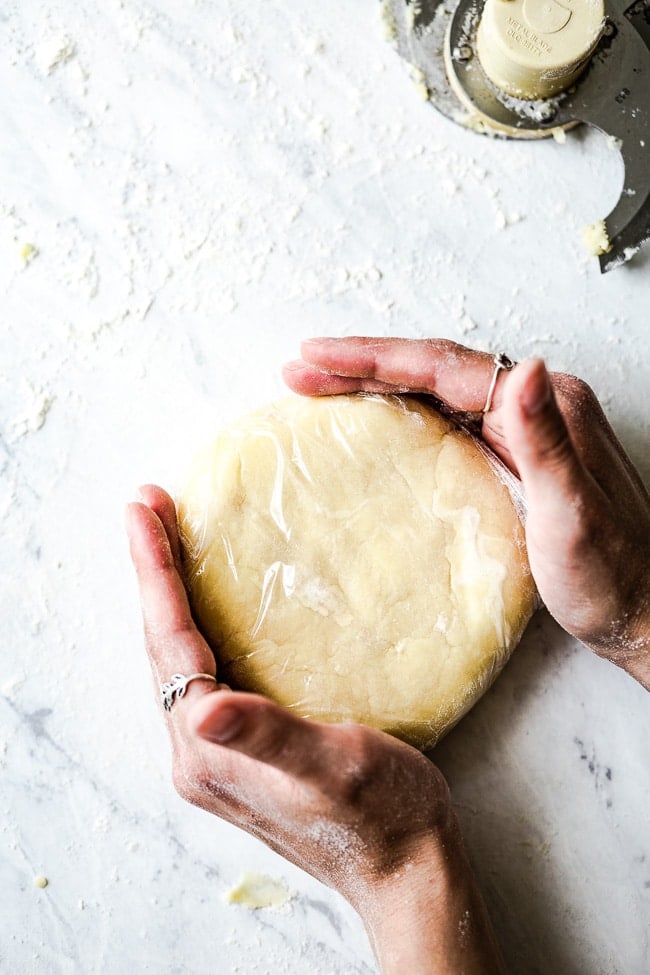 Third, take it out of the fridge and let it sit on the counter for 10-15 minutes before you are ready to roll it out. However, be aware that you might have to wait longer if the dough has been sitting in the fridge for more than 4 hours.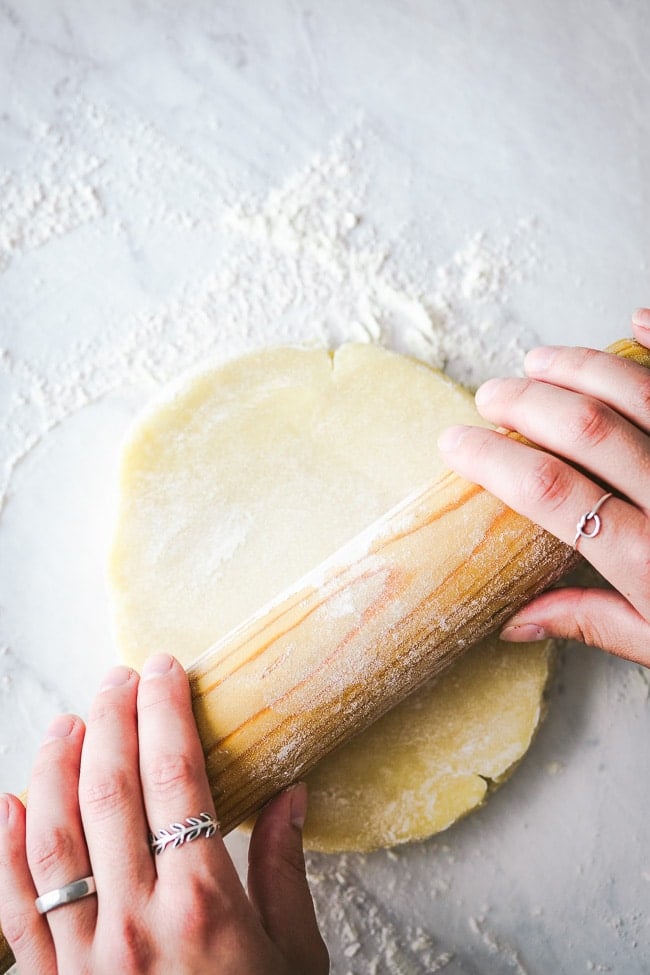 Roll it out into a 12-inch circle that is ⅛-inch thick on a lightly floured surface and transfer onto a large sheet of parchment paper. To finish it off, fill it with your filling making sure to leave at least 3-inch border around the edge. Then fold the outer 3-inch dough over the filling, pleading it gently by every 2 or 3 inches.
Finally, brush the dough with a beaten egg yolk to get a good golden crust.
How to make galette dough by hand
While my preferred method of making galette dough is in a food processor, you can make galette dough by hand.
If you decide to do so, mix flour and salt in a large bowl. Work the butter into the flour mixture until it resembles coarse meal with some pea-sized pieces of butter. I find that the best tool to do this is a pastry cutter (affiliate link.)
Sprinkle 4-tablespoons of ice-cold water and mix it until it holds together to form a ball. If it doesn't, feel free to add in more water 1-teaspoon at a time.
Shape the dough into a 4-inch disk, wrap tightly with plastic wrap, and let it sit in the fridge for at least 45 minutes before rolling it out.
How long to bake a galette
While the timing depends on the particular recipe you are using, most galette recipes bake in 350 to 375-degree preheated oven for 50-60 minutes.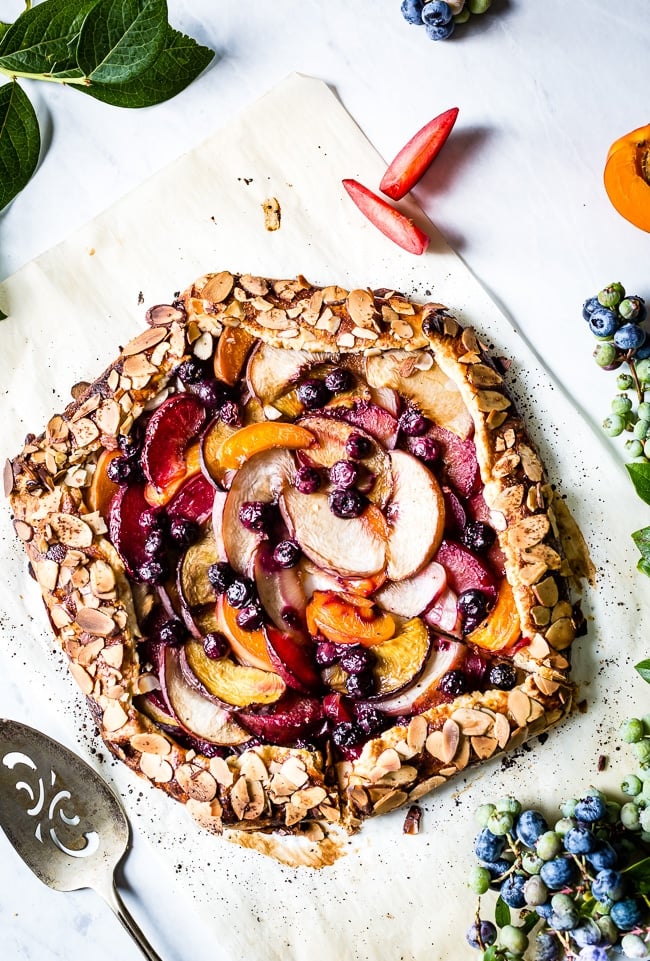 A Few tips for the best galette dough recipe
Temperature is everything when it comes to a flaky galette dough: As in every pastry dough, whether it is used to make a galette, tart, or pie, the temperature of the dough is very important. It should be cold. If it gets warmer (and harder to manage) during the rolling out process, feel free to place in the fridge for a few minutes to harden.
"If your galette dough is too thick, the crust will be gummy and chewy, rather than flaky": According to this article from Bon Appetit, the ideal thickness for the rolled galette dough is a uniform ⅛-inch thick for ideal browning that has a nice crisp.
Be sure to bake your galette in the middle oven rack in a moderate temperature oven: Since the ideal thickness of the crust is ⅛-inch and it is directly baked on a sheet pan (rather than in a pie pan), the way to ensure even baking and browning is to bake it in a moderate temperature (350-375 F degree oven is ideal) oven on the middle rack.
Can I freeze this galette pastry? You sure can. If you decide to do so, be sure to wrap the dough tightly (to prevent freezer burn) with stretch film. The galette dough recipe below can be frozen up to 1 month. When ready to use it, let the dough thaw completely on the kitchen counter before you roll the dough.
Want to put your galette dough into good use? Try my Peach Blueberry Galette recipe. It is a delicious French galette recipe that is guaranteed to impress.
Galette Dough
A delicious galette starts with a buttery galette crust. This is my go-to galette dough recipe that I use for both sweet and savory galette recipes.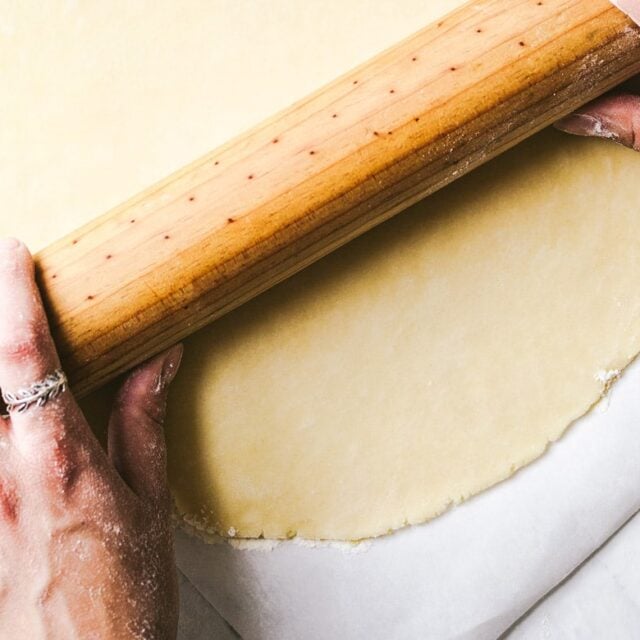 Print Recipe
Ingredients
1 ½

cups

(213 gr.) of all-purpose flour, more to flour the surfaces

½

teaspoon

kosher salt

10

tablespoons

(142.5 gr.) cold unsalted butter, cut into small cubes

4-5

tablespoons

ice-cold water

1

large egg yolk
Instructions
To make the galette dough: Place flour and salt in the bowl of a food processor. Pulse for a few times to mix. Add in the cold butter cubes. Pulse 8-10 times until butter resembles small clumps.

Turn the machine on and add in 4 tablespoons of ice-cold water in one tablespoon increments.

At this point, it should start to come together and form into a ball. If not add in the rest of the water until it does.

Transfer onto a lightly floured surface, form it into a 4-inch disk, and wrap with plastic. Place in the fridge for at least 1 hour or overnight.

Take it out of the fridge 10 minutes before you are ready to roll it out.

Lightly flour your working surface. Roll the dough into a large 12-inch circle. Transfer onto the parchment paper and then onto the baking sheet.

Place your filling (depending on the recipe you are using) on top slightly mounting in the middle, leaving a 3-inch border around the edges.

Roll the sides of the dough overlapping as you go around and pleating the dough.

Brush the edges of the dough (the outer crust) with egg yolk.

Bake according to the instructions of the recipe you are using.
Video
Notes
Prep time: 10 minutes for mixing the dough and 60 minutes for letting it sit in the fridge
This recipe yields one galette dough
Nutrition
Calories:
1744
kcal
|
Carbohydrates:
144
g
|
Protein:
23
g
|
Fat:
120
g
|
Saturated Fat:
74
g
|
Cholesterol:
496
mg
|
Sodium:
1194
mg
|
Potassium:
201
mg
|
Fiber:
5
g
|
Sugar:
1
g
|
Vitamin A:
3758
IU
|
Calcium:
85
mg
|
Iron:
9
mg
Like this recipe? Consider sharing: